Don't you just love the bold and wonderful contrasting colors of red, white and blue?  I certainly do, and considering the 4th of July holiday is right around the corner, that makes this red, white and blue-themed post perfectly apropos.
This post is all about creative gift giving and how you can combine a few inexpensive items to create a fantastic and memorable gift for someone special this summer.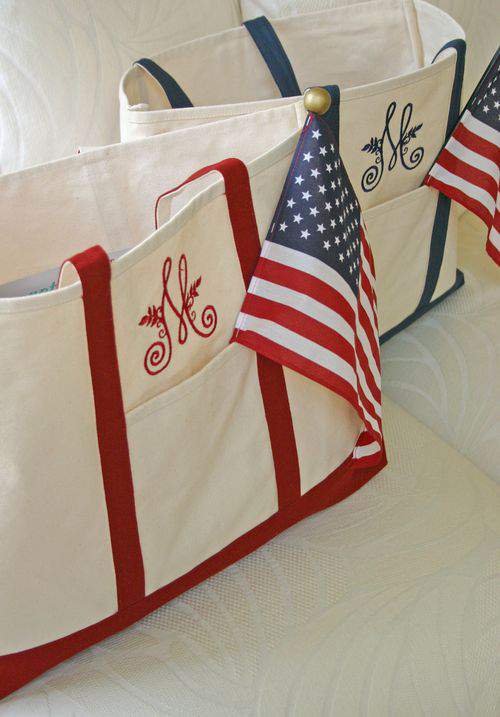 Aside from the wonderful contrast in color, part of the beauty of these bags lies in the whimsical and curly-cued monogram.
I think a little bit of embroidery can enliven just about anything it's placed on.
Tip: If you don't have access to an embroidery machine and you don't have time to hand embroider a bag, you can also pick up a letter applique at your local sewing shop.  Most fabric stores carry single alphabet appliques.
Just stitch the pre-made applique onto the bag for equally fast and easy personalization.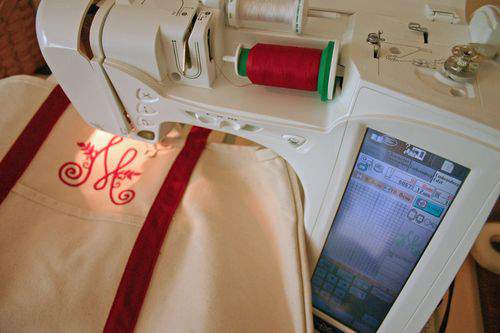 Here's a look at my finished machine-embroidery.  Yes, coincidentally the name of both my gift recipients begins with the letter "M".
By the way, you don't have to spend a fortune on pool bags to make a big splash (pun intended).  I found these sturdy, well-constructed canvas bags for a deal-loving $5 each at my local Bed, Bath and Beyond store in the same section as beach towels.
A single monogram on the front of the bag certainly suffices but you can always go a little further with the embroidery and add a first name on the back as well.
I love how crisp the embroidery looks against the off-white canvas.
Of course, you can fill your gift bag with whatever you like to fit your theme.
Since this is a pool pack present, I loaded it with goodies that can be used and enjoyed poolside.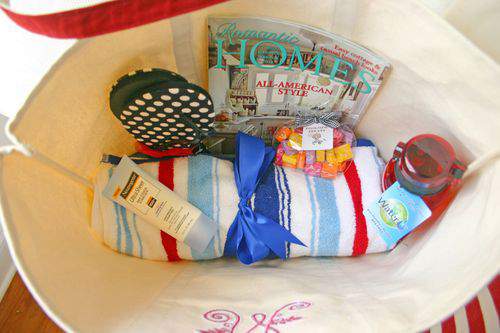 You can never have too many flip flops in the summer.  I love polka dots and these are a fun addition to the bag of goodies.
Tie them with a red ribbon for more contrast and pretty presentation.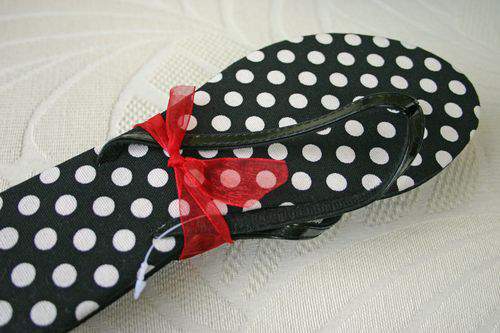 For the recipient's reading pleasure, throw in a favorite magazine.
I included a copy of the July 2010 issue of Romantic Homes which features my pretty soap project.
Everyone loves something to nibble on while poolside and these sweet treats are bound to do the trick.
Put a few handfuls of your favorite candy in a baggie and tie it off with a ribbon and bow.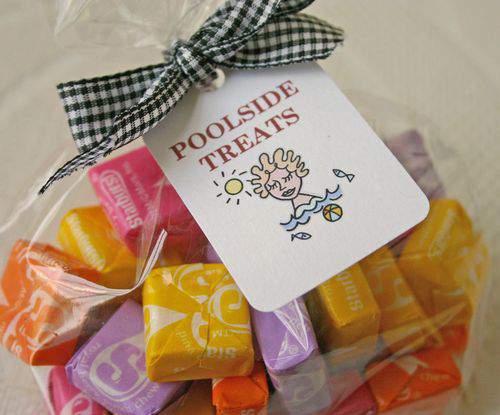 To make the fun tag, just print the desired info from your computer and then use a tag punch to cut out the shape. 
Add a small hole at the top of the tag and string the ribbon through before tying it to the baggie.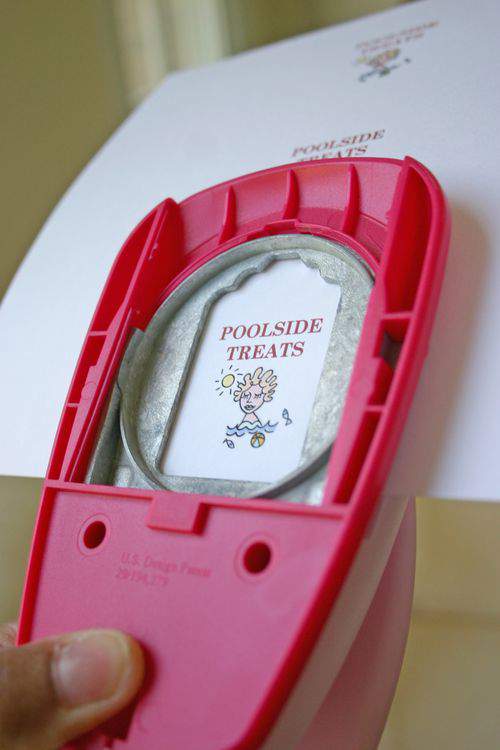 The summer heat is bound to make the throat dry so help your gift recipient quench their thirst with the inclusion of a water bottle.  This will get a lot of use this season.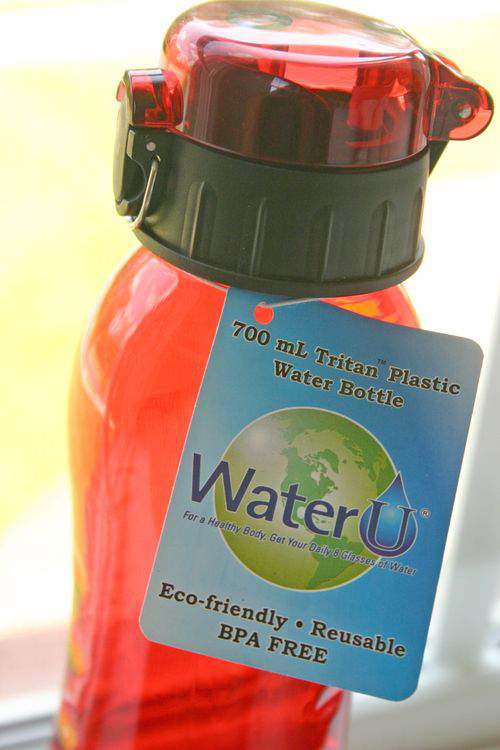 Of course the sunshine must be enjoyed with the proper protection so you can add a tube of sunscreen to the bag.  This is another item that will definitely get used.
Wow, can you believe there is now SPF 100 on the market?
A red, white and blue beach towel is another useful addition that ties in beautifully with this 4th of July-inspired look.
Roll the towel up and tie it with a pretty ribbon for a perfect extra touch.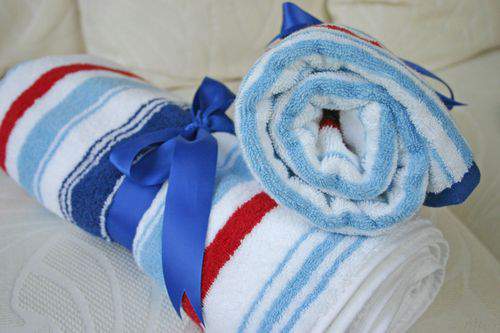 Top off the patriotic theme with a small American flag.  This is a great summertime gift for adults and kids alike.
Heading to a birthday party soon?  Consider how much the birthday girl or boy (or grown-up) would love a goodie-filled, personalized pool bag like this to help cool things off during these summer months.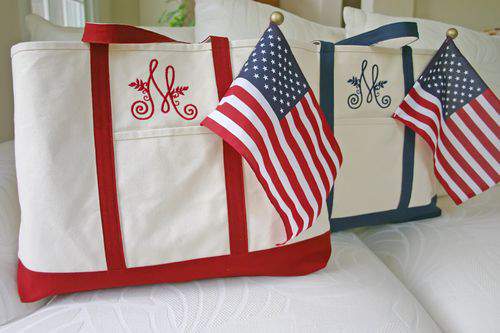 I couldn't resist personalizing a few bags for Cameron and Jordy. 
Once you start monogramming bags it's a little hard to stop.  I embroidered a few for my neighbor too.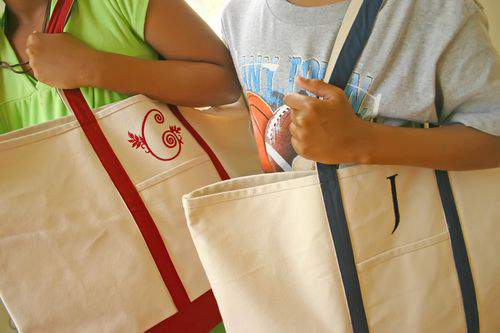 As you can see, you don't have to actually sew the bag yourself or even spend a small fortune to create a beautiful and thoughtful gift that anyone would love to receive.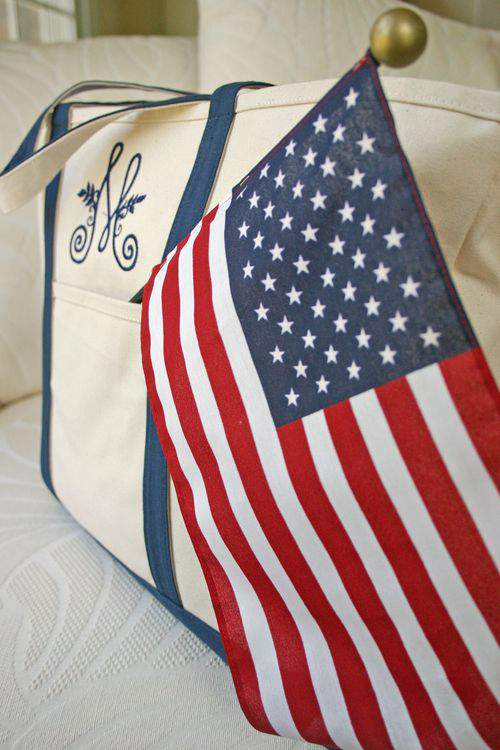 After personalizing and loading-up a few of these bags for others, I think I just might make a patriotic pool pack for myself.
Meanwhile, here's hoping you have a safe and happy 4th of July holiday. ♥