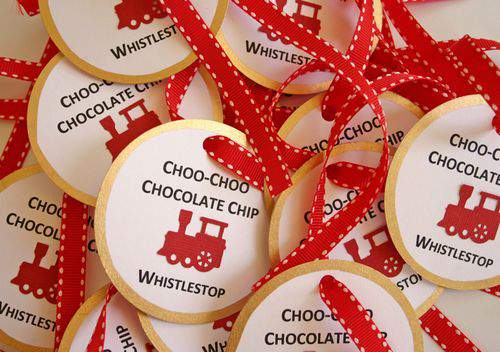 One of the first things you'll see in front of Cameron and Jordy's school, is this bright red Whistle stop caboose.
It sits proudly out front as a stationary mascot of sorts, on its own set of tracks.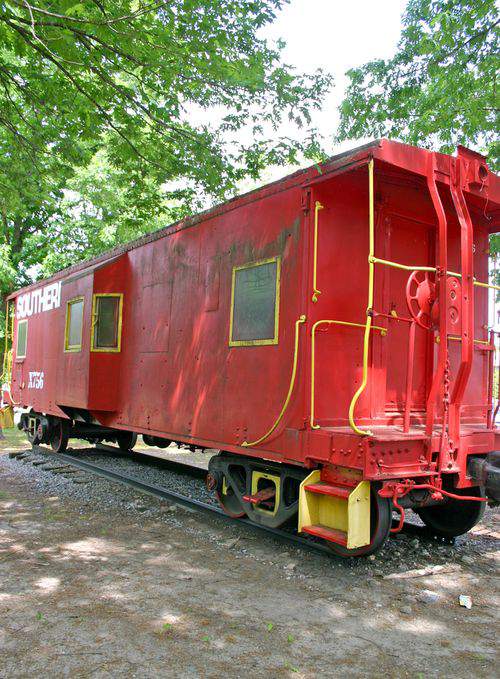 The train car is a perfectly fitting sight especially this time of year, as the school's annual Whistlestop Festival gets underway.
Every year, near the end of the school year, hundreds converge on the school grounds for a day of colorful fund-raising fun, fellowship and fabulous food.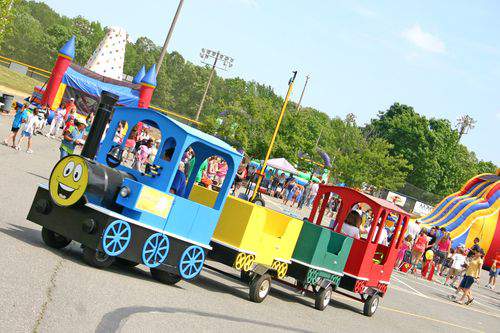 Of course, one of the sweetest areas of any festival is the bake sale/cake walk station.
Tables are arranged end to end and are deliciously covered with all kinds of donated goodies and yummy treats.
Throughout this post, I'll show you how I turned my contribution of several boxes of ordinary (store-bought) chocolate chip cookies into festival goodies with irresistible appeal.
It all boils down to packaging.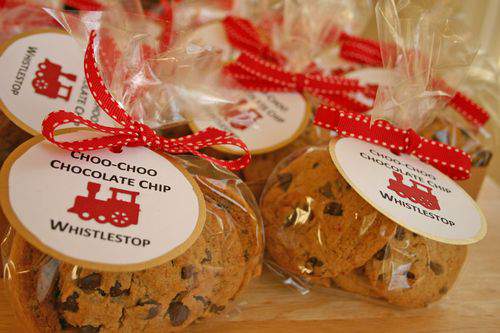 Of course, start with cookies.
I don't know anyone who can resist a handful of good old chocolate chip treats.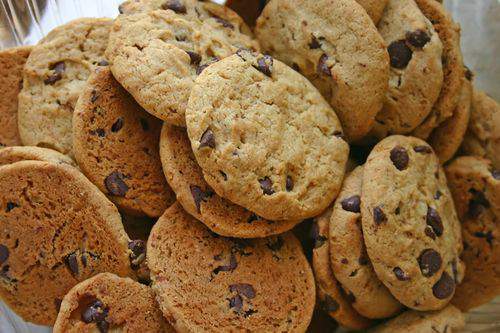 You'll need a few supplies for the packaging including, plastic goody bags, a gold leafing pen (which I'll describe further in this post), coordinating ribbon, die cut punch and a jumbo-size circle punch.
All of these supplies are available at most crafts stores.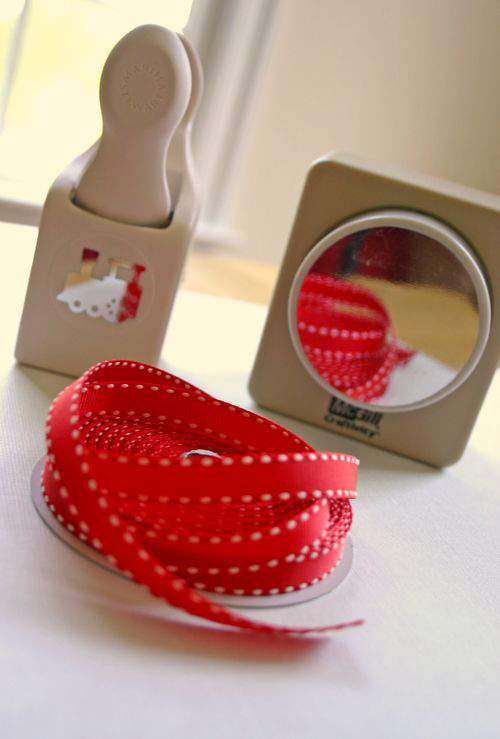 Use the copy and paste function on your computer to create multiple titles per page.  These titles will then be cut into little circles using the jumbo punch tool.
Before printing all the sheets, print one test sheet to double check the word spacing and to make sure everything will fit within the size of the jumbo circle.
Also, make sure the punched-out, die-cut will fit between the two sections of the word in the title.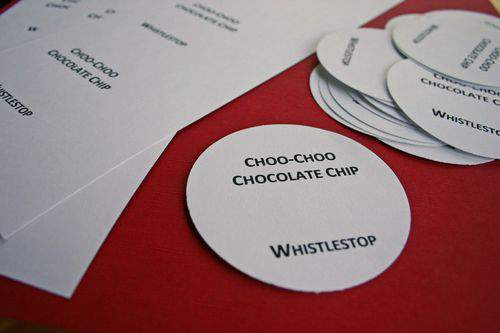 After punching out the circles, trim the edges with gold leafing for a more polished appearance.  Leafing pens can be found at most crafts stores in the paint section.
You can use gold and silver leafing to dress up lots of projects including cards, flyers, music programs and holiday photos just to name a few fun uses.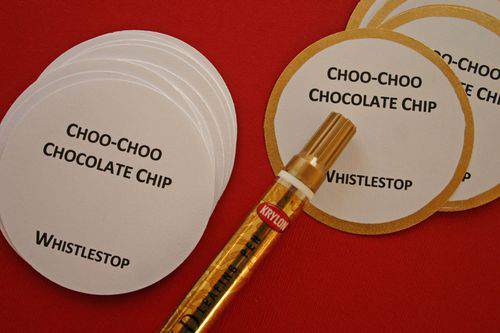 Unlike the tip of a ballpoint pen, the tip of a leafing pen has a wide, flat edge.
This feature helps to guide the pen accurately and ensures the gold leafing is smoothly deposited along the edge of the cardstock.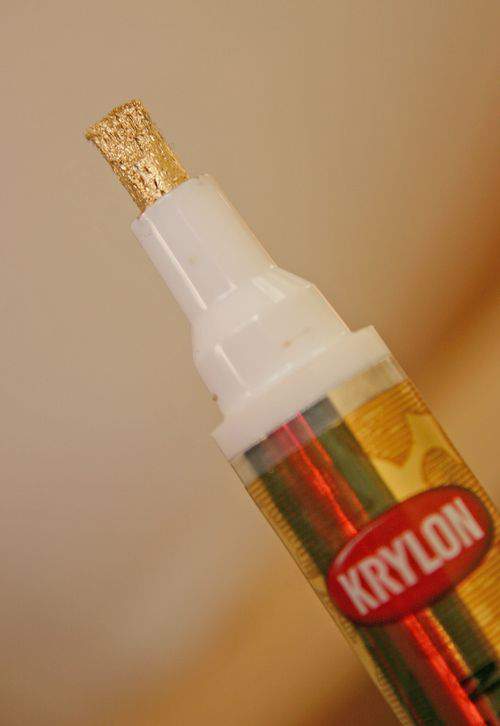 Punch out the mini-die cuts for the front of the tags. I think this little punch is so cute.  I initially went back and forth about whether the image was some sort of tractor or the train I needed.
After polling a few friends and family, the consensus was that it is indeed part of a train.
Glue the die-cut punch to the tags and then add some pretty ribbon.
This red ribbon really pops against the white card stock and gold, medallion-like outline.  I think it looks oh-so, fresh and crisp.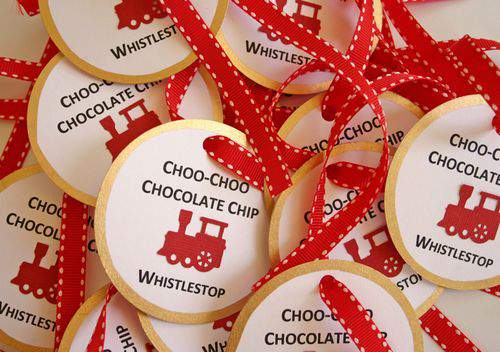 Before I forget, here's a copy of one of my favorite chocolate chip cookie recipes.
Click this link: Download Chocolate Chip Cookie Recipe
The PDF will appear as two pages.  Print Page-1 onto heavy cardstock, reinsert the same page, top end first and print Page-2 for a checkered backside.  Trim excess and laminate the 4 X 6 card for durability.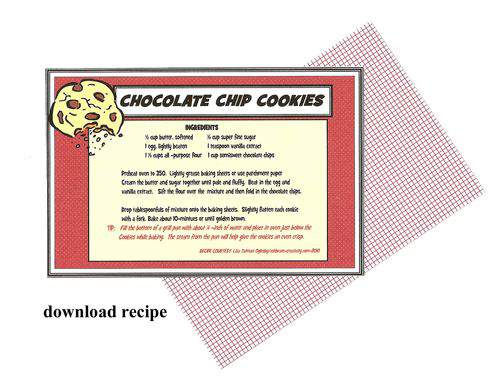 Let's check back in to the Whistle stop Festival to see what's going on there. 
Looks like Cameron and Jordy are having a blast showing off their hammer strength and a few aerial, strap-assisted gymnastic, straddle-moves.
OK, Kids are having a great time, let's get back to our packaging project.
Even though the cookie bags are ultimately tied with a ribbon, it's a good idea to first use the twist ties that come with the bags to make sure the goodies stay perfectly fresh.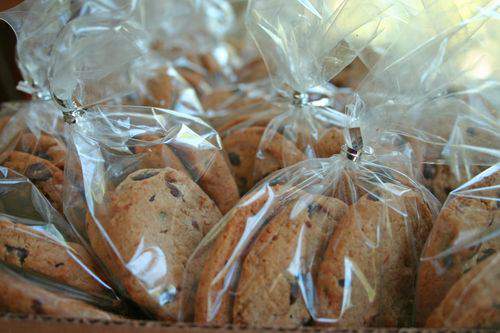 Wrap the tags around the baggies to conceal the silver twist ties.
Tie the ribbon into a nice bow to finish it off and you have pretty packaging that looks like it could have come from a boutique bakery instead of your kitchen table.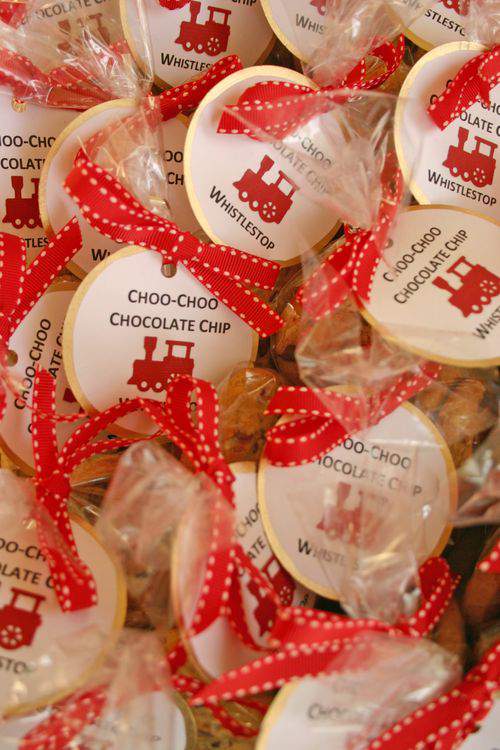 This small packaging effort is not only a fun project but also an example of how a little extra step can make a huge difference in presentation.
Here's a look at another way I used these medallion cookie tags: View this photo.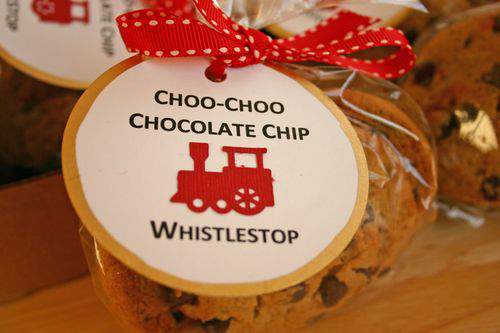 You can dress up plain treats like this for just about anything including birthday party goody bags or tasty holiday hand-outs.
Just change the die cut to match the theme and you're good to go.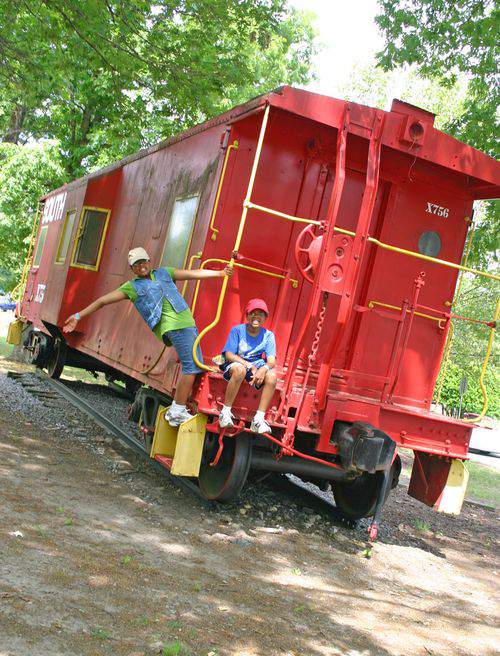 Meanwhile, I think you can tell from the photos that the Choo-choo chocolate chip cookies and the Whistlestop Festival were a super delicious success, all the way around. 
Toot-toot. ♥