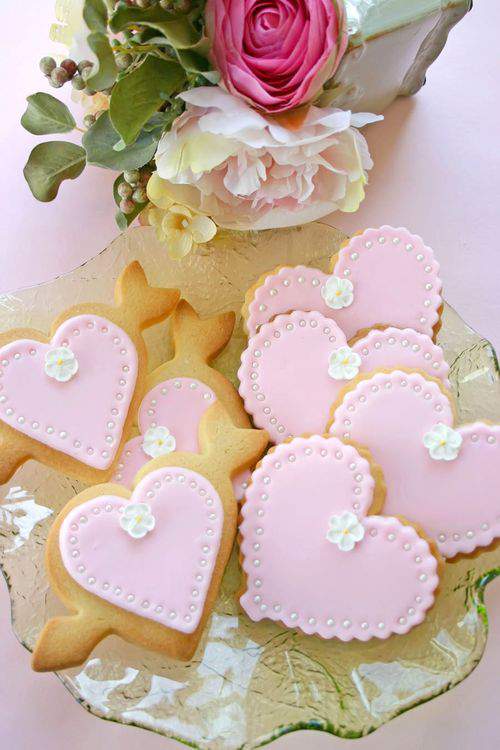 It's often said that the way to a person's heart is through their tummy.  If that's indeed true, you'll find an easy path all laid out in this yummy post.
In honor of Valentine's Day, I've created some delicious treats that you won't be able to resist making for your loved ones, starting with the dainty delectables in the photo below.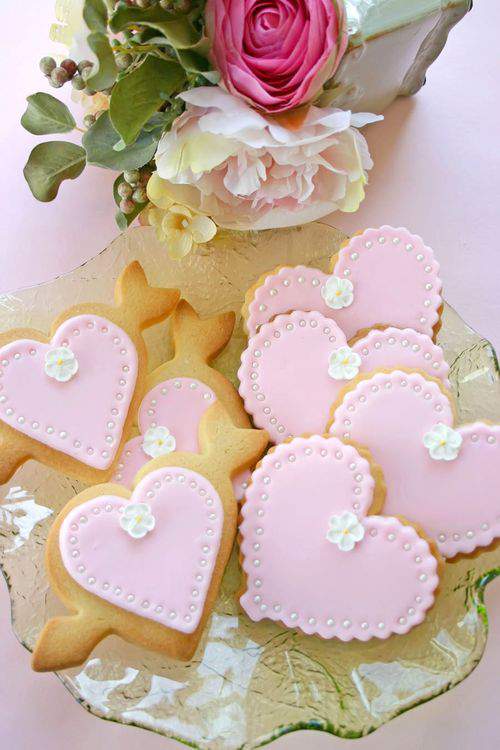 I've never made cookies topped with fondant before, but this was actually pretty easy to figure out.
I was inspired to try something new in the kitchen after seeing the February issue of Romantic Homes magazine which features some scrumptious looking Valentine's cookies this month.
Of course, you can't let the Valentine's season pass without pulling out the heart-shaped cookie cutters and putting them to good use.
As you read further down in this post, you'll see that these cookie cutters can not only be used to create some wonderful desserts but an equally lovely lunch as well.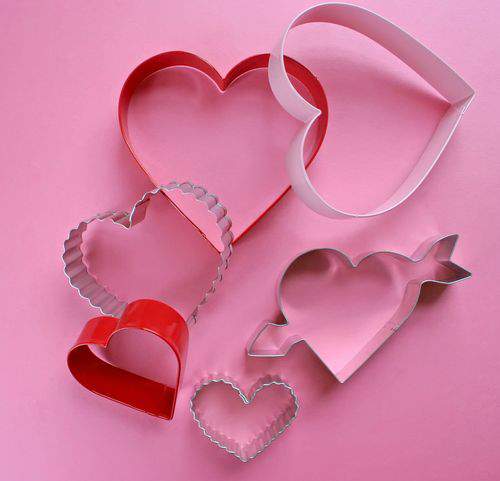 Use the cookie cutters to make a few dozen cookies from your favorite sugar cookie recipe.  Set aside.
Then roll out a sheet of fondant.  Fondant is typically used in cake making and can be found in the baking section of many crafts stores.  It often comes in a white block but color can be added by kneading-in a fondant icing gel.
Cut heart shapes from the fondant using the same size cookie cutter (or slightly smaller) that you used to shape the sugar cookies.
TIP: If coloring fondant by hand, be sure to wear gloves as you knead-in the color because staining can occur.  Also fondant has a very bland (almost non-existent) taste.  You can correct this by kneading-in a fondant flavor which can be found where fondant is sold.
After cutting out the shapes, I used the flat portion of a wooden skewer to create impressions all the way around the heart-shaped fondant pieces. 
Drop sugar pearls into the impressions and then use the skewer again to push pearls into the fondant just below the surface.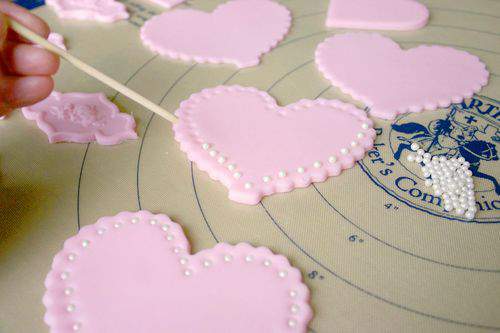 I also cut out these fondant frames with the initial intention of using them on the cookies in some way.  The frames didn't really work for the look I was after but I wanted to share this photo anyway because I think these are just so darn pretty.
I'll definitely keep this fondant frame idea in mind for some future recipe.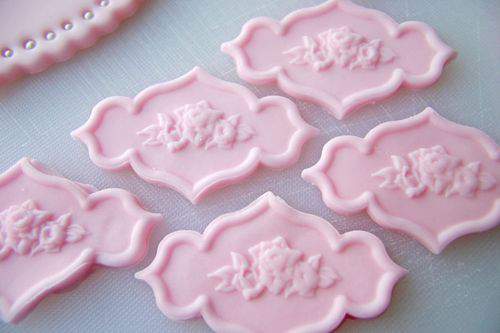 Getting back to the heart-shaped cookies, apply a thin layer of frosting to the back of the fondant shape to adhere them to the cookies.
Stick sugar pansies in position on the cookie using a small dab of frosting.  It's always nice to stumble upon a unique resource for supplies and I was thrilled to find these pretty pansies at a recently-discovered neighborhood baker's kitcden.
I really love how these cookies turned out and they really represent the soft, elegant look I was striving for.
TIP: Consider this same idea using appropriately-shaped cookie cutters for other holidays and special occasions.  Change the cookie shape to match themes for Easter, birthday parties and bridal or baby showers to name a few.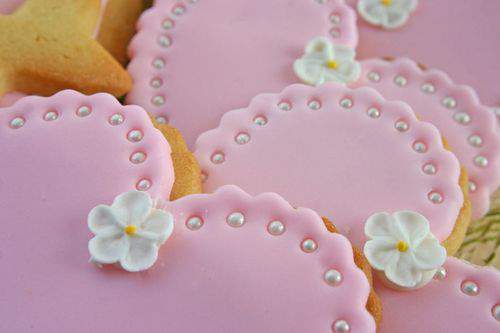 If you plan to give these cookies as a gift you'll need to box them up in a memorable way.  It just won't do to stuff these particular cookies into a plain baggie if you know what I mean.
Pretty packaging requires only a few supplies including white cookie boxes, (1) artificial flowers, (2) rubber stamp, (3) satin ribbon, (4) mini alphabet stamps, (5) floral ribbon to wrap the flower stems and (6) blank gift tags.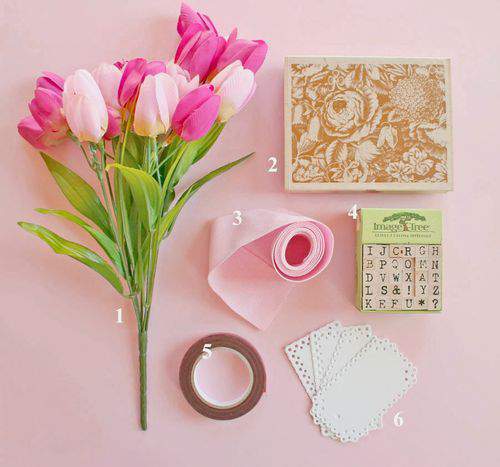 Cut a few stems off the floral arrangement and wrap the lower portion with floral ribbon.  Stamp the gift tags with the rubber stamp image and use the mini alphabet stamp to label as desired. 
Box the cookies and tie the container with ribbon.  Trim the ribbon to form points on both ends.  Slide the stem into place behind the ribbon and add the gift tag.
I think this packaging is as beautiful as the cookies and this would be a wonderful gift for any loved one this Valentine's Day. 
 
 
If you're thinking about serving your sweetie breakfast in bed on Valentine's Day, how about this dish?
These heart-shaped pastries can be made in advance, frozen and then baked right before serving. 
These plastic, pastry molds come in a variety of shapes and are fun and easy for the whole family to use.
You can use pre-made pastry dough or make your own.  Roll out the dough and use one side of the mold to cut out the heart shapes.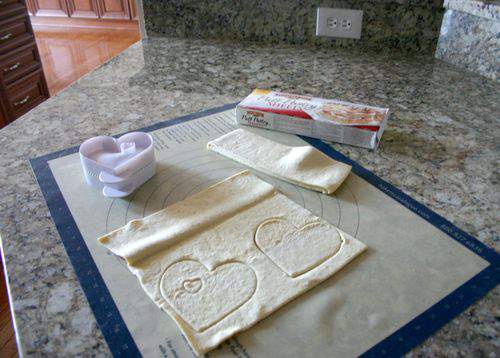 Open the mold and position the first dough shape inside.  Fill the pastry with a favorite pie filling and then cover with the second heart-shaped dough.
Close the mold and press gently.  This seals and crimps the dough.  The pastry pocket is now ready for the freezer or oven.
Before baking, apply a thin layer of egg wash over the top of the pastry and then sprinkle with a small amount of sugar to create hint of glaze.
Before serving, shoot a cupid's arrow through the heart of the pastry and the recipient will love you all the more.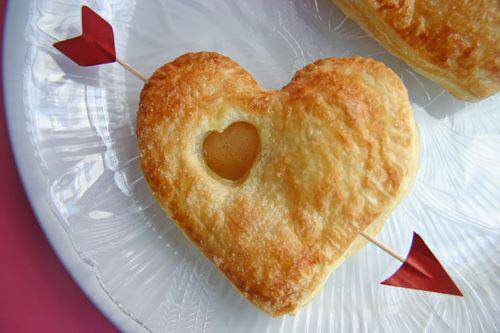 Look up the word "decadent" in the dictionary and you may find a photo of this next confection. 
It doesn't get much more decadent than this heart-shaped, dessert with it's combination of dark chocolate cake with a rich, creamy chocolate icing and tasty, ball-shaped toppings.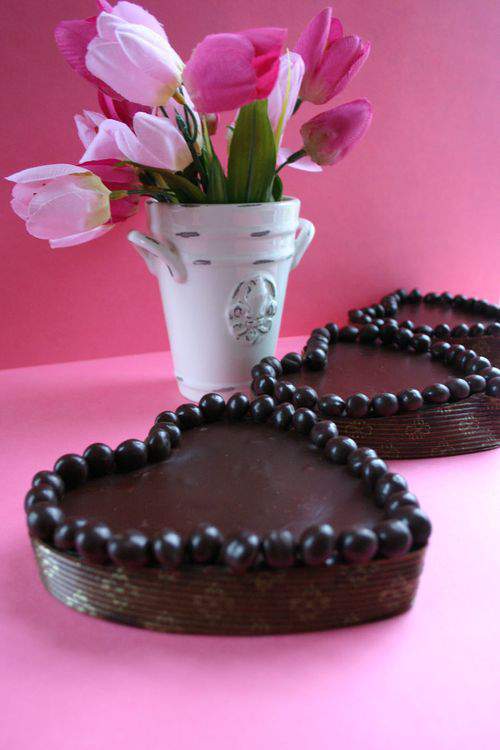 These chocolate mini cakes are all more simple to make because of these bakeable paper pans.  Just pour the cake mix into these heart-shaped, bake and give pans and place in the oven.
No need for metal pans.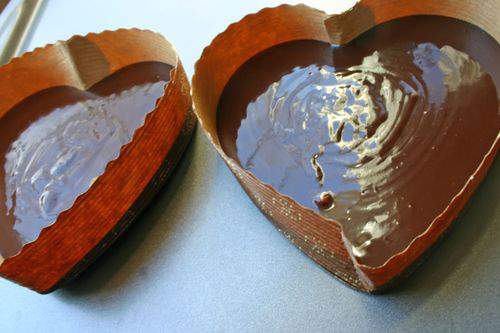 I found that if the mini cake doesn't quite rise to the rim of the paper pans during baking, just carefully trim the paper down so that the paper edge is level with the top of the baked cake.  It just looks better that way.
Stream chocolate balls along the edge of the cake to make a truly appetizing statement.
If you are more in the mood to skip the cake, you can still have your chocolate.
These chocolate hearts would be a perfect Valentine's Day hand-out for classmates and/or co-workers.
To make these candies, you'll need a variety of chocolate wafers which can be found at most crafts stores in the baking aisle.
Separate the wafers by color and then melt in the microwave.
Spoon a small amount of the melted chocolate into a plastic candy mold and pop in the freezer to harden faster.
You can also find these molds at most crafts stores right next to the wafers.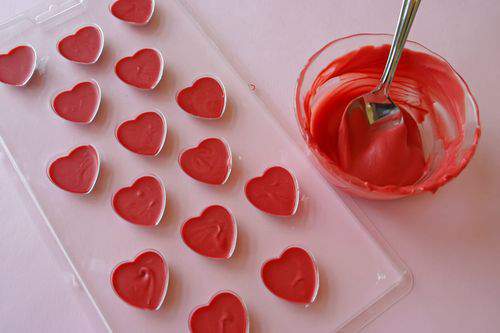 Make a heart-shaped tag in keeping with the theme and then tie chocolate-filled candy baggies with assorted matching ribbon.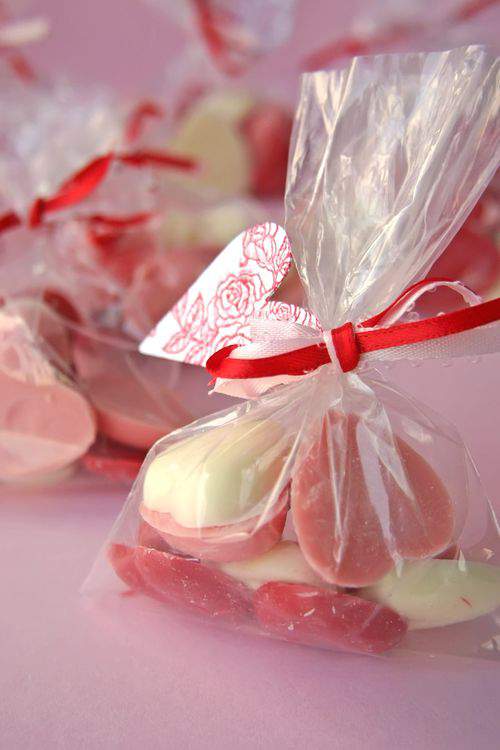 Time out on the sweet stuff.  Time now to apply the heart-shaped theme to lunch. 
Start by lightly coating bread slices with olive oil.  Toast the bread on a panini press or grill pan until you see those great grill lines.
Once the slices have cooled, cut the inside of the bread using the heart-shaped cookie cutter.
I will say, if I had known I could only get one heart per bread slice I would have selected a wider bread for this recipe.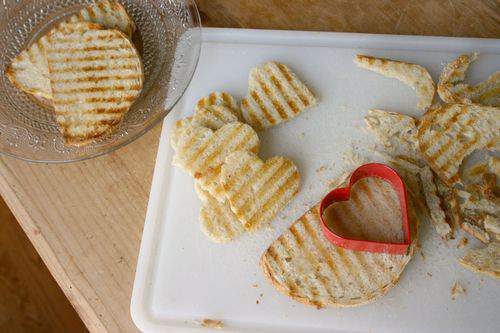 Use the same cookie cutter to cut the same shape from your favorite cheese.  Add condiments and then pile on delicious deli meat.
Spear the sandwiches with heart-tipped toothpicks to hold everything in place and you have another great (and easy) presentation.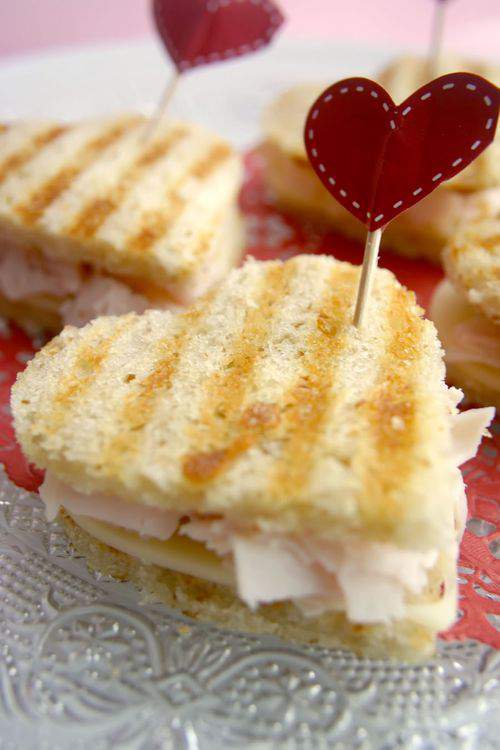 Up the love factor in this Valentine's-inspired dish with an unexpected twist on the side order.
Heart shaped chips anyone?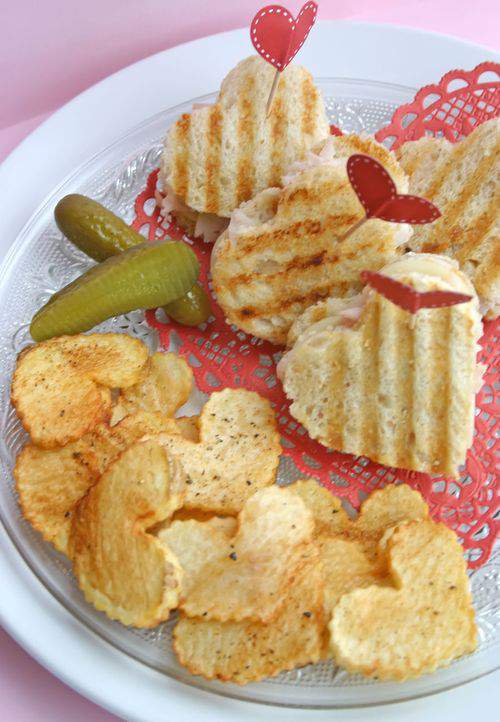 Wash a handful of large potatoes.  No need to peel them unless you really want to.
Thinly slice the potato length-wise and use the cookie cutter to create the hearts.  Deep fry or bake.
TIP: You may only be able to get one heart per slice with these but don't throw away the potato scraps.  Cut the leftover pieces into strips and deep fry or bake those too.  Your family will love them just the same.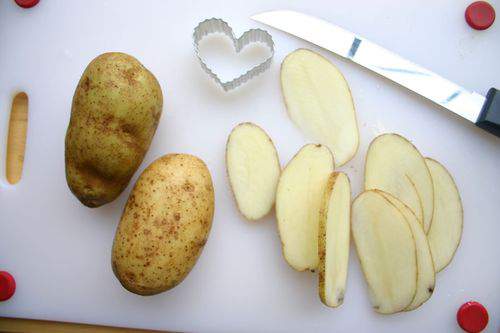 Season the potato chip hearts to taste with salt and pepper and serve to the delight of friends and family.
As you can see a little creativity in the kitchen can go a long way this Valentine's Day.
No doubt, your loved ones will appreciate your culinary efforts when it comes from the heart.  Or should I say when it comes in the shape of a heart?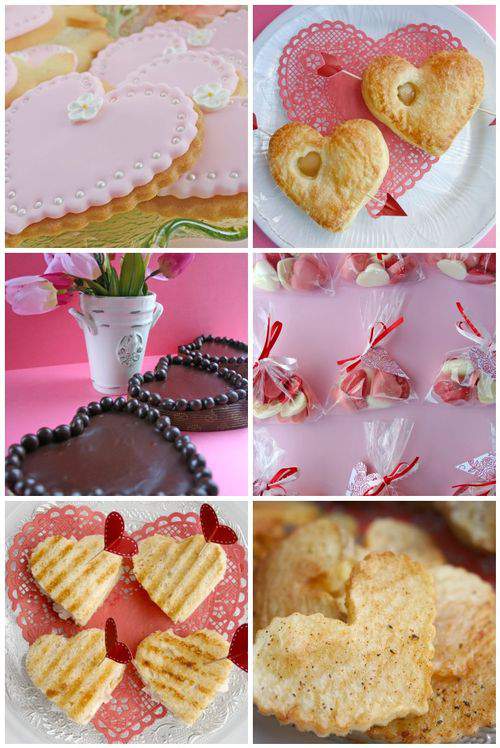 OK, enough already with the drooling.  Time to dig into some of this heart-shaped goodness.
Happy Valentine's Day! ♥