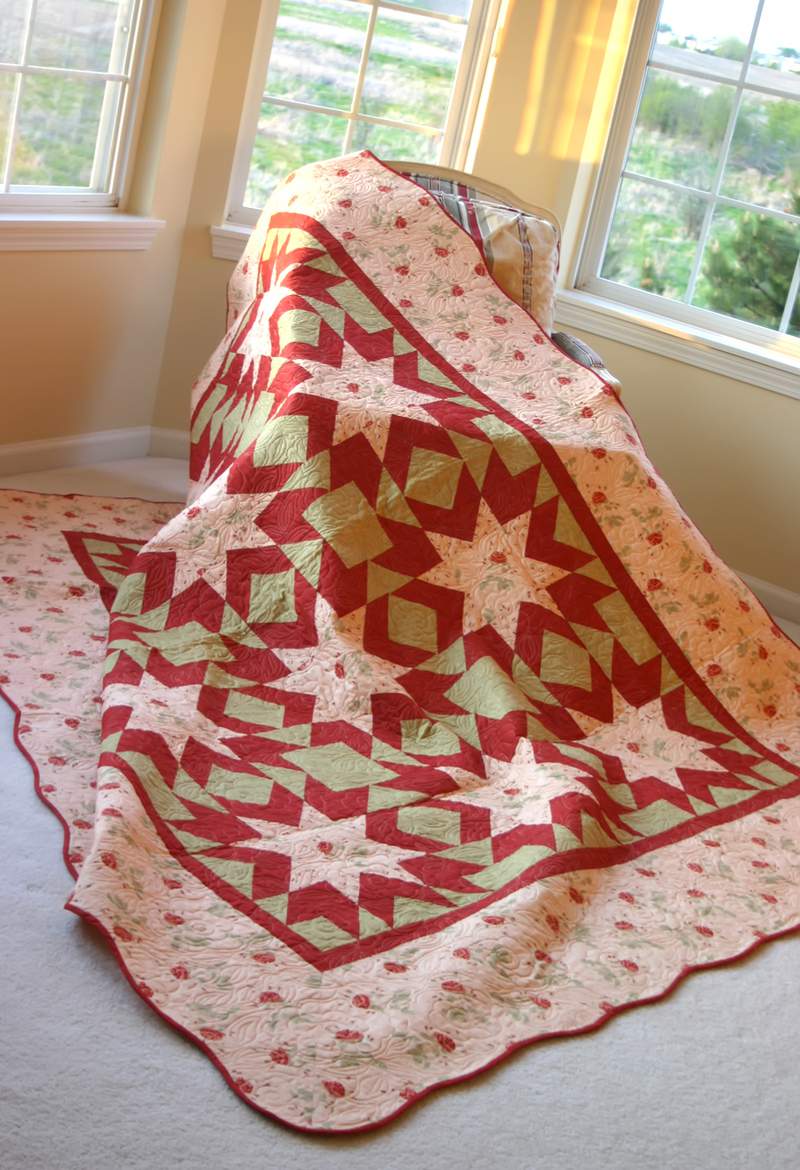 Over the last several years, I've made more than a dozen quilts and this one was not only one of my very first quilts-it remains one of my favorites too.
I love the soft peach color and rose patterned fabric along with the red that makes this Bursting Star quilt really pop.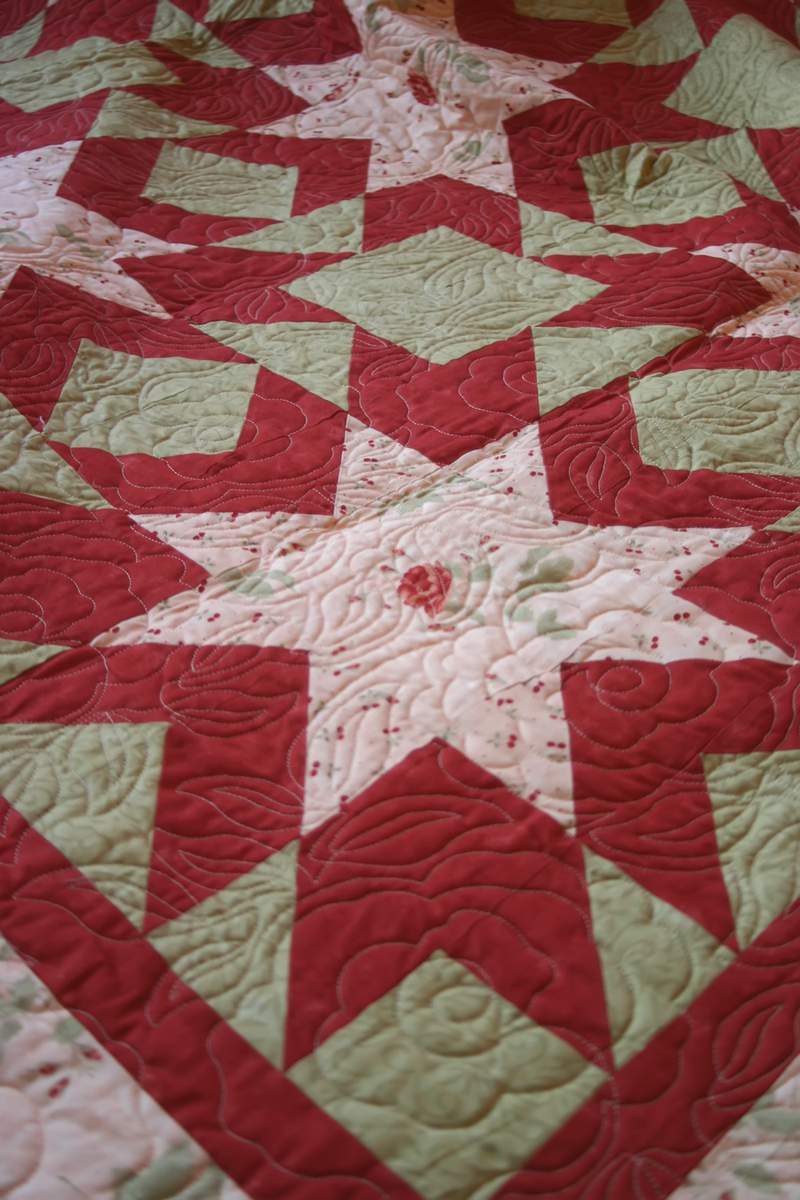 This is another one of those quilt patterns that may look difficult to construct but is actually quite simple.
The wonderful pattern is created by combining 1/2-squares and 1/2 triangles which ends up creating multiple designs within the quilt top.
That's the beauty of a pattern like this-there's so much more to it than initially meets the eye.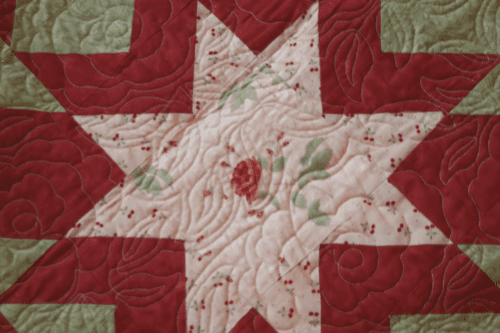 This finished design reminds me of one of those Rorschach ink blot tests because depending on how you look at it, a different design may be more prominent to your eye.
Which patterns do you first see within the quilt-the stars or the squares?
I found this pattern in a nice quilt book called Plentiful Possibilities which is filled with beautiful designs which are quite easy.
I've already started a new quilt using this same easy pattern which features a brown and green fabric combination.  I'll use this partially completed quilt to show you a few of the steps involved in creating this starburst design.
A large square is the center point of the overall block.  If you want a particular pattern in the center of this square, you can fussy-cut the pattern.  I did the same thing for the peach-colored quilt so that the pretty rose was dead center.
Since there is some amount of fabric-waste when fussy-cutting, remember you will need to calculate additional fabric yardage if you plan to do any selective cutting.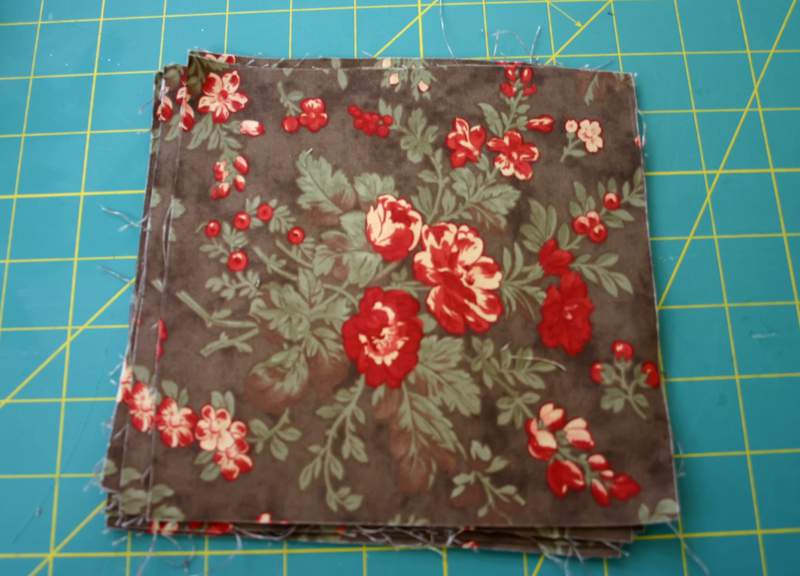 Dozens of smaller squares also help create the starburst (and the square) pattern.
After cutting squares (left photo), some of them will be cut again diagonally.  The triangles from that cut are sewn together to produce a new square that contains two different fabrics as shown in the photo on the right.
The specific placement of these various squares is what creates the starburst pattern.
The photo below shows how all the individual squares are ultimately lined up to create the pretty design.
Here's a side-by-side comparison between the un-sewn squares seen on the right and a few completed blocks on the left which have been sewn together to create the first row of this quilt.
Meanwhile, I'll share this completed brown and green quilt later in an upcoming post.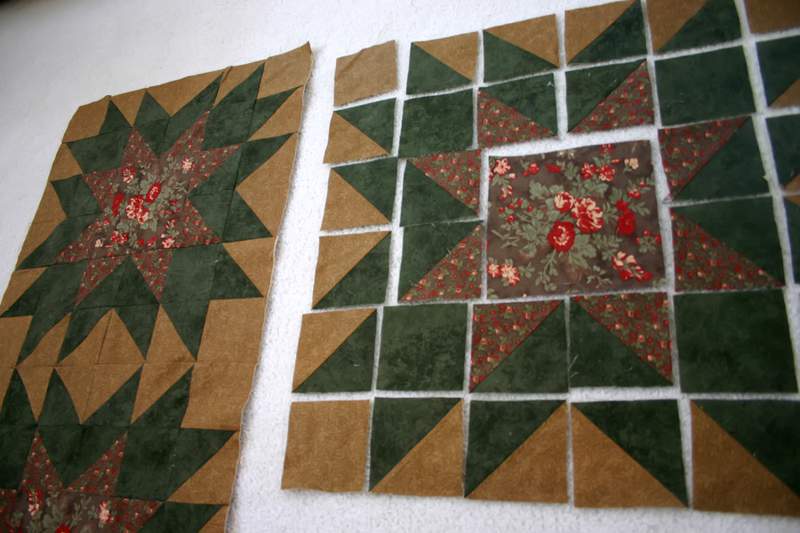 Now take another look at the finished peach quilt.  You can see how all the squares come together to create the bold starburst and square designs.  The addition of an 8-inch matching floral border adds size and continuity to the finished quilt.
I really love working with lots of fabric pieces like this that create several designs within a design.  This is also another example of a pattern that may look complicated but is really super simple to make.
The quilting is typically most visible on the back, which is why it's a good idea to select a lighter-colored fabric so you can actually see the intricate design.
This pretty rose and leaf design has always been one of my favorite quilt patterns and I've used this rose design on several projects.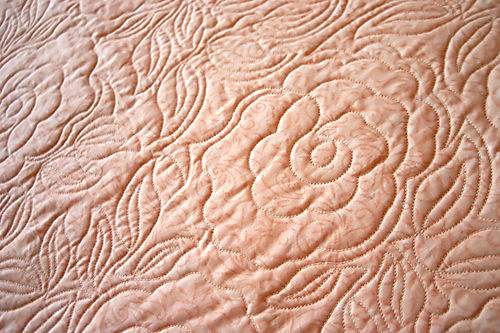 I think scalloping really adds a nice touch to any quilt and a scalloped edge is always my preference.  Out of all the quilts I've made, I only have one that has a straight edge.
A scalloped edge is such a pretty, feminine treatment for any quilt project.
This quilt has 12-starburst blocks and with the added border measures about 78-inches by 96-inches, which is just shy of a queen-size.
Of course, you can make this quilt larger or smaller by changing the number of blocks used as well as the width of the border fabric you select.
This is one of those patterns that is fun and simple that will give you a great result every time regardless of your fabric choices.  It's that versatile.
Try this pattern for yourself and this will be one bursting star that you'll be bursting at the seams to show off.