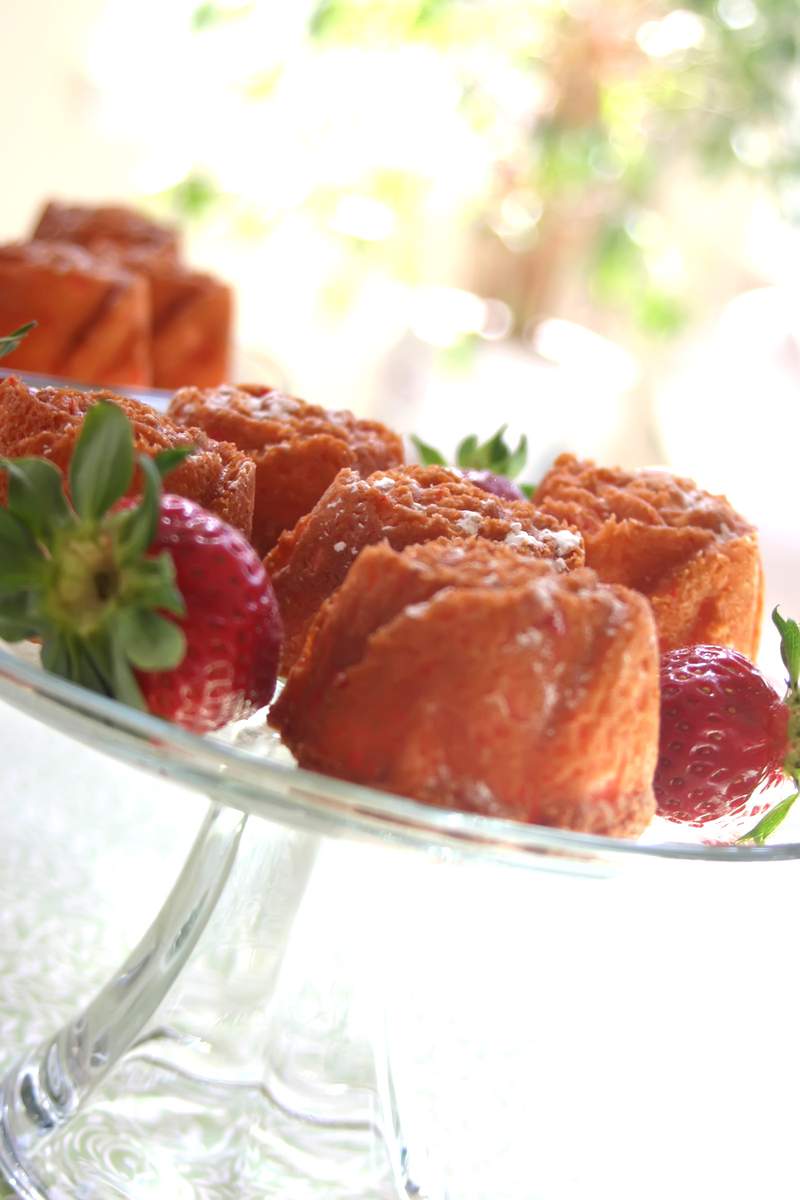 Much to the chagrin of my family at dinner time, I'm not a very good cook.  However, I am a decent baker and that makes me quite popular after dinner when it comes to that age-old question, "Mom, what's for dessert?" 
With that in mind, allow me to share a family favorite.  The key to this beautiful dessert has less to do with what you put in the recipe-and more to do with what you put the recipe  in.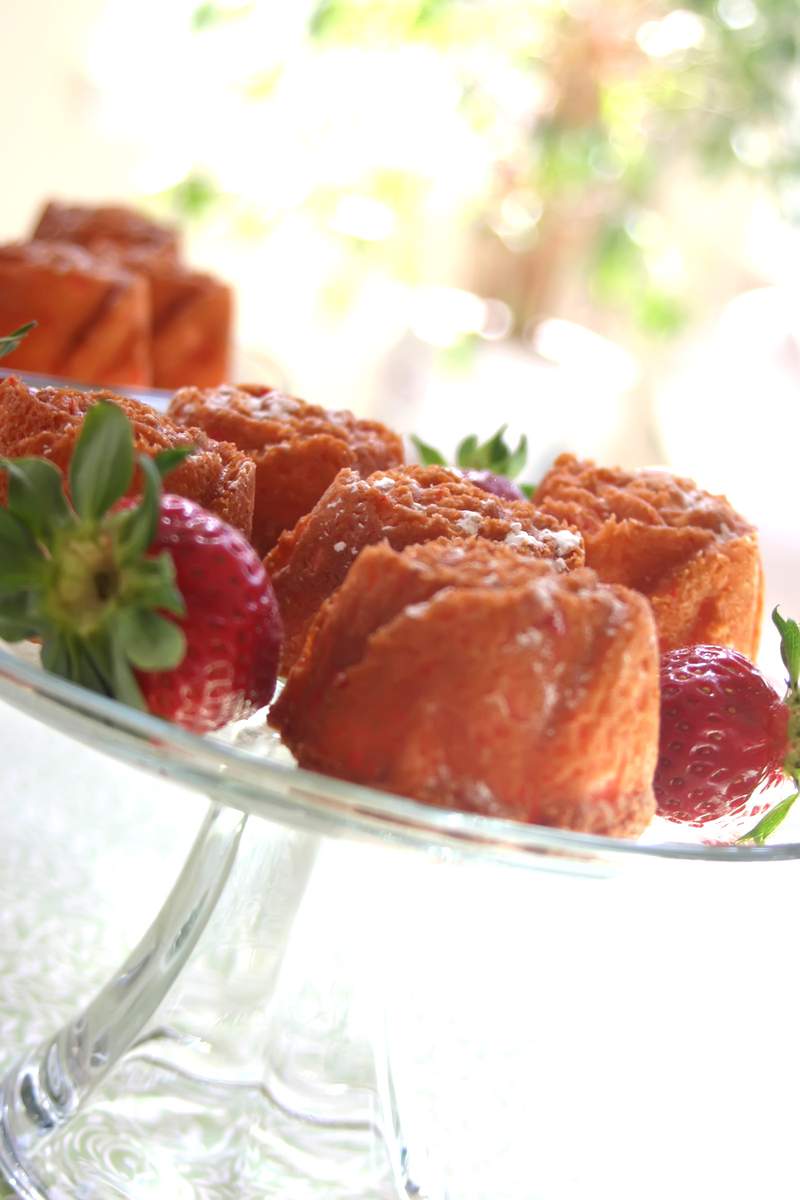 When you pour the recipe into this rose-shaped cast aluminum cupcake pan you get something really special. 
These pans are manufactured by Nordic Ware and the detail in each one is amazingly intricate.  You definitely get an extraordinary looking dessert from ordinary ingredients.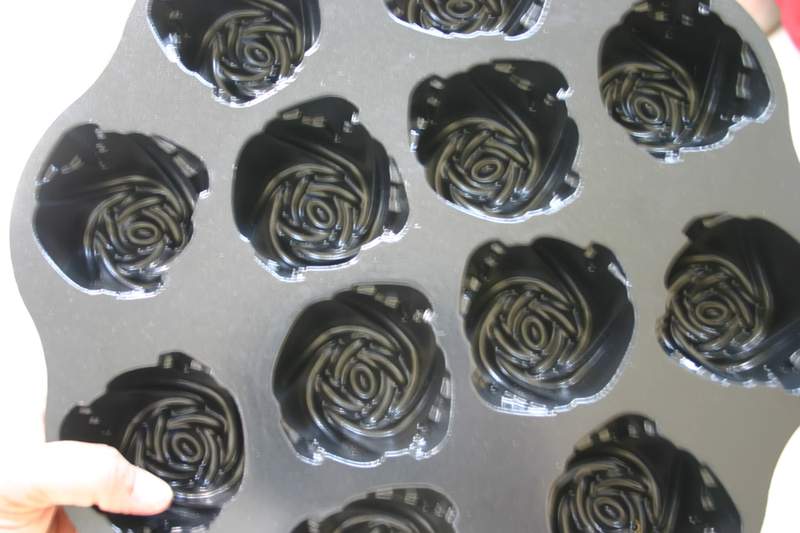 This particular design is called Sweetheart Rose and it creates a delightful flowered design that seems painstakingly carved right into the cupcake.
A look at the bottom of the cast aluminum pan shows off the fancy impression that will appear in the dessert.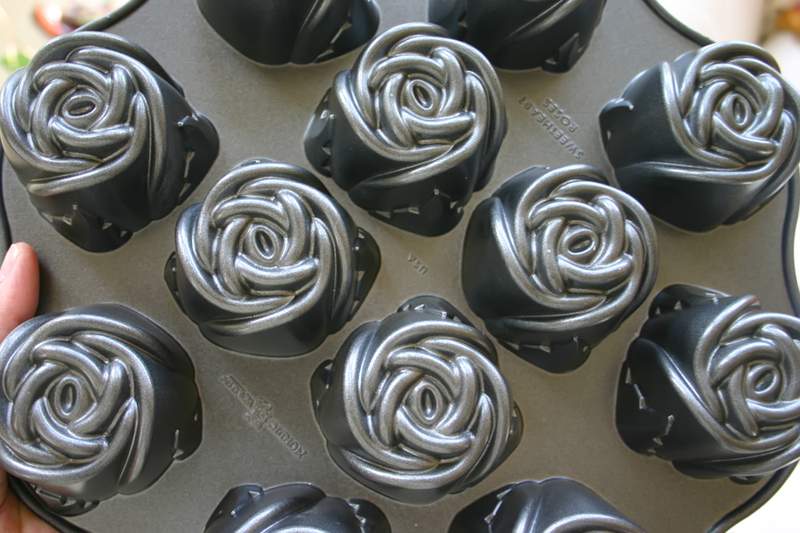 I must admit, I do gravitate toward very simple recipes and this dessert fits in with that perspective. 
While the Nordic Ware pans like this typically work best with bundt or pound cake mix, I decided to try regular cake mix this time which only requires oil, water and eggs.  Of course, fresh fruit on the side is optional.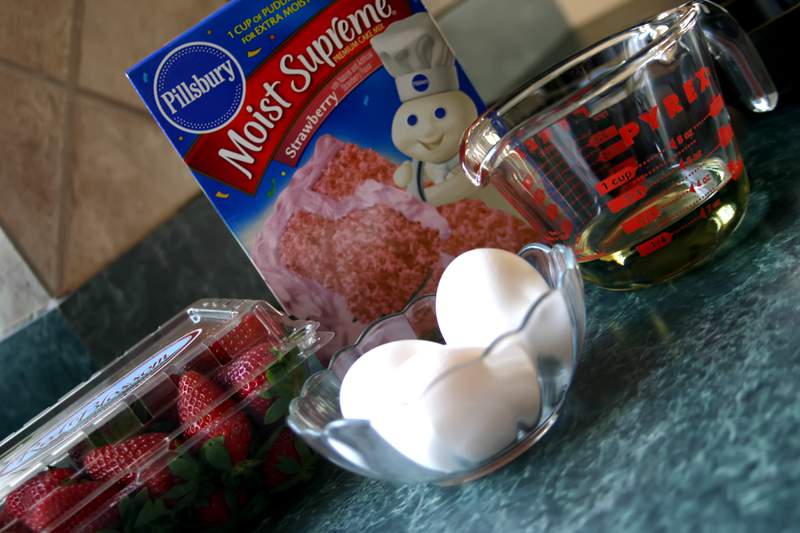 An electric mixer is ideal because it really gets the batter super creamy.  It's also much easier on the hands, especially when working with thicker batters.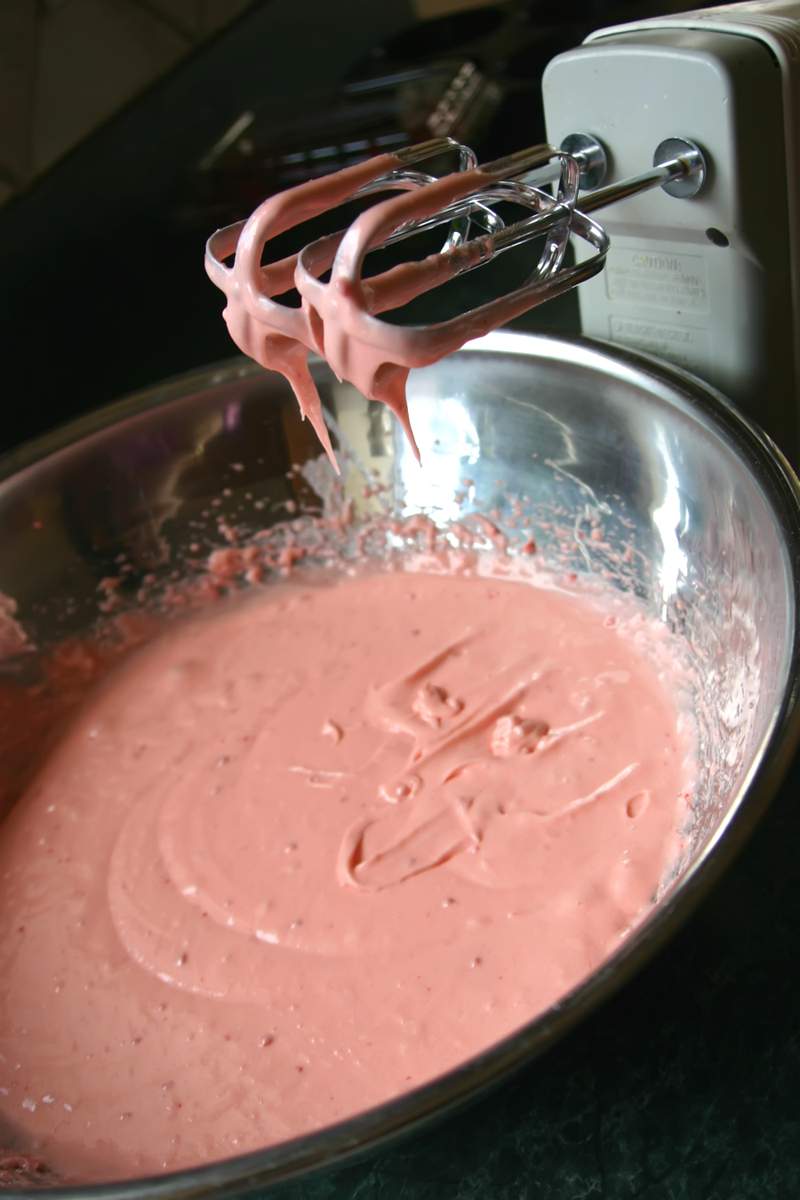 To ensure perfect removal from the aluminum pan make sure each cupcake pan crevice is generously greased.  I use a spray that also contains flour because it's easier. 
You may also want to use a basting brush to make sure that every nook and cranny of the pan is covered.
Tip:  After spraying the pan, sprinkle a tiny bit of regular sugar onto the sides before adding your cupcake mix.  The sugar has an almost caramelizing effect and will give the finished baked dessert a little extra crisp and shine.  This too, is optional.
One of the great things about using heavy cast aluminum bakeware like this, is that the oven heat is evenly distributed throughout each finely detailed area of the pan.   
The finished dessert turns out perfectly golden all the way around.  This photo makes me want to bite right into it.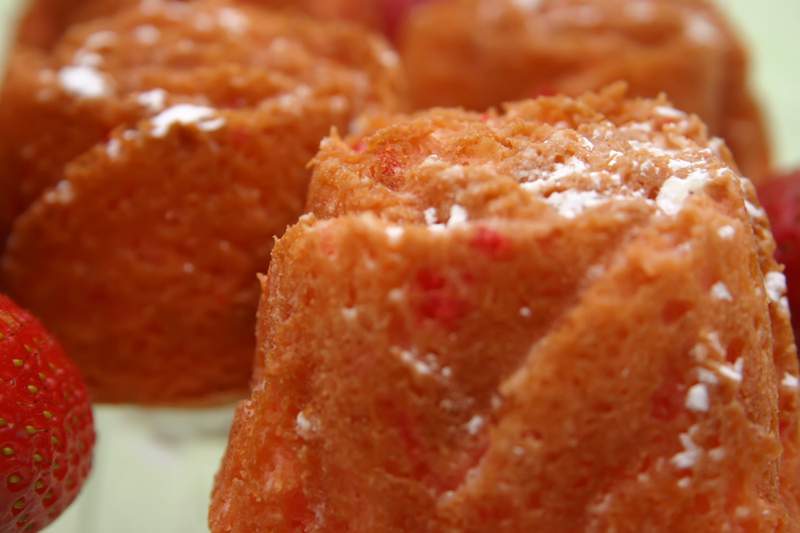 When using regular cake batter, I'd suggest you fill the molding slightly less than half way to prevent the cups from rising too high.
I filled my first batch higher than I should have and as cupcakes do-the batter rose up over the top of the pan like a fat muffin.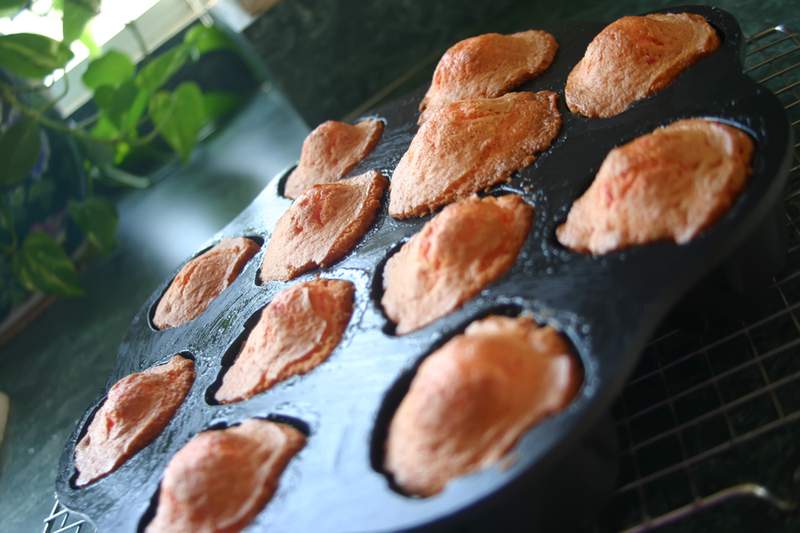 This made it hard for the rose dessert to sit flat on my serving tray.  So, for a more stable looking presentation, I simply sliced off the bottom, muffin-like portion.   
This gives the underside a nice straight surface and the rose cupcake will sit upright on your platter.  I doubt your guests will check the bottom of the dessert for any reason, so don't worry about that shaved appearance underneath.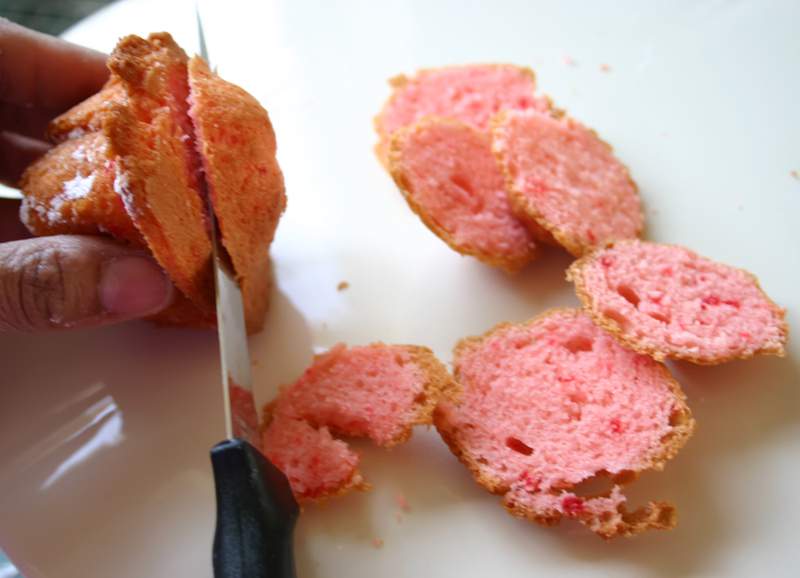 While over-filling the aluminum pan is a minor issue in the scheme of things, you may want to initially experiment with the batter levels to see what works best.  As you become more familiar with your pans, batter levels will quickly become second nature..   
By the way, your kids will love the shaved cast-offs, so no part of the cupcake is wasted.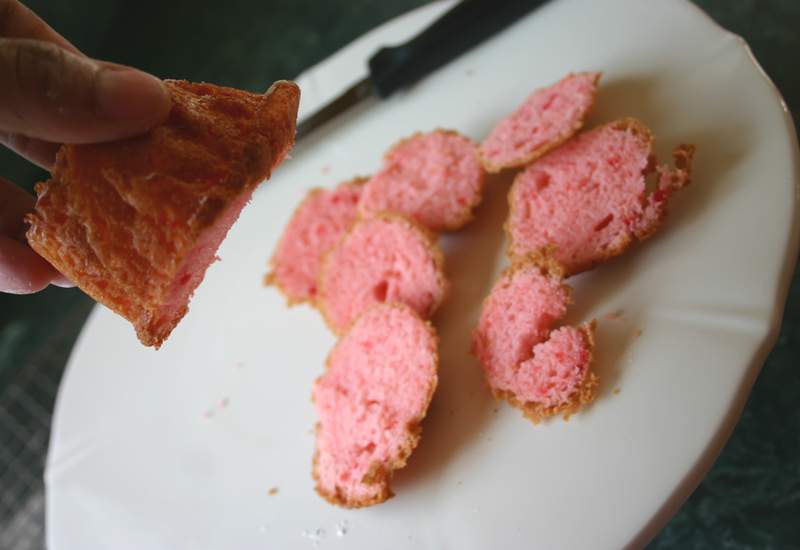 After the cupcakes have cooled, sprinkle a small amount of confectioner's sugar on top for a nice finishing touch.  A flour sifter will make for a more even and light distribution of the powdered sugar.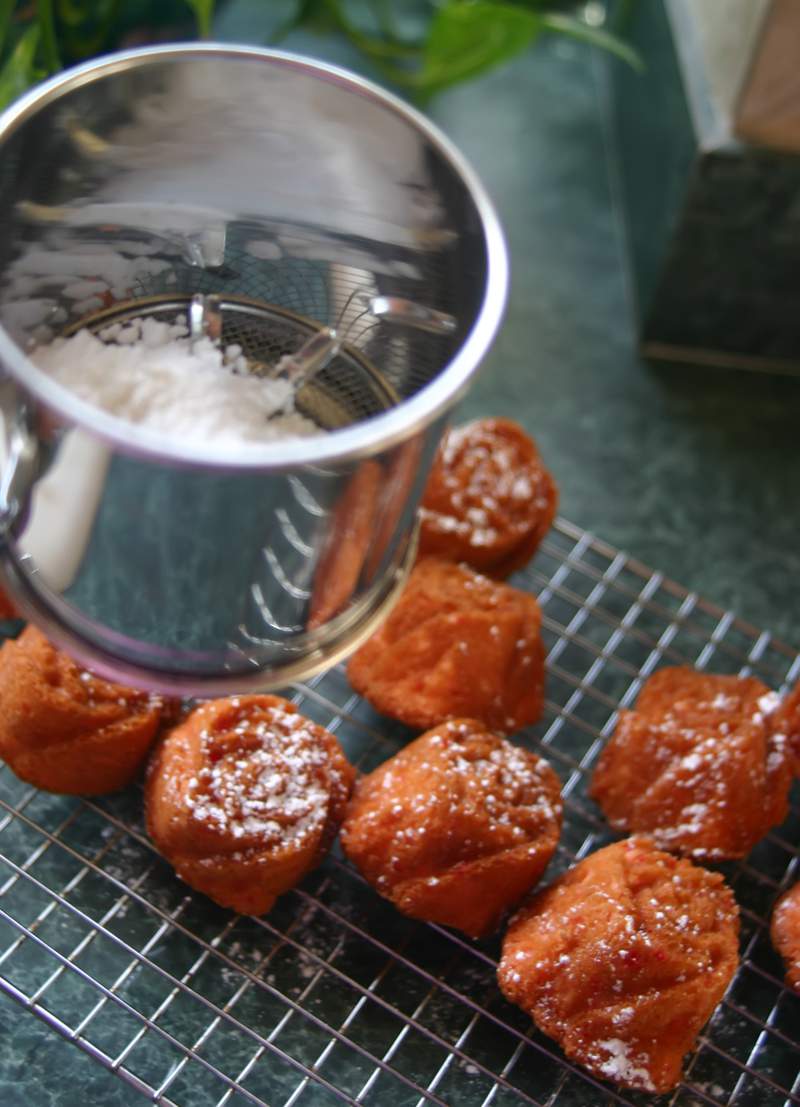 The photo below shows the same rose design but in the large cake size cast aluminum bundt pan.  You can see the baked-out dessert using this pan on the cover a recipe book that I mention toward the end of this post.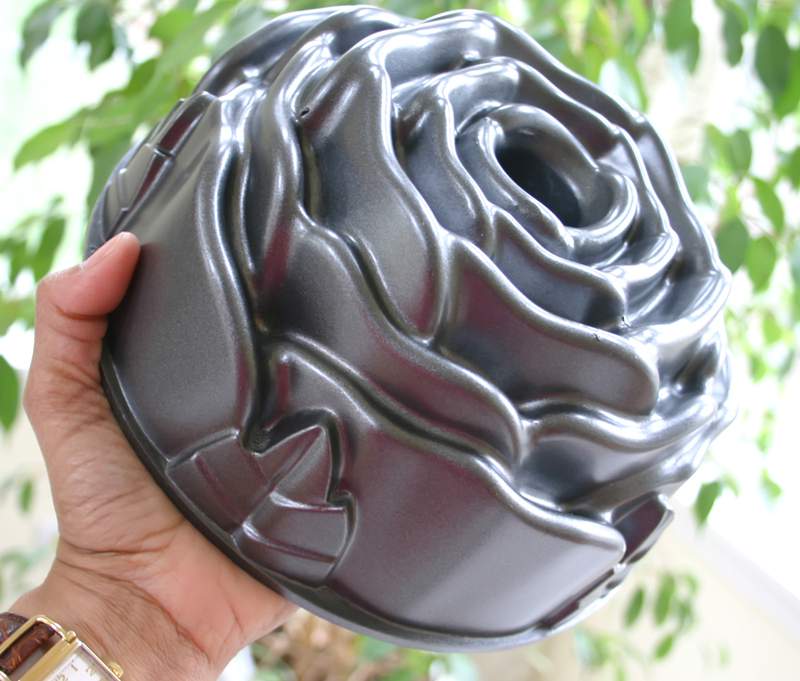 I must admit, this bakeware is a bit addictive and I've been collecting Nordic Ware baking pans from a favorite local gourmet shoppe for more than ten years.  Some designs are also available through Williams-Sonoma.
By the way, with gentle, non-abrasive cleaning and deligent care these pans will continue to look brand, spanking new even after years of use.
The aspiring chefs in your home under the age of 10 will also enjoy helping with this recipe. 
My daughter is typically the first to help fill them with batter, while my son is pretty much the first to sample the finished dessert.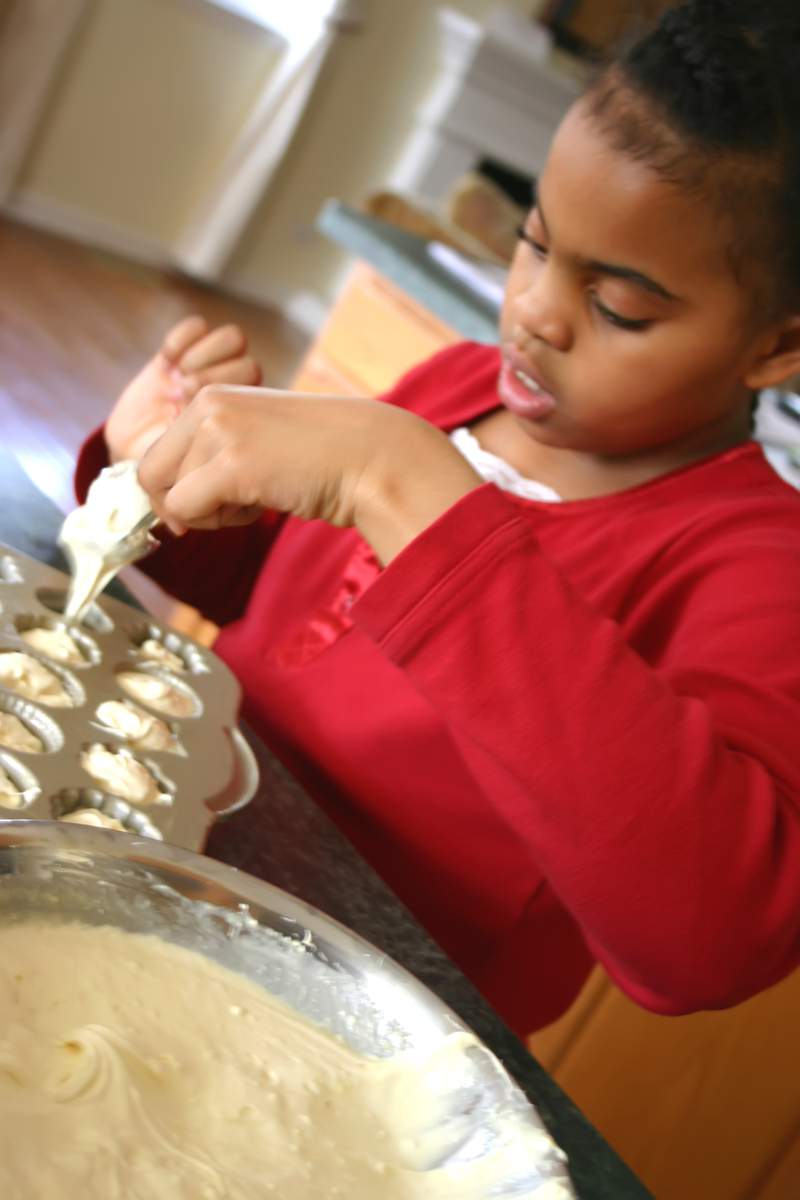 Here's another look at the dessert baked with a boxed pound-cake mix.  In this batch, you can definitely see the difference in the texture which is determined by the type of mix that is used.
As you can see, the pound cake mixture produces a less poreous, tighter finished dessert which displays the design in much greater detail.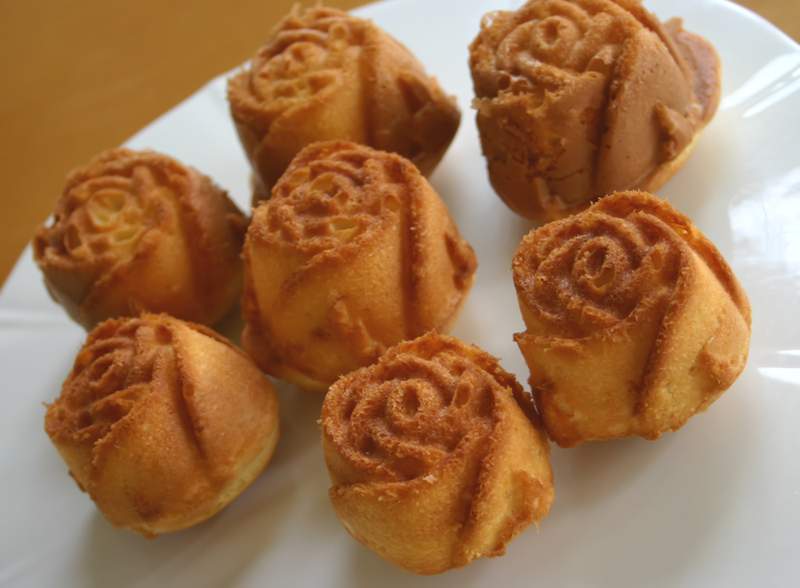 In addition to the rose design, this carousel pan is another one of my favorites. 
After baking, the little merry-go-round horses can be individually painted with multiple icing colors for a fun and festive look.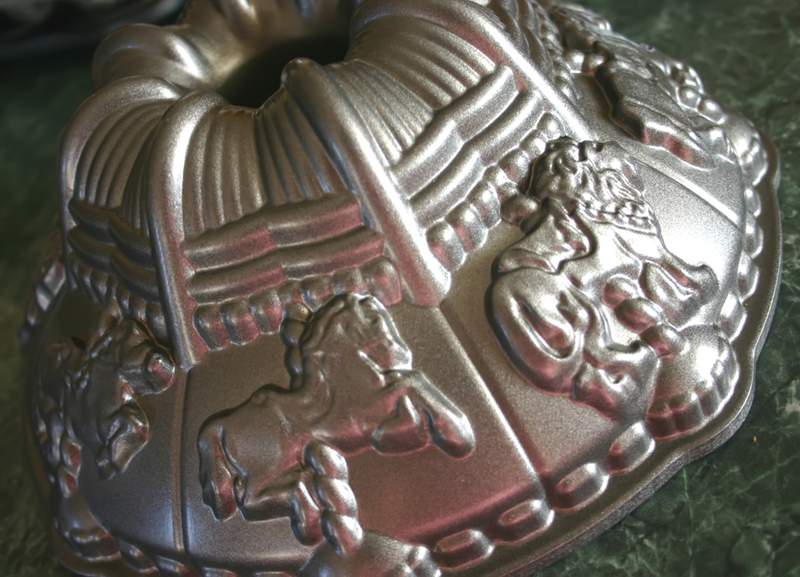 There is also a larger version of the sweetheart rose cupcake pan. Now, this pan creates some pretty large cupcakes that bake out a little bigger than 5-inches in diameter.  That is huge.
Despite the hefty size, these fat cupcakes are just as beautiful and intricately carved as the smaller ones.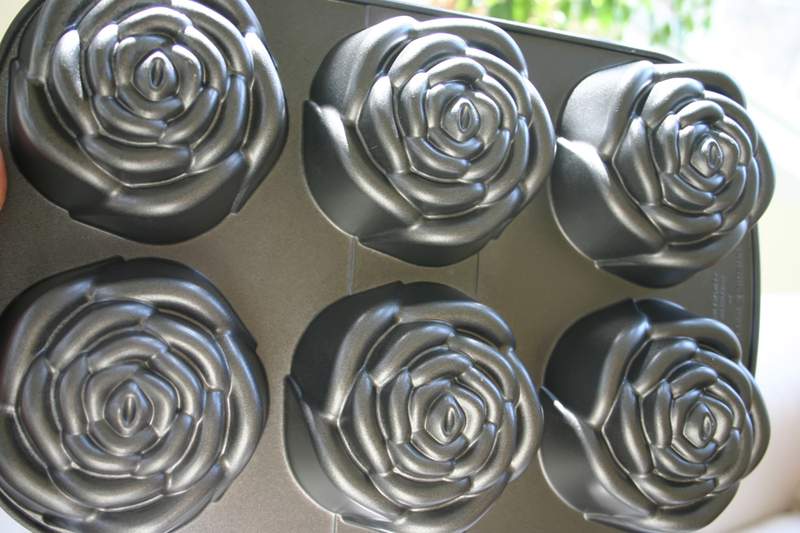 Here are a few of the cupcakes from that larger rose-shaped cast.  I baked these a little longer than I did for the smaller ones which is why they came out a tad browner.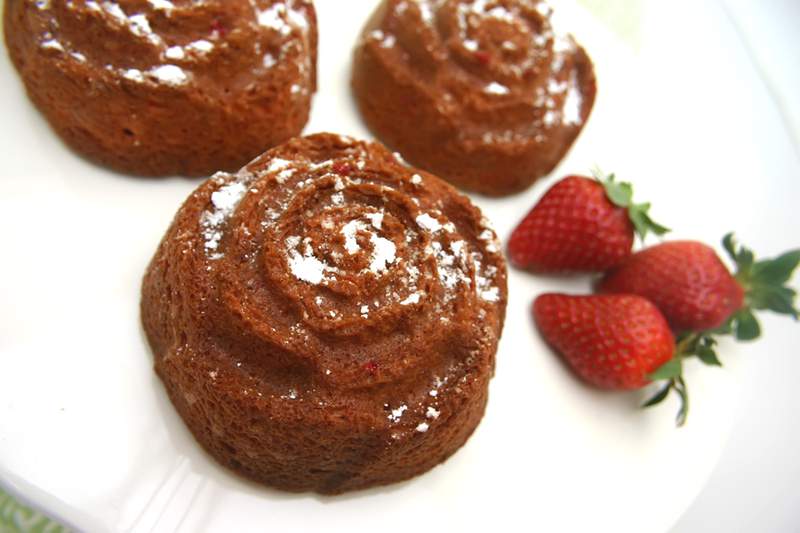 On a side note, I've been working to improve my photography and experimenting with a newly purchased light tent which really helps to illuminate objects much better.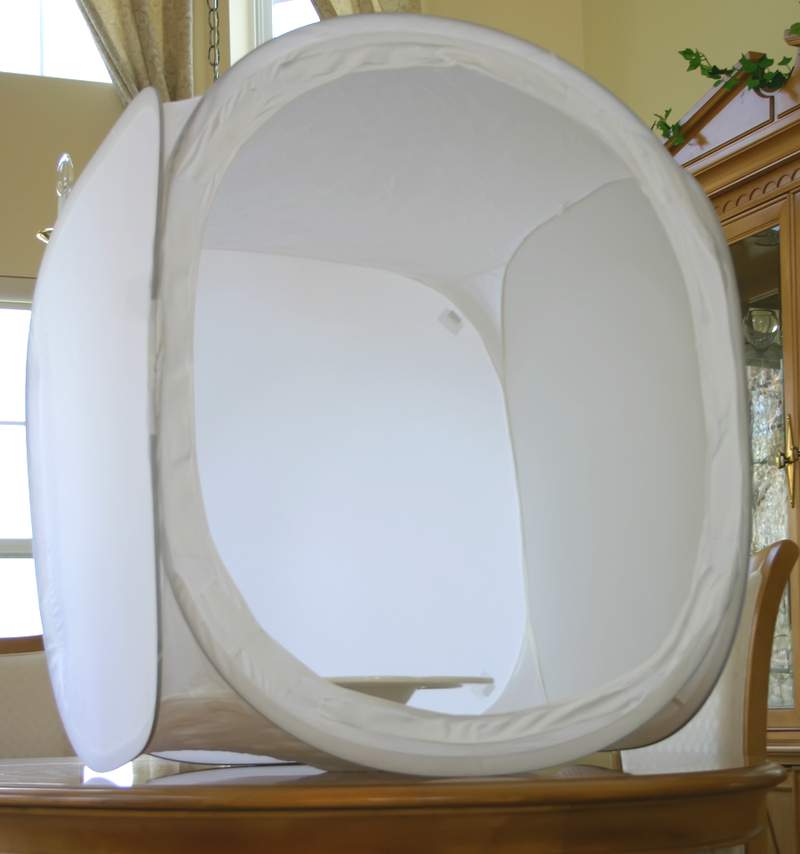 For these two photos, I placed the cupcakes on a pedestal and set the stand down inside the tent.  The photos were snapped from above the tent for a couple of shots that look good enough to eat.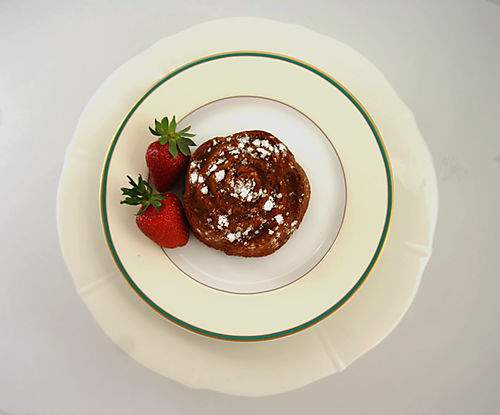 I used a large sheet of pink scrapbook paper under the pedestal to achieve the pink background in this photograph.
While I used boxed cake mixes for these cupcakes, there is a nice book available with a collection of recipes you can make from scratch.  Bundt Classics has lots of flavored recipes including Butterscotch Rum Ripple Cake, Luscious lemon Daisy Cake, Crunchy Granola Coffee Cake and Mint Julep Cake to name just a few of the 150-recipes.
My only complaint with this book is that out 150-recipes, there are only 8-color photos of finished desserts and that's including the cover shot.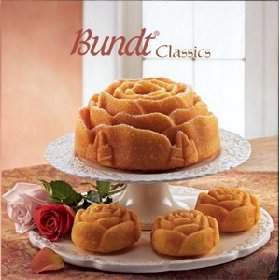 I think these cupcakes would be positively perfect for any occasion.  Just change the batter flavor, the batter type and/or the fruit compliment to suit the event and you'll have a wonderfully elegant dessert that takes very little time to prepare.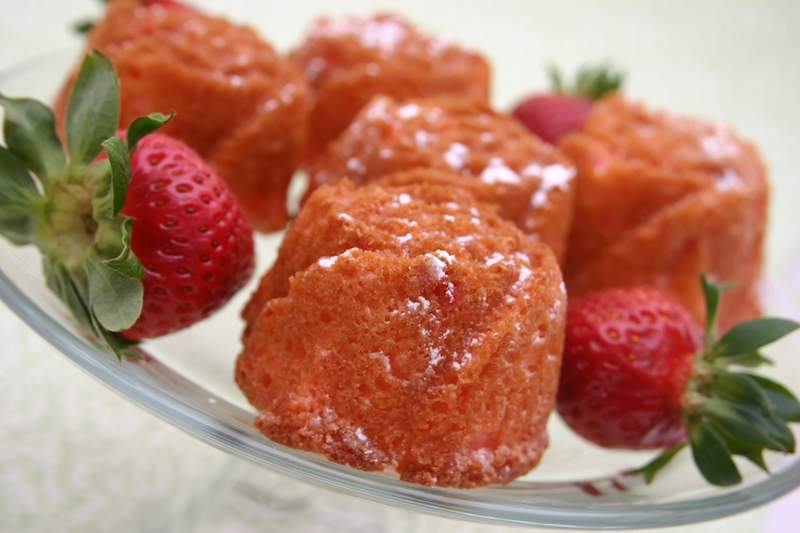 If you serve this beautiful dessert, I'm sure your guests will be delighted and impressed at the same time. 
I suspect if tummies and taste buds could talk-they'd say simply scrumptious!