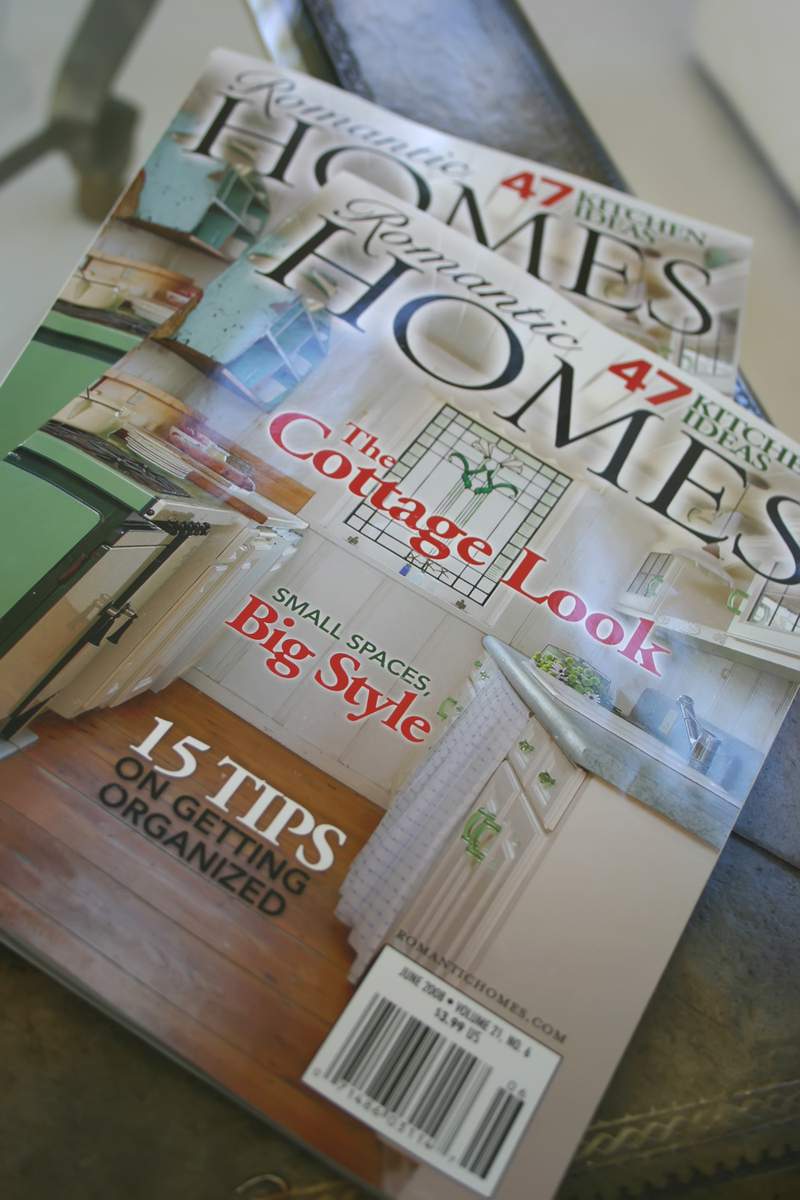 OK, so earlier this month I was pretty much stalking my local Barnes and Noble bookstore.  I burned up the phone line daily to inquire about a particular magazine issue.  Before you think I've lost my marbles, let me say it was all for good reason and great anticipation. 
My efforts finally paid off after I got my hands on the latest issue of Romantic Homes magazine.  Actually, I was able to get my hands on two.  One for me and one for my mom.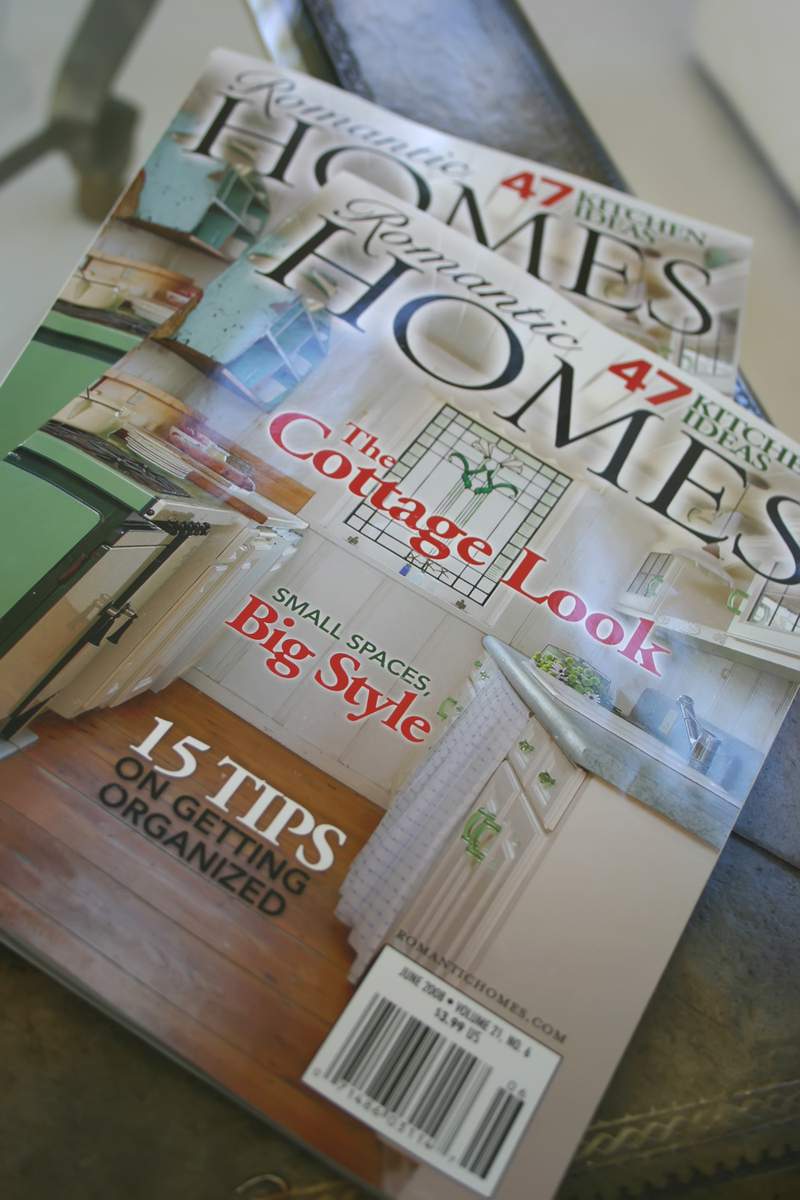 Perhaps you already see where I'm going with this.  This June 2008 issue has an article entitled Best Blogs which profiles several blogs.  If you turn to page twenty-one you'll see celebrate CREATIVITY in all its forms featured. 
A photo of my sweet dandilion-sniffing daughter is at the top of the writeup. 
I have to extend a big thank you to Tara Frey who wrote the article.  Tara regularly writes about fun and beautiful blogs that catch her eye and she's wonderfully supportive of the diverse and creative efforts she finds throughout the blogoshere. 
Tara has her own blog as well called Bella Cafe which is a "a vintage pitstop to refuel your soul" and is always a pleasure to browse.    Also check out her oh-so pretty shoppe which is filled with vintage pillows, elegant frames and mirrors, pretty decor and treasures that can help make a house a home.
If you've never picked up a copy of Romantic Homes, it's a fantastic magazine to flip through when all is quiet and you have a peaceful moment to yourself to just relax and indulge in the beautiful articles and photos.
It's one of my favorite reads, and I've accumulated quite a collection of issues over the last few years.  This is the kind of magazine I just can't bring myself to toss-even after reading it cover to cover multiple times.  Every issue is just too pretty to throw away.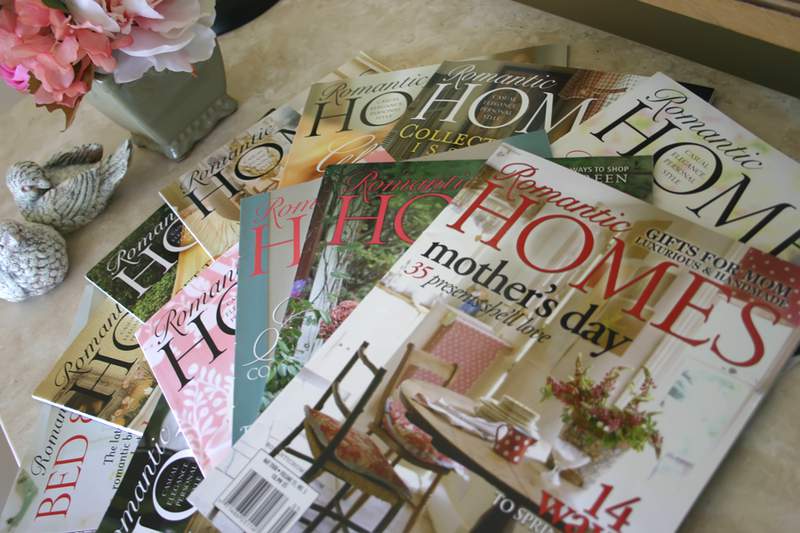 Meanwhile, I do want to give a "shout-out" to the other two blogs that are featured along with mine. 
Lidy Baars calls her site Little French Garden House and her blog is a pleasant mix of antiques, vintage treasures, home decor, photos and stories that are wonderfully French-inspired.  Little French Garden House is a delight to stroll through, and I promise you won't just visit once.
Pop over to Tuttichic and you'll see why Chris Glynn has such a loyal following.  Chris' beautiful photos of gardens and home design are so serene and peaceful looking it's a treat to get lost in it all.  She also shares my affinity for the late/great comedienne Lucille Ball.   Little French Garden House has such a sweet vintage charm it will keep you coming back for more and more inspiration.
I love giving you a sneak peak, but I hope you'll pick up this issue of Romantic Homes for yourself.   If you're looking for eye candy you'll definitely find it in this magazine which is always filled with so many lovely things to see and enjoy. 
I'm really honored to have celebrating CREATIVITY in all its forms included in this issue and I appreciate the opportunity to have my blog reach a new audience through the pages of Romantic Homes.  Stay tuned because I have a few projects slated to appear in some upcoming issues of this magazine later this year.
I'd also like to extend a heartfelt thanks to everyone who pops in to see my creative and crafting efforts.  I'm humbled by your thoughtful words of encouragement and support. 
My little blogging experiment (as I like to call it) started on a bit of a whim nearly one year ago.  I think I'll keep it.  Thanks again!