When I was a little girl, I had the chance to live and travel to many parts of the world as the daughter of a Peace Corps director.  However, I never took a trip "around" the world-until I made this quilt.
Trip Around the World is the name for this quilt design which starts with a fabric square in the center and radiates outward with seemingly hundreds of other colorful squares that create one big square after another.

I'll admit, when I first saw the pattern for this quilt I was a little intimidated because I thought it contained far too many individual squares than I could possibly keep up with.
The little 2-inch squares actually are not sewn together individually at all.  It only looks that way.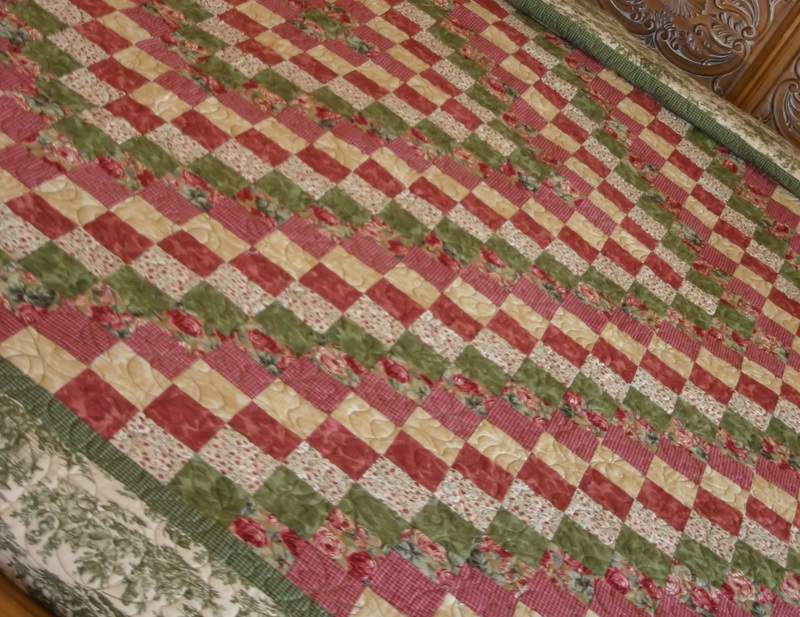 Since I completed this particular quilt a while ago without taking pictures of the process, I'm going to back-track the steps for you using leftover fabric from different projects.  Six different fabrics were used for this quilt so I just rounded up half a dozen remnants for this tutorial.
Start by cutting 2 1/2-inch fabric strips out of each fabric selection.  Cut the strips the length of your fabric yardage.
If you make this project you'll be cutting strips much longer than the example in the photo below which is a scaled down version for purposes of this basic illustration.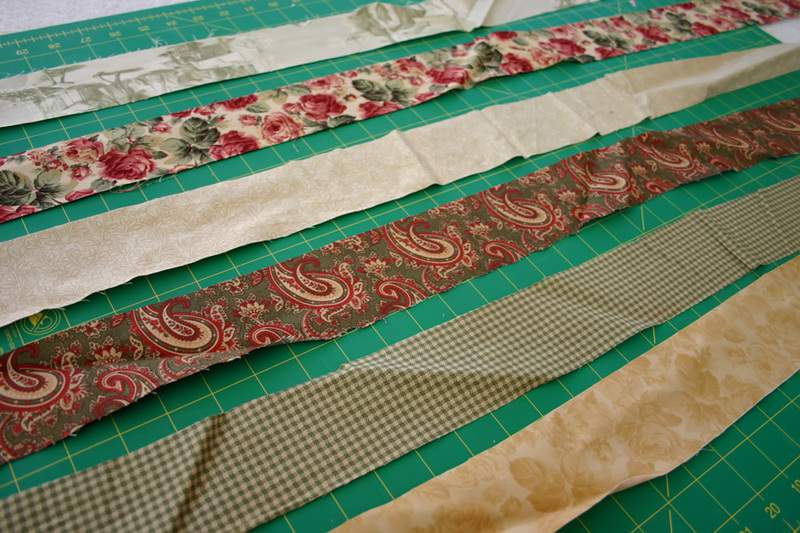 Sew the strips together using a 1/4-inch seam allowance.  I use a special 1/4-inch foot which attaches to my sewing machine.  It has a small black metal fabric guide to the right of the needle and the raw edge of the fabric rests right up against it as it's being stitched.  This is a great tool to help maintain a consistent 1/4-inch seam allowance.
You can contact your sewing machine manufacturer or local sewing shoppe to find a 1/4-inch foot to fit your particular machine.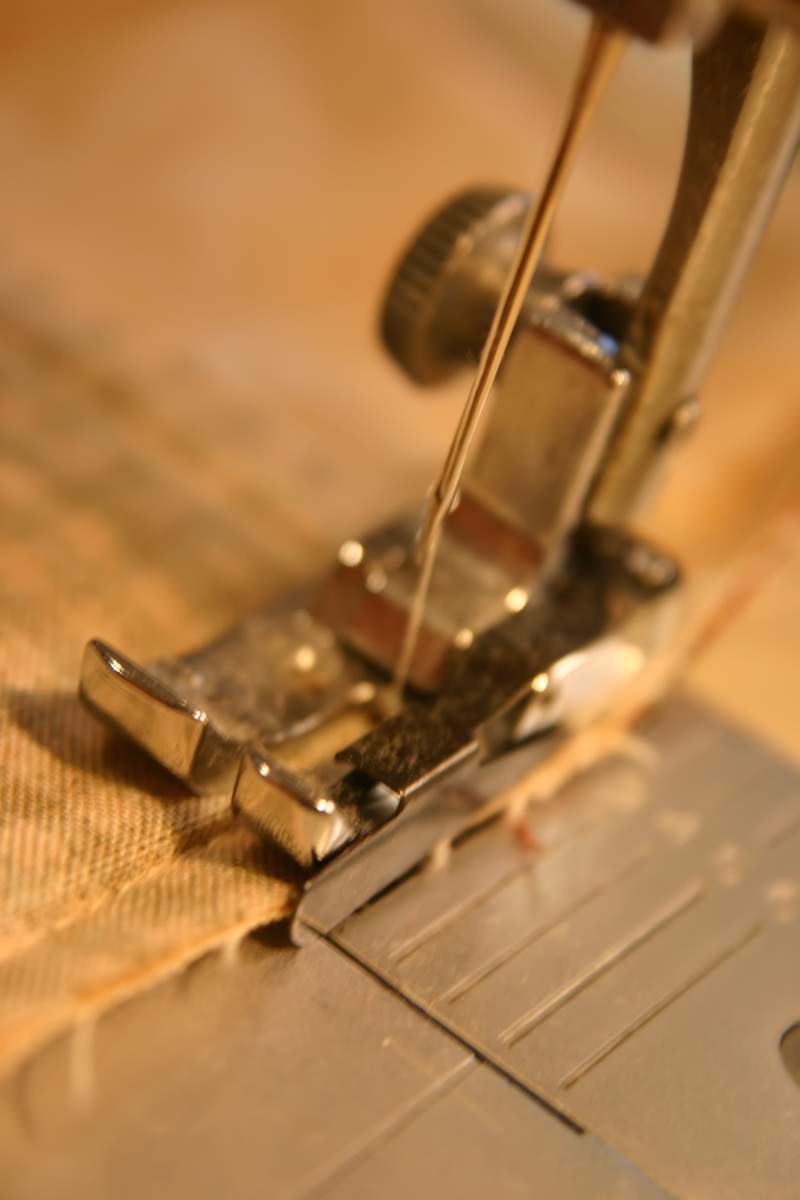 After stitching all your strips together, you'll end up with a very large piece as in the photo below.  Iron this piece flat making sure you do not stretch or pull the fabric during the ironing process.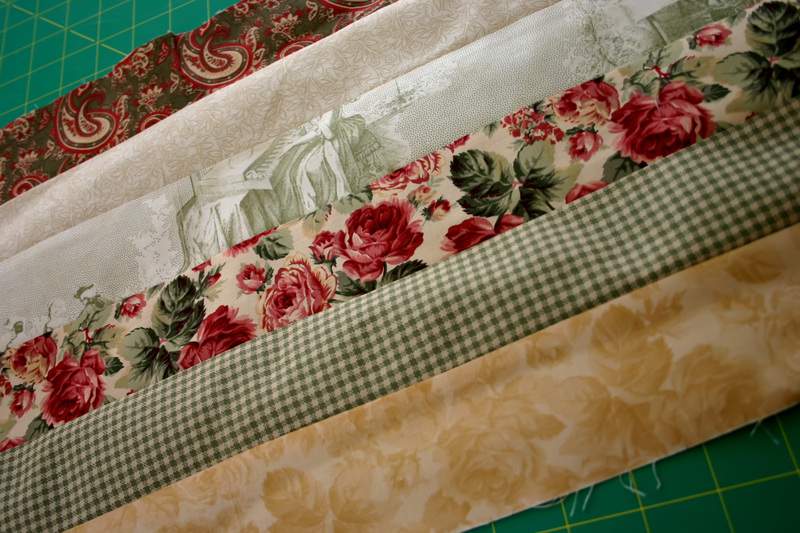 Once the strips have been sewn together and ironed, cut across the width of the newly constructed piece to create new strips which are 2 1/2-inch in width.  See-thru quilter's rulers make this step a breeze.
You'll notice in the photo below that each new strip contains a 2 1/2-inch square from each of the six fabric selections.
The strategic and staggered placement of these strips is what creates the Around the World design.  Because of the 1/4-inch seam allowance on each side of the strips, your finished squares within the strips will end up measuring 2-square inches.
Remember, your actual strips will be much longer than the ones in the demo photo below.  When sewing these strips together make sure you line-up your square seams and pin in place before stitching.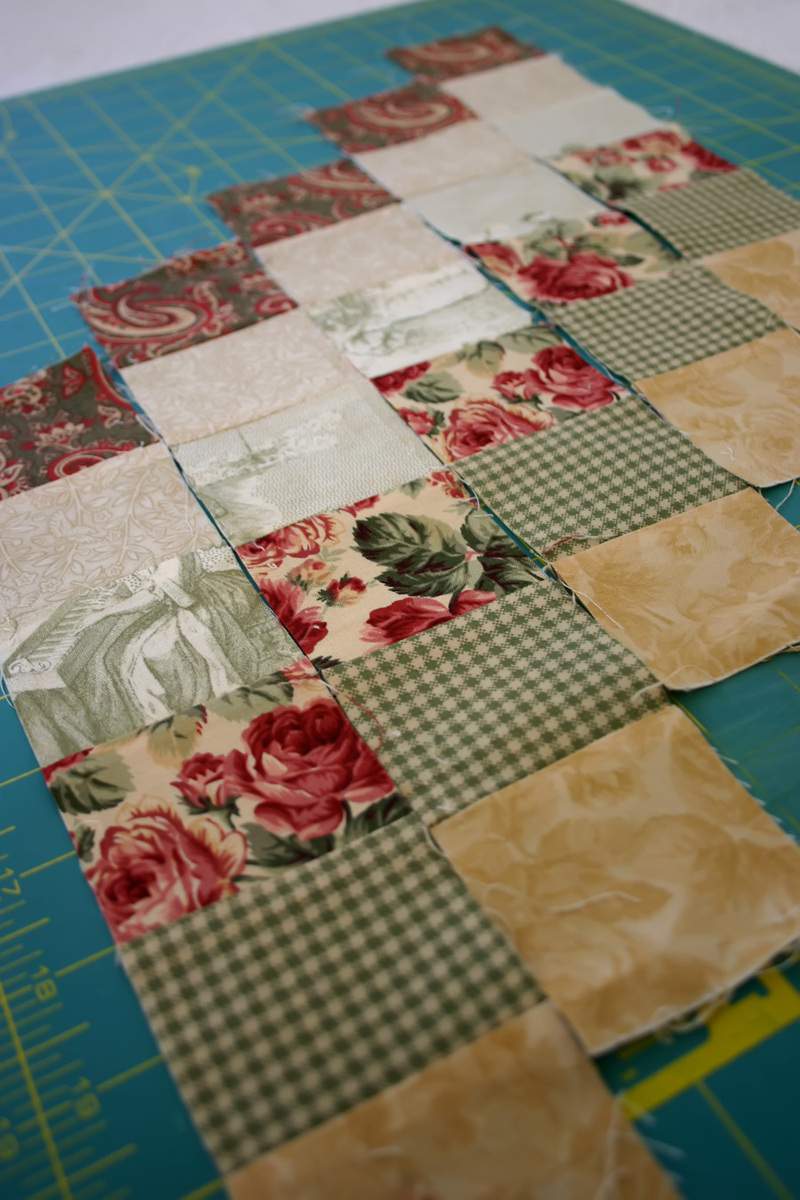 As you can see in the photo below, after staggering your strips per the pattern instructions and stitching them all together, you're left with the appearance of tons of individual squares.
I think this is a wonderful pattern that actually suggests it's more complicated to construct than it really is.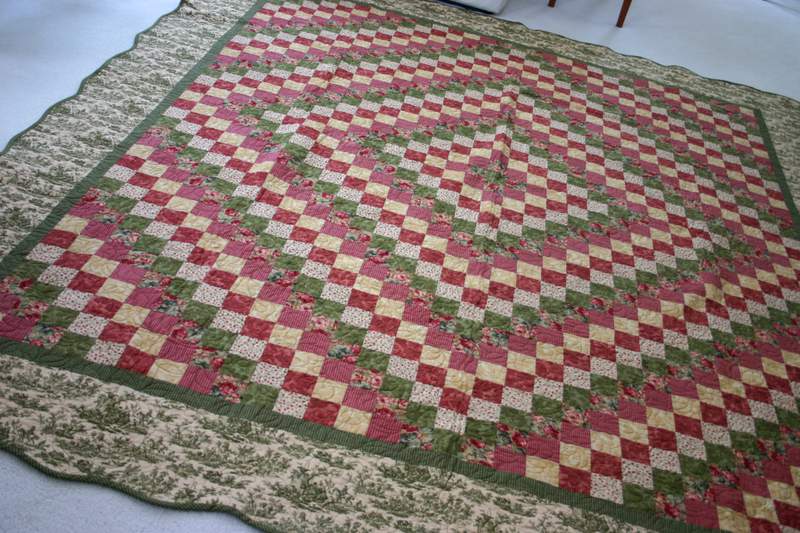 Of course, it's no secret by now that I love a scalloped border on a quilt.  As always, I applied that technique to this project using the same green-checkered print for my binding that I used for the small border within the quilt.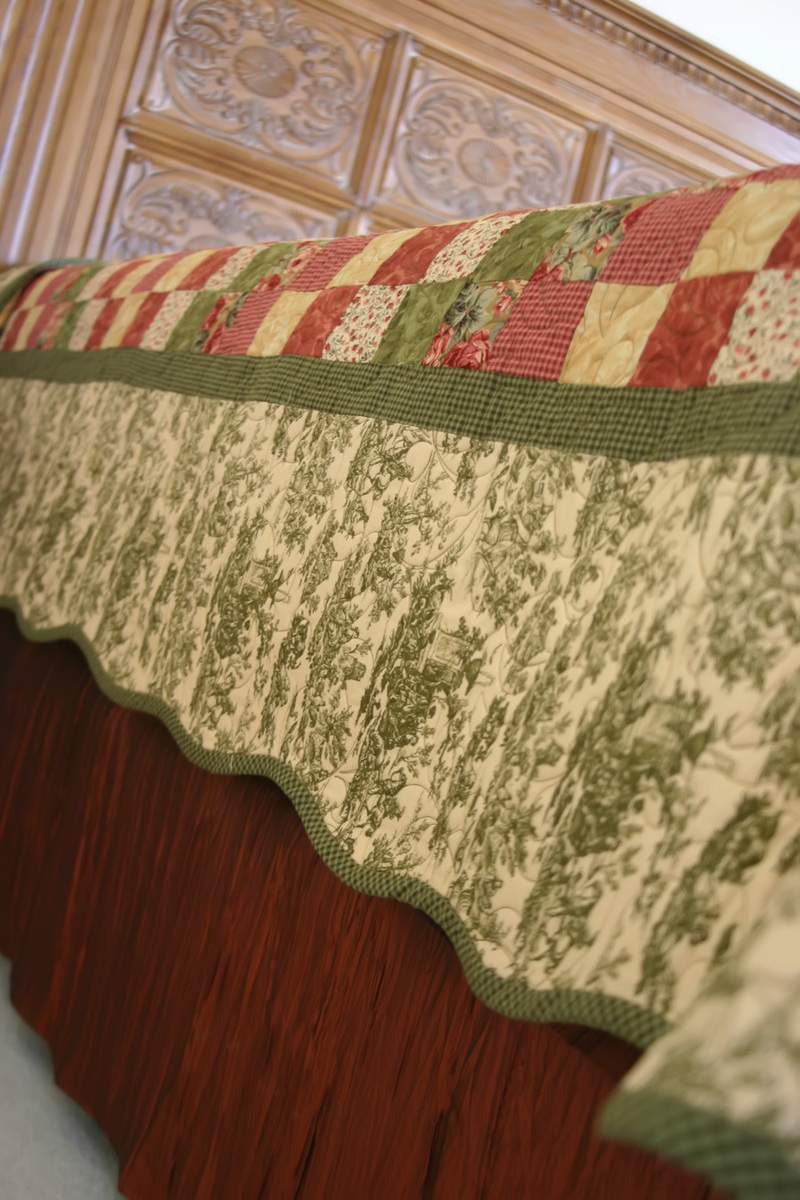 I think when you repeat fabric selections like the binding and a border, it really helps tie all the pieces together for a nice effect that looks consistant and well planned.
I just love how this checkered print looks against the green toile.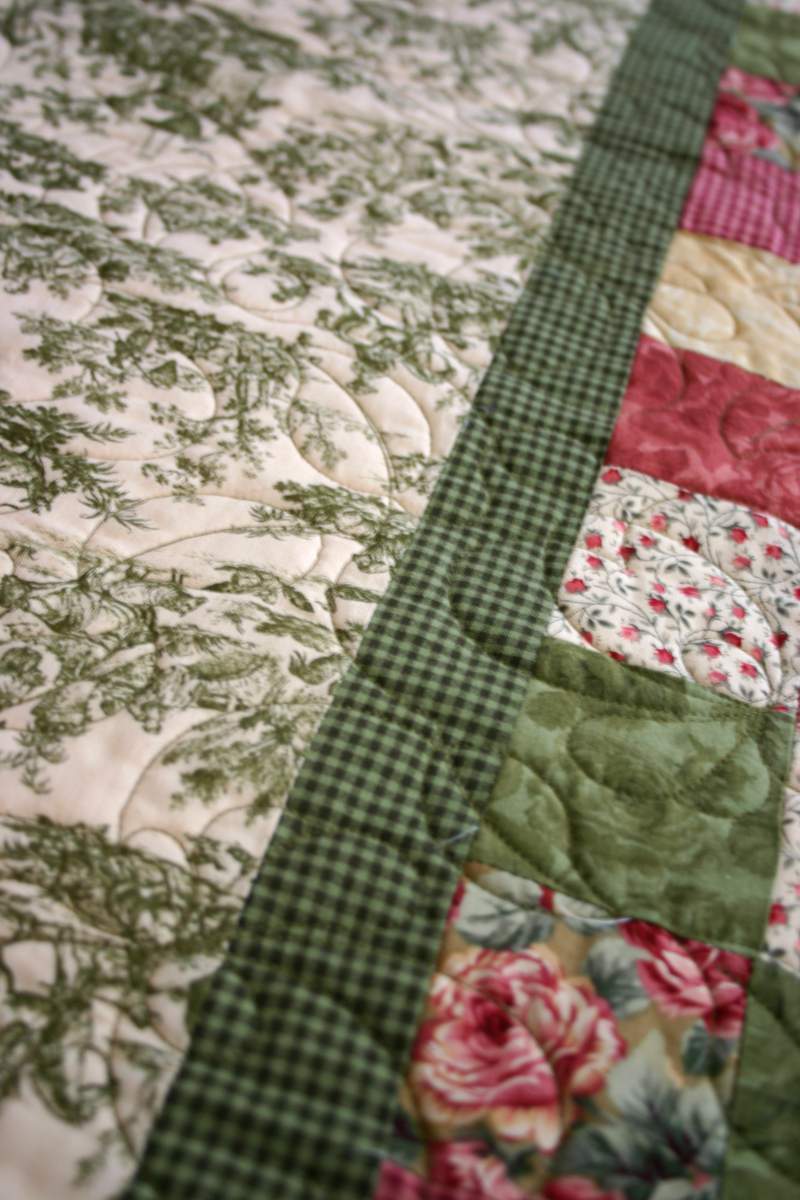 Speaking of toile, my favorite part of this quilt is definitely toile print.  I've said here many times that I love just about all things toile.
There's just something about this style of fabric that always speaks to me regardless of the color or pictoral depicted in the print.  To me, it's such a classy fabric.
I also think toile makes an especially beautiful backing for just about any quilt.  It just gives it that vintage look that really helps a modern-day quilt look much older.
Take a look at the contrast of the quilt backing with the other fabrics in the quilt top in the photo below.  I love this combination of fabrics which comes from a line manufactured by Marcus Brothers called Vintage Gardens Collection.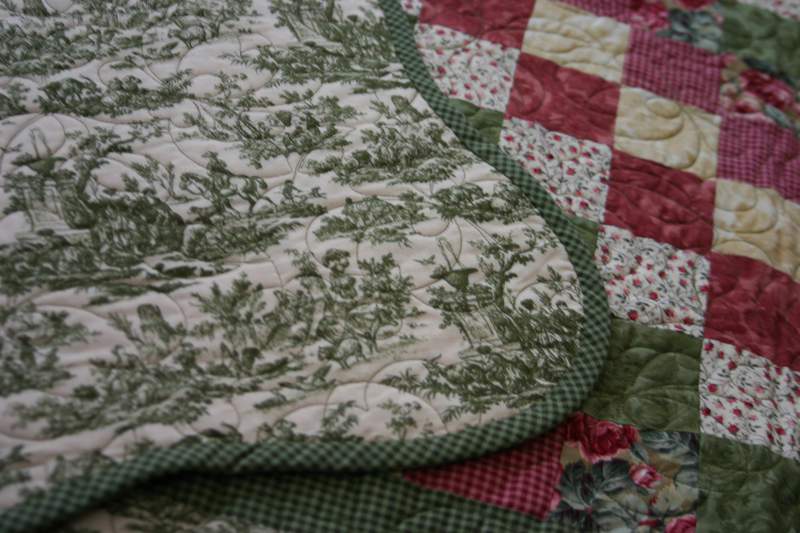 Here is another view of that scrumptious toile on the back of the finished project.  I think using a fabric like this for the back makes the quilt virtually double-sided because the back is as pretty as the front.
I loved this green toile fabric so much I ended up buying the entire bolt.  Needless to say, I have several other projects using some of this same stash.  I'll share those projects later in an upcoming post.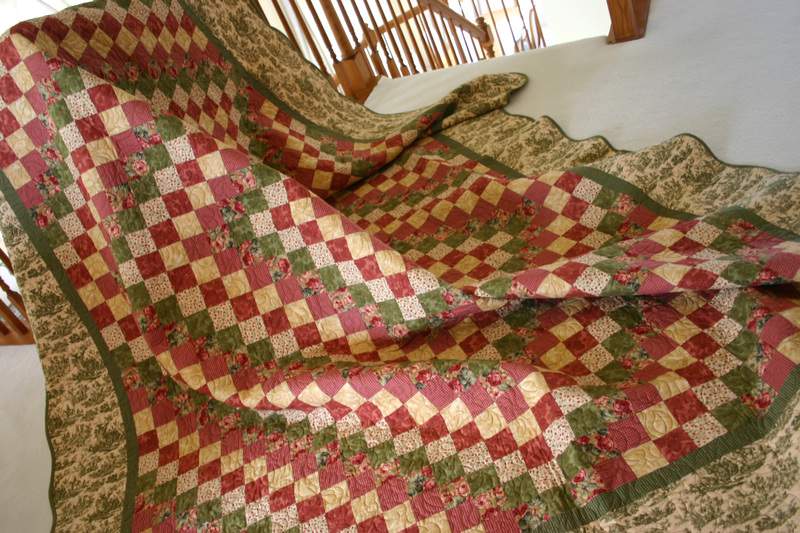 So next time you're planning an excursion, why not consider this trip around the world?  Just think, it's fun-filled and colorful, and you'll never need a passport.