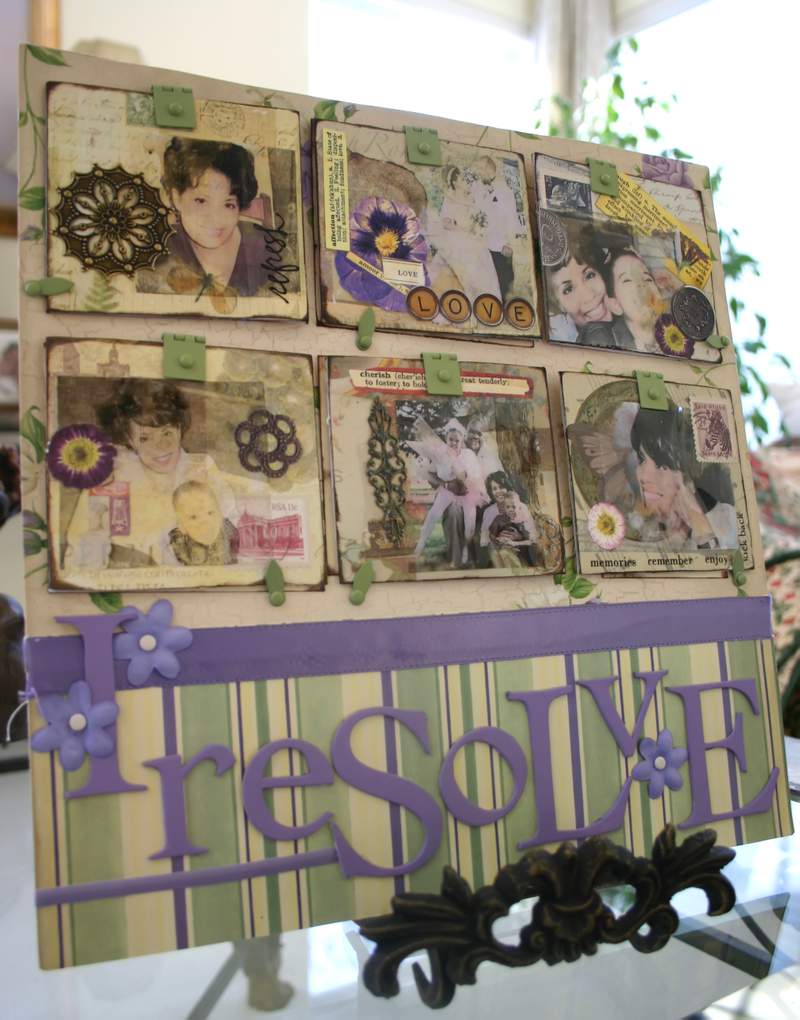 When it comes to New Year's resolutions, I've got plenty of them. Of course the hard part is sticking to them.  I'm sure I am certainly not alone on that one. 
The scrapbooking project below is not only about resolutions but it's also about having a little creative fun with them too.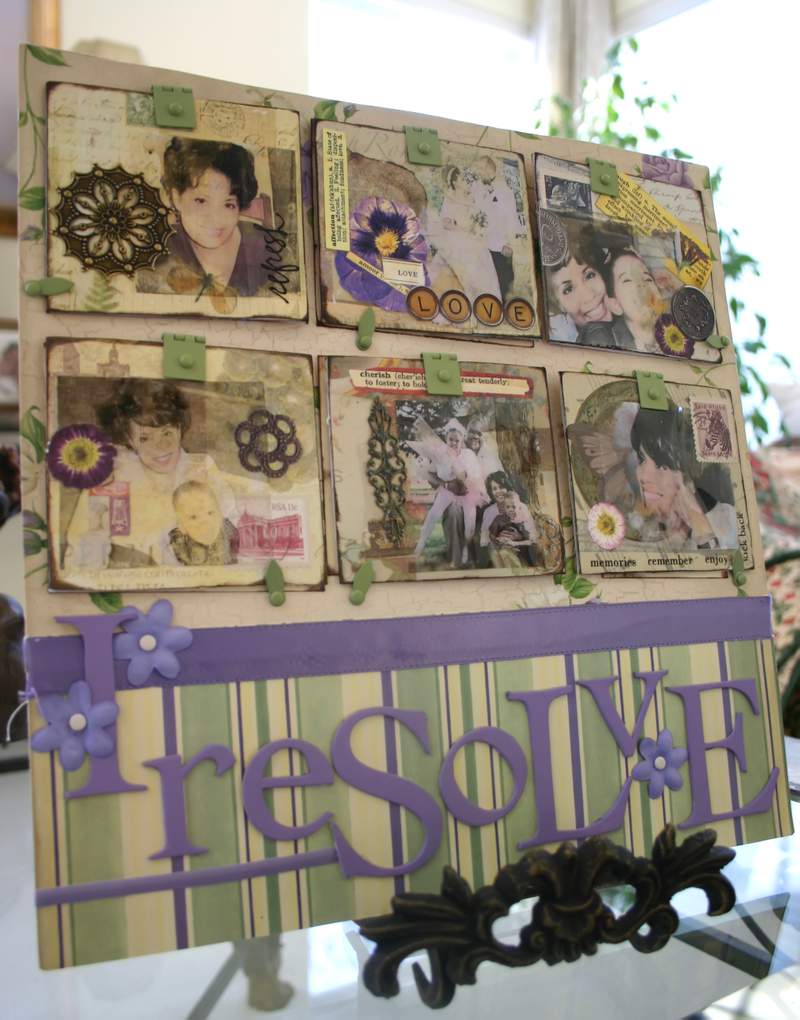 Each one of the six squares in this scrapbook page contains a different resolution which is artfully concealed under each square. 
This is a really easy project and the steps can also be applied to many other paper crafts.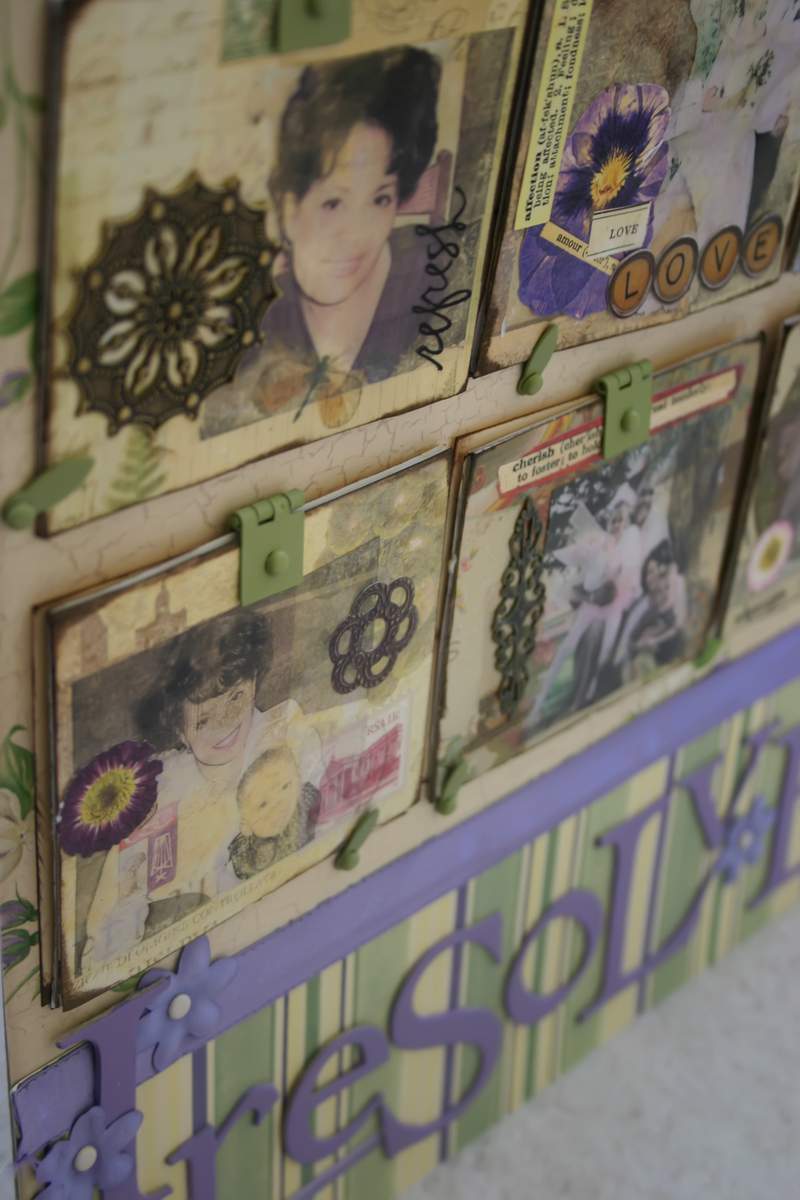 You can use cardboard from just about any source.  These squares were cut from the 12 X 12 plain cardboard that was attached to the bottom of a stack of cardstock. 
The squares in this project each measure about 3-1/4 width X 3-1/2 inches in height.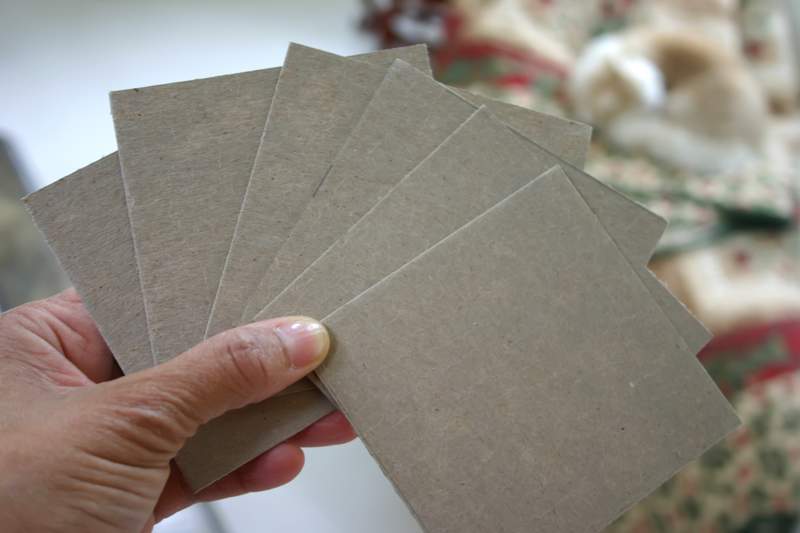 Each of the six squares in this project features a different patterned paper.  I also added various stickers, flowers, metal pieces and stamps. 
There are so many different kinds of pattern papers and embellishments on the market it just makes a project like this even more fun.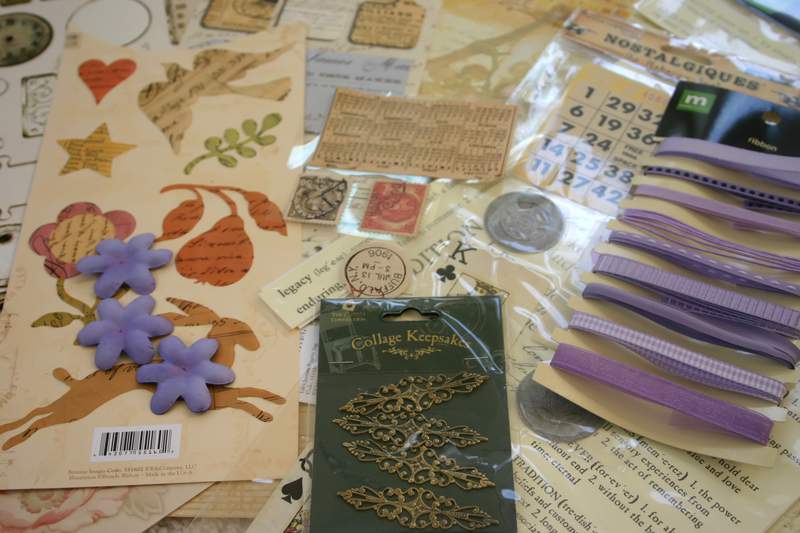 After you cut your cardboard square down to your desired size, simply adhere various patterned paper to the square and then you can begin attaching a few fun embellishments. 
I think adding a little rubber stamp ink around the edges of the card also gives it a nice aged appearance. 
In addition to patterned paper and various embellishments, I decorated the front of each square using a clear packing tape image transfer technique.  It's the same technique that I used in the tag book project that I shared here several weeks ago.
If you click the tag book link above, you'll see my easy tutorial for this fun image transfer technique which creates a transparent sticker from an original photo.
Also click here for another example of how this technique can be used.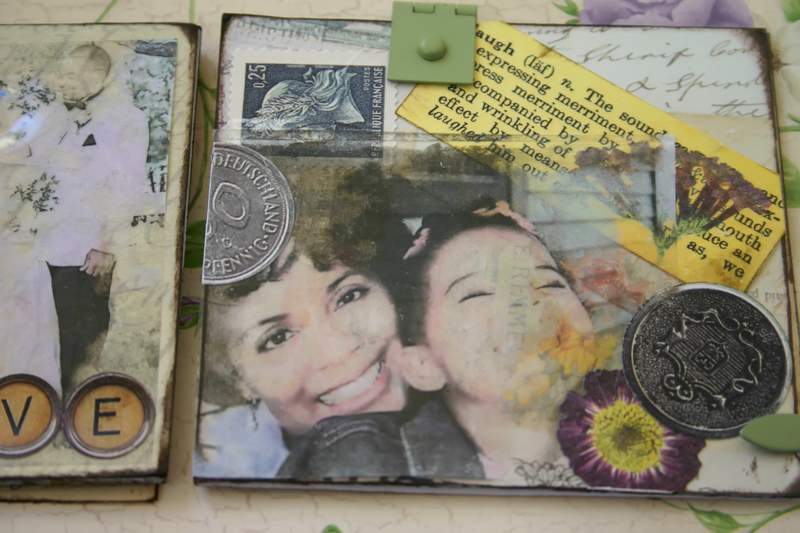 After decorating each square you'll need to compose your corresponding journaling making sure your paragraphs do not exceed the dimensions of the square it will be placed under. 
I created each of my journaling blocks right on the computer, printed them out and then cut the copy down to size. 
The font I used for this journaling is called Papyrus and it's always been one of my favorites.
After cutting the journaling square down to size, you may also want to edge the journaling cards with a little rubber stamp ink too.  I love the look that edging gives a project and in this case it helps keep that vintage look consistent. 
Set your journaling squares aside until after you've secured each of your cardboard squares to the layout.
Once you've finished decorating your cardboard squares, just line them up on your 12 X 12 background paper and secure each one using a metal hinge. Once your hinges are in place, simply adhere each journaling card under the corresponding cardboard square.
Trim the journaling card as needed to make sure it's completely concealed under the decorated cardboard square.
Small metal fasteners are attached to the side of each card to secure it in place. Because the hinges, fasteners and the cardboard squares add so much weight to the page, I strengthened the whole layout by adding a piece of 12 X 12 cardboard to the back of the project. 
The brads for the hinges and fasteners should be pushed through all layers including the extra cardboard backing.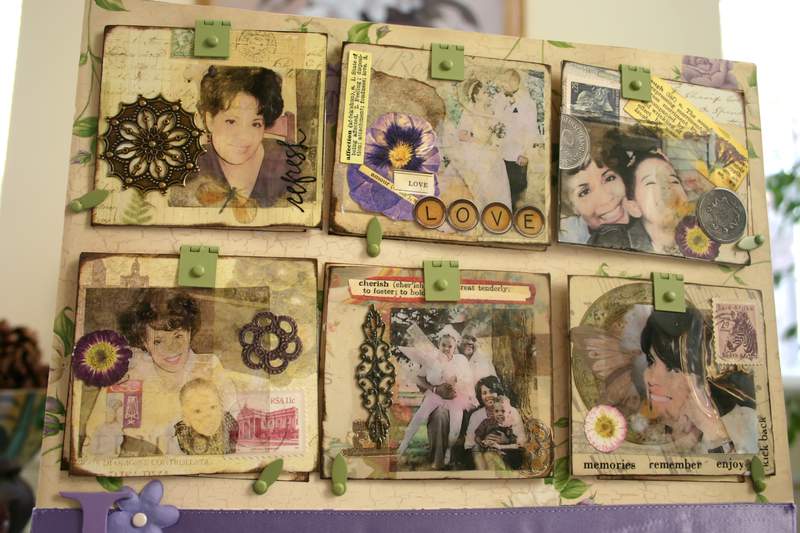 I love using chipboard letters because they're so versatile.  If you're not familiar with chipboard, it looks like plain cardboard and comes in all kinds of shapes and letters.
In this case I just painted the chipboard letters purple to correspond with the ribbon strip that I sewed directly onto the patterned paper.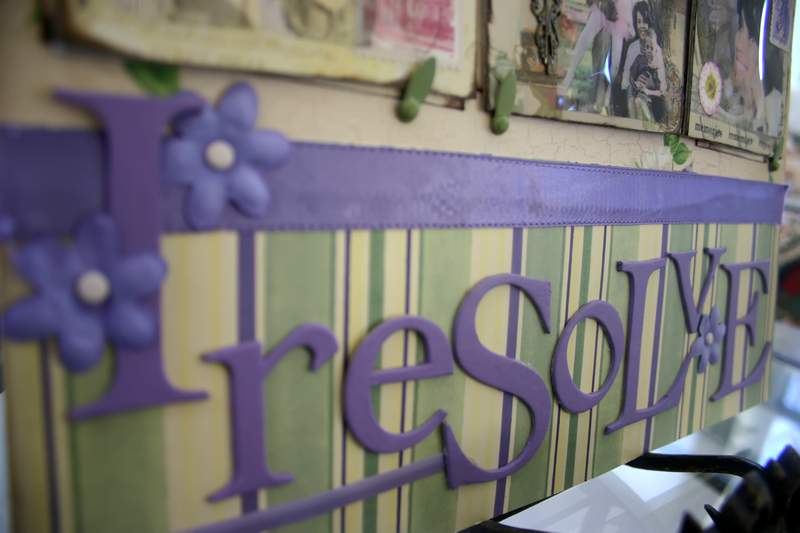 If you decide to use ribbon like this across the entire page, you may want to secure the ribbon first with a very tiny strip of double sided tape down the center of the ribbon.  This will hold the ribbon in place while you do your machine stitching. 
Just remember to always keep your stitching on either side of the center strip of adhesive. 
Never sew your machine needle over any type of glue or tape because the needle can carry small pieces of adhesive down into the machine's internal mechanism and gum it up, potentially causing serious damage to your sewing machine.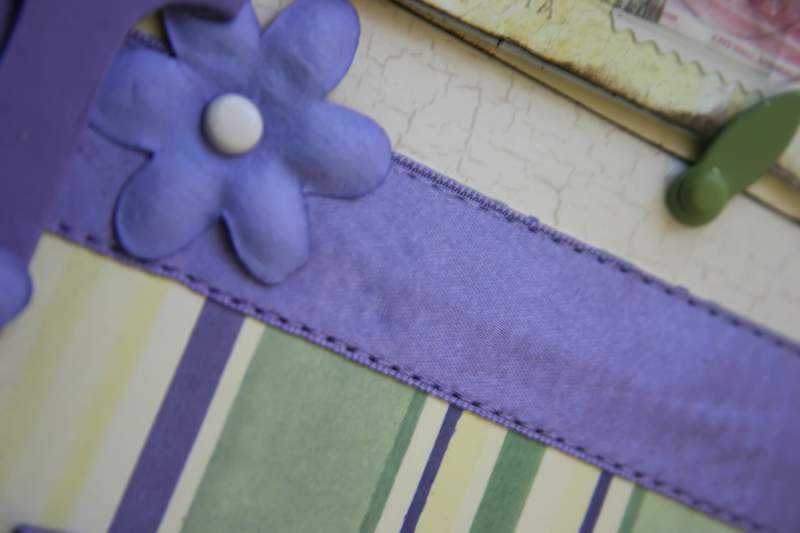 I used the packing tape image transfer technique on the outside of each cardboard square, and then used the original photograph on the inside of the card.   The photo below shows what the layout looks like with several of the cardboard squares lifted up to reveal the hidden journaling. 
Hidden journaling is a great way to add a little surprise to your scrapbook layout and the technique can also free up valuable space on a scrapbook page to include more photos.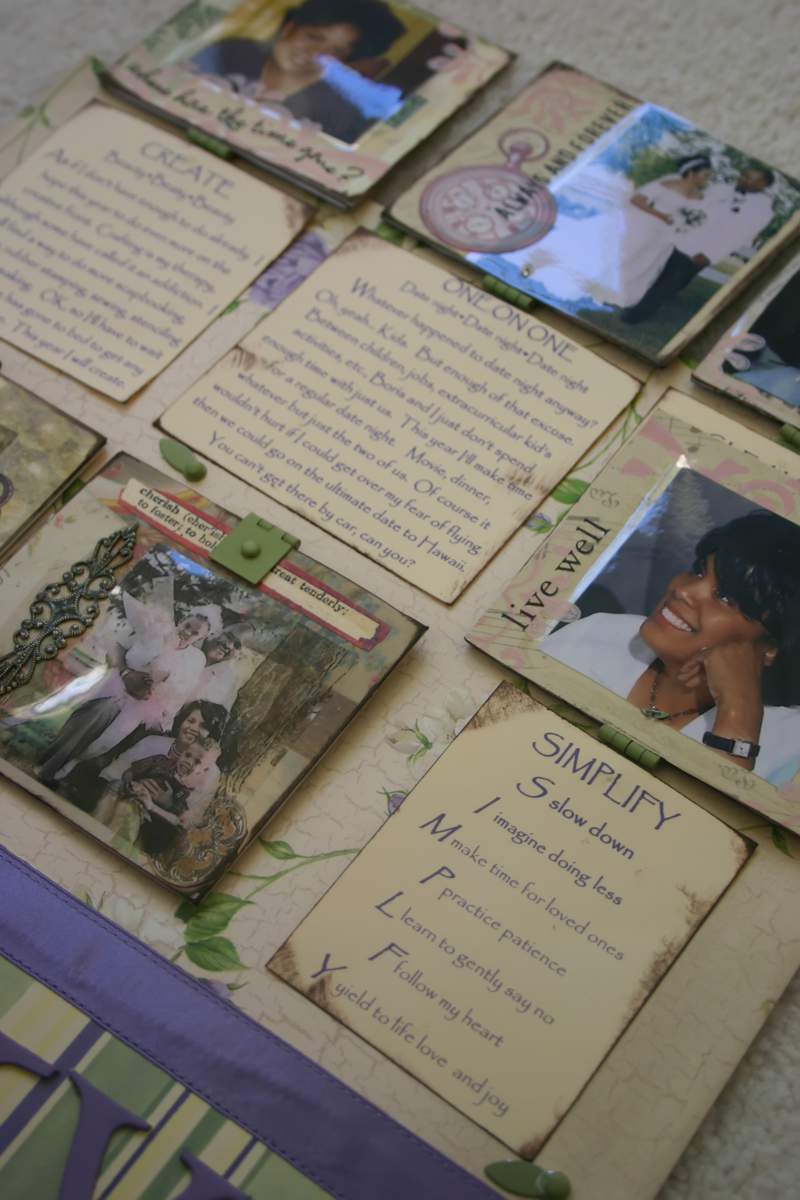 One of the things I like about this layout is that it actually includes a few pictures of me for a change. Now, that's a rare page indeed.  Since I'm typically the one behind the camera in my household, there aren't as many pictures of me to scrapbook. 
Of course, thanks to my kids there are quite a few pictures of yours truly in hair rollers.  Why do kids do that?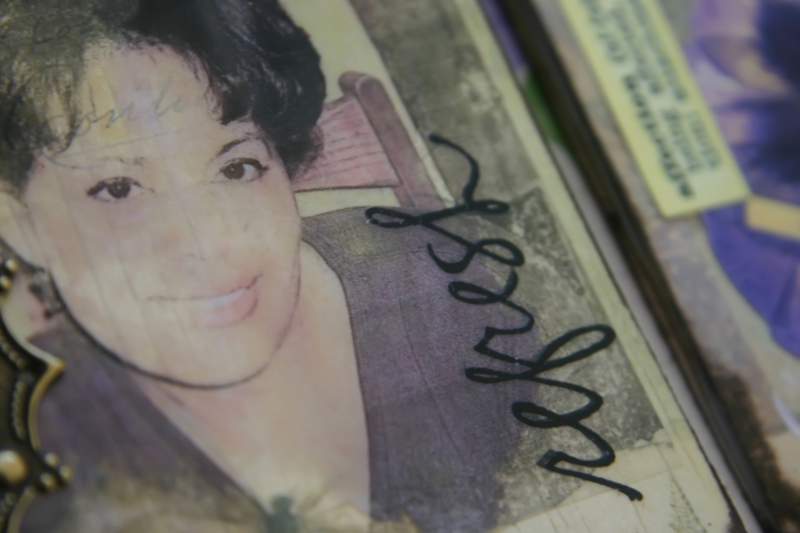 This "resolutions" layout appeared in the April 2007 issue of Memory Makers magazine as part of an article I wrote on hidden journaling entitled Hidden Treasure. 
I'll talk more about hiding your journaling on your scrapbook pages later and I'll share some other fun examples in an upcoming post.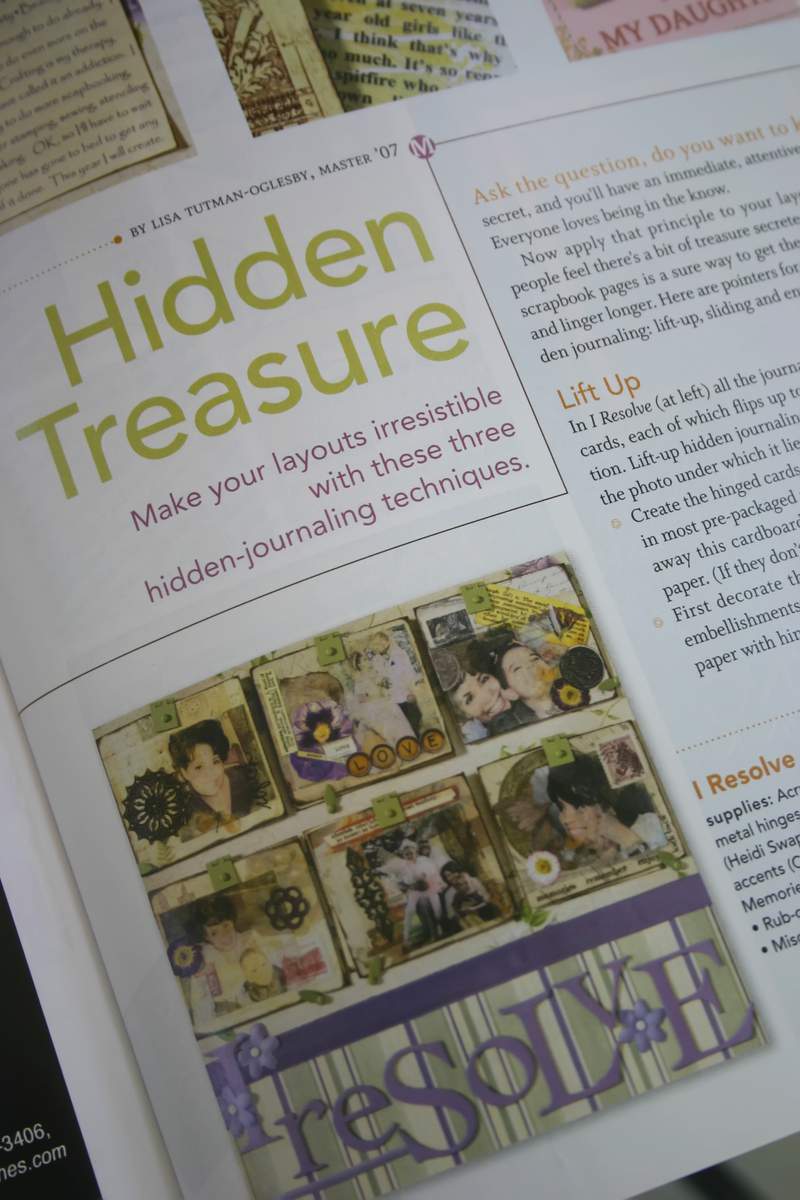 Until next time, good luck with all of your crafting efforts as well as sticking with all your 2008 New Year's resolutions.