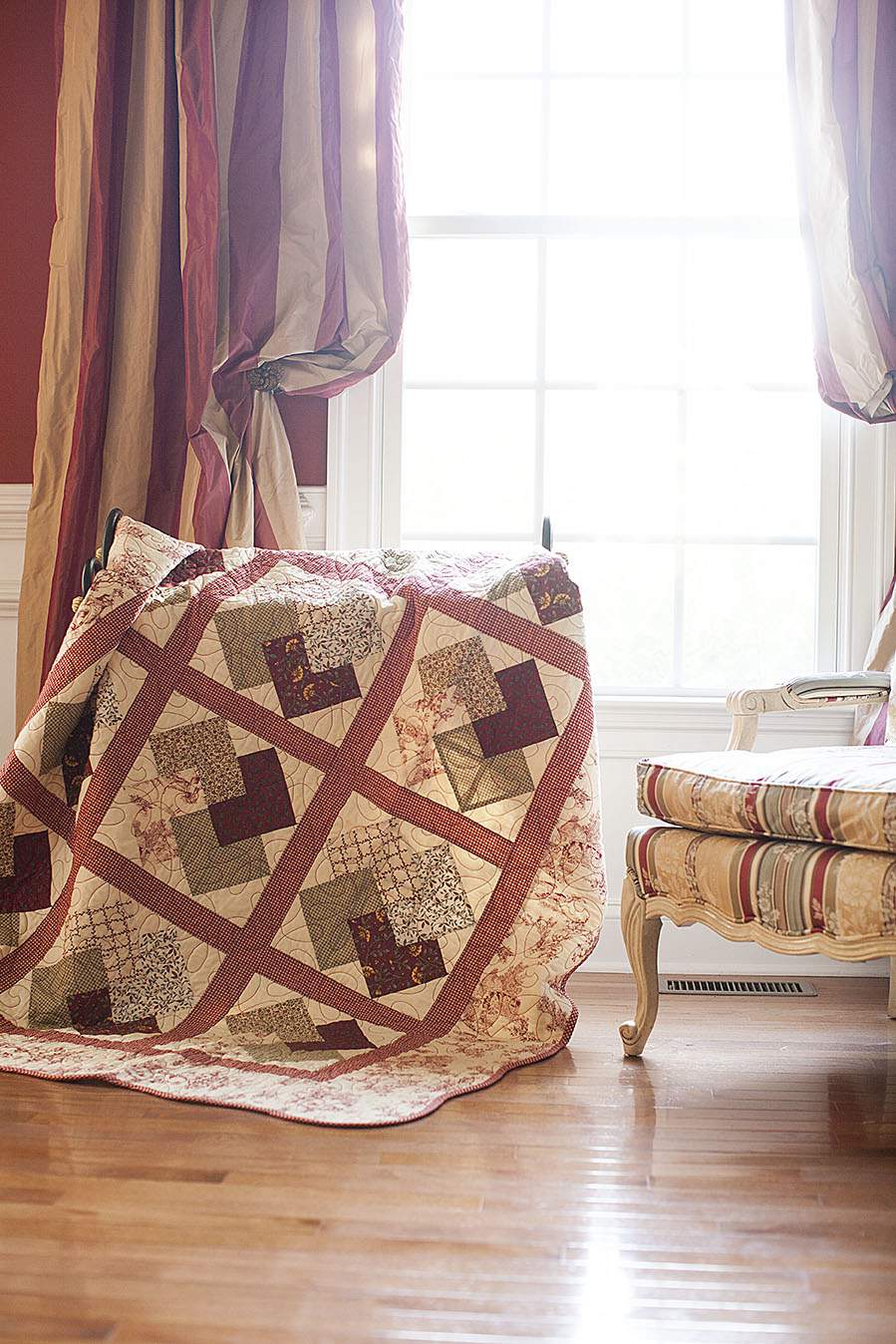 Happy New Year everyone!  You know, I wasn't quite sure how my little blogging experiment would be received when I started it last summer, but I've been pleasantly surprised and humbled.
Thanks so much to all of you for your visits, encouragement and your support of all my crafting efforts here.  It's been wonderful connecting with so many like-minded crafters and artisans in 2007 and I look forward to meeting more of you and sharing lots of fun new projects in 2008.
Today's post is all about quilting and when it comes to quilting-you can Deal Me In.
That's the name of this particular quilt pattern which looks like cards being shuffled in a deck.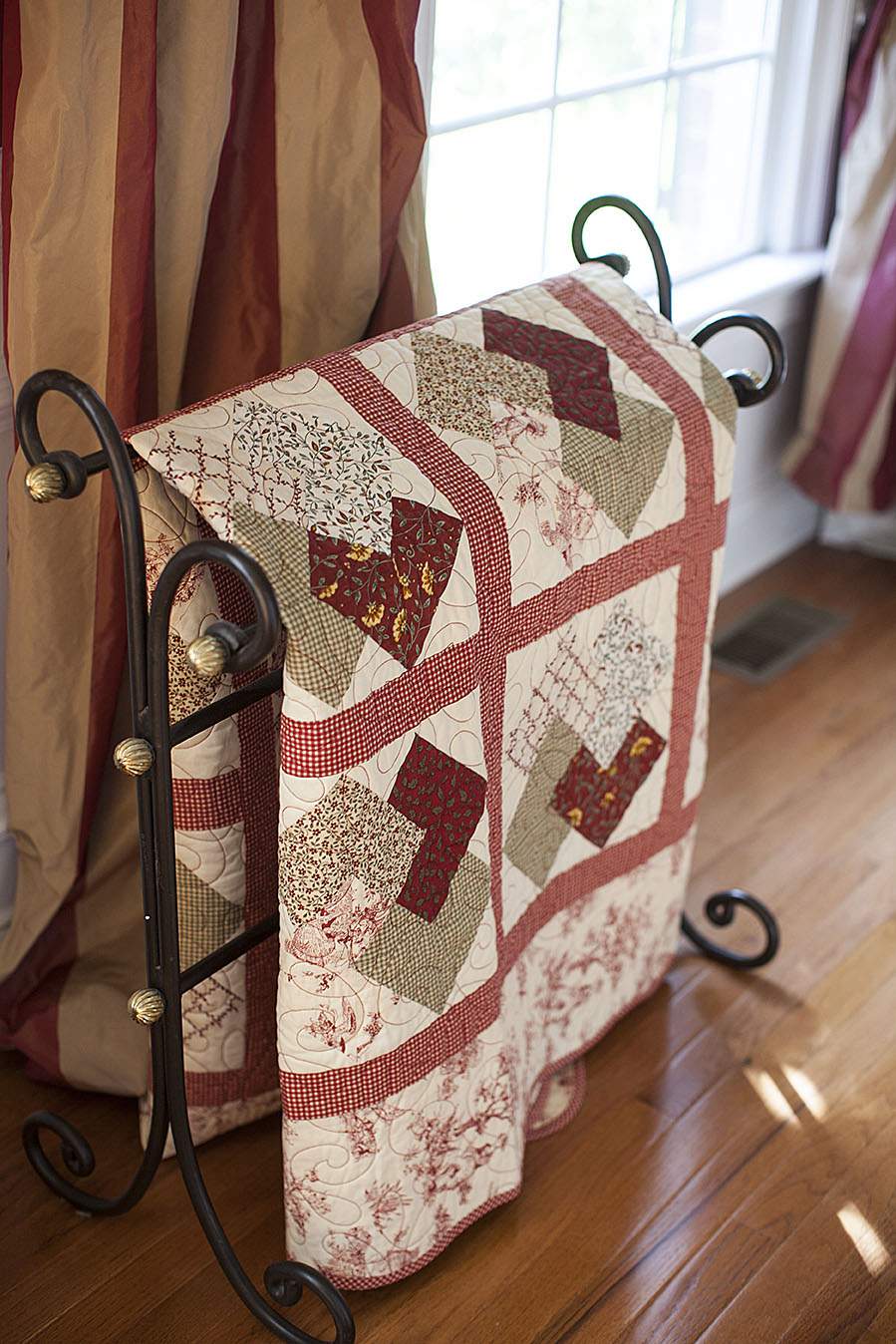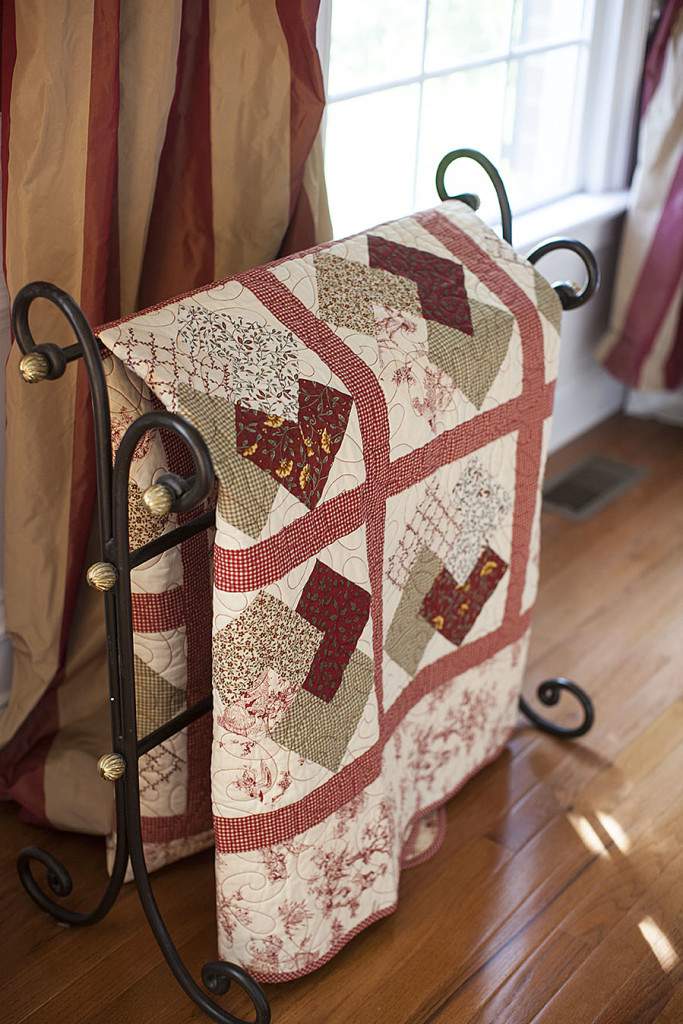 Deal me in, when it comes to my first project of the new year.  There's a reason my latest quilt project is called Dealer's Choice. 
Actually, it's a clever optical illusion that just looks like the squares are overlapping.
Trust me, if you are ever dealt these cards, it will never be a losing hand.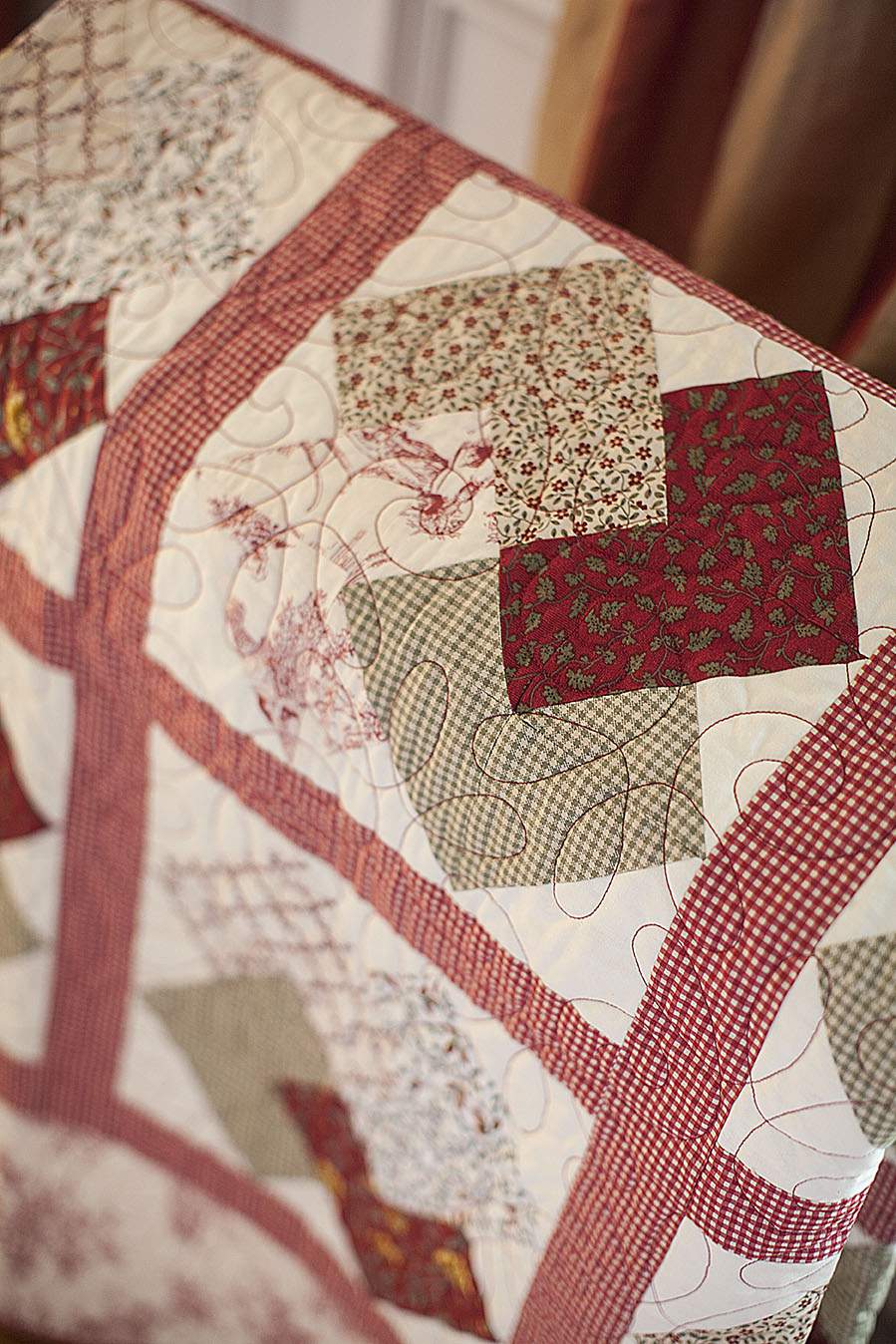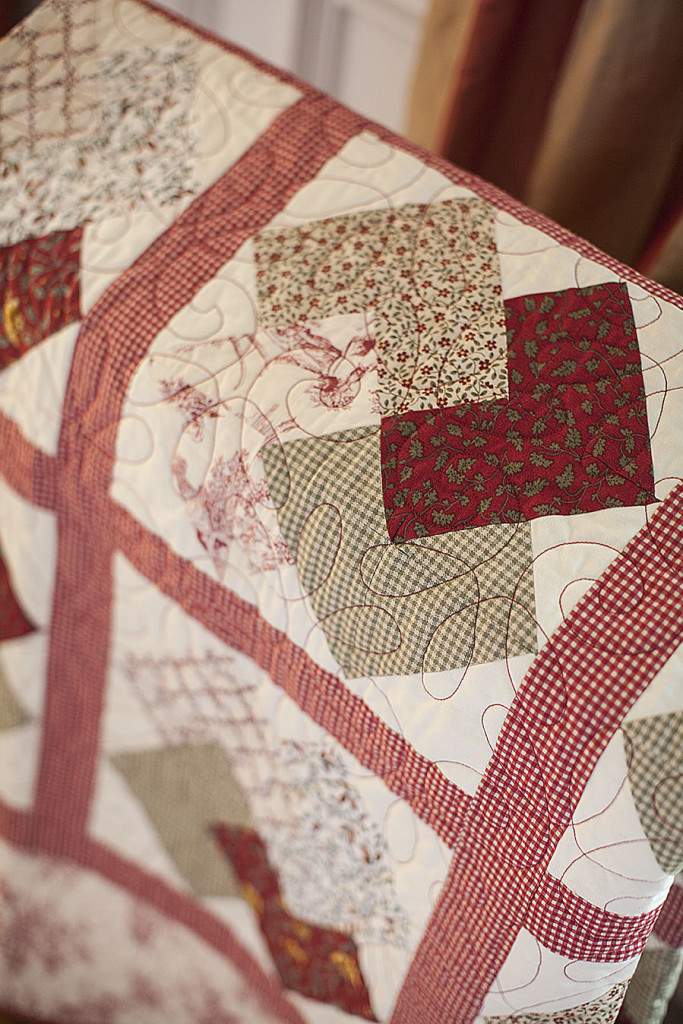 The picture below shows how the patterned squares look like they are actually overlapped.
If you click the picture you'll get a larger view and you can actually see the block seams and the alternating placement of the various half-squares and quarter-square triangles that create the optical illusion.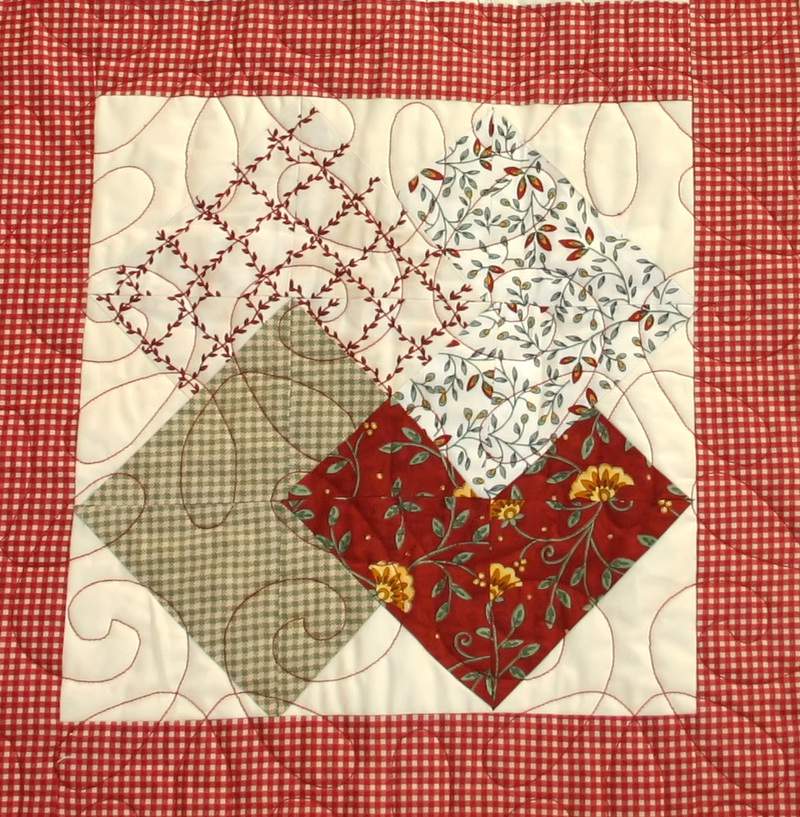 The diagram below shows how the various fabric choices are ultimately cut. After cutting a determined number of squares, you then cut them into quarters. You'll also have to cut some of the fabric squares into halves.
You then have to assign a different fabric selection to each of the pieces cut to create the final squares.

This can get tricky because at this point you are working with so many different pieces and fabric selections. I think the only way to keep up with all the different fabric halves and quarter triangles is to create a fabric key like the one shown below.
I just snipped a little piece of each of my fabric choices and attached them to the pattern instructions to keep track of the various fabric placements. I think this is the best way to keep from getting confused about correct fabric placement.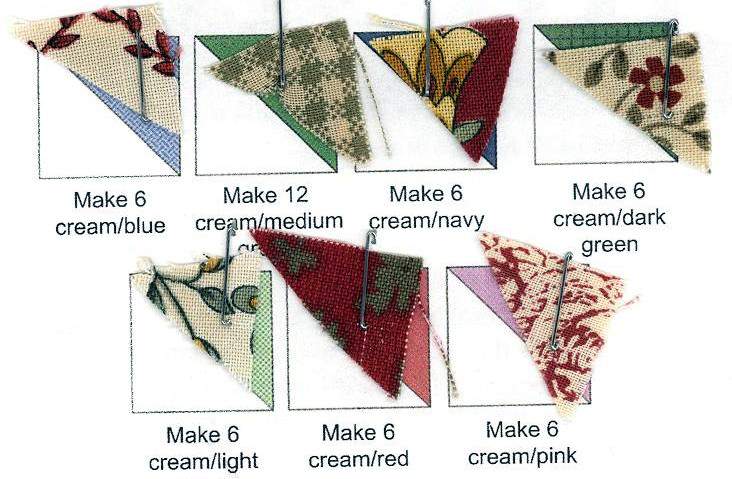 The diagrams below show what the completed squares will look like once sewn with the appropriate fabric choice.
If you compare the two diagrams you can see how the placement of the squares in the left diagram are assembled to give you the card trick optical illusion shown in the diagram on the right.
Below you can see the how the card trick pattern is revealed in the completed project. This is actually a fun project to work on but you'll need to exercise a little patience to keep all the multiple pieces sorted correctly.
It's also a good idea to double check your fabric placement against your respective fabric key diagram before you do any stitching.  However, don't worry if you make a mistake, that's why they make seam rippers.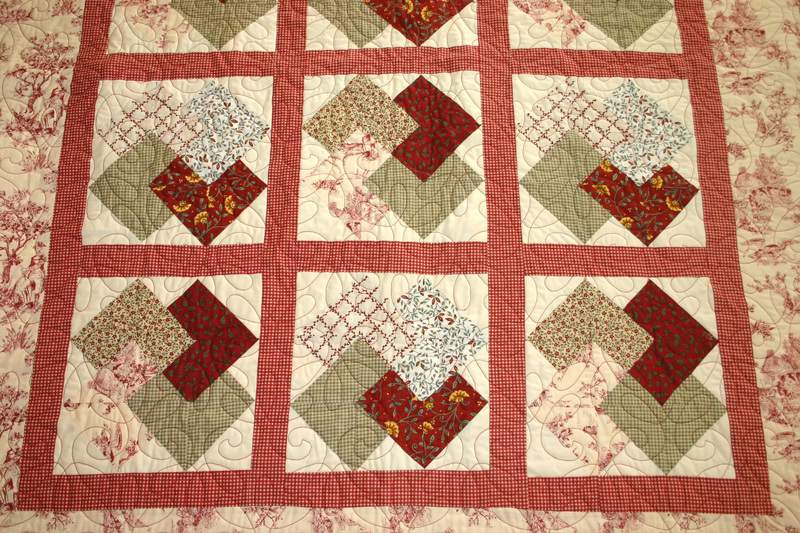 Toile may just be my favorite type of fabric and I love the look of toile as a backing fabric for this project.  It really adds the vintage look to the finished quilt that I was aiming for.
I bought 6 yards of this beautiful red toile (pronounced like twaal) on a quilt shoppe clearance table years ago, for 2-dollars a yard.
Can't beat a deal like that and it's great to finally put this beautiful fabric to good use.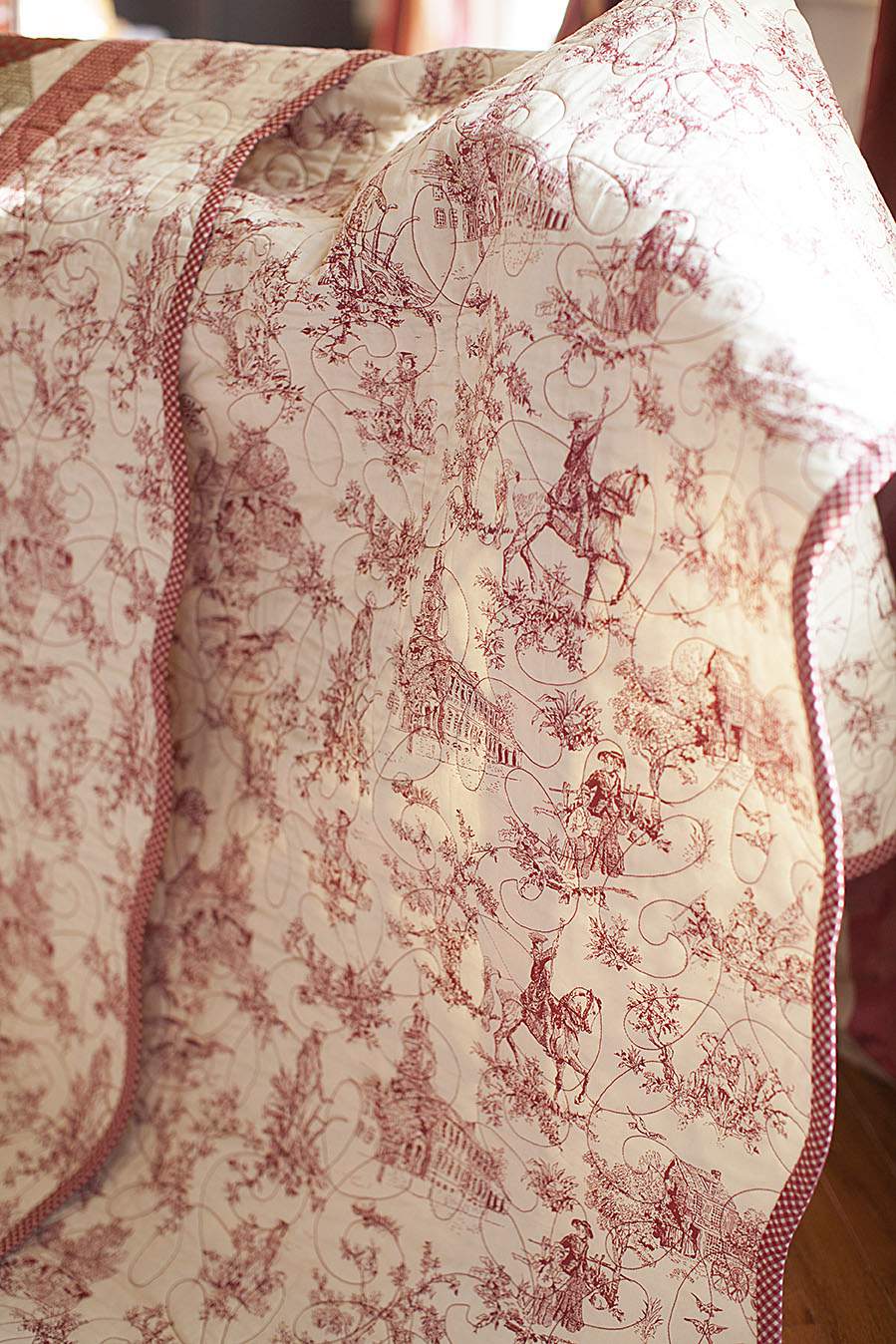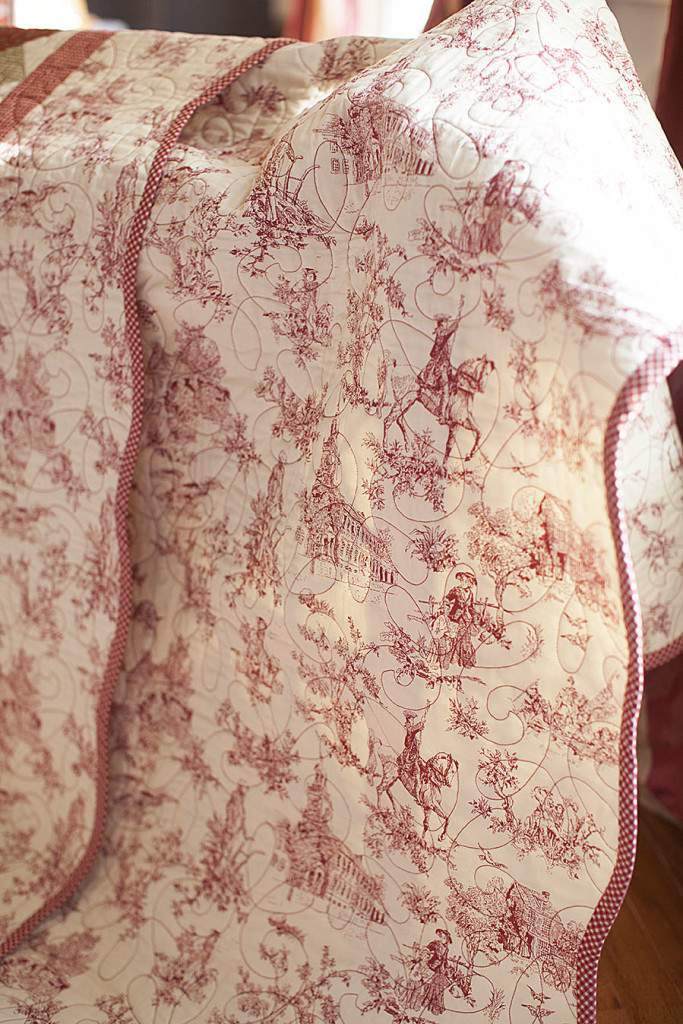 The picture below gives you a better look at how the backing looks with the top. By using the same backing fabric for some of the design pieces and border strips, it helps give the overall quilt a great coordinated look.
I often use the same fabric for backing and borders for this reason.
I used the same repeat effect with the red checkered binding by also using it in the checkered fabric strips in the quilt top.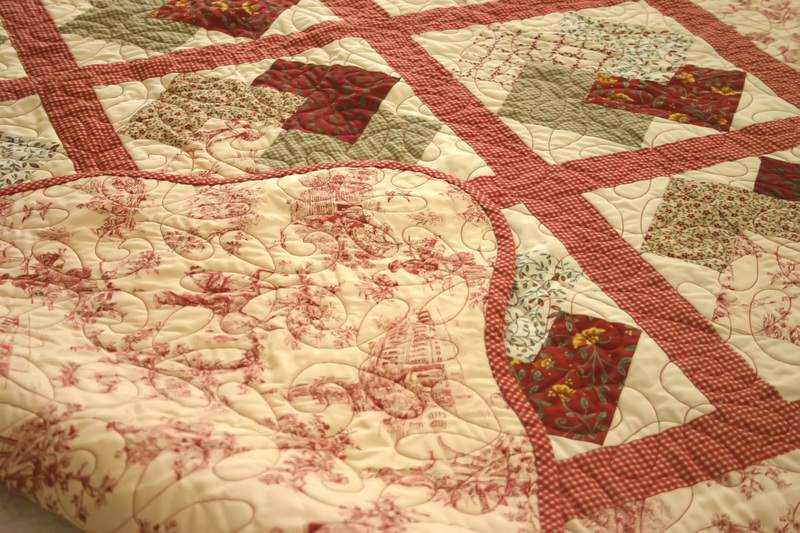 I found this pattern in the pages of Quilter magazine in an old March 2004 issue.  Yes, I do hang on to far too many magazines.  They're so hard to part with because I always think I'll need some info or tid-bit in them, after it's tossed.
Still, they take up too much space and I am determined to do some major magazine purging in the new year.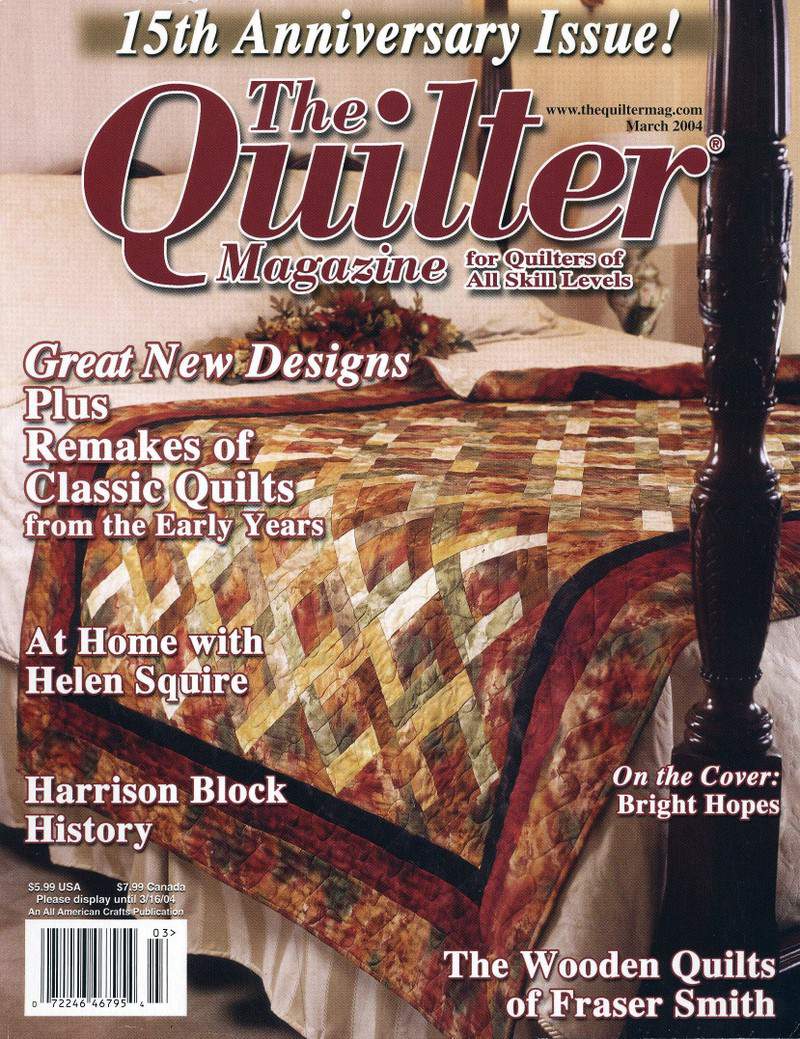 Scalloping the edges is generally how I finish off most of my quilt projects, as you may have seen here before.
I think a scalloped binding, as opposed to a straight edge binding will always add a beautiful and special finishing touch to your quilt.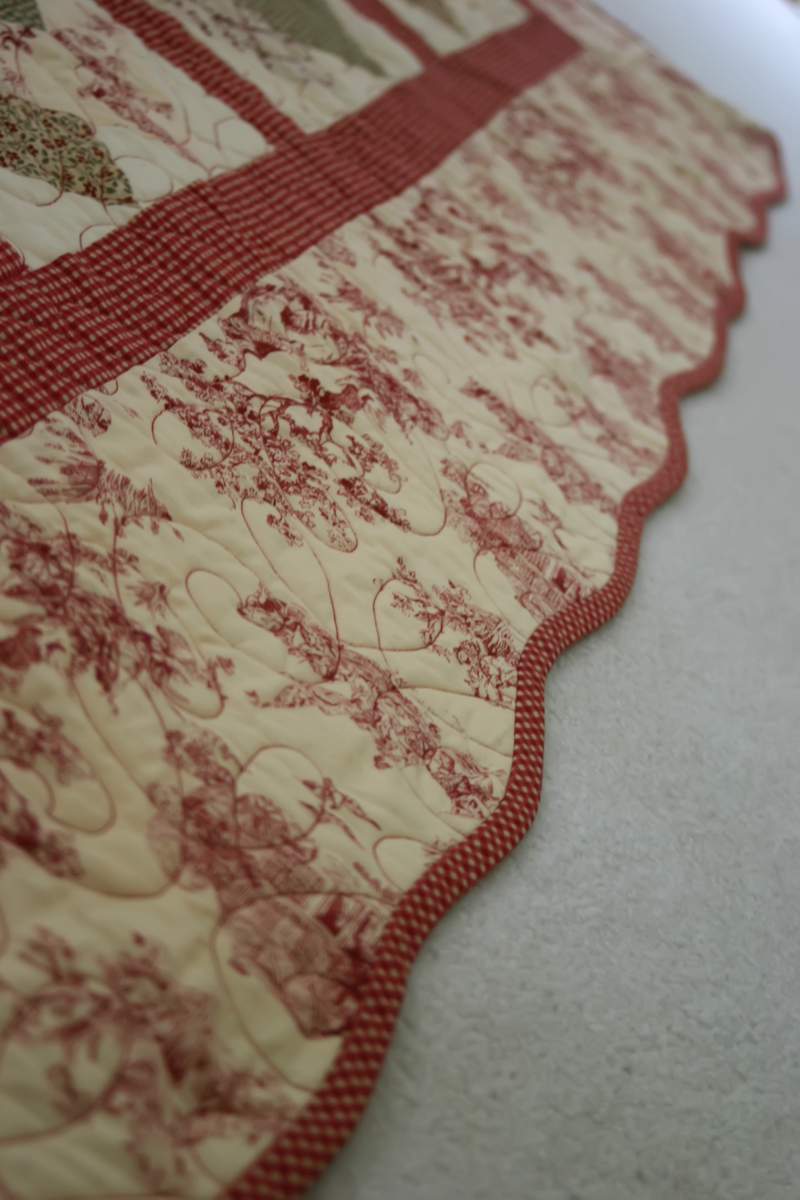 I love the possibilities that can be created with just the right fabric selection.  Even though this is a contemporary quilt, I think this project has a real vintage look simply because of the fabric choices.
To me, that's part of the fun in working with so many wonderful fabrics on the market.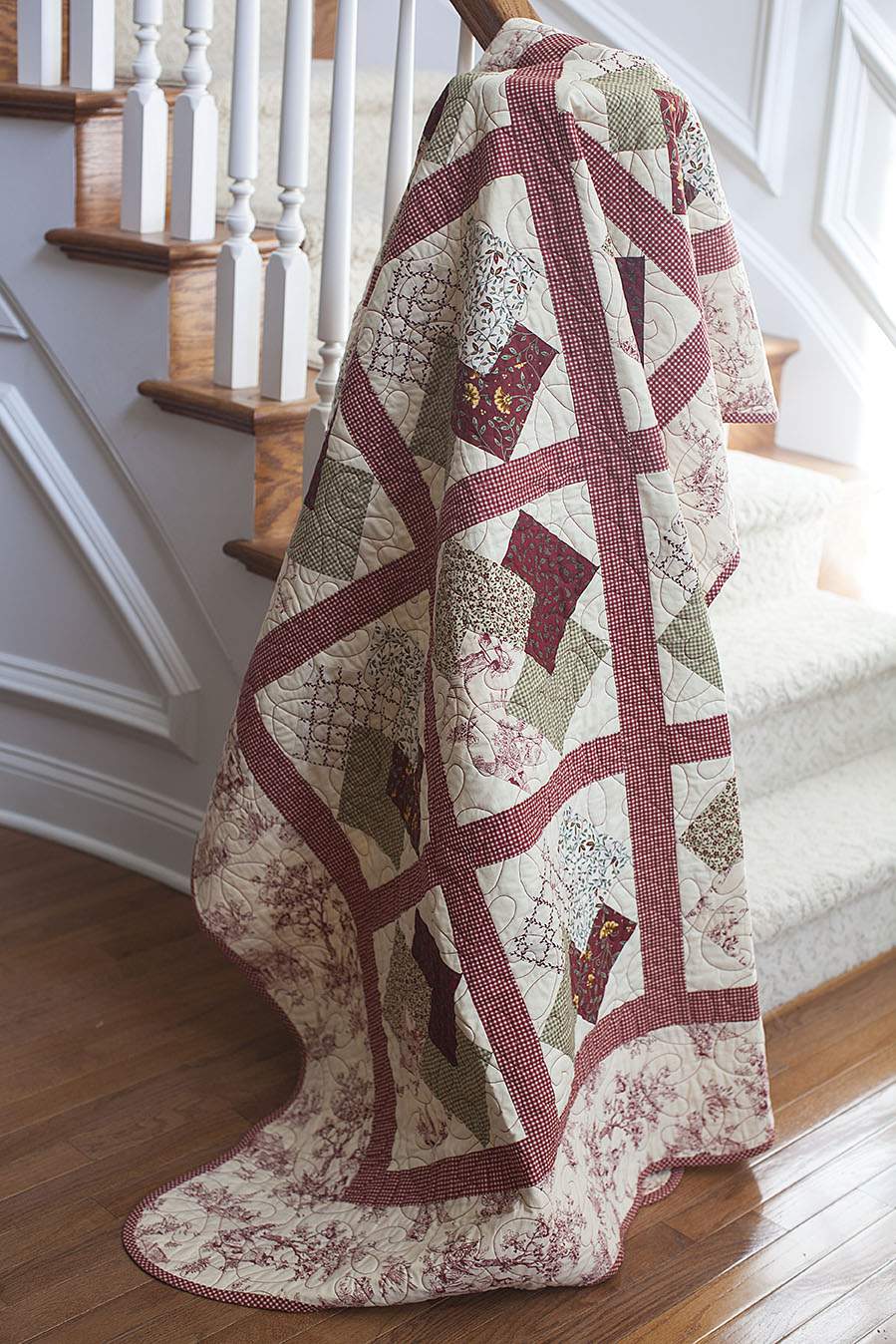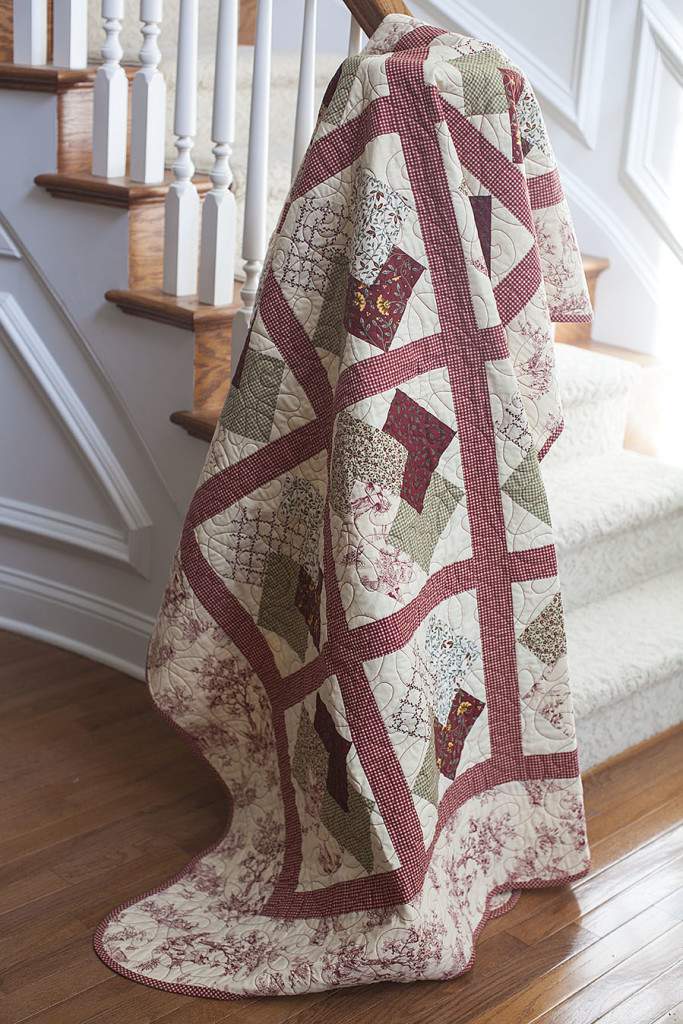 By the way, you certainly don't need a poker face to tackle this Dealer's Choice project.  I think as long as you use your fabric key, you'll be a winner every time with this card trick quilt.
Like a Royal Flush, that's the kind of hand to play.
Thanks for stopping by.
See you back here next time.