As I post this entry, Christmas is less than two months away.  Translation?  We should all get going on those handmade holiday items. While I admit I'm way behind in my efforts to meet the approaching deadline, I can say I've at least begun putting a dent in my long to-do list.
I've decided to try to keep things really simple this year and my little scented hearts in the photo below are a great start.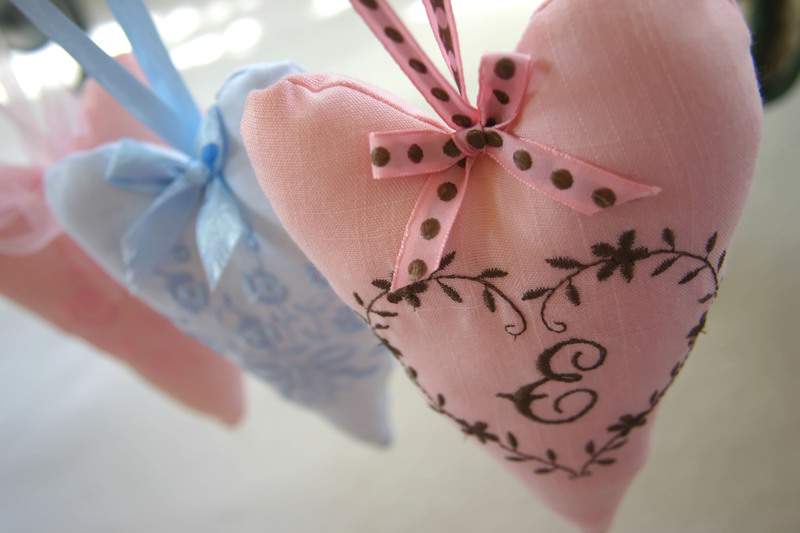 Of course the first thing you need is fabric. I love the look of linen for this particular project, because it's easy to work with and the embroidery looks nice against the linen texture. After you decide on your embroidery design, you'll need to cut two equal size fabric pieces for each pillow.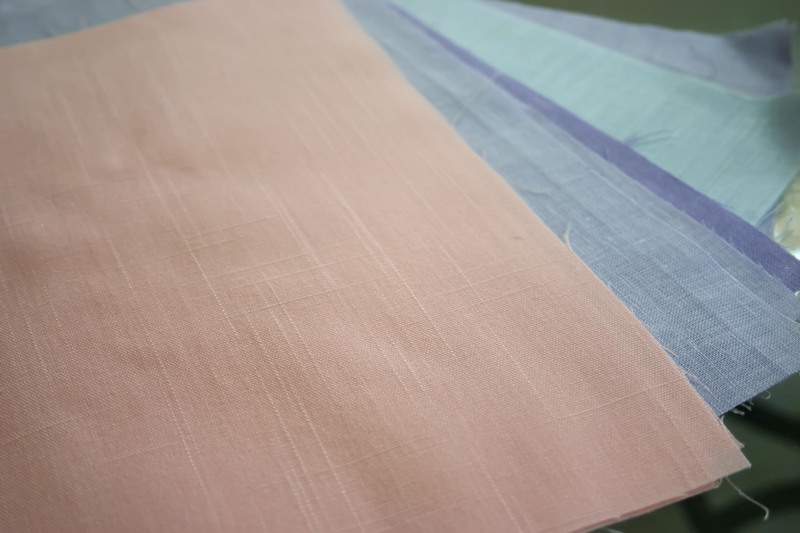 If you take a look at the pictures below you can see the how the design looks as it's stitched out by my embroidery machine. I started with this open-centered floral heart pattern and then added a monogram.  People love monogrammed gifts and I think it makes the offering much more personal when you add this special detail.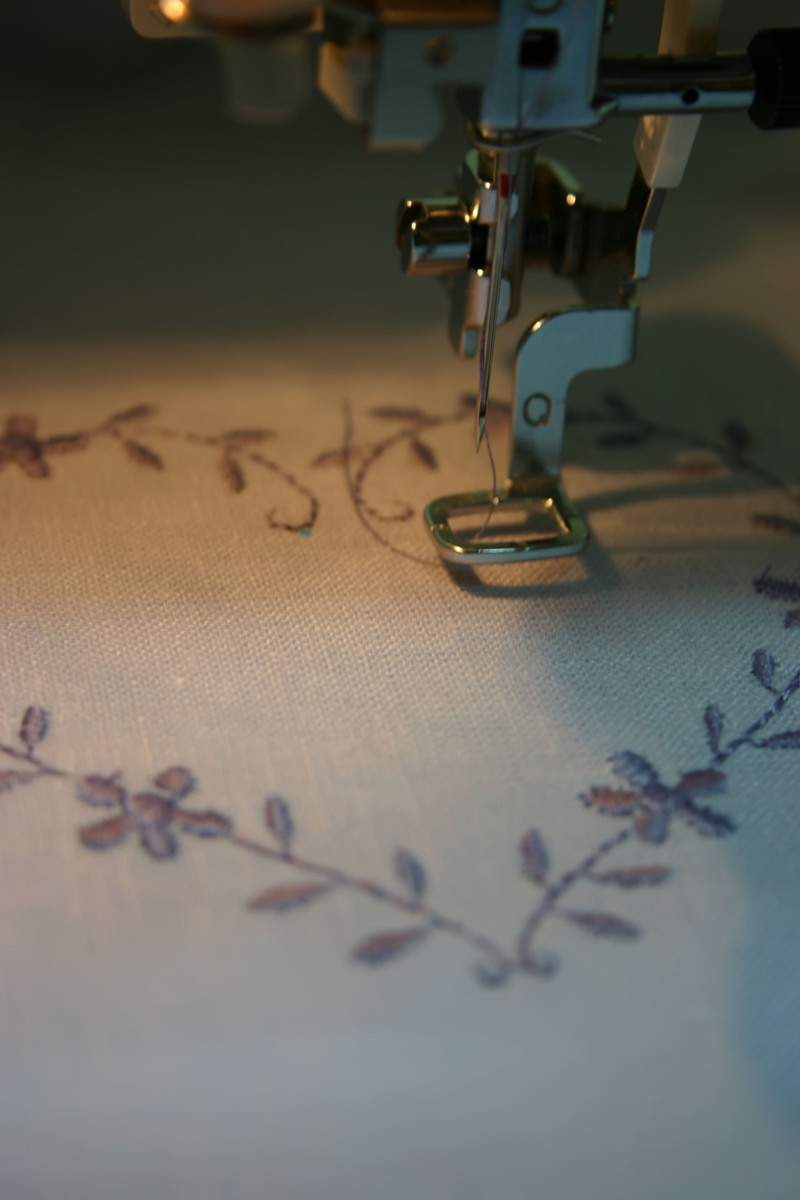 By the way, if you're thinking about talking to Santa about upgrading your sewing machine this holiday season, might I suggest you consider an embroidery machine which will give you the best of both worlds. You can sew when you feel like it and when you're ready to do some embroidery, just attach the embroidery arm which comes with the machine. There are loads of models on the market to fit every need and budget.
The embroidery machine screen in the photo above, shows you all the information you need to help guide you through the embroidery process. Inside the grid you can see what your finished design will look like. The smaller box to the right shows you what stitch your machine is currently working on in the overall design.  At a glance you can see the dimensions of your stitched pattern, how many minutes the project will take to stitch out and how many thread color changes are suggested.
The pretty little finished design in the photo below is a simple example of how embroidery can turn ordinary items into extraordinary ones. 
Don't get me wrong, you can always complete this project with hand embroidery and get a finished product that is just as beautiful.  I just like to point out the advantages of an embroidery machine because my machine has been so instrumental in my crafting efforts and has really helped me enhance my gift giving.  Not to mention, I'm not very good at embroidering by hand anyway.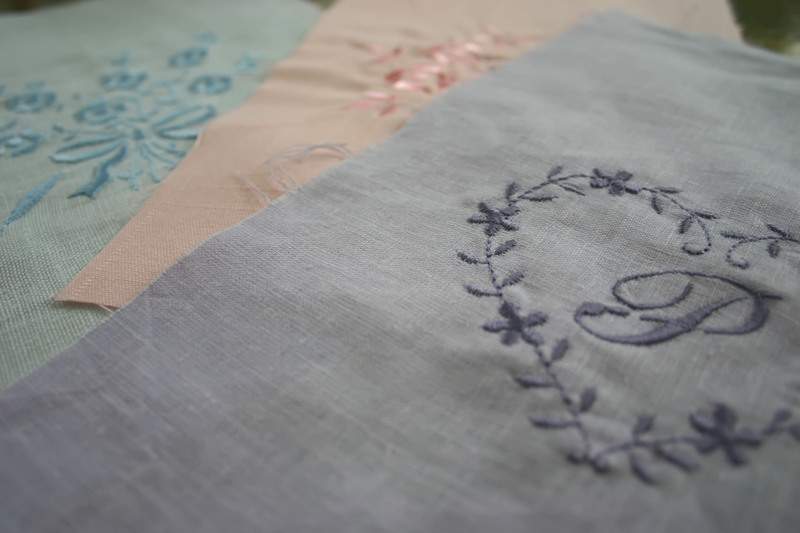 OK, getting back to this heart pillow project, once you have stitched out all your squares give it a good hit with the steam iron just to make sure everything is free of wrinkles before moving on to the next step. Adding just a spritz of spray starch at this point will also help give the fabric some extra crispness.
Trace a heart shape onto a piece of paper to make a template. Make sure the template you create is large enough to accomodate your embroidered design and fabric size. Before cutting out your heart shape, also make sure the embroidery pattern is positioned in the center of your heart template.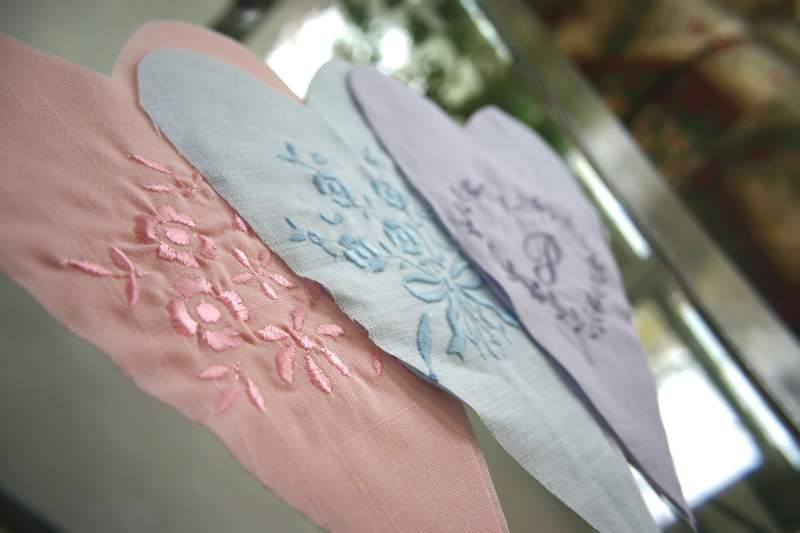 Positioning is key here because you want the embroidery pattern to end up in the dead center of your finished pillow. Take your time and double check your heart shape placement before you actually put scissors to fabric.  Don't forget to slide your second plain linen square behind the embroidered square so you can cut out two identical hearts at the same time.
The picture above shows you what the heart shapes look like once you've finished cutting. Notice the embroidery is distributed evenly throughout the entire heart shape. This is why that initial template positioning is so critical before you cut the fabric.
Place the plain linen cut-out heart on top of the embroidered heart (right sides together) and pin all the way around.  At the center point of the heart, fold your ribbon in half and insert it between the two pieces of fabric with the two raw ends of the ribbon pointing upward and beyond the seam. The picture above shows the correct ribbon placement before sewing. 
Stitch 1/4-inch seam all the way around the heart, leaving a 1/2-inch opening for stuffing. At this point you can add a handful of lavendar or favorite pouporri to your stuffing to give the project a nice scent. Then close the opening with a slipstitch. 
Adding a matching bow helps finish off the heart pillow nicely.
I think these dainty little hearts can easily work with any decor. They can be beautifully displayed just about anywhere you like, including on the end of a drapery tie-back, a dresser drawer knob or simply hung from a door handle. These would also look adorable in a nursery-boy or girl.
Each pillow took me less than an hour to complete and that includes machine embroidery time. I think if you're looking for a super simple and elegant handmade item for loved ones this holiday season this project is picture perfect. 
Also, when you say this gift comes from the heart, you'll definitely mean it-in more ways than one.