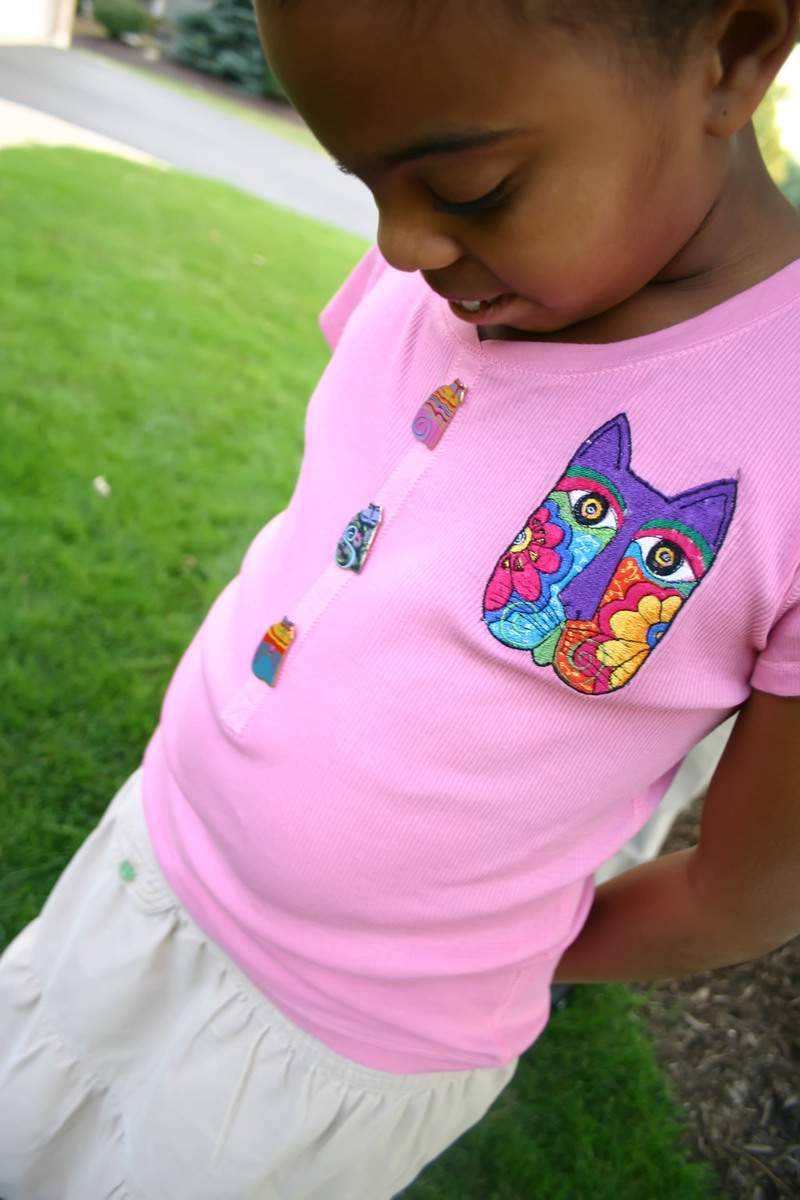 Is there anyone who hasn't seen and enjoyed the whimsical characters of Laurel Burch?  Her vibrant and colorful creations have that unique look that is so easily recognizable. Even if you have never heard of the name Laurel Burch, I suspect you can recognize her signature style of art.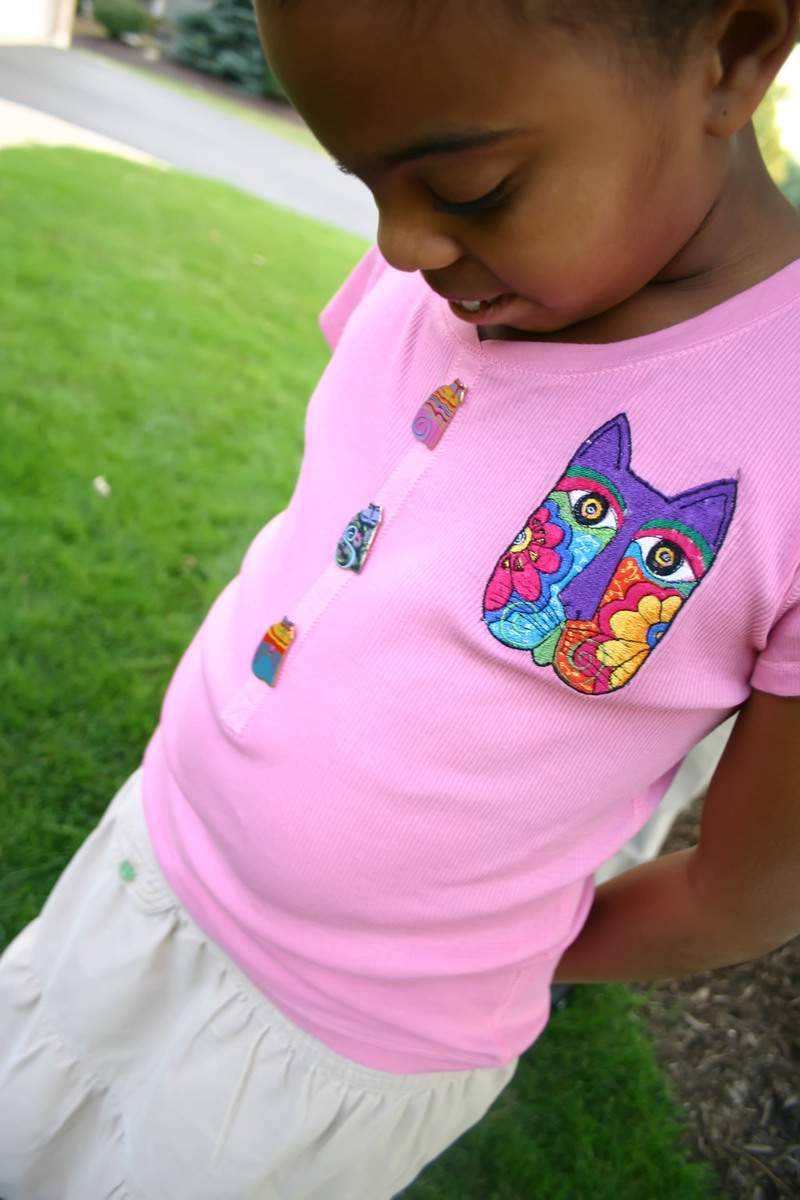 Laurel's mythical felines and fellow cast of bold, artistic characters seem to jump right out at you, from greeting cards, quilt books, paintings, scarves, tote bags, enamel jewelry and fabric as well as her widely popular ceramics and mugs. Laurel's patterns are also available on several embroidery discs. I added a few of her embroidery designs to this plain pink shirt for my daughter, with delightful results.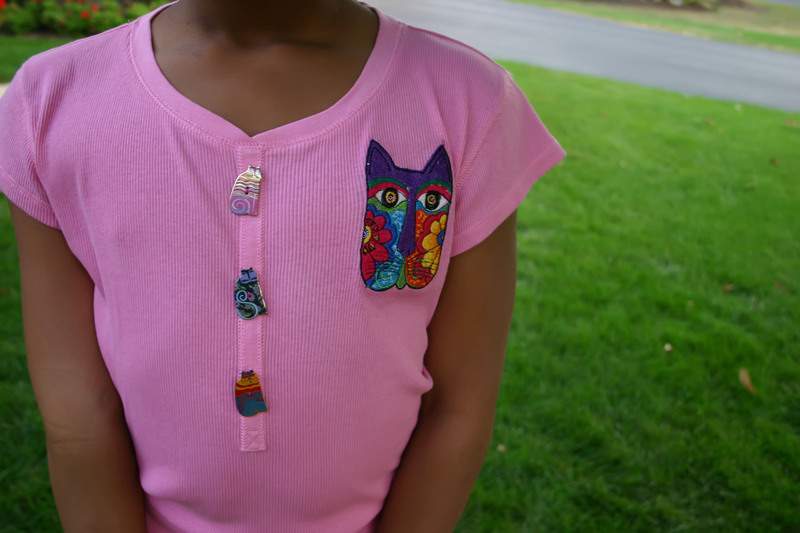 I own a couple of Laurel Burch's embroidery collections and I often use them for various embroidered gifts.  These are the kind of designs that never go out of style, and they can be used over and over again on just about everything. I love how a little embroidery can spruce up any item, as you can see in the adorable cat face design in the photo above as well as the cat and butterfly pictures below. The designs worked perfectly to jazz up the shirt.
The two embroidery patterns I used for this project are from a Laurel Burch collection called Fantastic Felines. If you take a look at the scan below you can see some of the other whimsical designs that are available on the same disc. The two designs I used are side-by-side in the second row.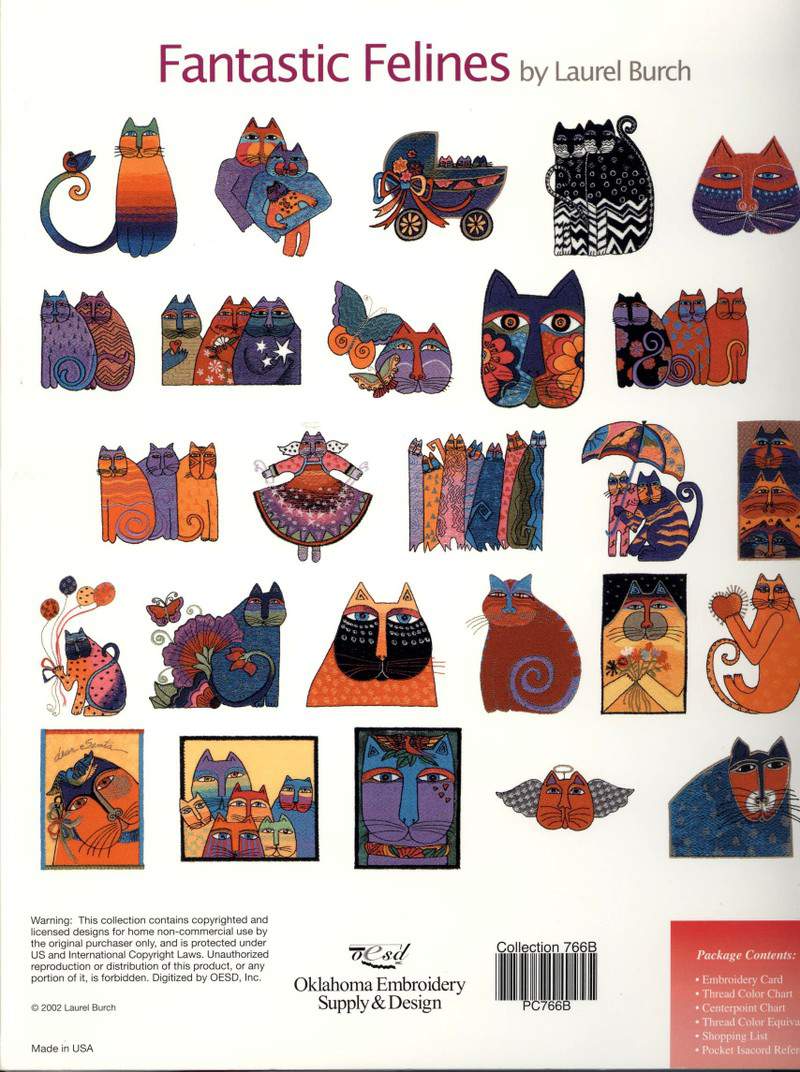 It's always fun to watch the embroidery process reveal the ultimate pattern.  The beautiful feline face I used on the front of the shirt took a few hours to stitch out because of all the different thread color changes, 17-in all for this design.
While Laurel's embroidery designs tend to have lots of color changes, generally speaking most other embroidery patterns I use don't have quite as many. Despite the extra effort it takes to change all those thread colors, I feel it's always worth it after I see the wonderful finished pattern stitched out.
I also replaced the original tiny white buttons on the pink shirt, with these Laurel Burch buttons I picked up at a local sewing shoppe a few years ago. When I first bought the buttons I had no particular project in mind, I just loved them and snapped them up. I'm glad I found a great use for them after all these years. I think the buttons work nicely with this project and give the shirt a cute finishing touch, wouldn't you say?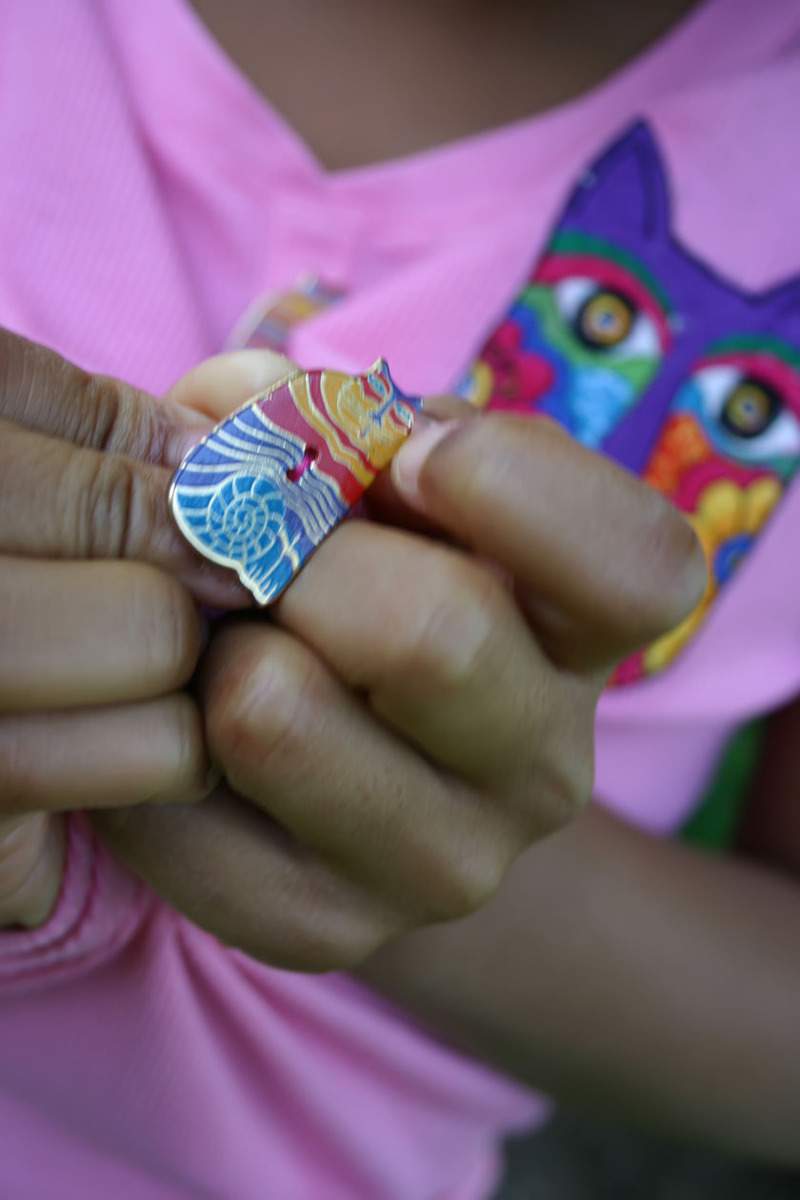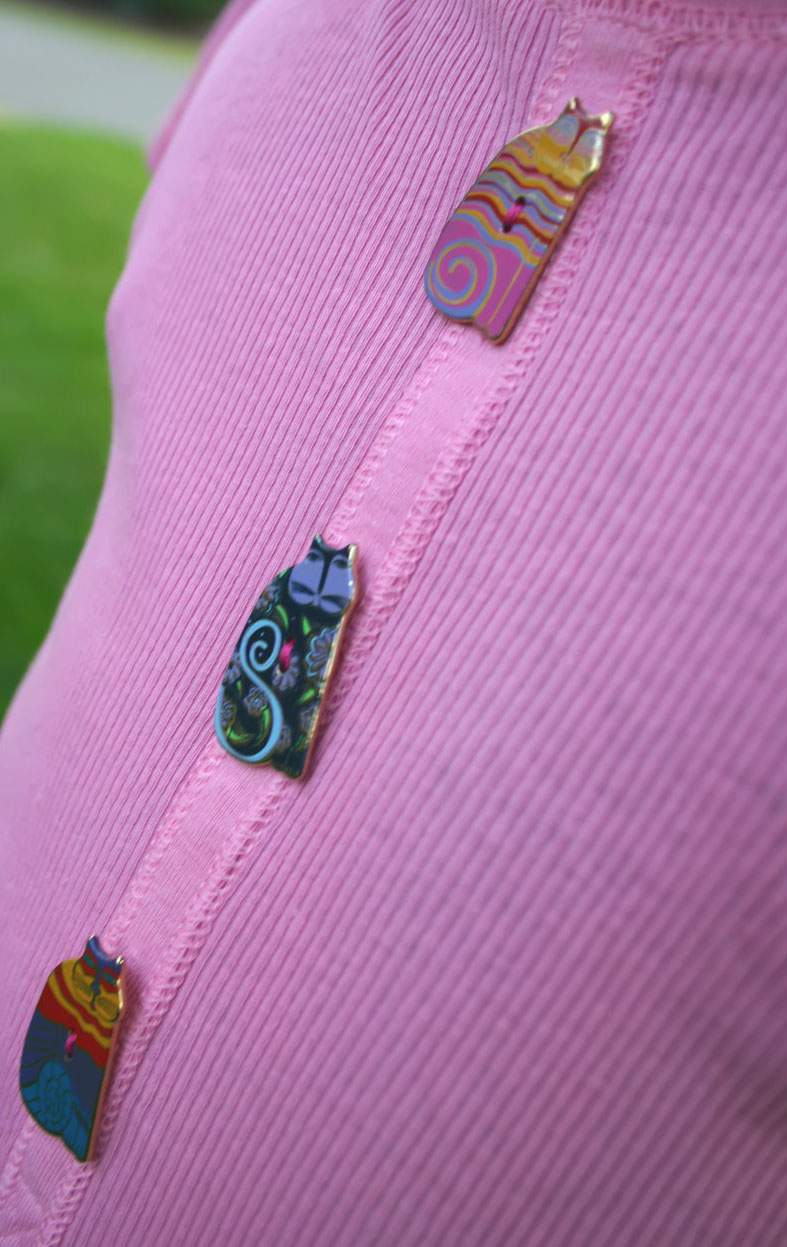 Laurel's patterns are always so fun to look at and her quilt fabrics are just as delightful and whimsical.  One of my favorite quilt books is called Kindred Creatures by Laurel Burch. It features lots of beautiful projects for applique and embellishment. The book is filled with gorgeous photographs of the completed projects. There's so much talent and creativity throughout the pages, it's just a fun book to browse through whether you plan on sewing something or not.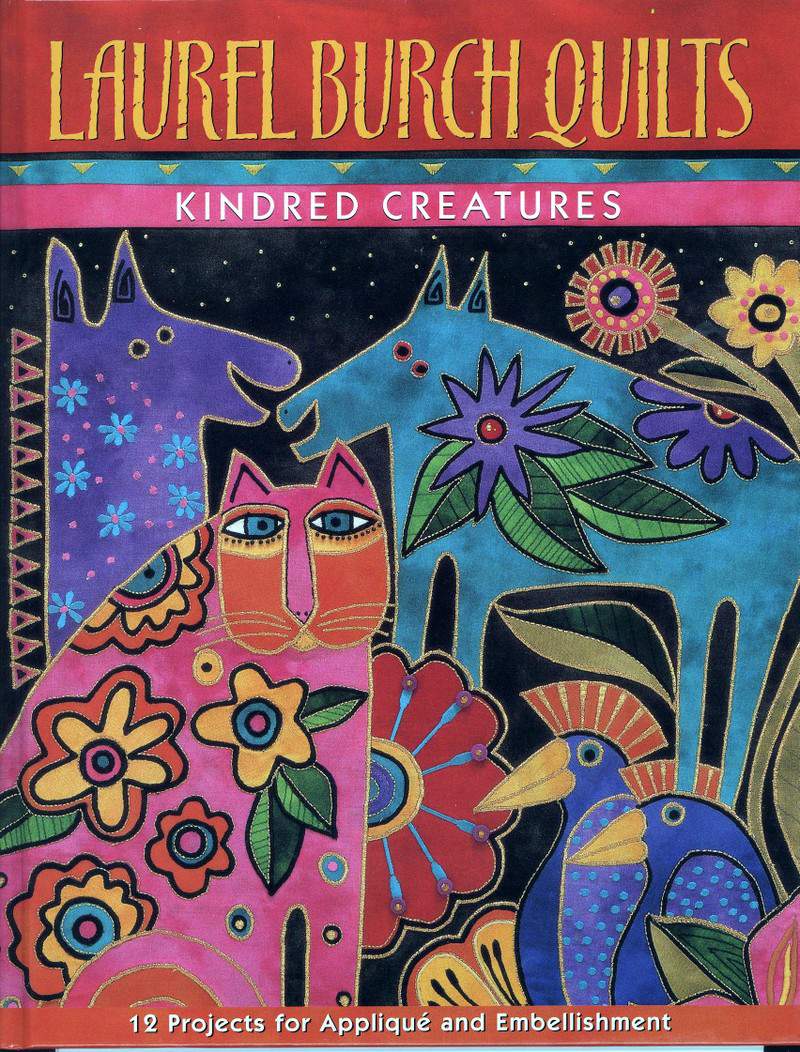 Sadly, Laurel Burch passed away a few weeks ago after a long battle with illness. In her wonderful quilt book, Kindred Creatures she wrote, "share the world from the heart of your heart". I've always liked that sentiment. I think it speaks volumes, in a voice that crafters truly hear.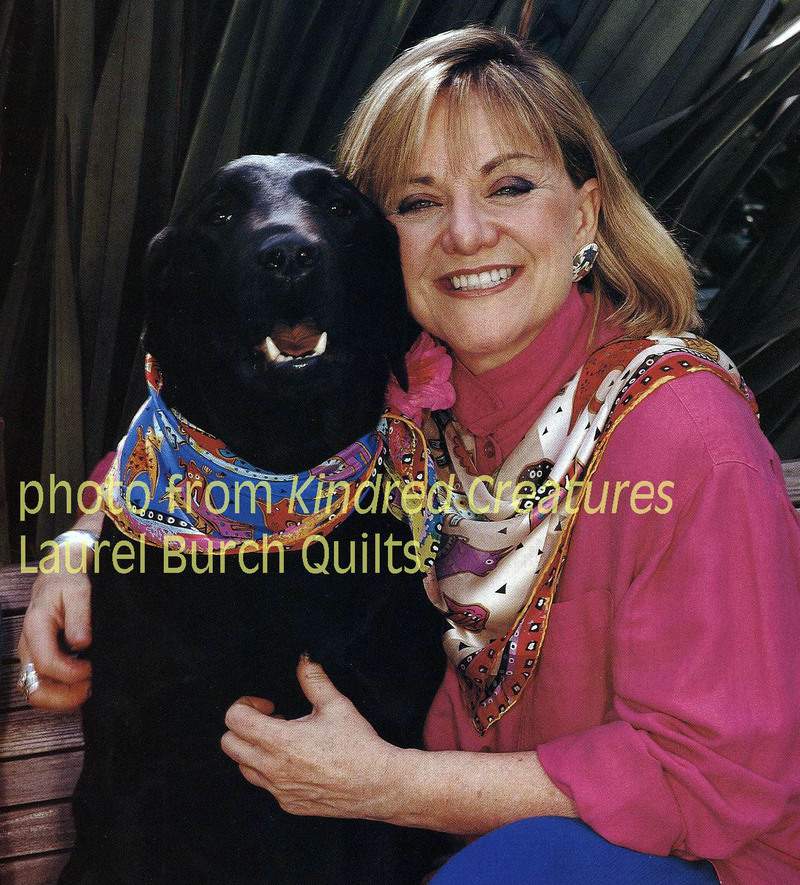 I think so many crafters are finding ways to "share the world from the heart of your heart", with help from their personal blogs. I know I do. I started this blog several months ago as a way to share my interest in all things regarding arts and crafts. At the time, I never imagined how many wonderfully talented people I'd come in contact with who love the same hobbies I do. This blog has allowed me to share my crafting, in ways I never would have been able to before. Equally satisfying has been all the work that is, in turn, shared with me.
There is such a wonderful community of talented crafters out there and blogging is a great way to connect with that never-ending pool of talent. It's a way to be inspired, learn and expand your creative talent beyond any boundaries you may have set for yourself. (It's also a great way to pick up even more hobbies-much to the chagrin of my husband, Boris).
Simply put, crafts and creative expression are good for the soul… and that's at the heart of why I celebrate CREATIVITY in all its forms!