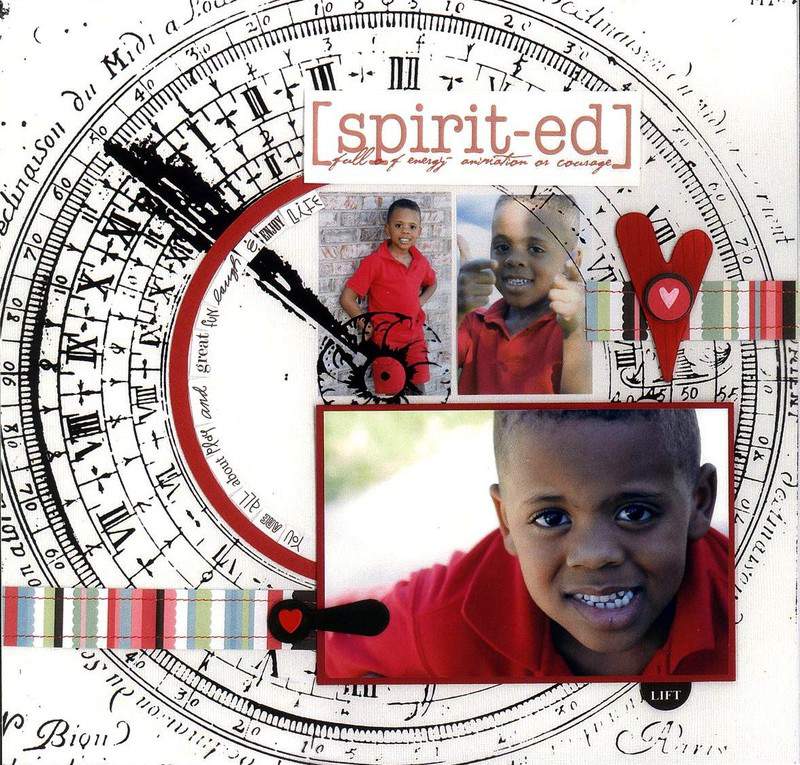 Spirited is exactly how I'd describe my sweet little boy Jordy. He has so much energy it really tires me out sometimes. That goes for physical and verbal, because he asks a million questions a day. It's hard to believe he just turned 7-years old. Jordy is such a cutie, as well as a big charmer too. He's always full of hugs and kisses and I have to admit that does help his various causes sometimes. Anyway, it's tough getting great natural pictures of Jordy because he often resorts to that "fake smile" that all kids have when mom wants to snap a few extra pictures. Both my kids are so sick of Mom-the-shutterbug. Despite that, I do feel like I got kind of lucky on this photo shoot with Jordy. These are some of my favorite pictures of him.
This layout is featured in the August-2007 issue of Creating Keepsakes magazine.
There is journaling in this layout but it's hidden and since Creating Keepsakes didn't show the journaling in the published version, you can see it here. Do you see that small black circle tab in the bottom right hand corner of the main photo? Just lift the tab and you can see the journaling block along with a few more cute pictures.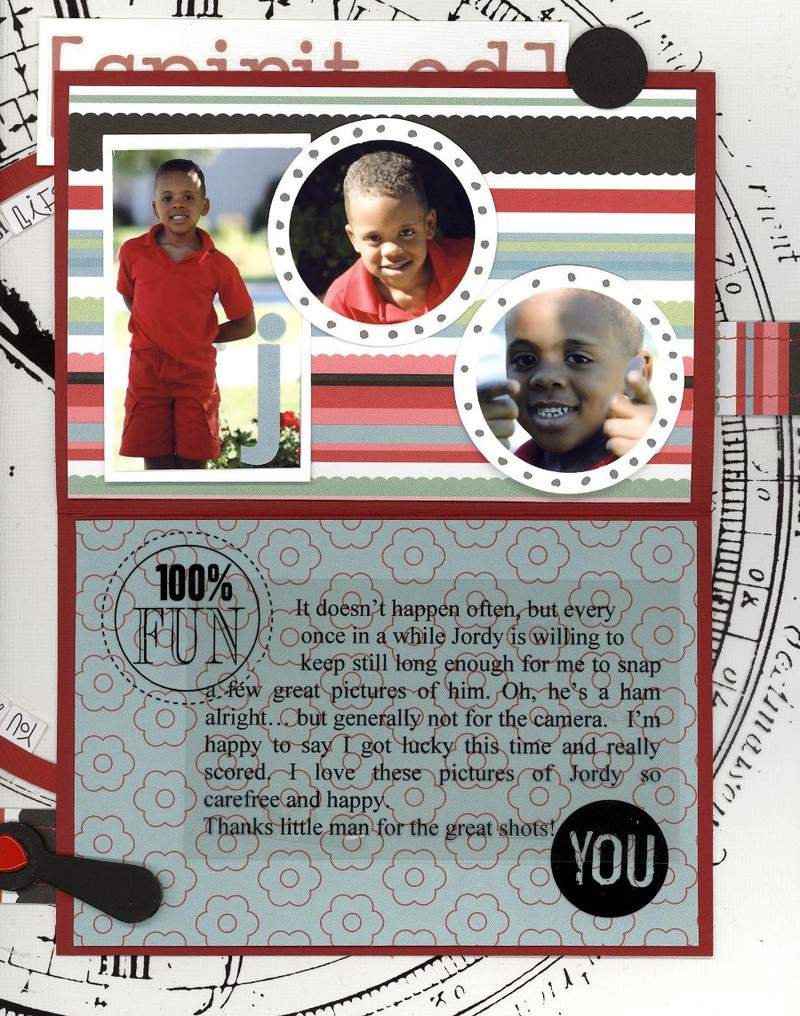 Hidden journaling is one of my favorite techniques on a scrapbook layout. It allows me to maximize the space on my layout for more photos and embellishments, and it also offers a hidden surprise to anyone looking at your page. It's nice to find a little something extra you may not have quite expected.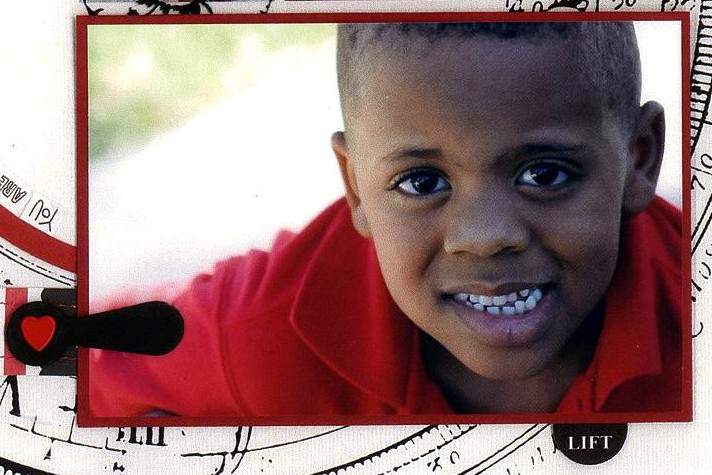 For the hidden journaling in this layout cut cardstock approximately 6 1/4 X 8 1/4 inches. Adjust width depending on how much cardstock you want to show surrounding your main photo. Fold the cardstock in half, and attach the main photo to the top side of the folded cardstock. The backside will be mounted to your scrapbook page.
To create the lift tab, use a circle punch to cut two small circles. Glue circles together, leaving a small opening between the two to attach to the front of the photo mat. Add patterned paper on the inside of the card along with your journaling block and additional photos. I painted a chipboard fastener and attached to page using a heart-shaped brad to hold the flap in place to complete the look.
If you have a copy of the February 2007 issue of Memory Makers magazine, you'll find an article I wrote on hidden journaling along with more examples of this easy, space-saving and fun technique.
Supplies for this layout: Patterned paper: SEI, cardstock: Bazzill Basics, chipboard fastener: Basic Grey, heat brad: Memory Makers, rubons: Urban Lily, 12X12 overlay: Creative Imaginations, word stickers: EK Success, chipboard hearts: Heidi Grace Designs, other: transparency, machine stitching, acrylic paint, circle punch.