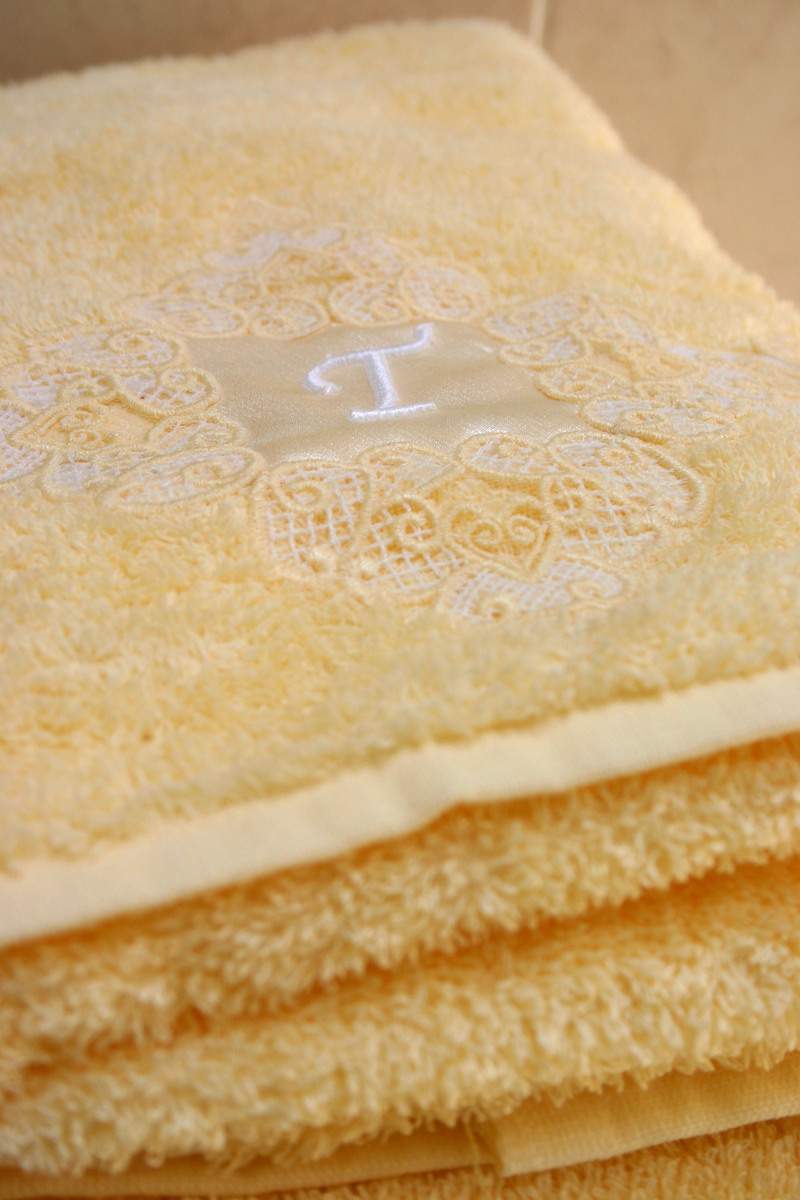 Just don't grab these particular towels when you do. These aren't for drying off after a dip in the pool. I like to think these decorated towels are more for fashion, rather than function. These monogrammed towels which include a beautiful scrolled applique were made using my Brother ULTD embroidery machine. If you already have an embroidery machine, this is a really simple project to tackle. Now is a good time to start thinking about holiday gifts. If you're still on the fence about owning an embroidery machine, maybe this project will tip the scales for you. The towels below were a gift to Mom, and I think they're a great example of how machine embroidery can be used to turn ordinary items… into extraordinary ones.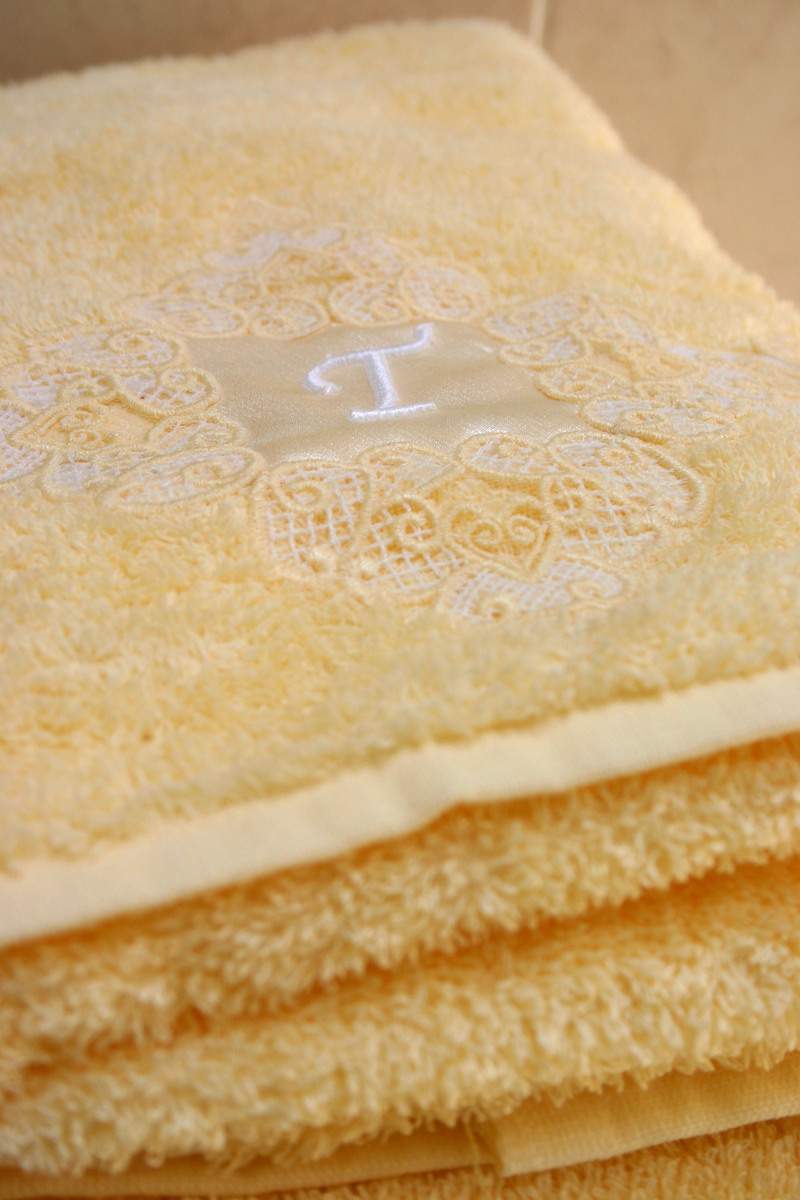 I settled on a scroll embroidery pattern from an embroidery disk that came with a fantastic book called Latte Quilt by Kerrie Hay. The disk contains dozens of elegant embroidery patterns that are designed for an elaborate embroidered quilt. However, the individual patterns can also be used on a variety of other projects like this towel set gift. I've also started making the actual Latte Quilt from the book, but I'll share that later in a different post. Today I'd like to focus on this one beautiful scroll design and how it can be used to give these plain yellow towels a more elegant look.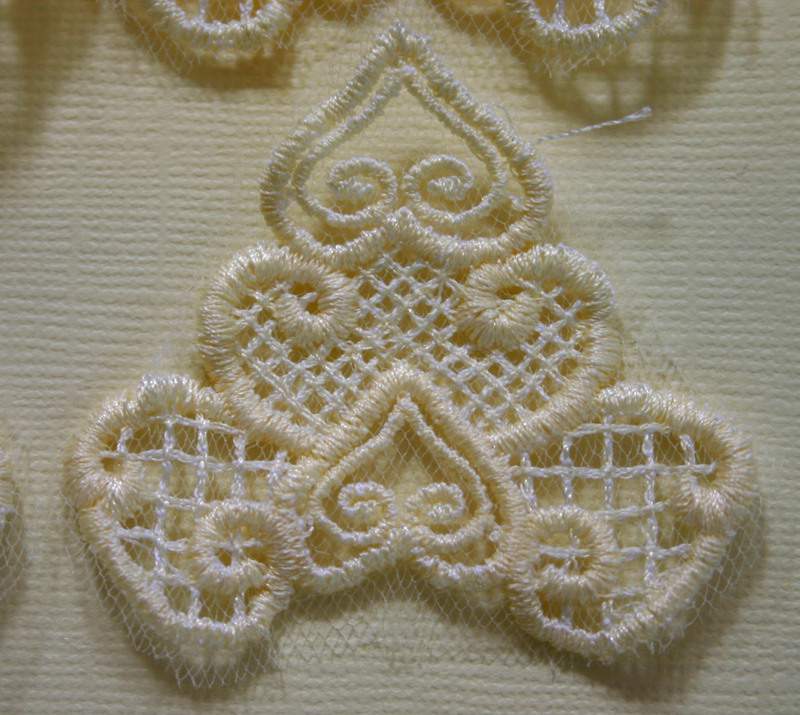 To create an applique you first select a pattern that has a continuous thread design. You will also need to create a three layered sandwich of materials for your embroidery hoop. The first layer is made up of a small square of water soluble stabilizer. The second middle layer is made up of the same size of any ultra sheer fabric. In this case I used sheer, thin netting. If you click the picture above you'll get a larger version of the photo and you can actually see the netting between the decorative stitching. The third layer in this sandwich is made up of another piece of water soluble stabilizer, cut to size. All three layers are fitted into your hoop and your machine needle will stitch through all layers. Once the pattern is finished stitching out, remove the project from the hoop and run under warm water until the stabilizer dissolves. This will give you your appliques. Set aside to dry. Remember, when you select your pattern, choose a design that has every thread connected in some way so there are no threads that are disconnected from the whole.  If there are any gaps in the thread as it stitches out, the applique will ultimately fall apart, once the water soluble stabilizer is rinsed out.  By the way, stabilizers can be easily found at most fabric stores.
After embroidering the letter "T" (for Tutman) onto a piece of yellow silk, I arranged four of the scrolled appliques around the "T" and hand sewed everything onto the towel.  Be sure to use clear threading for invisible attachment.
Since the towel already had some decorative ribbing, I just hand sewed additional appliques along the white ribbing on either side of the center arrangement. I think you can see how adding a simple applique to an ordinary towel increases the elegance-factor in a big way. I'll share some more embroidery projects, as well as some step-by-step pictures of the process later in a different post.
By the way, my mother loves the towels and she assures me they are not being used after any dip in any pool. Thanks Mom!