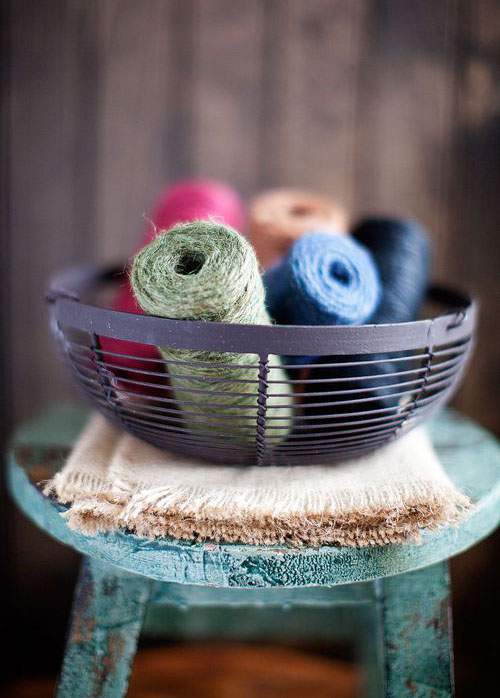 Have any of you ever read the vintage (1958) children's story A Big Ball of String, about the boy who loved string so much he collected every piece he ever found?
You can imagine how large his ball of string ended up.
While I'm certainly not in that league… I admit, I am a collector and I definitely have a thing for string.
Yes, in addition to collecting dishes… I also collect string.
Lots of string and string of all colors.
How cute is this little iron string stand?
I think the gardening scissors almost steal the show.
I love the little iron feet which give this dispenser even more rustic character and charm.
I think more than any string, I'm particularly drawn to jute which is sturdy with a rough texture that reminds me more of burlap than anything else.
Speaking of burlap, my affinity for jute and similar rough-textured string is rooted in my love of burlap of all shades.
Here a few yards of my burlap which I often use for crafting projects as well as for neutral-colored backdrops for photo shoots.
Ahem, I threw this burlap photo into this post about string because I just like the stacks of textured fabric and I thought you'd like it too.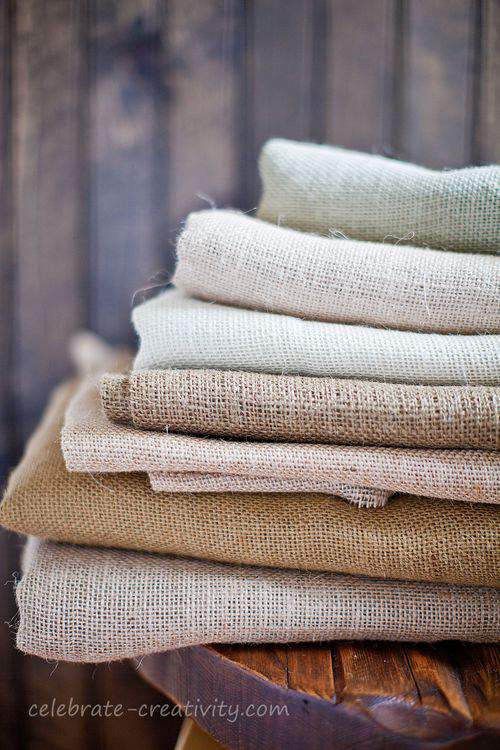 I've actually been collecting string for a quite a while.
For the record, I just don't collect string for the sake of it.
I actually use it for various crafts, DIY projects and packaging efforts which makes collecting string a pretty useful hobby.
How cool is this wooden spool?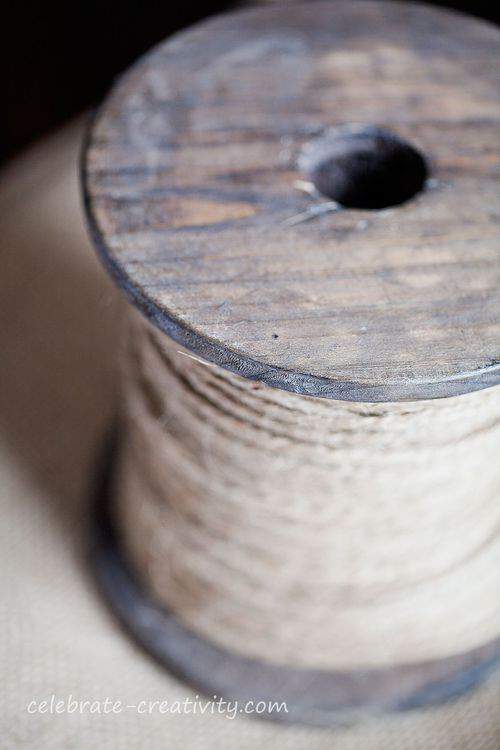 This spool looks deceptively small in this photo but it's a decent size at about 5-inches tall and almost as wide.
It has a very nice weathered and distressed appearance and looks like it could have been found in an old sewing corner in an an attic …  or perhaps tucked away in a dusty tool shed.
As much as I use jute, sometimes a thinner string is what I really need for a particular project or for packaging.
I have no shortage of thin string either.
I'm partial to the more neutral tones, but this dainty type of string also comes in a variety of vibrant colors if you prefer more vivid hues.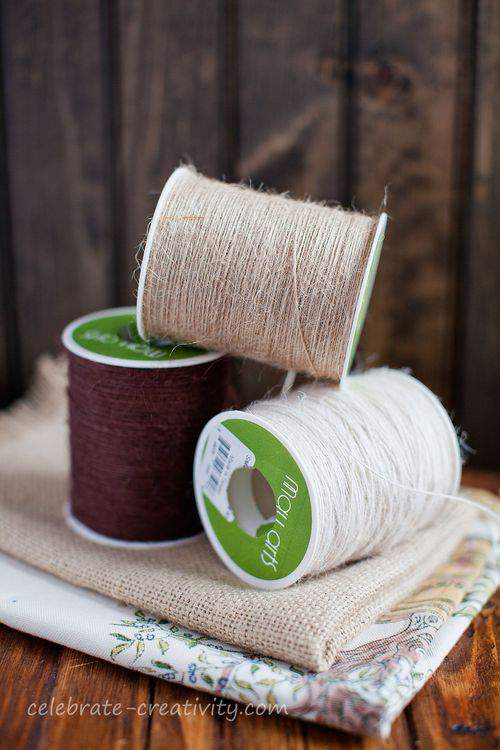 My mom (Nana Banana) recently reminded me of a funny quote from the 1997 movie Mousehunt, in which one of the main characters (who runs a string factory) declares, "a world without string is chaos".
Food for thought? Perhaps.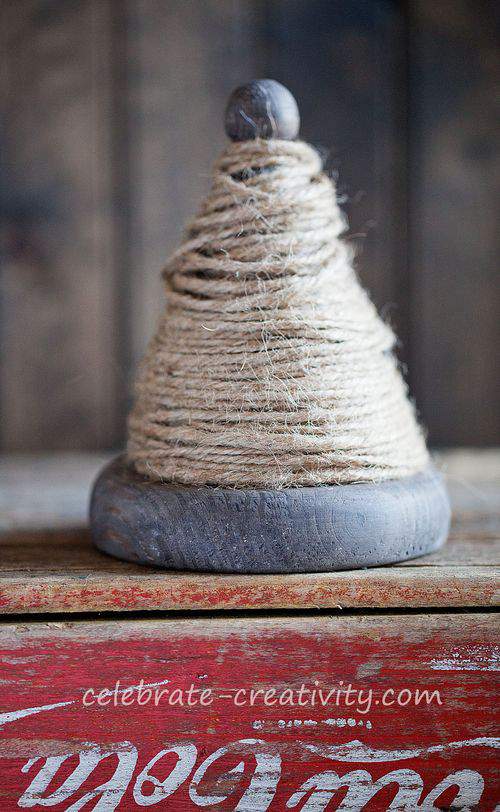 Here is another interesting, cast iron dispenser with a curved arm and a nostalgic appeal.
This reminds me of something you might have seen in an old-fashoned country store, back in the day when purchases were wrapped in brown paper and string-tied for the customer right on the spot.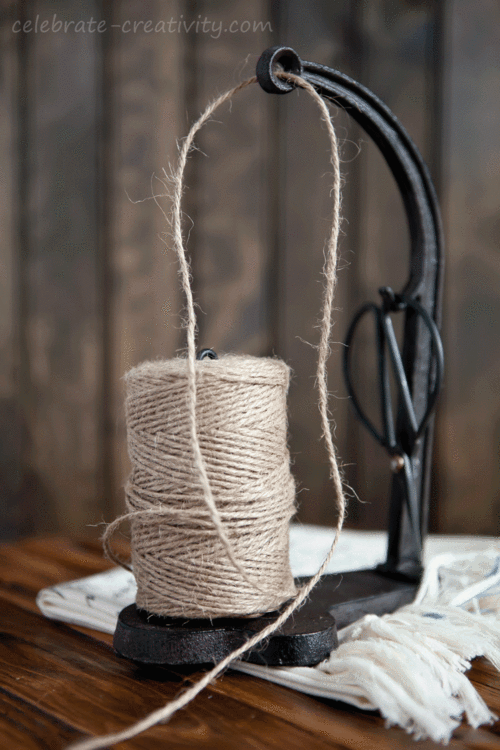 Meanwhile, I think every crafter or baker should keep this particular type of supply on hand.
Baker's twine comes in a variety of colors but I almost always use the red and white variety (it always looks so festive when used to tie-up homemade goodies and treats).
You can find baker's twine on-line and in most crafts stores.
Now, you may be asking yourself how any string lover could possibly use this much string.
Well, aside from thinking you can never have too much string, I must admit I also have an affinity for string dispensers.
  I'm always on the lookout for interesting containers like this old fashioned tin.
OK, how could anyone possibly be expected to resist this cute little dispenser with it's feathered sentinal keeping watch over all it surveys.
Like I said, I'm a sucker for dispensers.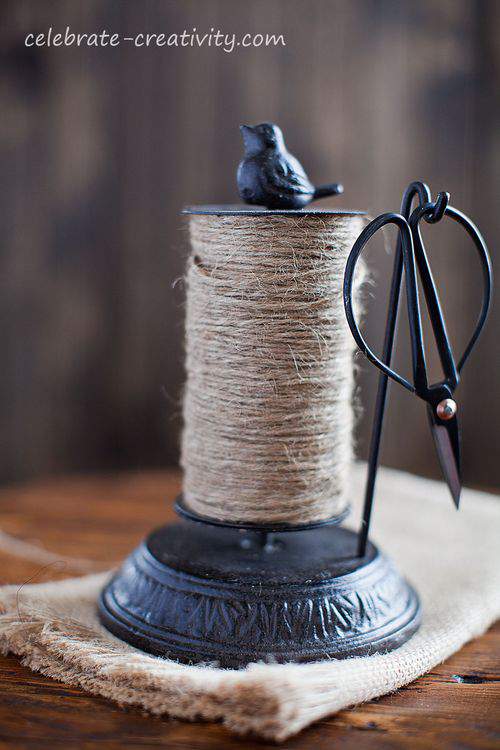 I  love the mini garden shears that hang from the side making them always handy.
This little dispenser gets plenty of good use too.
It's amazing how often I reach for string when it's right in front of me like this.
Well I think you can see, I definitely have a big thing for this sort of thing.
I'll bet you didn't realize string could be so cute, did you?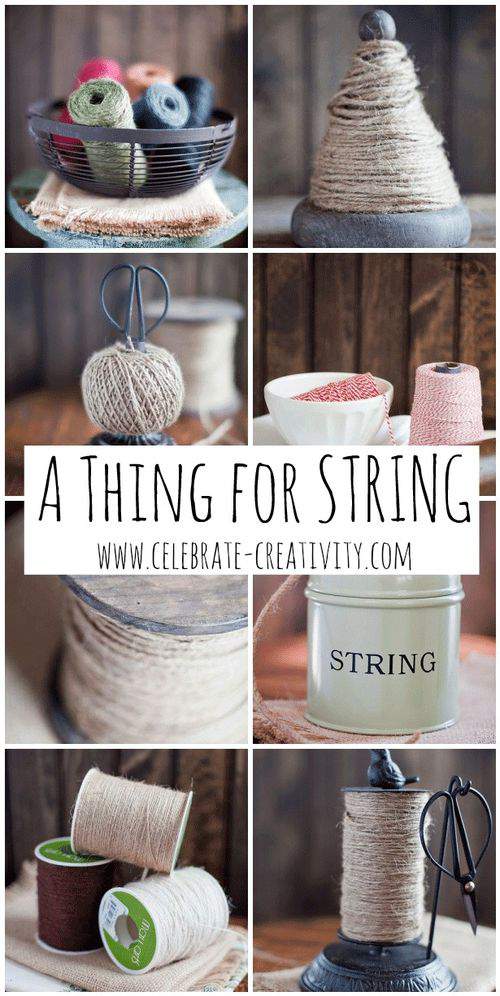 Careful, collecting dispensers can be addictive.  Really, I mean it.
So, do find yourself now starting to see string in a whole new light?  ♥