I have some fun news to share about this blog today.  CELEBRATE CREATIVITY (in all its forms) has been named a finalist in the 2012 Country Living Blue Ribbon Blogger Awards.  Yay!
My blog is a finalist in the LIFESTYLE category and later this month Country Living Editors will pick the winner.

There's also a Reader's choice category and that's where all of you can help me if you like.
Pop by the Country Living Website every day between now and September 17th and vote for your favorite blog in the Lifestyle category.
All of the blogs in the finals are gorgeous and unique but of course, I hope you'll vote for mine.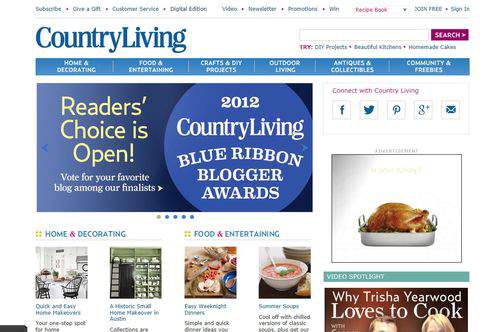 When you go to the Country Living website (I've provided links throughout this post), you'll see the Reader's Choice announcement.
Simply click the link to see the list of finalists, then scroll down to the LIFESTYLE category and vote.
It's that simple and again, you can vote everyday until September 17th.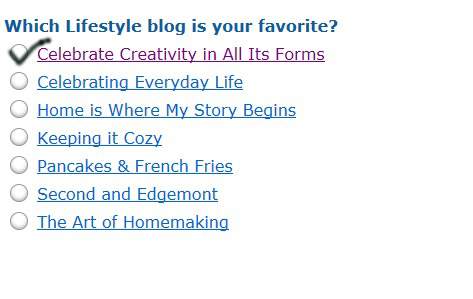 I've been a long-time reader of Country Living magazine which is always filled with inspiring projects, great looking recipes, location and articles as well as beautiful photo styling ideas.
I have a ton of back issues because I have such a hard time tossing them, even after I've read them cover to cover.
Country Living editors narrowed their 2012 Blogger Award finalists from 2,830 submissions in five categories including: cooking, crafts, decorating, gardening and LIFESTYLE.
I've been doing a little happy dance ever since I received the notification earlier this week that my blog was a finalist.
It's an awesome honor and I'm pretty thrilled about being selected alongside so many other great blogs.  There's some stiff competition, for sure.
Don't forget, you can vote for my blog everyday from now through September 17th.
 Wish me luck and thanks so much for the support and your vote. ♥