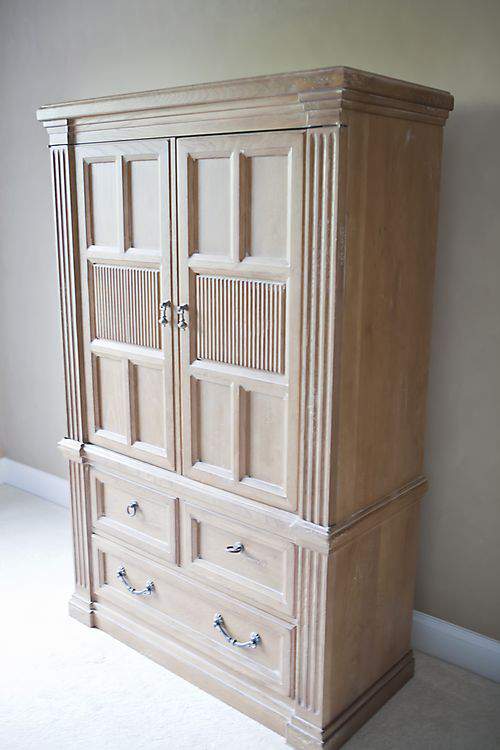 I have a new/old armoire and it only took me about 17 years to get it.  This armoire is part of a discontinued Drexel Heritage furniture collection that matches a bedroom set I bought more than a decade and a half ago.  
I bought the piece used but I'm thrilled to get my hands on it thanks to some some good luck and a really great price tag.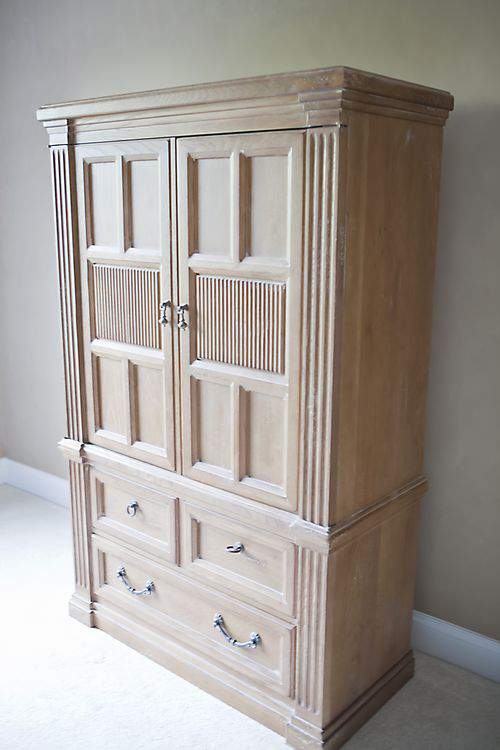 I had wanted to complete my existing furniture set for some time and while browsing on-line last month, I came across a private listing for this armoire.
The price was too sweet to pass up and to top it off the seller was located just a two-hour drive away.
Original sales price/new @$1400.  Used/mint condition=$300 (Great deal).
Now, I've heard the horror stories of buying items on-line from strangers but after talking with the seller over the phone, my husband and I decided he was legit.  
The seller and his wife turned out to be quite sweet and it was a pleasure to do business with them.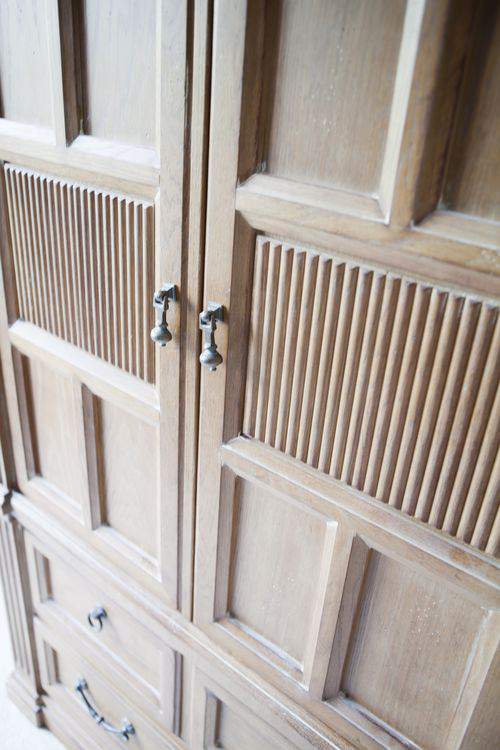 I love the rustic hand pulls and carved details throughout this piece.
This armoire is solid, extremely heavy and very well-constructed with screw-attachments, not glue.
Do manufacturers even make hearty furniture like this anymore?  I'm not sure.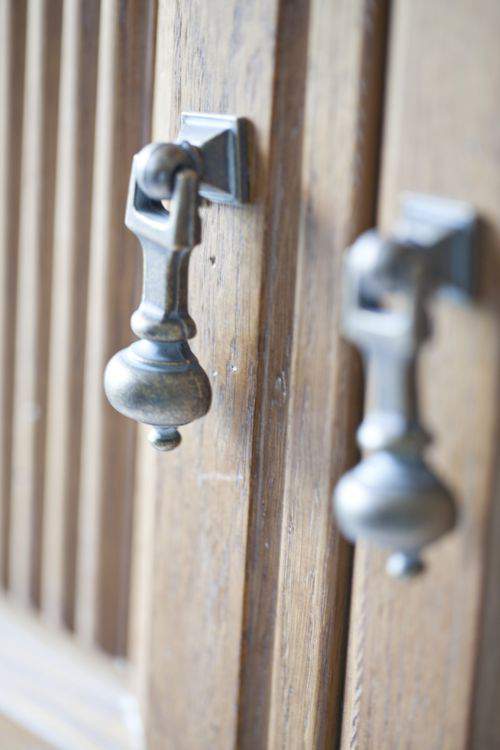 The seller told me he had tried to sell the armoire for years but potential buyers were turned off by what they thought was wood damage.
Actually these dents, dings and white glazed areas are deliberate features and part of the distressed design presentation of the piece.
I think the scattered distressing really gives the armoire character.
Meanwhile, with thoughts on how I'll fit my new/old armoire into my bedroom decor (a possible future blog post), I thought it would be fun to take a look at how armoires in general are incorporated into home decor.
Armoires are wonderful storage solutions and this one in the photo below really appeals to my personal taste and demand for functionality. 
This simple with super storage.  Look at everything that fits in there.
I love the mirrored doors on the front giving this armoire even more useful.
Take a look at this gorgeous, golden armoire which definitely takes center stage in this sitting room.
I think it is a bit ornate but still stunning with its intracate carvings, head to toe.
This beautiful kitchen with its ceiling-height armoire is not where I cook, but I wouldn't mind whipping up a few dishes here. 
This built-in, armoire coordinates with the rest of the cabinetry for a grand,  high end appearance.
Here's another kitchen armoire which cleverly conceals the refrigerator-freezer.  Yes, the fridge and double freezer are hidden behind the beautiful, natural-oak finish.
This large scale armoire also serves as a room divider.
Fancy, huh?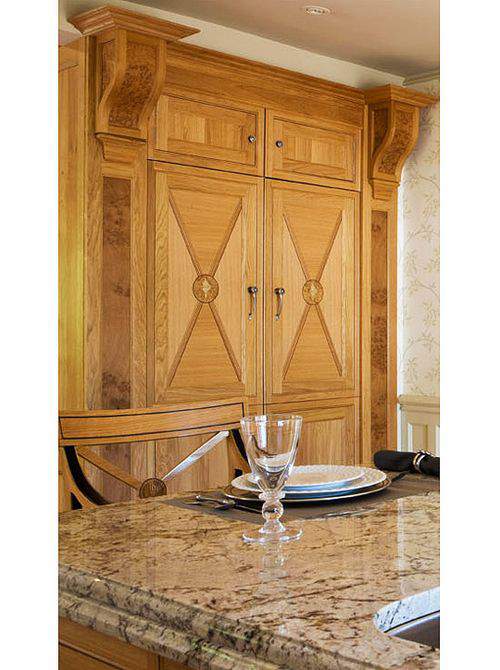 Photo source: Traditional Home
Here's one more kitchen storage armoire with a glass door front.  It's highly functional with good storage capacity.
The clean, simple lines a give the room a country-style flavor.
I'm not sure I would necessarily place two armoires side by side but this old-fashioned looking duo are beautiful partners indeed.
I think the two color tones combined with the stair-step heights add even more interest to the presentation in this room.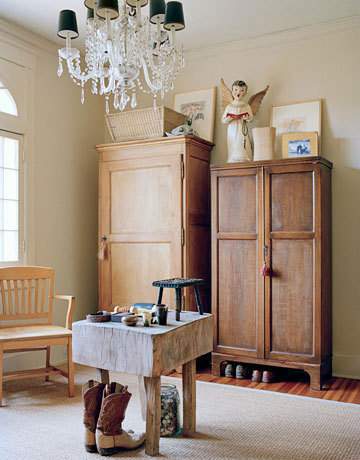 Photo source: House Beautiful via Apartment Therapy
Apparently armoires can also be used as vanities.  Notice the mirror that's been attached to the inside back of this piece?
This is an unexpected use for an armoire but I think it's a neat idea.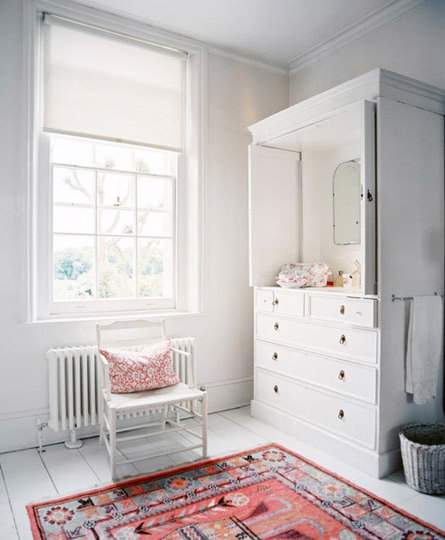 Photo source:  SF Girl by Bay via Apartment Therapy
The soft, pale turquoise on this vintage looking armoire sets the stage for this lovely, feminine bedroom. 
(I love the distressed, turquoise, writer's desk nearby too and the embroidered pillowcases did not go un-noticed by me either).
Of course, there's no way to know how the armoire is actually being used but it's but it definitely makes a beautiful, statement in this room.
Finally, how clever is this?  The doors to this little girl's bedroom closet are constructed to look like an armoire.
The checkered, curtains are sweet touch that add nice, additional dimension to the piece.
It also has a touch of whimsy and I love creative interpretations like this.
Clearly, I have an affinity for armoires.  Do you?
How have you incorporated an amoire into your home decor?
COMING UP ON MONDAY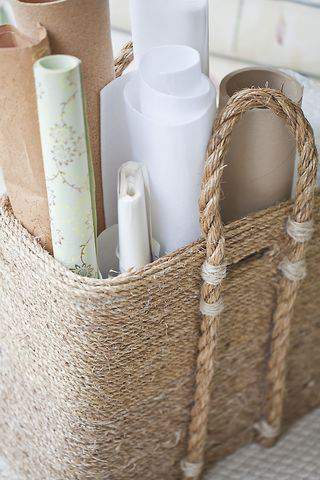 They're large, roomy and a great storage solution in any room.  I'm talking about Beachcomber baskets.
I made this basket in the photo on the left in just one day and you can too.
If you love the look of those Pottery Barn beachcomber baskets, I'll show you how to make one like it. 
Handcraft your own basket for a fraction of the cost of store-bought and you'll only need a handful of supplies.
Hope you can pop by again next week for my easy tutorial that may start you on a Summer basket making binge. ♥