H
ow delicious do these bite-sized treats look?  These adorable goodies are simple to make and a delicious goodie to boot.
The appearance of these cupcake-shaped cake pops on this blog, marks the first entry of my new column called THE FRIDAY FOODIE.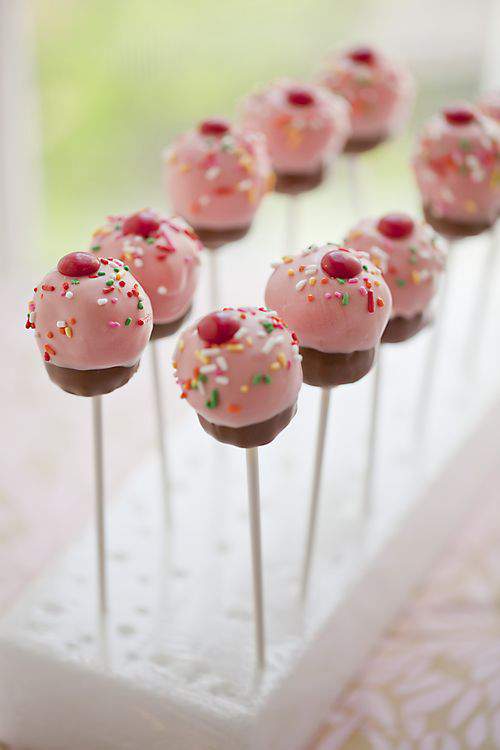 Earlier this year I mentioned plans to introduce a series of new columns on this blog to compliment my regular DIY and lifestyle ideas.
Perhaps you've already had a chance to check out my first new column which debuted in March entitled: Inspiring Finds for Home and Heart.
THE FRIDAY FOODIE will be a bi-weekly look at a favorite eat, drink, recipe, cookbook or other food related goodie that has caught my eye and my taste buds.
I'll share a new delicious discovery here every other Friday, just in time for your own weekend taste testing.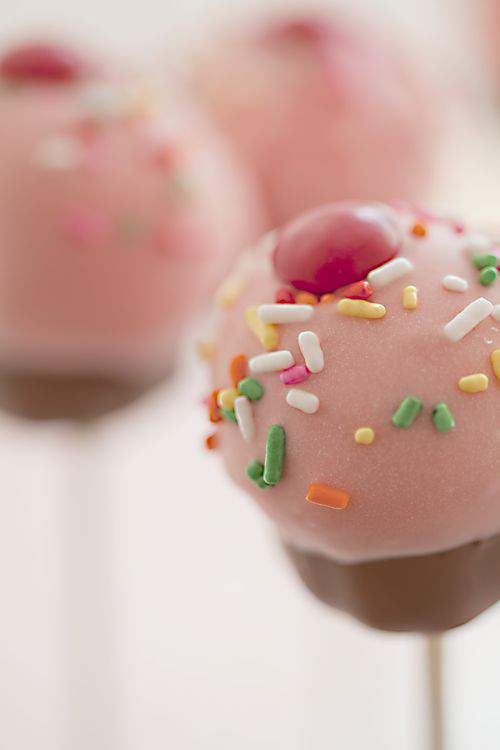 OK, now for more on cake pops.  I admit, I may be a little late to the craze but better late than never, right? 
You may already be familiar with the book, Cake Pops. which has so many adorable ideas, tips and techniques for creating these sweet treats. 
The book author is the talented baker behind the very popular Bakerella blog.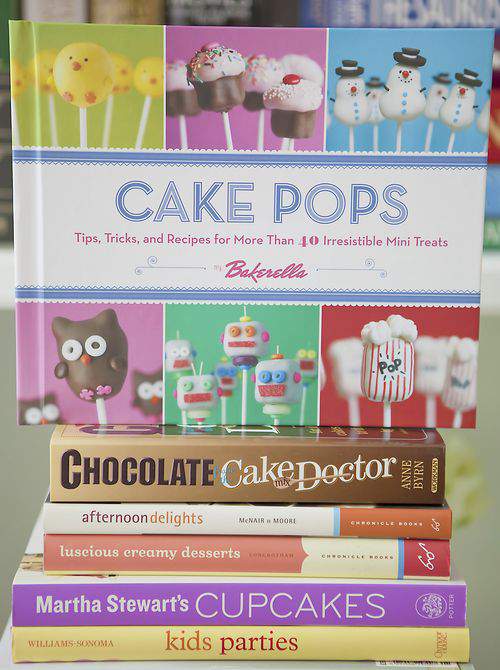 Look how cute my pops look all bagged up with a twist of dotted ribbon.
I'll share more information on these cupcake cake pops further down in this post.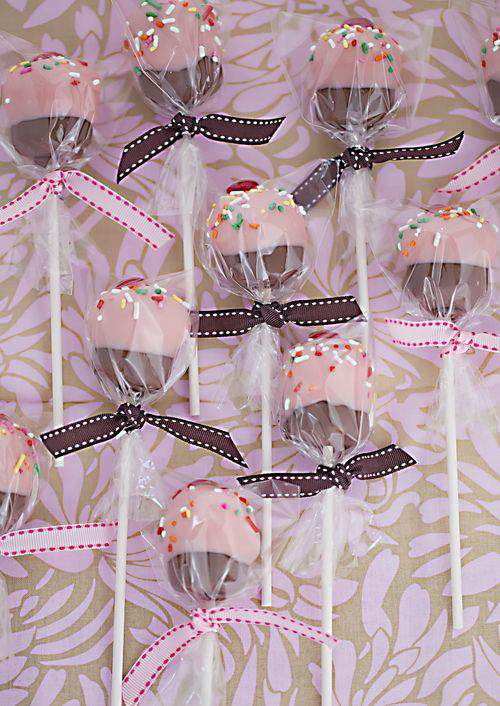 While the cake pop process is actually pretty simple (whether making piggie pops or cupcake pops), I found there is a slight learning/practice curve.
I ended up going through several boxes of cake mix before I was finally happy with my cake pop cupcake result.
First, bake a cake.

Remove the crusted and darker areas of the cake.
Use your hands to crumble the mix into very fine pieces.

Add a small amount of frosting.  I found this is a very imporant step and you definitely have to watch the icing to cake ratio. 
Use too little frosting and the cake won't stick but use too much and the cake will be too moist and (frankly) gross.  

Roll the cake dough into small balls and place on a wax paper-lined cookie sheet.
I refrigerated the balls overnight and found them much easier to work with because they were pretty firm but still maleable.
It's at this point that you can shape the balls in whatever way you wish.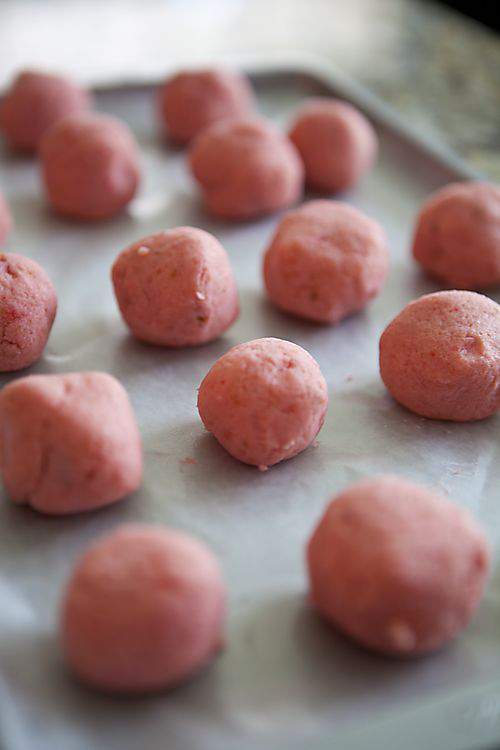 This is where I decided to attempt my own personal twist on a batch of cake pops. 
My clay, kitchen pig served as my inspiration to try to make piggie pops.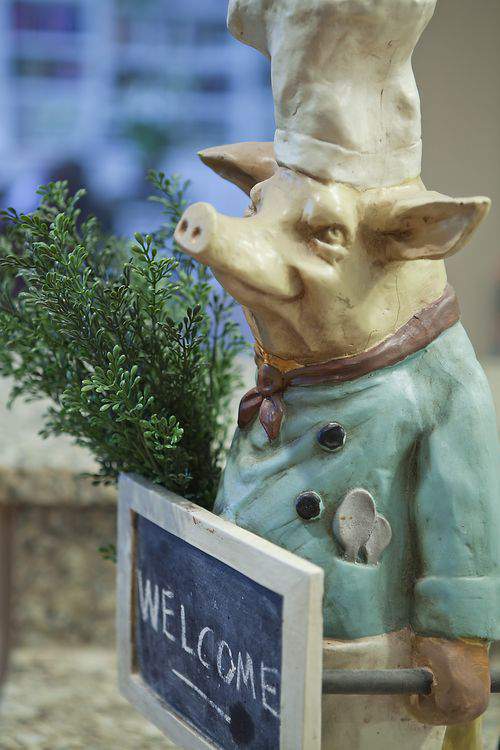 For the pig ears, I just pulled the dough from the center of the ball and just continued to shape until the ball started looking pig-like.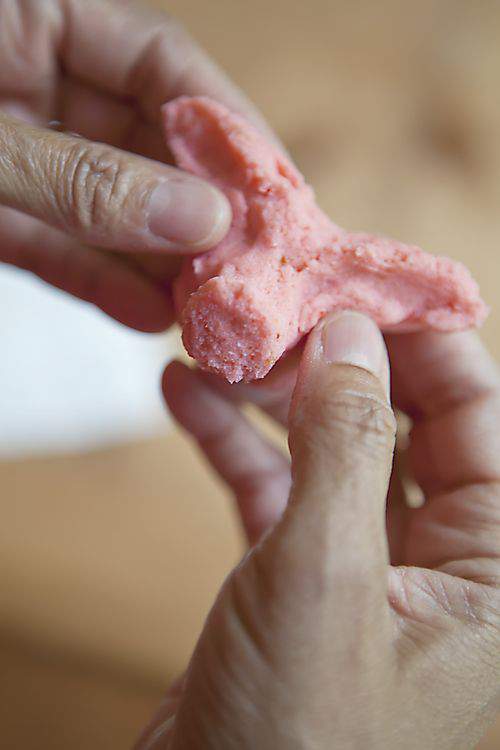 Melt a bit of chocolate in the microwave and dip the end of the candy stick into the chocolate. Then insert the stick into the chocolate and then into the bottom of the pig head.
Use a styrofoam block to support the pops as you make them.

Again, it takes a little practice to get the molding just right but it's a fun step.

I refrigerated my pig pops again for several hours before dipping them into the melted chocolate.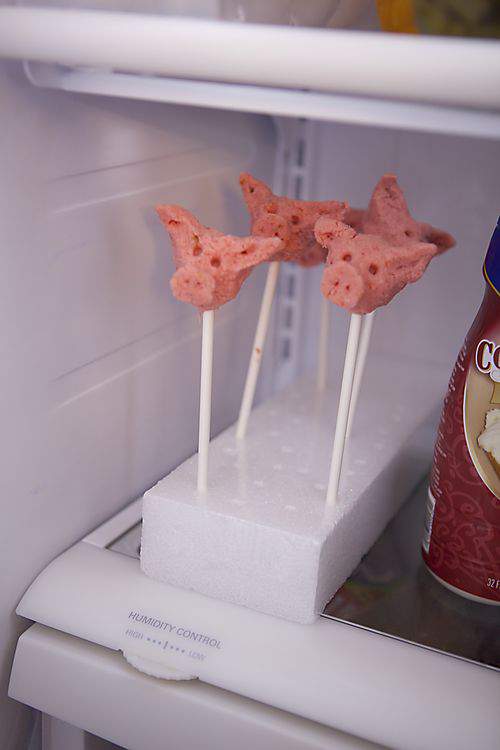 OK, this ended up being the rough part for my pigs.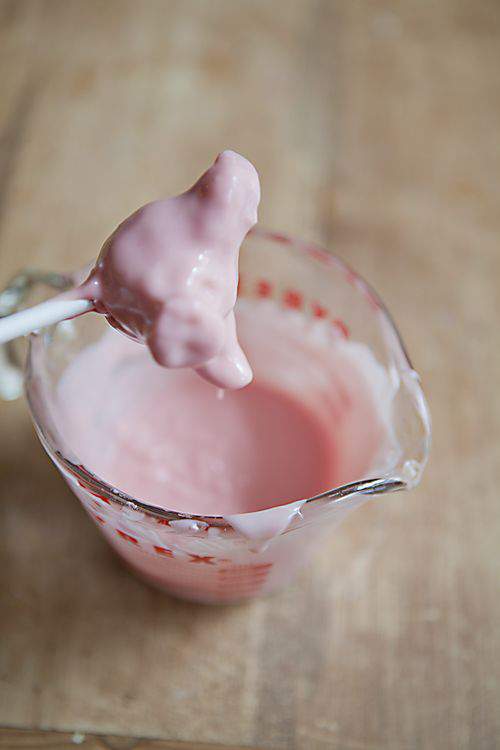 I still haven't figured out how to make the eyes and nose holes survive the chocolate dip but I'll keep trying.
I also tried using small candies to define the facial features but they made the pop but no luck. 
More practice needed.  For now, this is about as piggish as these pops are going to look.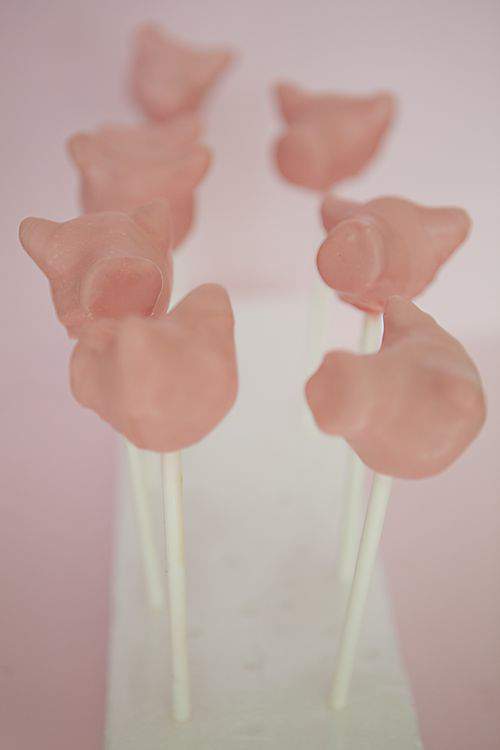 My daughter, Cameron had slighly better luck with her out-of-the-box presentation.
She piggie-backed on my cake supplies to come up with her own version.
She's so creative.  Gotta love that top hat.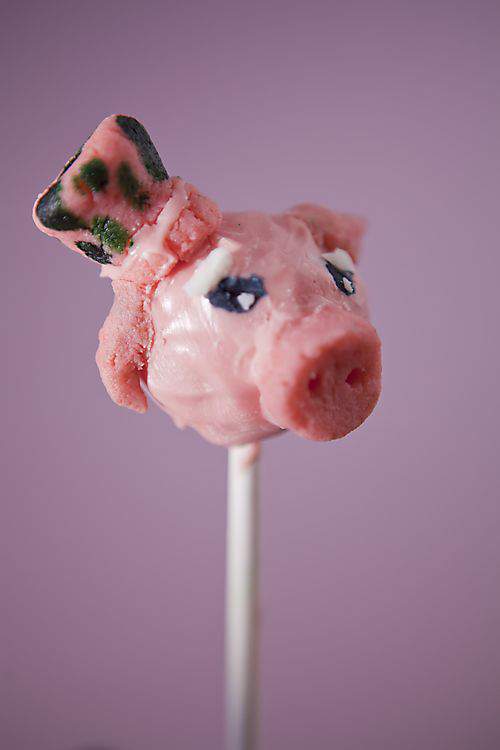 To deflect any question about their identity, I decided to add a few handcrafted labels to my piggie pops.
Minimal supplies were needed including a pig die cut, tag and self-adhesive letters.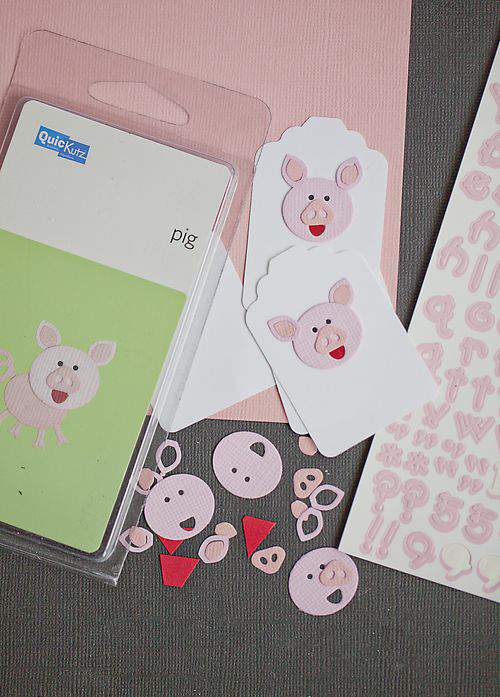 Here's a closer look at the finished labels.
Oink, oink.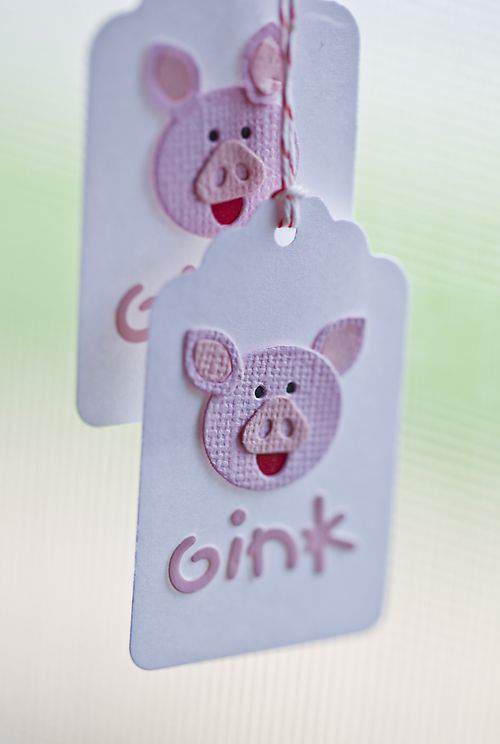 OK, now these piggie pops really do look more like sweet swine.
I think labels make a big difference in the final presentation.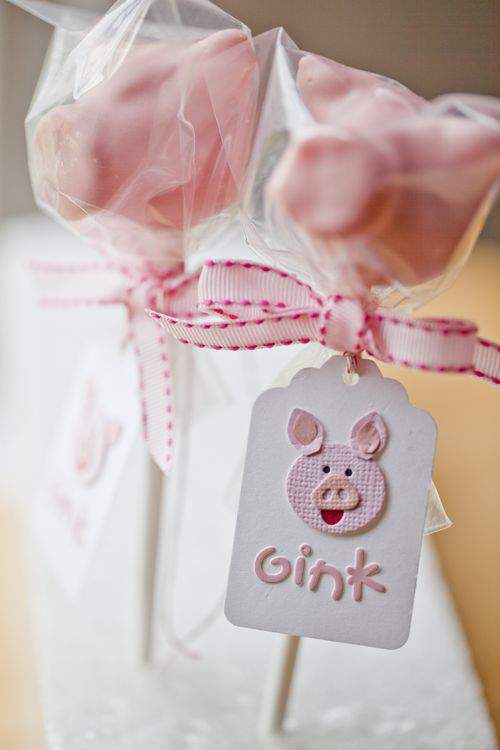 Meanwhile, my kids decided to make cupcake cake pops as end-of-the-year teacher appreciation gifts this week.
This is a great idea, especially if you have multiple teachers to consider.   Cameron and Jordy have 13 different teachers between them.
As you can see in the photo below, making cake pops is a very kid-friendly kitchen activity.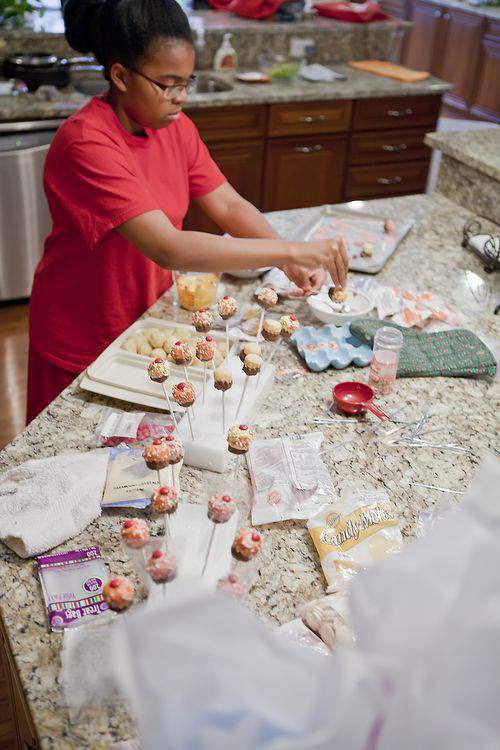 By the way, these cupcake shapes were created using by shaping the cake ball into a cylinder and then pushing it through a small ridged cookie cutter.
Dip the bottom with chocolate, push a stick into it and then dip the top into the melted pink, add sprinkles and top with an M&M.
NOTE: The original directions for these cupcake cake pops are in the Cake Pop book as well as on Bakerella's blog.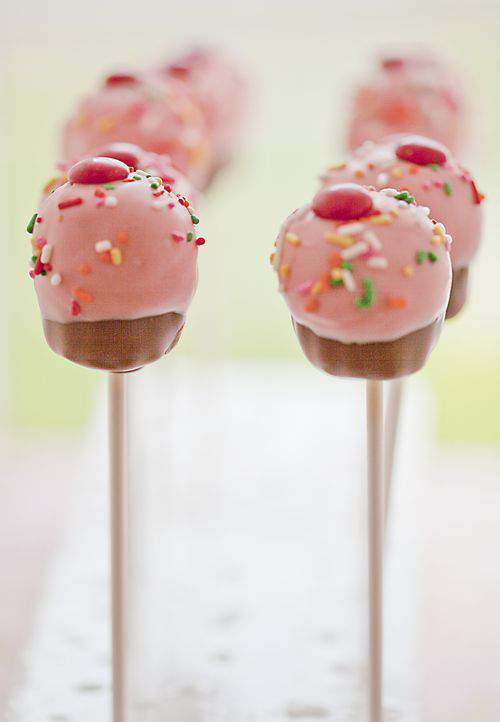 We labeled the teacher treat baggies to keep all the names straight.
It's a good idea add a "homemade" sticker to the bag so gift recipients know you made them yourself.
You can find these gold, circular homemade stickers at most craft stores in the food decoration section.

Whether making cupcake pops, character pops or even piggie pops, making these sweet treats can be pretty darn addictive.
Don't say I didn't warn you.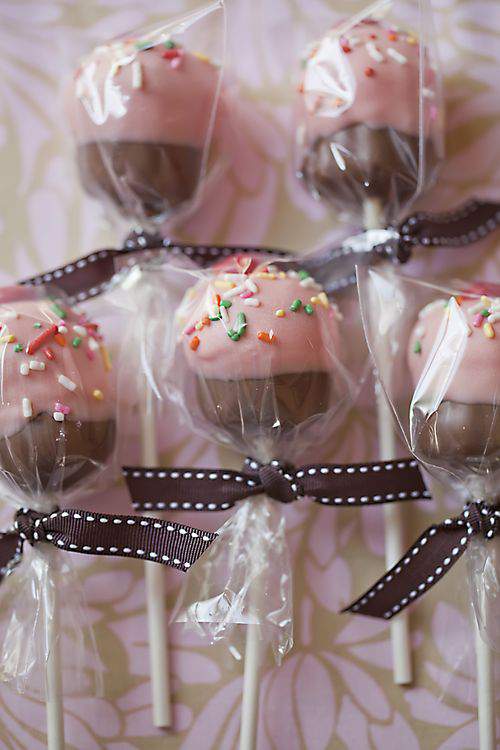 Sorry, Jordy you can't keep these cupcake cake pops for yourself.  
In the teacher bags they must go.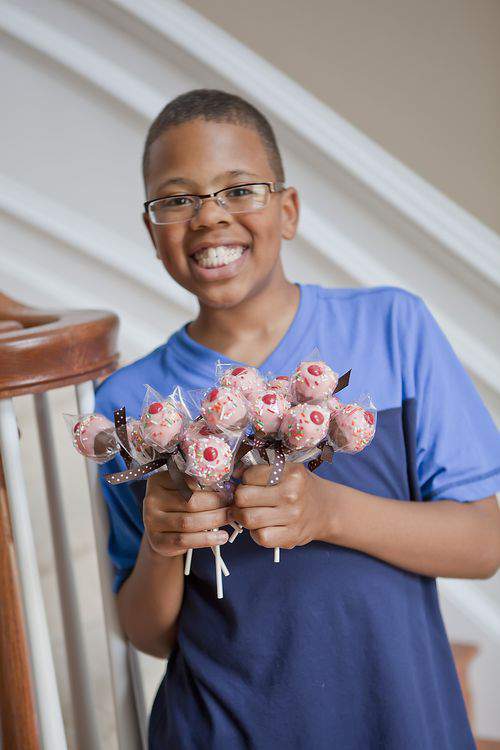 So that's my first edition of THE FRIDAY FOODIE.   Look for more regular Friday food features to come.
So, have you tried making cake pops before?  If so, any tips? 
If not, are you now tempted to give it a try? ♥