H
ome and hearth is all the more comfortable when you throw in a quilt here and there.  Of course, a stack of quilts is even better.
I've been quilting for many years and my penchant for the art of quilt-making is at the heart of this stroll through my own quilting journey.

Like many people, I dabbled in quilting at first but for the longest time never actually finished a project.
This rag quilt is the very first quilt that I ever completed and it started me on my path to more intricate, traditional-styled, pieced quilt designs.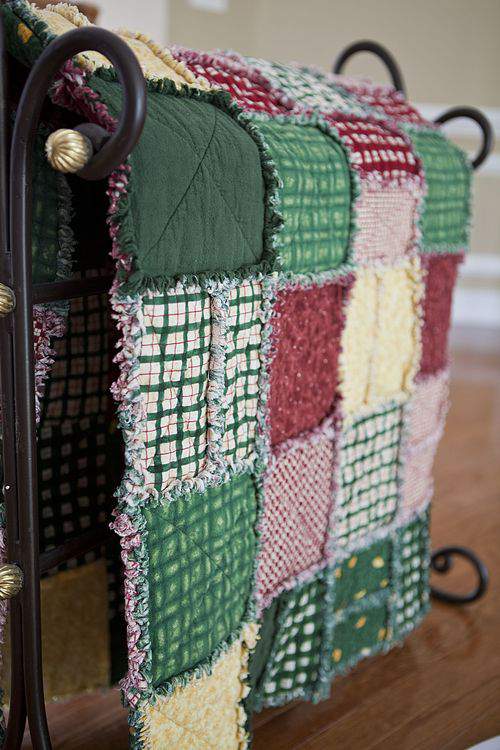 Rag quilts don't require any special piecing techniques but they do need lots of seam trimming to create this fringed effect between each block.
If you're thinking about tackling your first-ever, traditional quilt you may want to consider the Log Cabin pattern which is a super easy design.
This turquoise, pink and red quilt was my first Log Cabin and after I made it, I was hooked on the easy design.
You can see several of my Log Cabin quilts in the quilting category of this blog.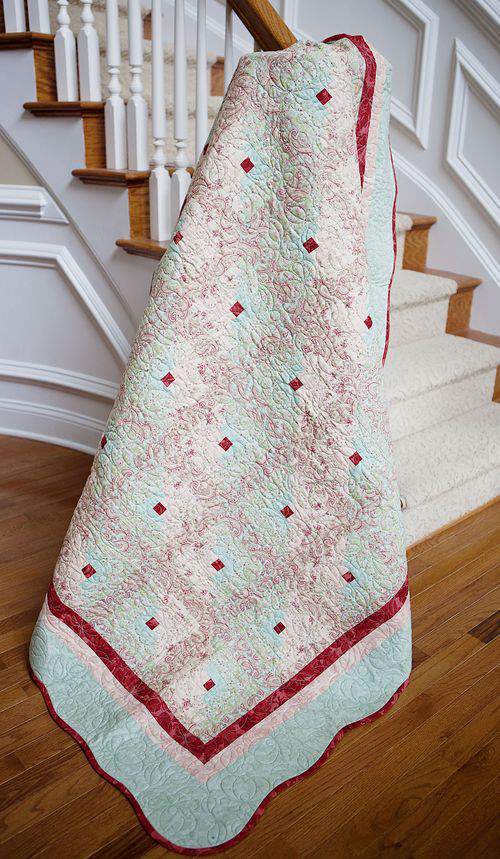 Regular readers of my blog know that I have a penchant for scalloped edges on quilts.  I initially started scalloping my quilts because I could never quite get the straight edge technique perfected.
Don't be afraid of scalloped edges, it's much easier than you think and it really gives the edge a soft, feminine presentation.

For a long time, my handmade quilts were tucked away on a closet shelf.  It always seemed a shame to have them stashed away and not out in the open.
It wasn't until I re-located an old, kitchen baker's rack to an empty wall, that I found the perfect way to bring my quilts out from their hiding place.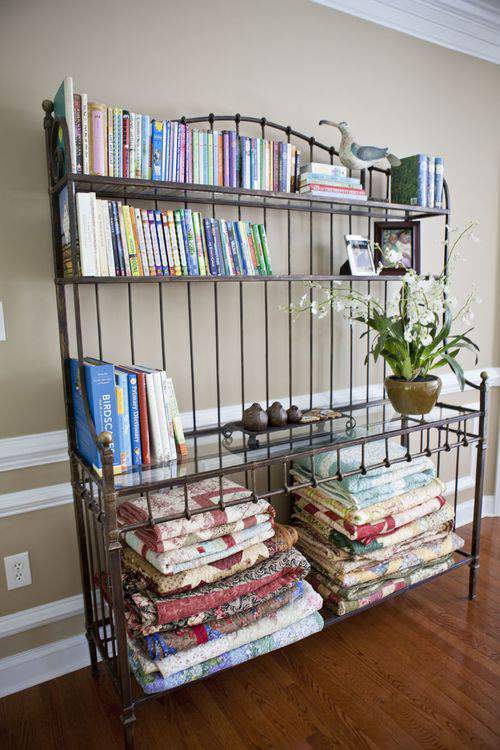 While I'm not much of a figurine collector, I couldn't resist this adorable little set of farm animals.
My wood-carved, sheep, cow, pig and rooster all have a delightful quilted element cut into the wood. Perfect for quilt lovers.
Speaking of quilt lovers, those who love quilts also love quilt books and the endless inspiration they provide.
I love flpping through these books and just soak up the colors, patterns, designs and different styles of quilts.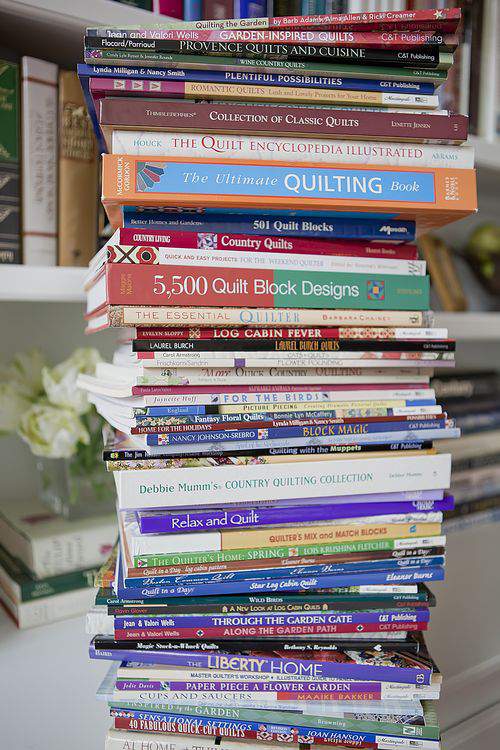 Any quilter will tell you, there's just something about taking a stack of fabric, cutting it up into multiple pieces and shapes and then sewing it all back together again to produce something new.
I've been using the pink and brown fabrics in the photo below to build blocks for a quilt appropriately called "Cotton Candy".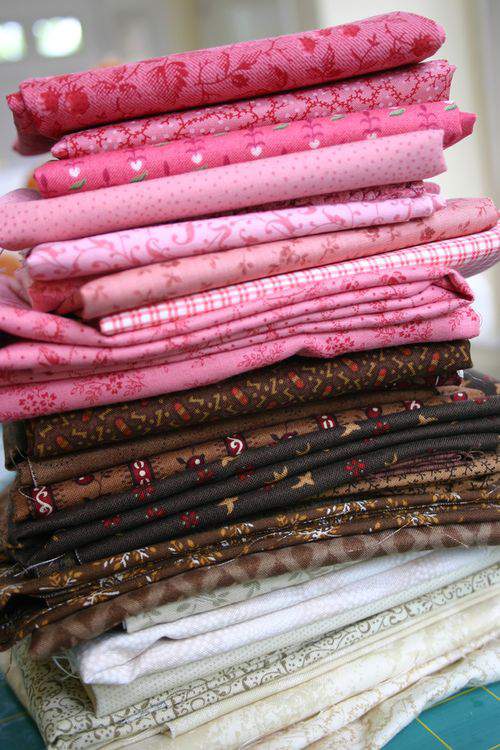 My cotton candy quilt took a back seat for a while to make room for other more pressing projects but I recently pulled it out with plans to finish it soon.
These are just some of the block pieces that still have to be sewn together.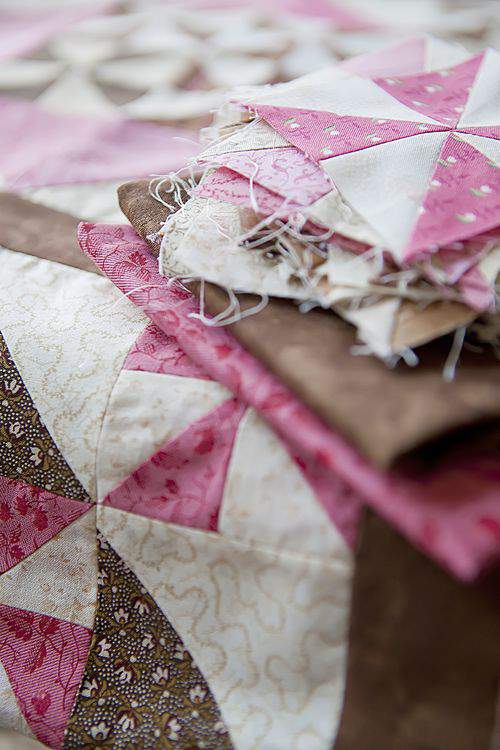 The pinwheel design is at the heart of this cotton candy quilt.  You can really see how the blocks work together to create the overall design.
Stay tuned, I'll share this finished quilt down the road in an upcoming post.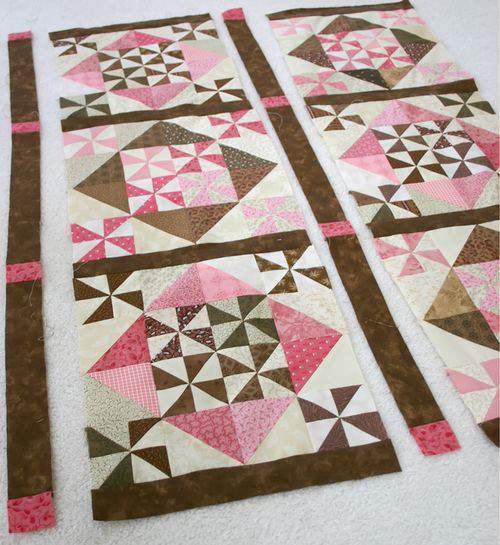 The term "quilting" refers to the process of sewing together the three layers of material that make up the quilt.  The layers include: (1) the TOP which is made up of pieced elements, (2) the BATTING  which is the middle, cotton layer and (3) the BACKING which is typically a solid color so the decorative stitching is easily visible.
The decorative stitching used in quilting is either done by hand or by long-arm quilting machine which is depicted in the photo below.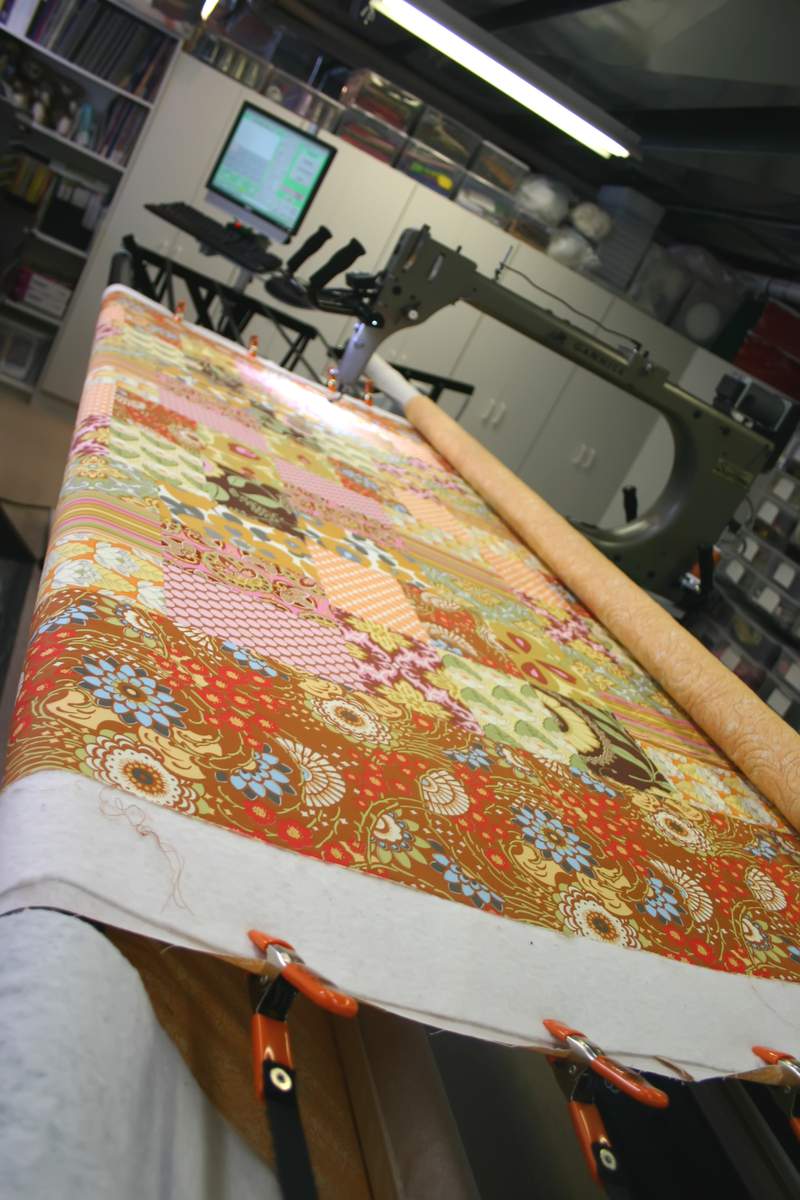 While I piece together all my own TOPS, I have a friend do the actual quilting for me.  This distinction technically makes me more of a topper than a quilter.
You can see how this quilt in the photo below was put together from raw fabric to finished quilt in a previous post entitled  From Start to Finish.
Meanwhile, here's a look at some of the assorted quilts I've made over the years and featured on this blog.
Details and tutorials for each one of my quilt projects in the photo below are available in the QUILTING category of this blog.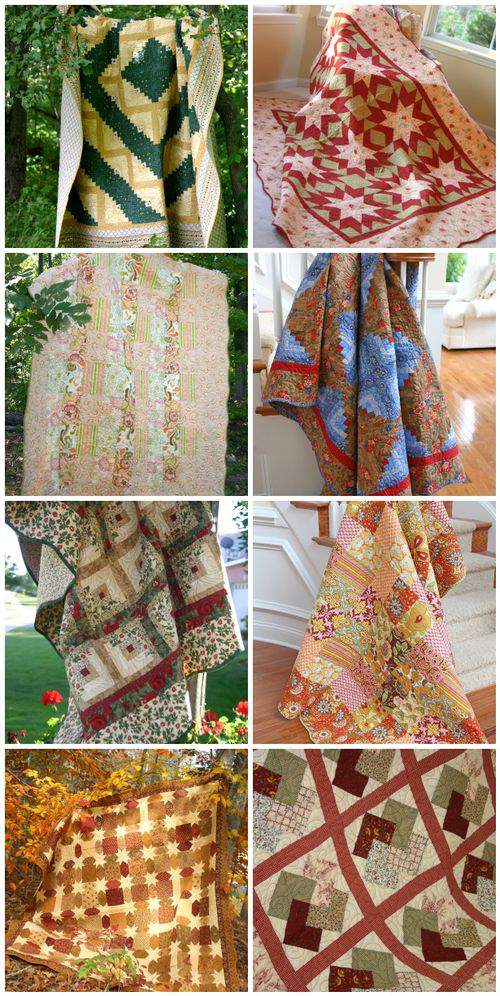 With all this talk of quilting, perhaps you're inspired to pull out that stack of neglected fabric and get to work on your own quilt.
So, are you an experienced quilter or a newbie who is finally ready to tackle their first one?  Whatever your skill level, happy quilting.  See you back here next week with a new post. ♥