Hard to believe that summer break is right around the corner.
As this school year winds down you may be thinking about ways to say "thanks" to that special teacher in your child's life.

Cameron and Jordy's elementary school takes part in a teacher appreciation week to give students and parents a chance to pay tribute to all the wonderful teachers at the school.
This year, I made these keepsake, memory pillows for my kids' homeroom teachers.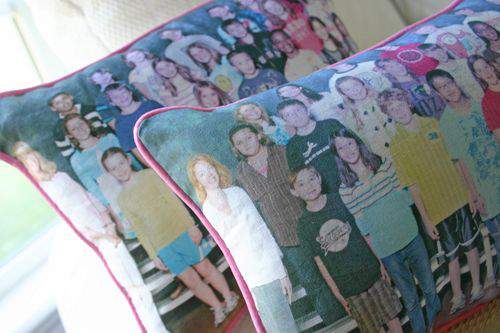 This project is super easy and can be constructed in just a few hours.
The pillows are created using photo fabric sheets which allow you to transfer a favorite photograph directly onto a cotton sheet which can then be used as fabric.
 
The fabric sheets look like regular printer paper, but they actually have a cotton fabric top with a peel-away, supportive backside.
Load the fabric sheet into the printer tray as you would any regular sheet of printer paper. 
Always load one fabric sheet at a time.
Pull up a favorite photo.  Don't forget to set your printer to the "best quality" option in the printer settings.  Then, print the photo onto the sheet.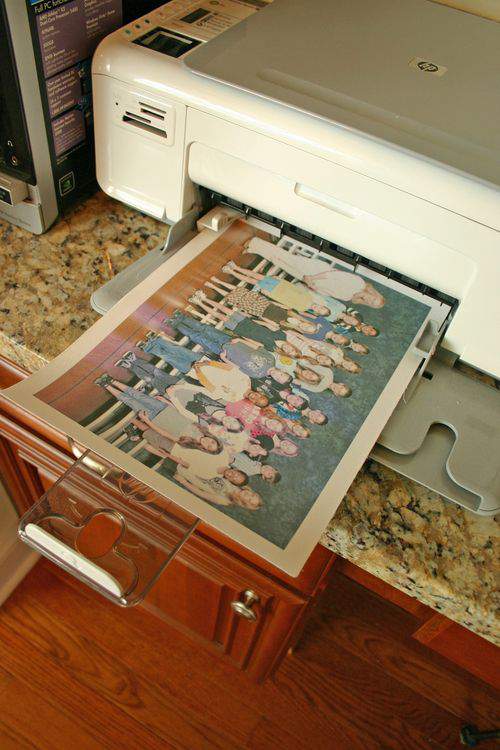 After the sheet is printed, simply peel away the back, supportive layer.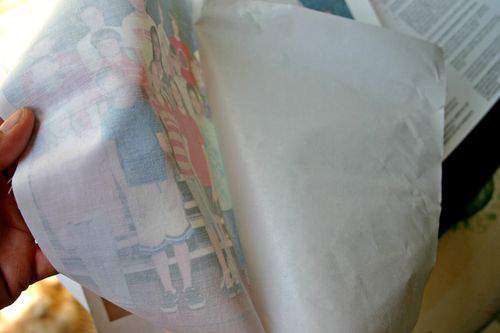 Once the backing is peeled off, you're left with a the transferred image on a sheet of flexible cotton that is ready to be sewn into any project.
In addition to pillows, you can create a variety of fun-photo projects including purses, totes and quilt squares to name a few.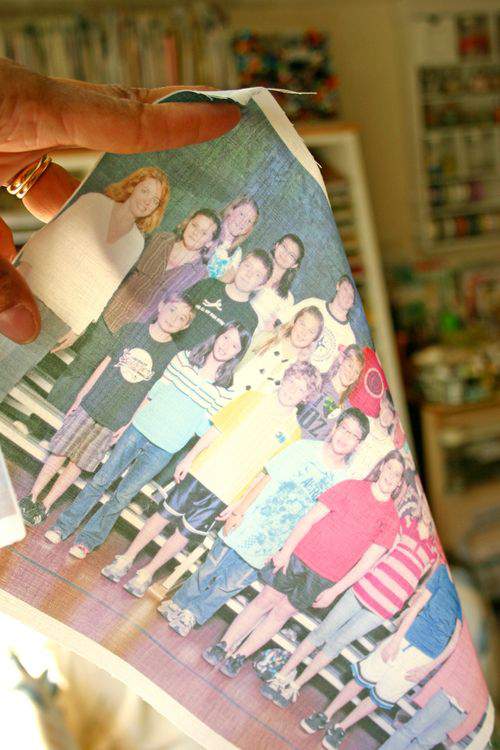 With fabric sheet dimensions about 8 1/2 X 11, this is a fairly small pillow project.  You'll need to cut an equal size piece of canvas for the back of the project.
Before pinning both sides together, add an additional touch of personalization to the back piece of canvas with machine or hand embroidery.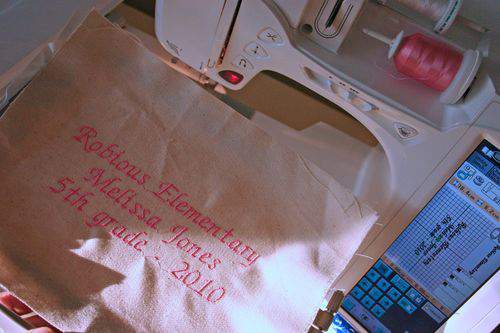 Pin both sides together and stitch all the way around, leaving 1-inch opening for stuffing. 
Turn inside out, stuff and then close the opening by hand using a slipstitch.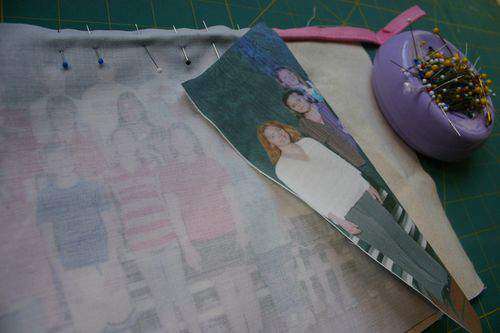 You don't have to add piping but I think it's a nice touch of extra color.
You can read more about how to add piping to pillows in one of my earlier posts entitled In Full Bloom.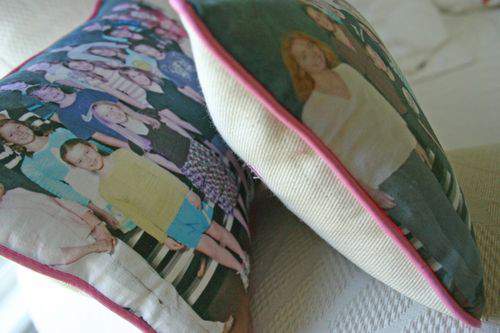 Here's a look at the embroidered back of the finished pillows.  What a coincidence that Cameron and Jordy both have teachers named Melissa. 
Tip: If you don't have access to an embroidery machine or you don't have time to embroider a message by hand, you can create a message using your computer, print it onto a second fabric sheet and use that imprinted fabric sheet as the backing for the pillow.
 
Don't you just love class photos?  Here's a closer look at Jordy.
He's a bit of a class comedian but as an honor roll student every semester, he delivers good grades along with his wry humor.  
Years from now when he looks back on this picture, I hope he remembers how much fun he had in 4th grade.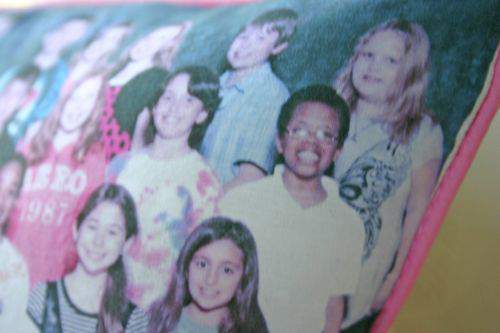 Here's Cameron's closeup.  She's a cutie, and one smart cookie too.  She's an honors student who excels in advanced mathematics. 
Cameron has had a very successful elementary school experience and she's really looking forward to her first year of middle school this fall.
Meanwhile, regular readers of this blog, know that I love handmade tags.  It's just one more simple way to add a personal touch.
Punch out a few tag shapes, use the printer to create a label and them out in strips.  Adhere the labels to the tags and add a little piece of thin string or jute.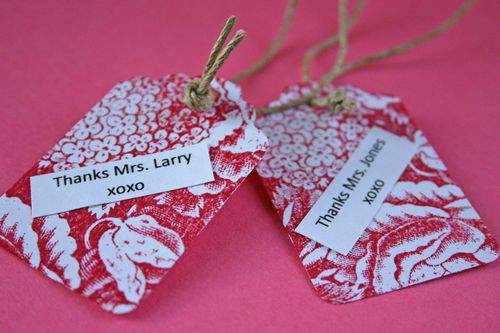 Tie a pretty ribbon with a bow around the finished pillow and slide a small bouquet of artificial flowers behind the ribbon.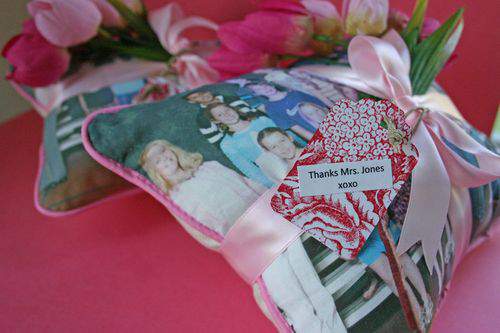 Attach the handmade, personalized tag and you have a perfect pillow presentation.
You can easily create several of these keepsake pillows in just one day, so there's still plenty of time to make a few before the end of the school year.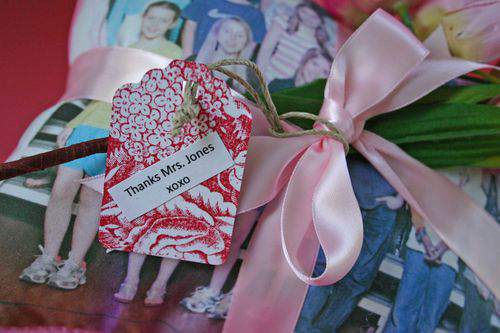 Of course, this project can certainly be created for any gift occasion including birthdays or showers.
Consider making a pillow for a new mom and dad featuring a picture of their newborn.  Or you could make a pillow with a photo of a new bride and groom with the nuptial info embroidered on the back.  Grandparents may also appreciate a gift like this with photos of the grandkids. 
The list of gift possibilities is endless.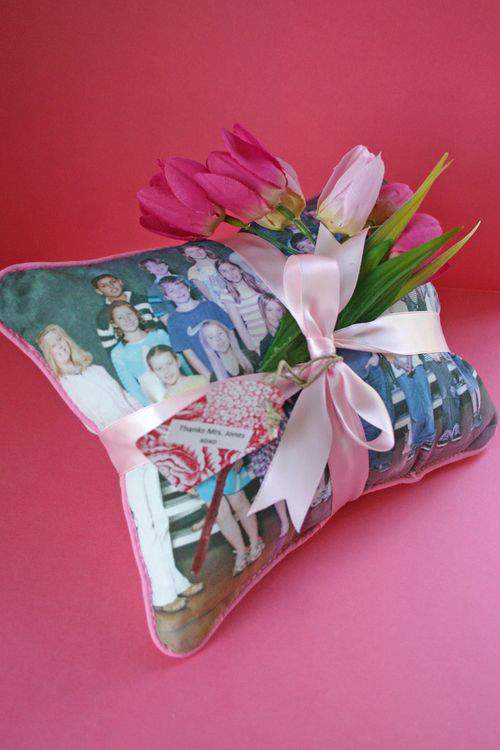 Meanwhile, when it comes to teacher appreciation, I can't say thanks enough.
To all the teachers out there, you are truly appreciated.
And to the teachers who directly touch my children's lives, thanks again, for everything. ♥