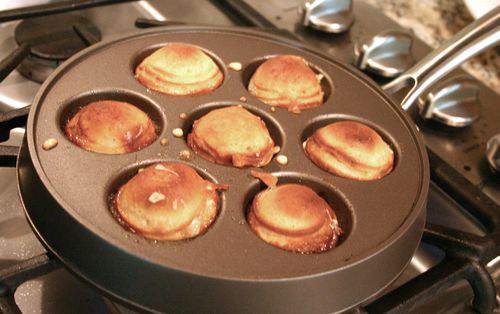 If you're trying to think of something special to do for your Mom, how about a Mother's Day breakfast-featuring pancakes.  
Now these particular pancakes aren't your typical flapjacks.  These pancakes are not only ball-shaped but they also contain much more than meets the eye.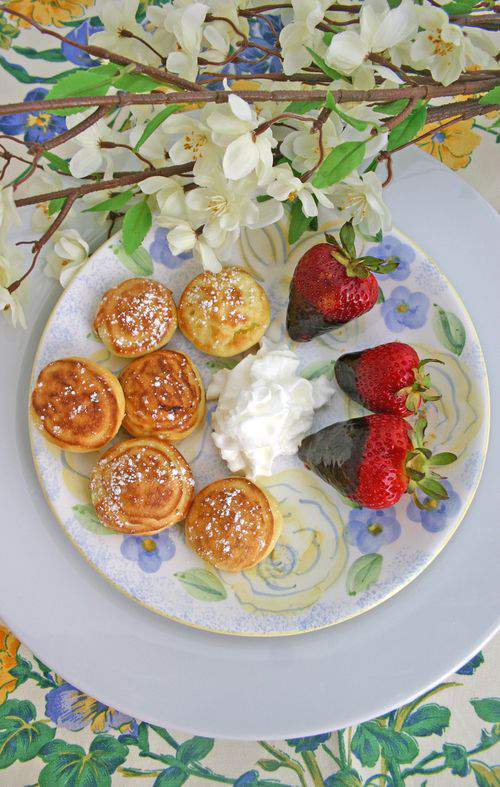 This bite-size twist on breakfast is called ebelskiver which is a traditional dish in Denmark.  My ebelskivers were made using a special stainless steel pancake pan which has multiple wells to hold the batter and gives the pancakes that sphere shape.
The pan fits right over the stove top and can be used on a gas or electric appliance.  Mix up the pancake batter and pour a tablespoon into each well.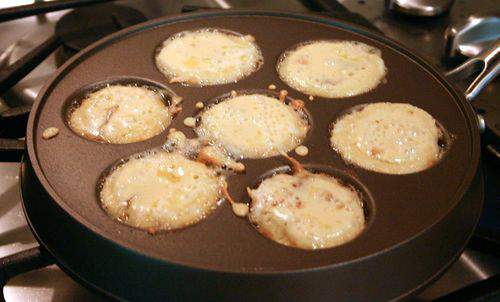 The surprise treat when it comes to ebelskivers is what you put inside them.  Each one gets a yummy filling and just about any favorite flavor will do. 
I selected an assortment of fillings this time around including a delicious lemon curd (which has a combination sweet and tart taste), gourmet red raspberry preserves (which is one of my all time favorites) and my kids' top option-milk chocolate wafers.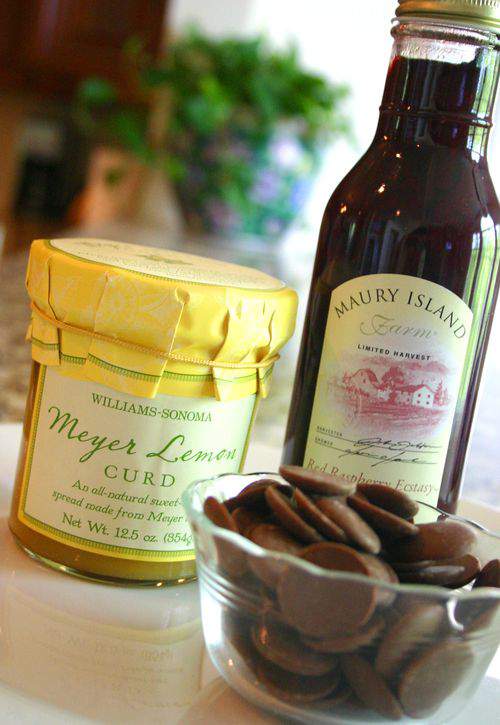 Drop a teaspoon of filling or a few chocolate wafers right on top of the batter you just poured.  Then add another thin layer of batter over the top to cover the filling. 
You can't walk away from the stove during preparation, because it takes a very short amount of time for the bottom to brown and then you have to quickly flip the pancakes.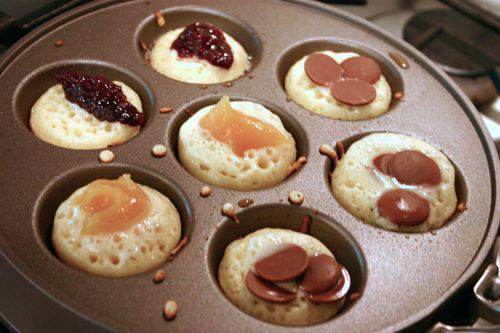 Once the sides cook to a light brown, use wooden skewers or toothpicks on both sides to gently roll the pancake ball over so the other side can brown completely.
When everything has browned nicely, simply dump the pan and all seven of the pancake balls will tumble out. 
Finish off the pancakes with a sprinkle of confectioner's sugar and your Mom's Day breakfast is almost complete.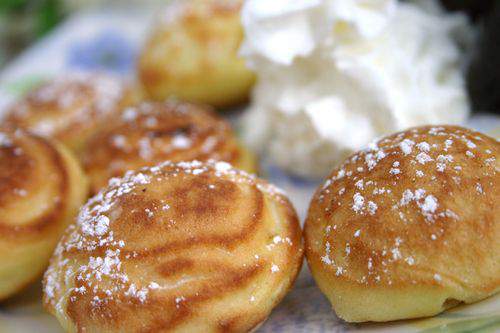 By the way, once you bite into one of these little pancake balls you may never go back to traditional pancakes again.
The pancake and filling are a perfect combination and this is one breakfast where you can skip the maple syrup.
To make the morning even more special, add delicious decadence to the plate with a few chocolate-dipped strawberries and a dollop of whipped cream. 
You may want to keep this idea in mind for future reference because you can also use the pancake pan for more than just breakfast fare. 
Among other things, consider using a light pastry recipe and fill the balls with chopped, cooked chicken breast and broccoli for savoryhors d'oeuvres.  Just imagine the possibilities.
In the meantime, Happy Mom's Day to all and Bon Appetit.