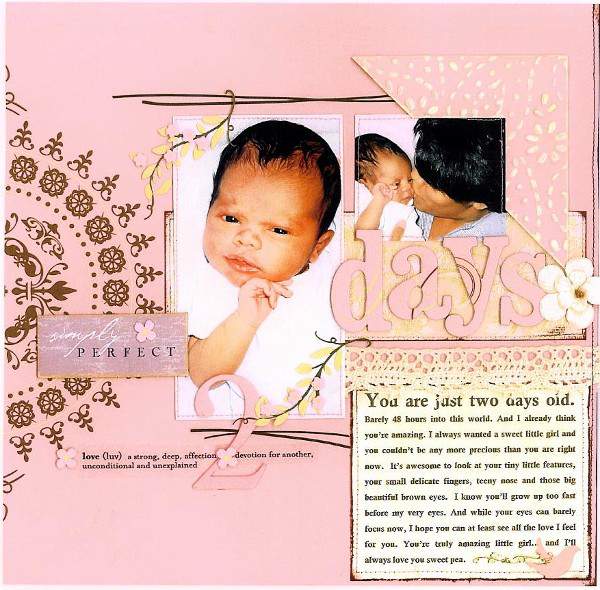 I thought I'd share two layouts that were featured in the June 2007 Memory Makers magazine. This first layout entitled 2days, features my daughter at that age. Amazing how fast kids grow. The fact that this is a recent layout just goes to show you that you never really totally catch up on scrapping favorite pictures, especially baby pictures. I'm still doing loads of baby layouts and my two rascals are eight and almost seven years old now.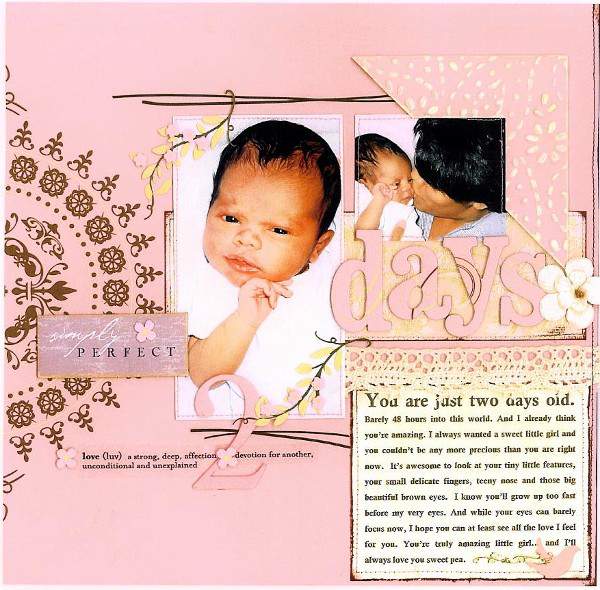 The layout below entitled Olivia features the granddaughter of a good friend. I love how all the orange colors came together for this. This layout (as well as the first one) includes a really fun and easy technique for framing part of the page. Start with a decorative metal frame (Making Memories) and cut on the diagonal.  Slightly sand the embossed surface and then paint. Gently sand the surface again to remove select portions of the paint from the raised imprint. Then with a fine paintbrush, apply paint over the areas you just sanded. You can see a step-by-step demonstration of this along with several other great scrapbook techniques in the June 2007 issue of Memory Makers magazine beginning on page 52.
Supplies for 2Days include: patterned paper (Li'l Davis Designs, My Mind's Eye) chipboard letter( Heidi Swapp) metal frame, acrylic paint, definition, lace ribbon (Making Memories) flowers (EK Success, My Mind's Eye) chipboard phrase (K and Company) dove rubon (Autumn Leaves) and sewing machine stitching.
Supplies for Olivia include: patterned paper (MaraMi, Bazzill) chipboard letters (Heidi Swapp) epoxy flower stickers, metal frame, acrylic paint (Making Memories) ribbon (Fancy Pants) word sticker (EK Success) and sewing machine stitching.