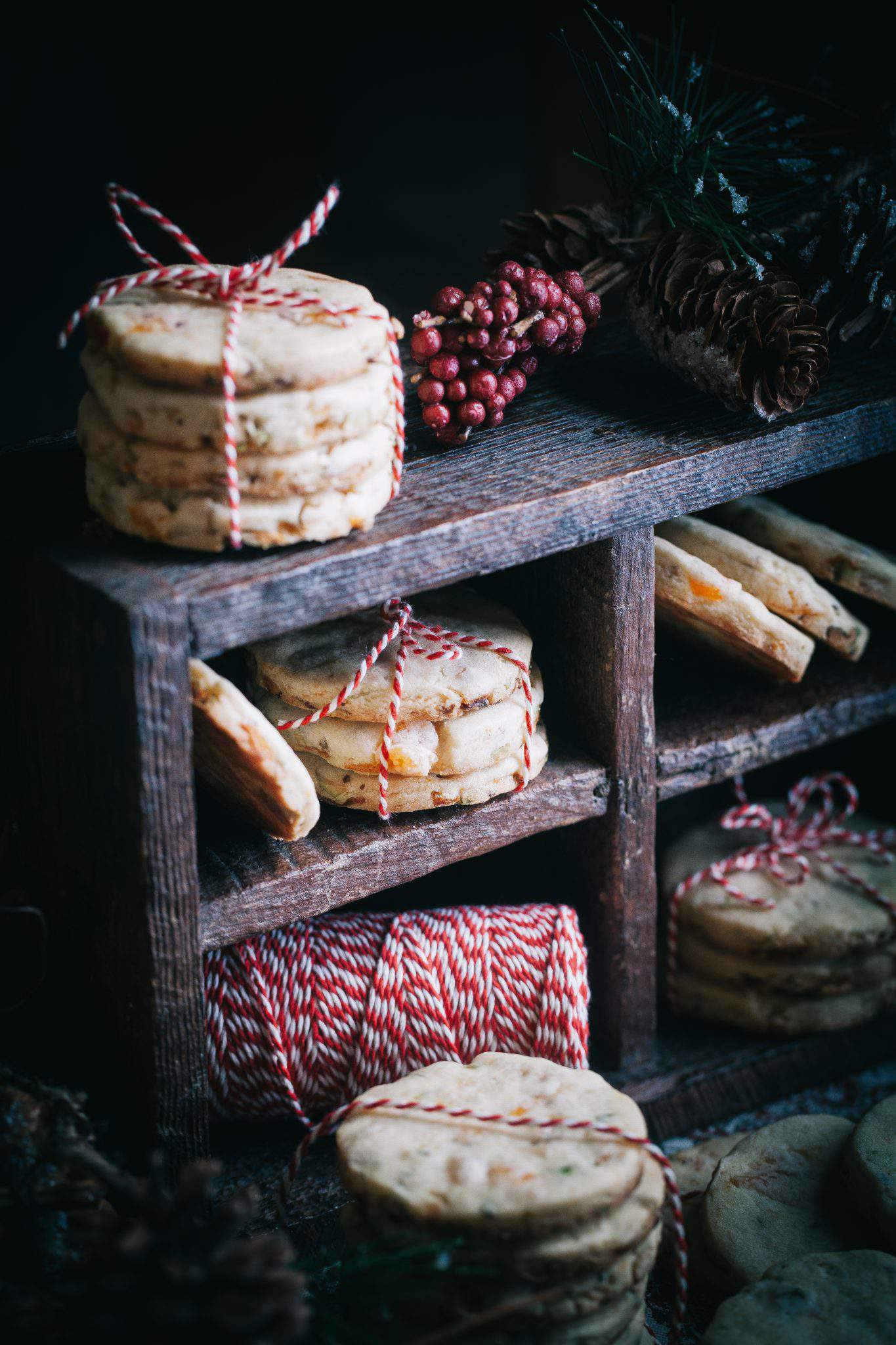 Thanksgiving is almost here and even as I write that… I still can't believe it.
The year is flying by so fast and I'll bet you're probably thinking the same thing.
I'm the kind of person who typically does not skip right over Thanksgiving in favor of Christmas but today… I just feel like talking about Christmas cookies.
I think these apricot and pistachio holiday cookies are a great place to start.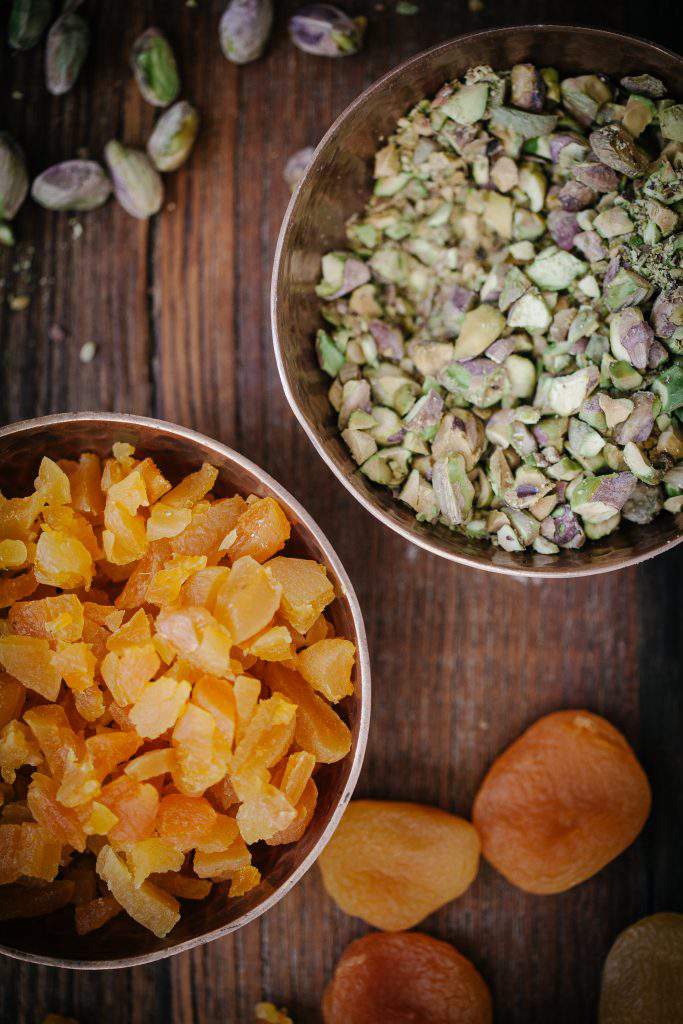 While I love both apricots and pistachios, this is the first time I've used them together in one recipe. (which kinda reminded me of a fruit cake).
Now, if you're not a fan of fruit cake (like me), don't worry… these cookies taste nothing like it.
Instead, these cookies have more of a shortbread-like texture and a very understated sweetness.
Also, you're going to really love how those two ingredients add specks of vibrant color to the dough as you can see below.
Keep scrolling for the full recipe.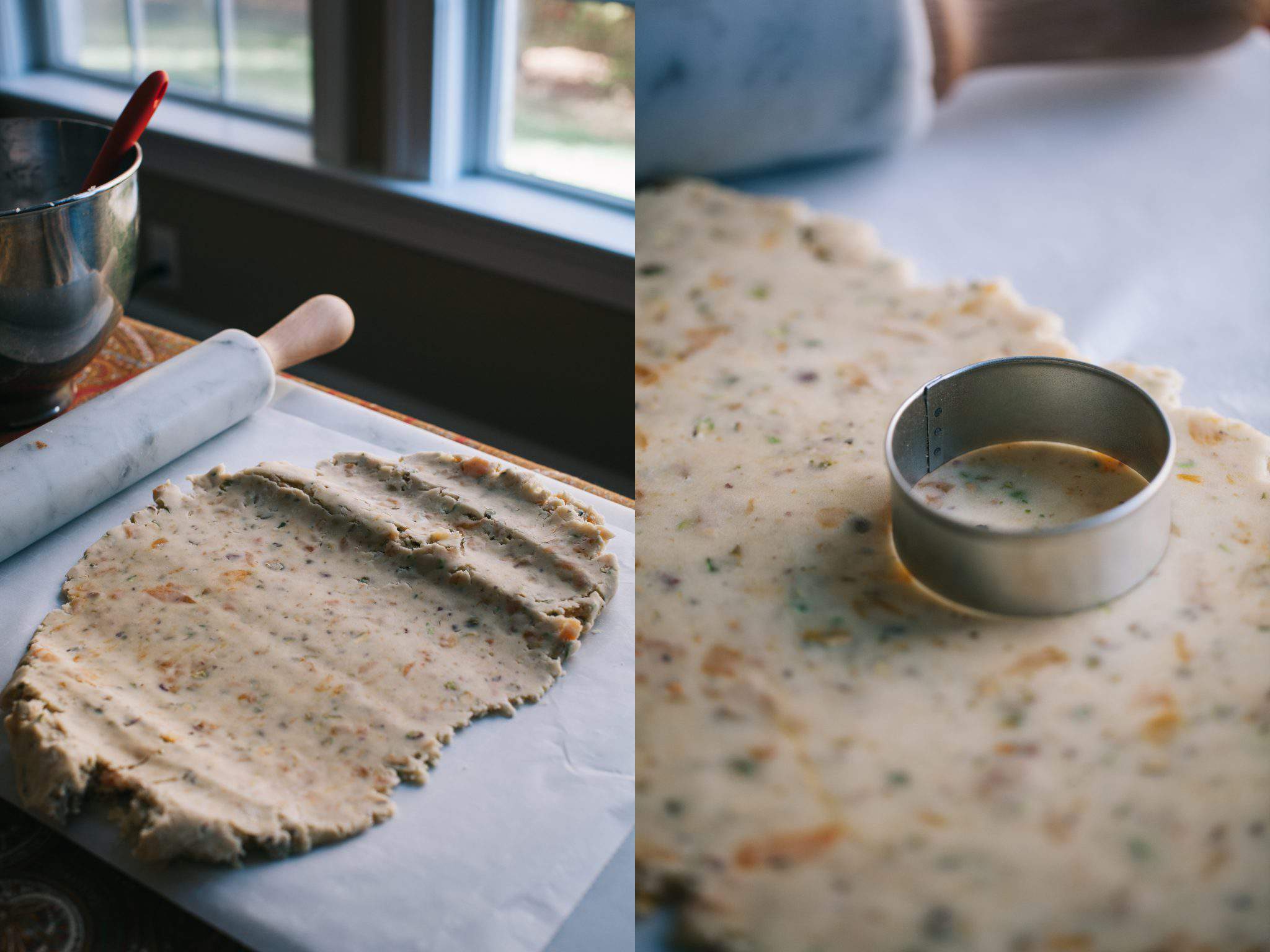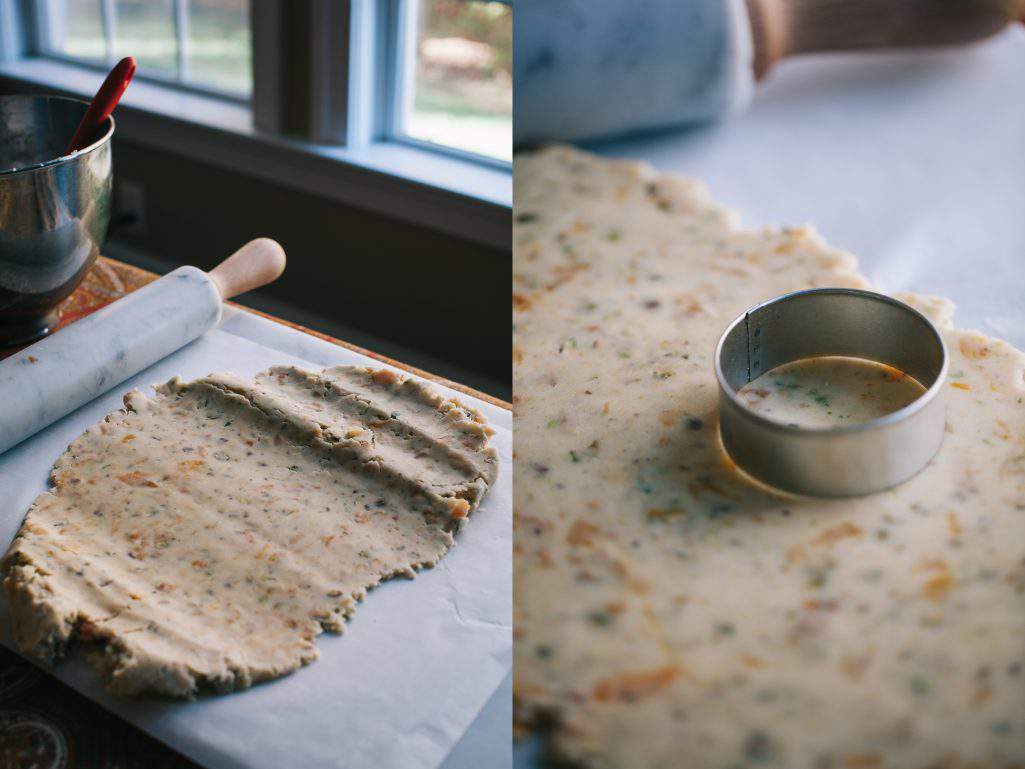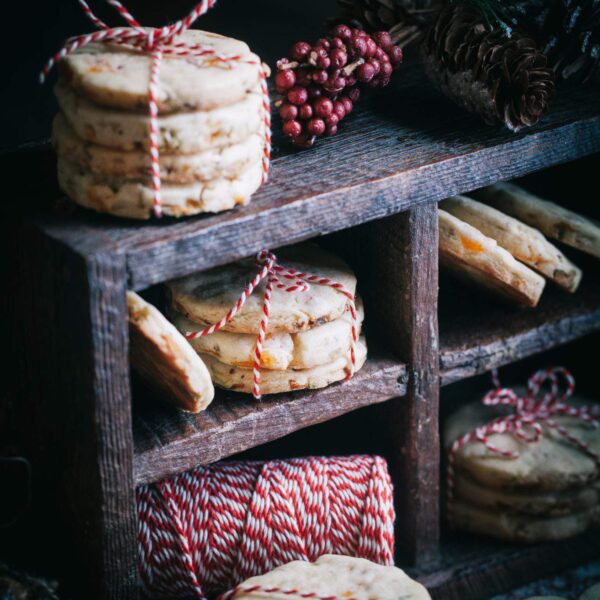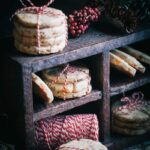 Apricot and Pistachio Goodies
Ingredients
1 stick of unsalted butter
1 cup granulated sugar
1 large egg
2 teaspoons of vanilla extract
2 1/4 cup all-purpose flour
3/4 teaspoons baking powder
1/2 teaspoon salt
2/3 cups dried apricots
2/3 cup shelled salted pistachios + 1/4 cup for optional sprinkling
Instructions
Preheat oven to 350 degrees.

Mix the butter and sugar in stand mixer until creamy.

Sift flour, baking powder and salt into a separate bowl.

Add half the flour to the butter mixture and blend.

Chop dried apricots and pistachios into small chunks (not too fine)

Add fruit and nuts to butter and flour mixture and blend thoroughly.

Add remaining flour and mix thoroughly until a thick dough has formed.

Roll the dough onto a lightly floured surface and gently knead.

Roll out the dough to about 1/4 thickness and use a circular cookie cutter to cut shapes.

Place raw cut cookies on parchment paper and freeze for about 10-15 minutes.

Remove from freezer and bake for 12-14 minutes until lightly golden around edges.

Remove and cool completely on a wire rack.

Melt white chocolate and dip cooled cookies into chocolate.

Place on parchment paper to harden. Sprinkle extra chopped pistachios onto chocolate before it hardens completely.
If you plan on making these to gift, these cookies stack up really well.
Tie some pretty bakers twine around a handful and slip them into a plastic gift bag for an easy offering.
Oh, while on the subject of baker's twine… that distinct, red and white striped twine is a holiday kitchen must-have.
I use it in my gift packaging, as loops for handcrafted gift tags and ornaments and more.
Of course, as you can see… I'm also quick to use a spool of the candy cane colored twine as a prop in my cookie styling.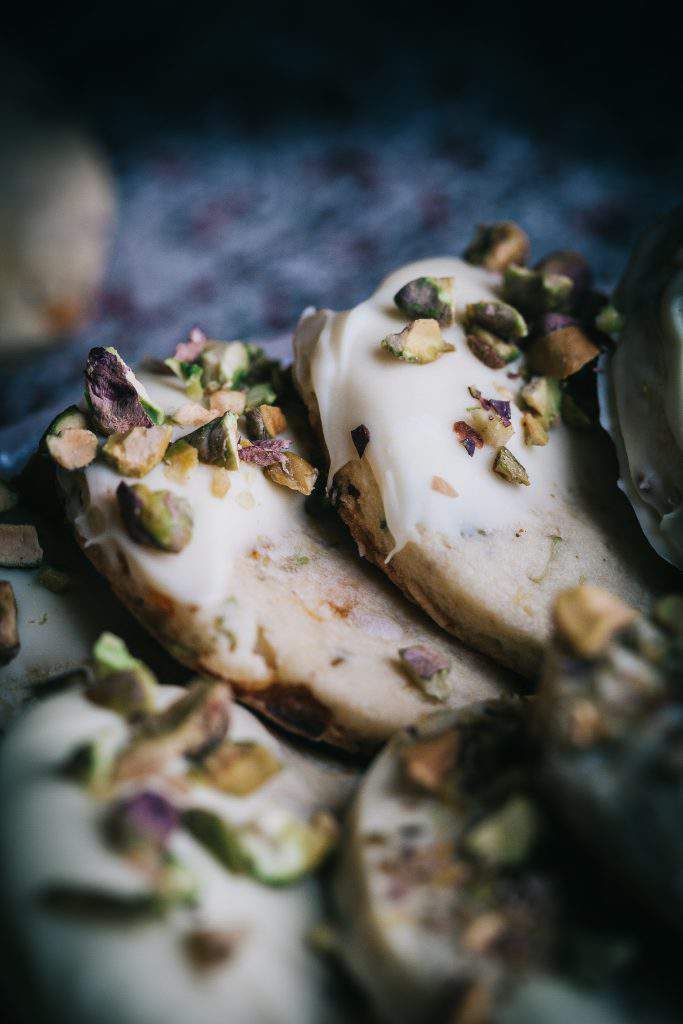 Remember when I mentioned that these cookies have a subtle sweetness?
There's an easy fix for that if you like your treats a little more sweet (like I do).
Dip each cookie into some melted white chocolate and the sweet factor will be immediately elevated.
Top the cookies off with a few sprinkles of crushed pistachios to add color and extra crunch.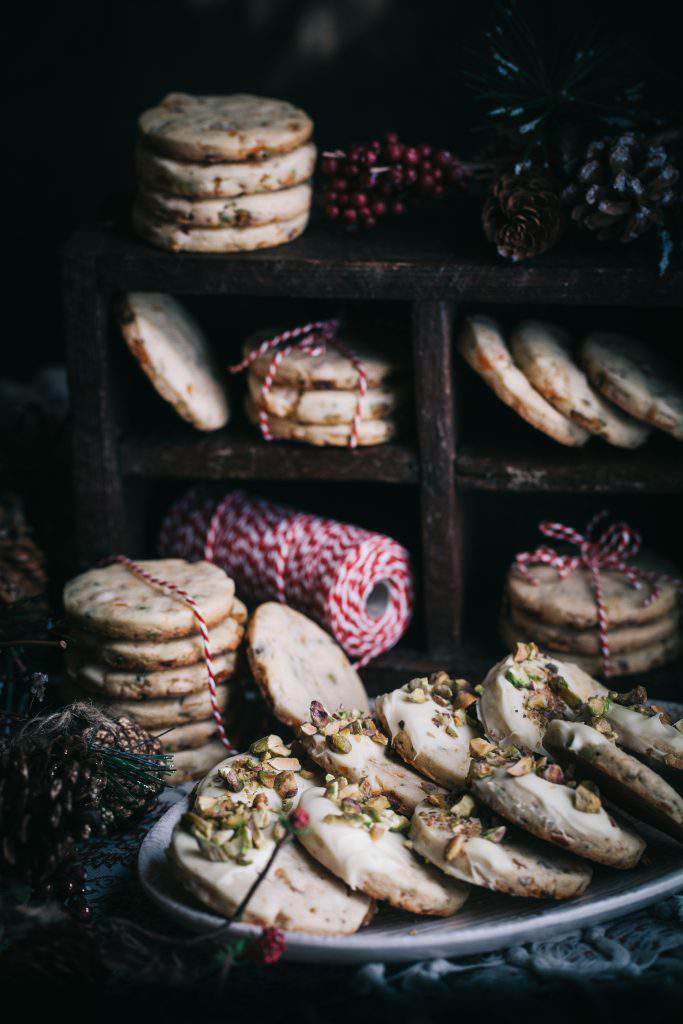 I'm only getting started on my holiday cookie baking and I have quite a few delicious treats that I plan to share here.
Of course, I'm also looking forward to the food styling and photography practice all those upcoming baked goods are going to provide me with.
So, what are your Christmas cookie baking favorites?
See  you back here next time. ♥