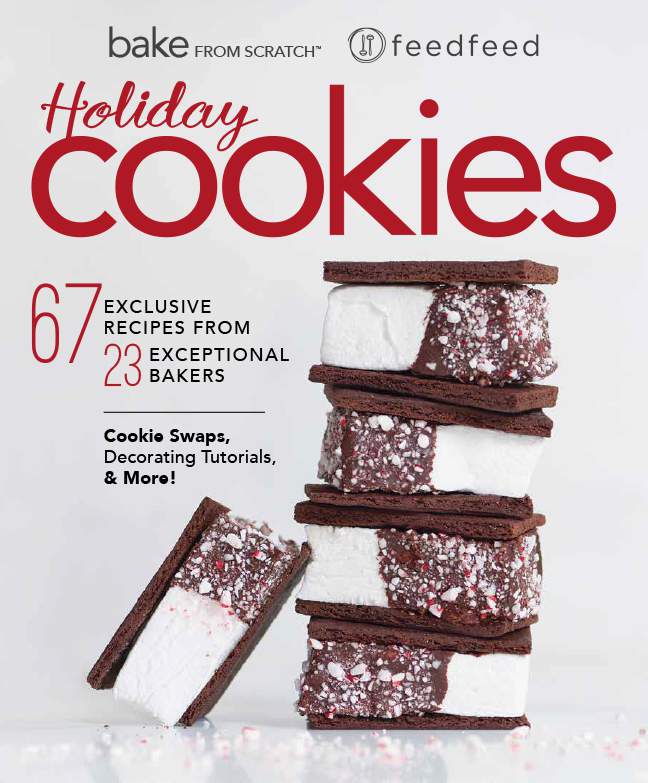 There are 110 days before the start of the holiday season… if the day after Thanksgiving is your gauge (it's mine).
That's not that that far off which means it's also not too soon to start collecting delicious holiday recipes.
I'm happy share this sneak peek at a special Holiday Cookie magazine that will hit newsstands on October 3, 2017.
This issue is a collaboration between Bake from Scratch magazine and The FeedFeed and will include more than 65 recipes for delicious holiday goodness.
The recipes hail from a collection of "all-star" bakers and bloggers…. including yours truly.
Yes, I am blown away that editors have included me in their list of  "all-stars".   How cool is that?
Anyway, several of my yummy (and photogenic) holiday creations will be featured inside the pages of this special publication.
You can pre-order your copy HERE.
Oh, and if you order the magazine between now and August 21st (my birthday) you can take advantage of the special discounted price of $10.99. 
Please use the promo code feedfeed at checkout to also get FREE SHIPPING (inside the U.S.). 
Now you know the tasty factor in this magazine is really going to be epic when you consider all the talented contributors to this issue.
I've listed them for you below along with links to their mouth-watering sites.  Definitely check out these extraordinary bakers and bloggers for more culinary inspiration.
ME: Lisa Tutman-Oglesby (you're here so, you already have my info)– @lisatutmanoglesby
www.celebrate-creativity.com
TheFeedFeed – @thefeedfeed
www.thefeedfeed.com
Ryan Alvarez & Adam Merrin – @husbandsthatcook
www.husbandsthatcook.com
Becky Sue Wilberding – @bakingthegoods
www.bakingthegoods.com
Christine Carlson – @c.r.a.v.i.n.g.s
www.whatdoyoucrave.info
Rebecca Firth – @displacedhousewife
www.displacedhousewife.com
Amanda Frederickson – @amandafrederickson
www.amandafrederickson.com
Jill Fergus – @feedtheswimmers
www.feedtheswimmers.com
Judy Kim – @thejudylab
www.thejudylab.com
Erin Clarkson – @cloudykitchen
www.cloudykitchen.com
Susan Spungen – @susanspungen
www.susanspungen.com
Amber Spiegel – @sweetambs
www.sweetambs.com
MaryAnn Dwyer – @thebeachhousekitchen
www.thebeachhousekitchen.com
Shiran Dickman – @shiran_dickman
www.prettysimplesweet.com
Rachel Conners – @bakeritablog
www.bakerita.com
Amisha Gurbani – @thejamlab
thejamlab.co
Sarah Brunella – @sarah_fel
www.fragolelimone.com
Laura Kasavan – @tutti_dolci
www.tutti-dolci.com
Phillip Fryman – @southernfatty
www.southernFATTY.com
Maryanne Cabrera – @littleepicurean
www.thelittleepicurean.com
Dale Gray – @thedaleyplate
www.thedaleyplate.com
Amy Ho – @constellationinspiration
www.constellationinspiration.com
Fanny Lam – @oh_sweet_day
www.ohsweetday.com
Thanks for stopping by.
See  you back here next time. ♥