Let me warn you right off the bat.  This recipe is utterly addictive.  I have to seriously pace myself so I don't make too much because it's that irresistible.
Even my finicky-eating kids beg for more of this delicious APPLE CRUMBLE.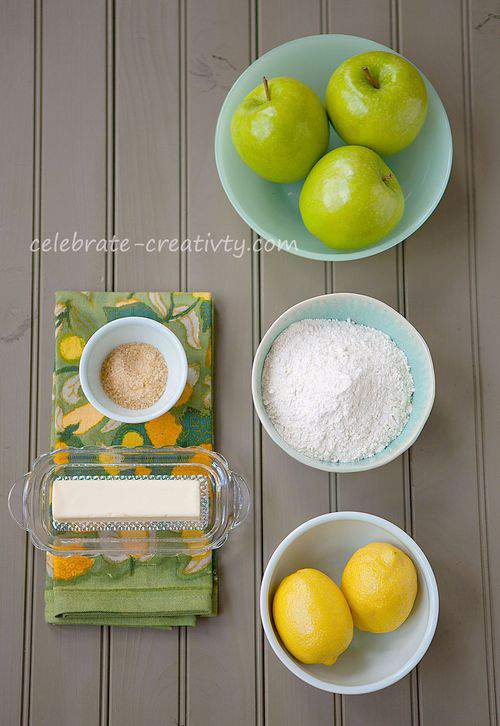 You'll only need a handful of ingredients for this delicious treat including apples, flour, butter, golden baker's sugar and a small amount of freshly squeezed lemon juice.
You'll find a downloadable version of this recipe further down in this post.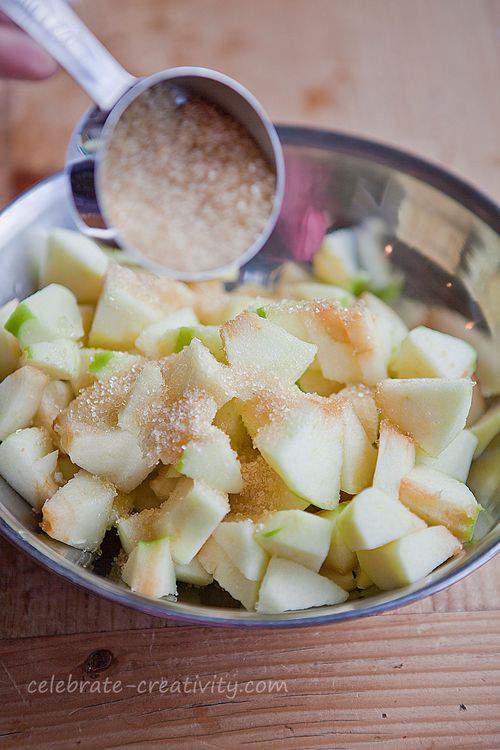 I recommend using Granny Smith apples because they have the perfect amount of tart which when mixed with the sugar, is the perfect combination.
Peel the apples and slice them in bite size chunks.
Drain the juice from a lemon and mix with the apples.
Sprinkle with sugar.
I used pure cane Turbinado sugar (Sugar in the Raw) which has large, golden crystals and the most amazingly rich taste.
It's a very good sugar for baking.
Lightly turn the apples, juice and sugar until everything is thoroughly mixed and coated.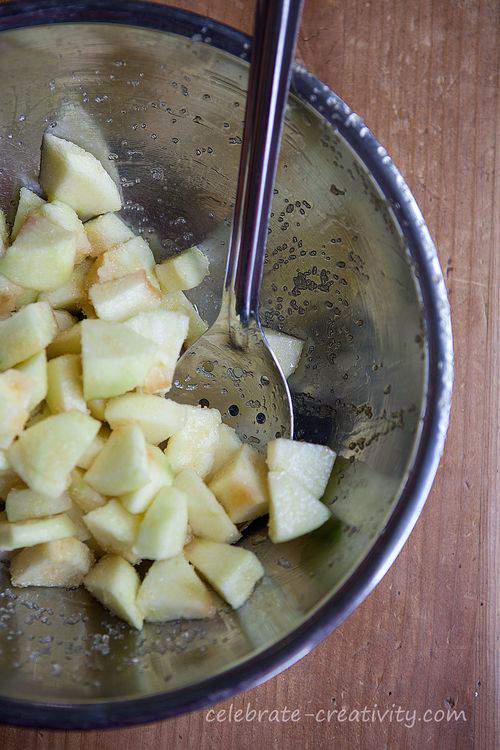 Melt butter in saucepan and pour apple into pan.
Cook apples uncovered until caramelized and lightly golden.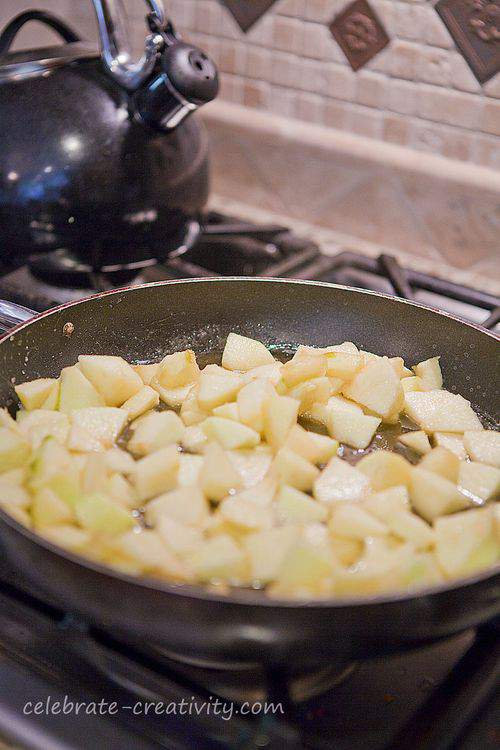 Spread apple filling evenly into ramekins.
I spread this initial batch a bit too thin by putting the apple mixture into six ramekins instead of four.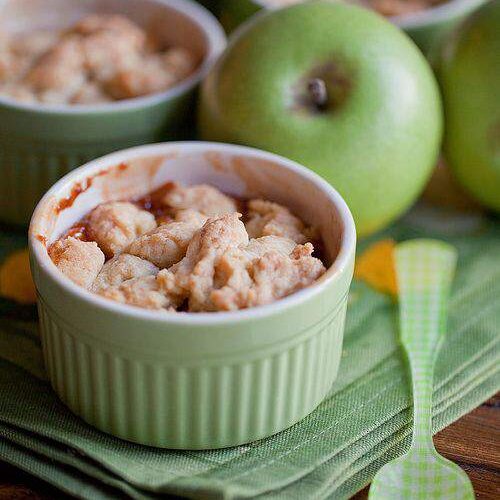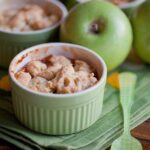 Apple Crumble
Course: Dessert
Servings: 4
Ingredients
For the filling:
3 large Granny Smith Apples
Juice from ½ lemon
1 cup natural cane Turbinado sugar or Sugar in the Raw
2 tablespoons of butter
For the crumble:
1 stick of butter
1 cup flour
½ cup Turbinado sugar Sugar in the Raw
Instructions
To make filling, peel apples and cut into small cubes. Drain the lemon from ½ lemon and pour over apples.

Add one cup of Turbinado golden sugar and mix well. Melt the butter in an uncovered

saucepan and cook apples on low heat until they caramelize and juices evaporate. Spoon apple mixture into ramekins.

To make crumble, cut stick of butter into slices and place in food processor along with flour. Pulse until well mixed and then add sugar. Pulse a few more times until well mixed. Add 1-1 ½ tablespoon of water to help the mixture stick.

Sprinkle crumble over apple mixture and bake ramekins in 350-degree

oven for 35-40 minutes or until lightly golden (whichever comes first).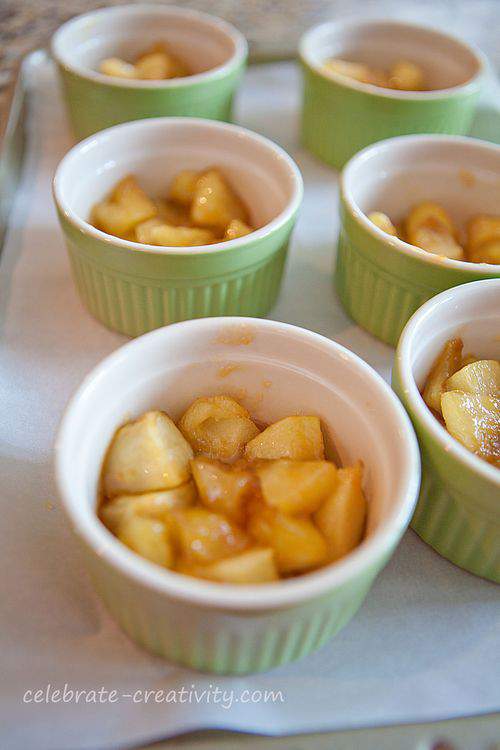 To make the crumble, cut up the stick of butter into multiple pieces and place in a food processor along with the flour.
Pulse the ingredients a few times until the mixture looks "crumbly".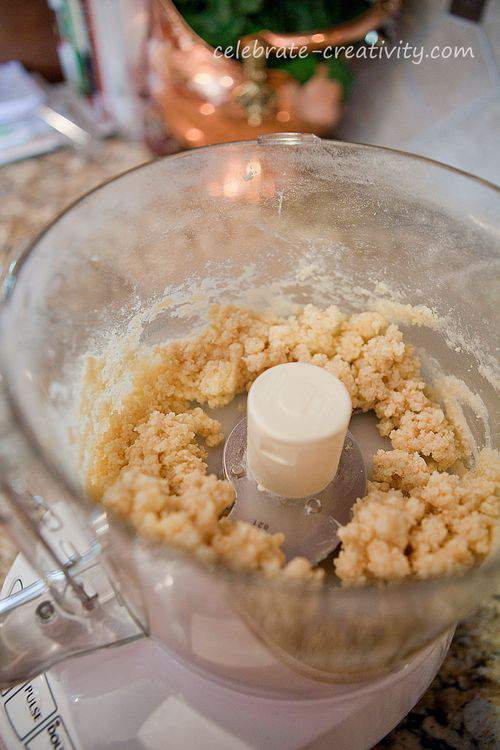 You can add a small amount of water to help the flour stick.
Don't add more than one and a half tablespoons or the mixture could lose its crumbly nature and become too doughy.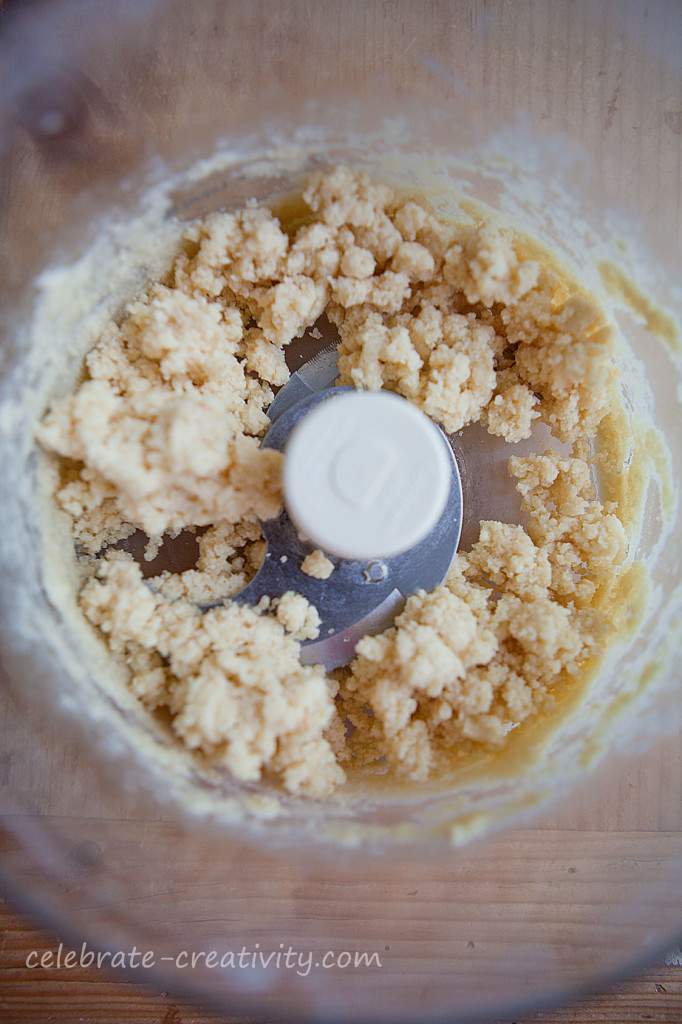 The crumble should be slightly moist but easy to sprinkle.
Spread the crumble across the top of the apple mixture in each of the ramekins.
Ah, now they're all ready for the oven.
Bake on 350-degree oven for about 35-40 minutes or until golden brown.  Whichever comes first.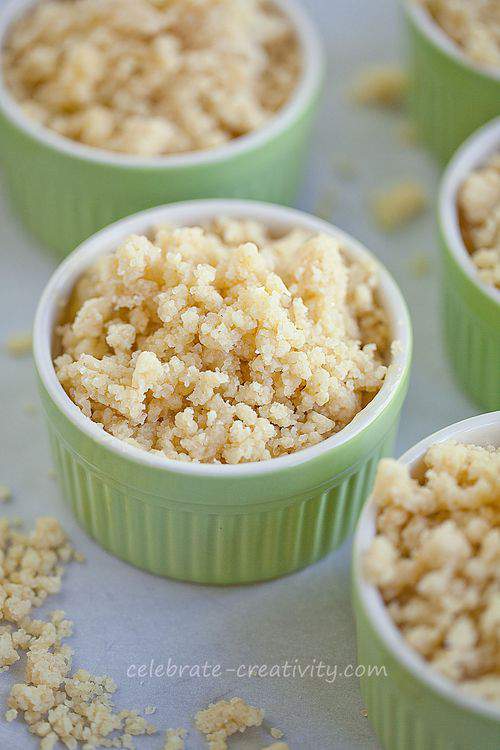 I've actually made this apple crumble several times since I took these photos.
The dessert looks even better when the mixture is filled and overflows the rims of the ramekin just a bit.  Keep that in mind as you're filling your dishes.
If you want to fill more than four ramekins, it's easy enough to just double the amount of ingredients.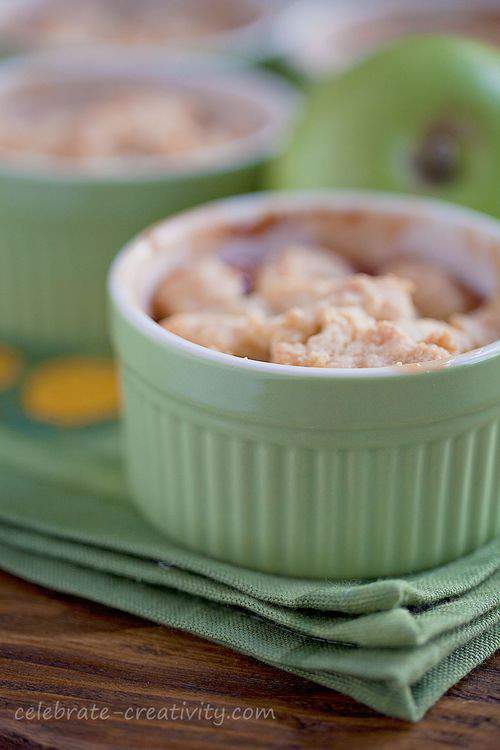 You could make this recipe and pour it into a shallow dish but I think ramekins really are the best way to go.
It turns the dessert into easy single serving portions and they look so darn cute in these Spring green ramekins.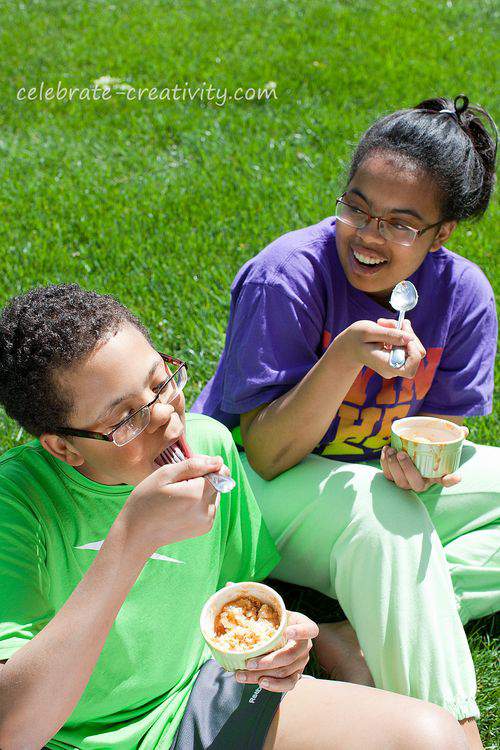 y favorite household taste-testers put aside their typical finicky nature and dug right in.
Just look at those smiles.
Like I said, this apple crumble is a good thing.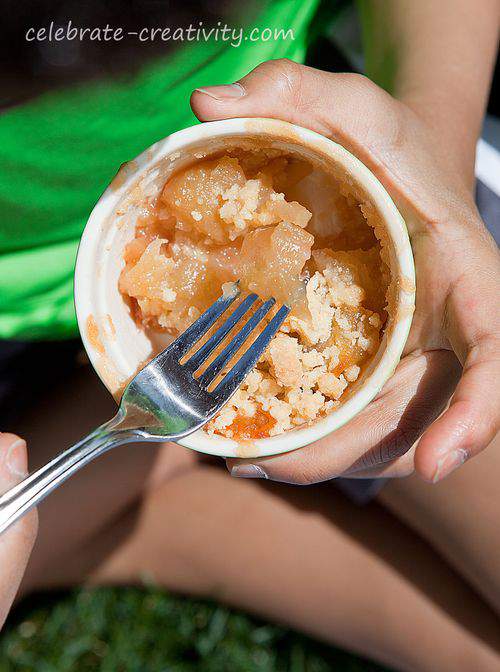 Top this dessert with whipped cream or vanilla bean ice cream and you'll be tops in the book of anyone who tastes it.
Yum.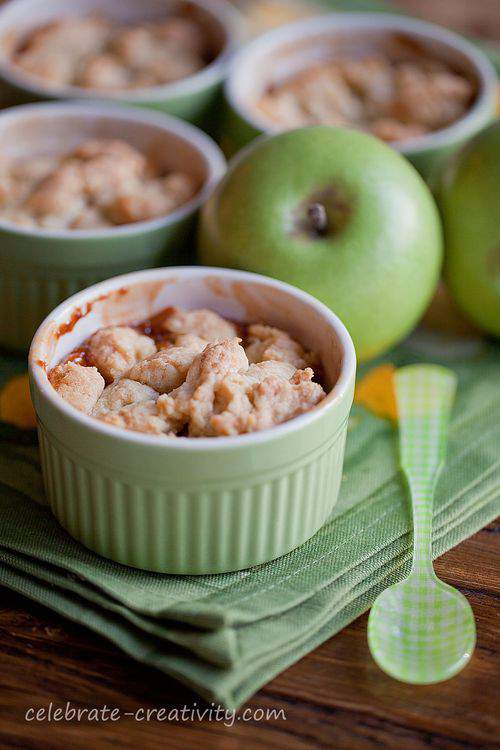 So, are you ready to run out and get the ingredients to make your own APPLE CRUMBLE?
I hope you're inspired to give it a try.  You'll love it.
See you back here next week. ♥