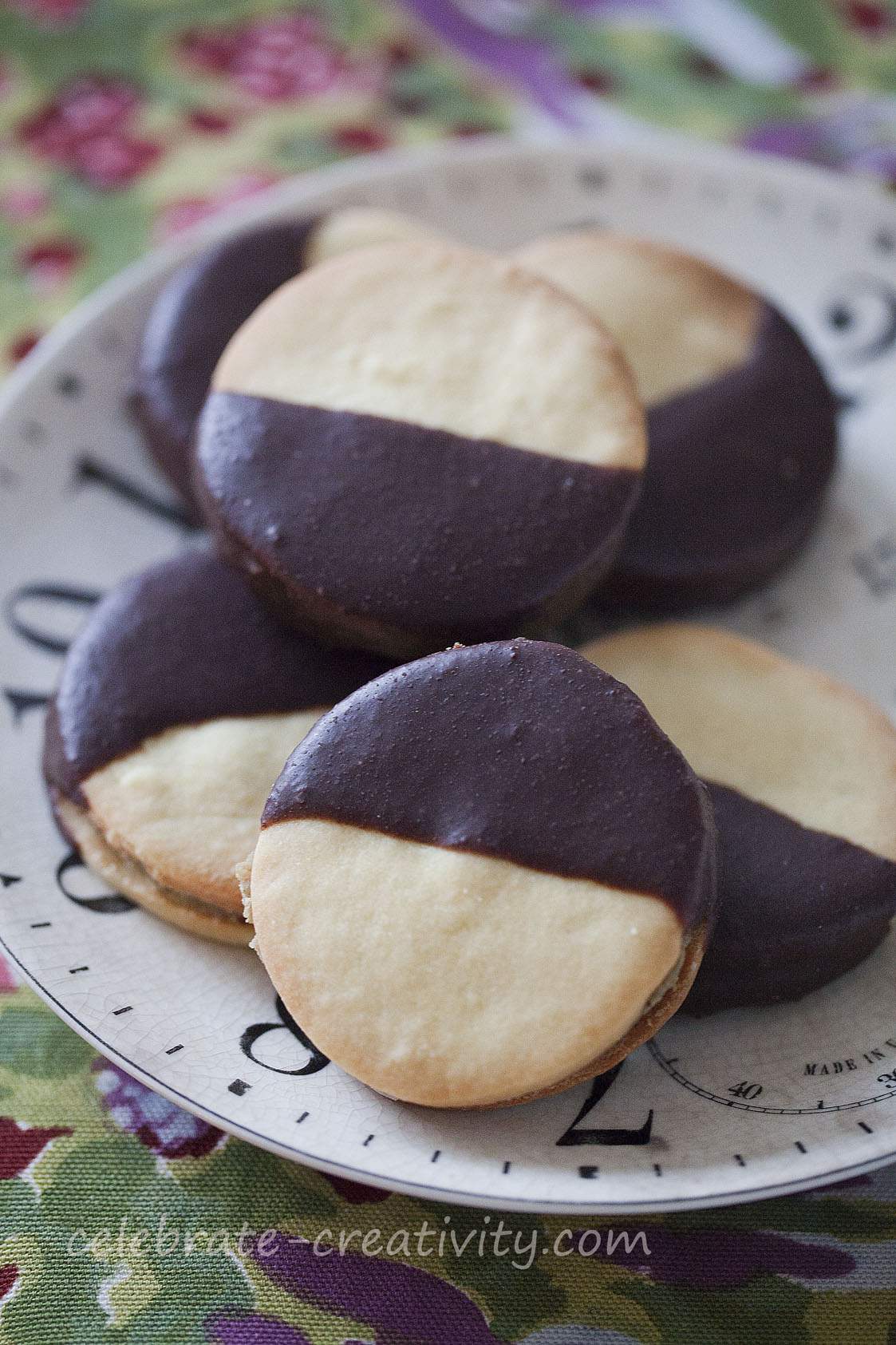 There are cookies for kids and then there are cookies for grownups.  I have to  place these pretty, chocolate-dipped cookies in the latter category.
They're elegant in their presentation and just as importantly, they taste amazing in a way that I think only adult taste buds can truly appreciate.
These treats are called Amadeus cookies and they boast a flavorful combination of sweet cookie, chocolate and a special pistachio-based filling that I'll explain in just a bit.
Oh, there's also a bit of cherry liqueur in the recipe too.
OK, be honest.  Wouldn't you like to take a bite out of this right about now?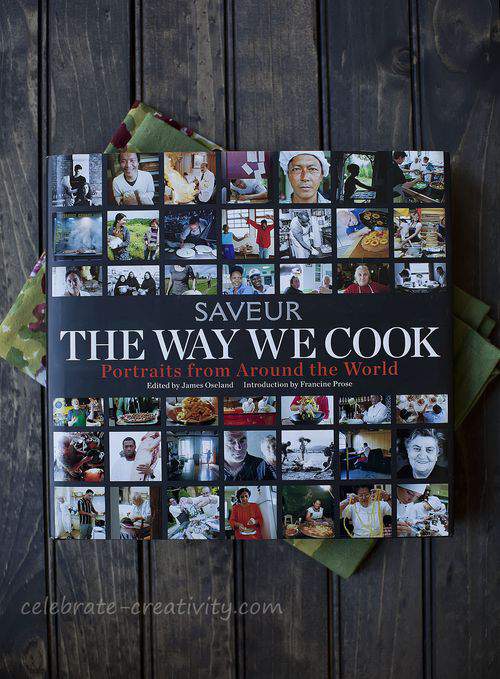 These decadently delicious cookies are from a recipe in the new book The Way We Cook, Portraits from Around the World.
This is really a beautiful book and a tribute to those who love food, make food and enjoy food from around the globe.
I'll share more details about this book later in this post but first, let's get back to those great looking cookies.
There are a few steps to making this treat but it's well worth the effort.
With permission from the publisher, I've provided a PDF reprint of this AMADEUS COOKIE recipe here. 
Basic ingredients include confectioners' sugar, semi-sweet chocolate, flour, butter and pistachios and cherry liqueur.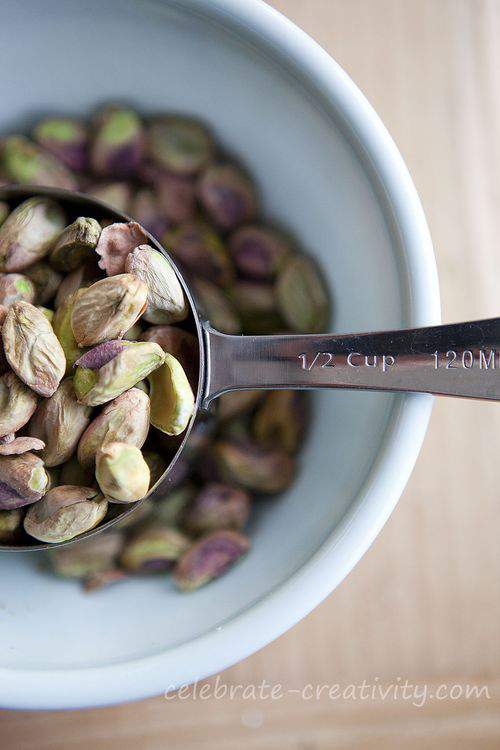 Make sure you pick up unsalted pistachios.
You'll also need to be sure to purchase more than you need because if you're like me, you'll likely do a bit of taste-testing as you shell them.
This is the first recipe I've ever used that called for almond paste.  I found find it at the grocery store in the baking section.
I didn't realize it comes in a can. It has an almost chunky, wax-like feel to it but it breaks up very easily.
This recipe requires the almond paste be chopped.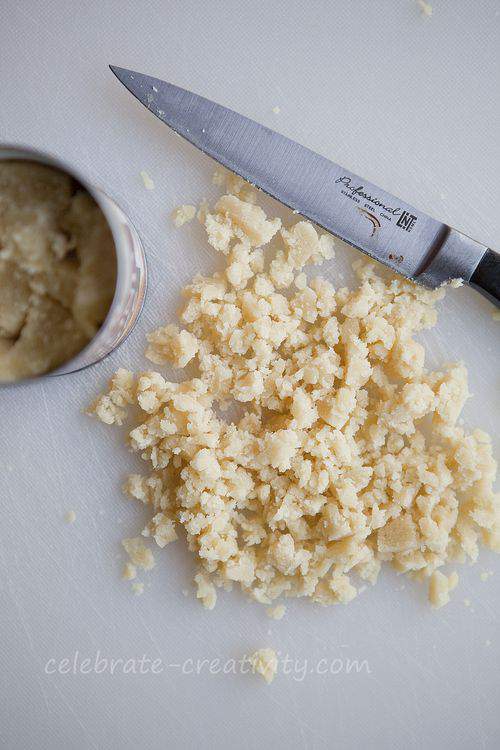 The pistachios, almond paste, sugar, vanilla and cherry liqueur will need to be mixed in a food processor to make the delicious cookie filling.
The liquid ingredients help bind everything together.
Looking good so far.
Mix the ingredients for the cookie dough, use a 1-1/34″ cookie cutter for perfect circles and then bake until golden brown.  Don't these look great.
These cookies are actually quite tasty at this point but the next few steps will really take them over the top and make your taste buds sing.
Let's turn our attention back to the filling.  Once the filling is thoroughly mixed, I found it easier to roll it out just like cookie dough.
Roll it out so that it's very thin in width.
Then, use the same cookie cutter to cut out the filling in thin, circular patties.
This creates a filling that fits the cookies perfectly.
Sandwich a patty of filling between two cookies until you run out of cookies.  You should have enough for @24-cookies.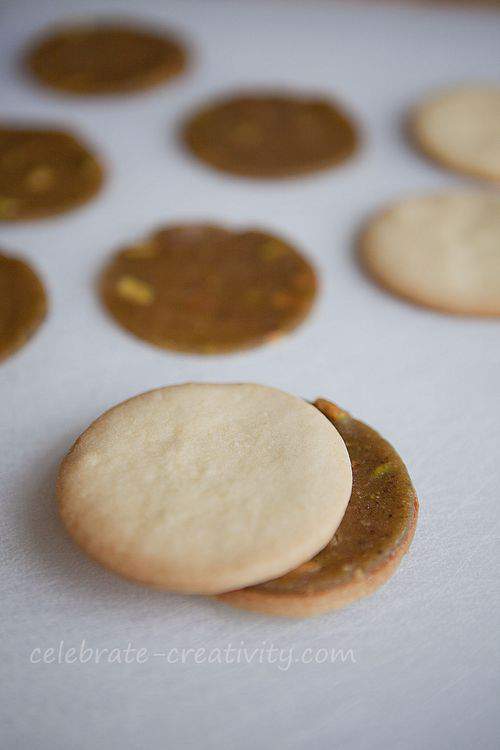 Like I said, a perfect fit.
We're not done yet but we're almost there.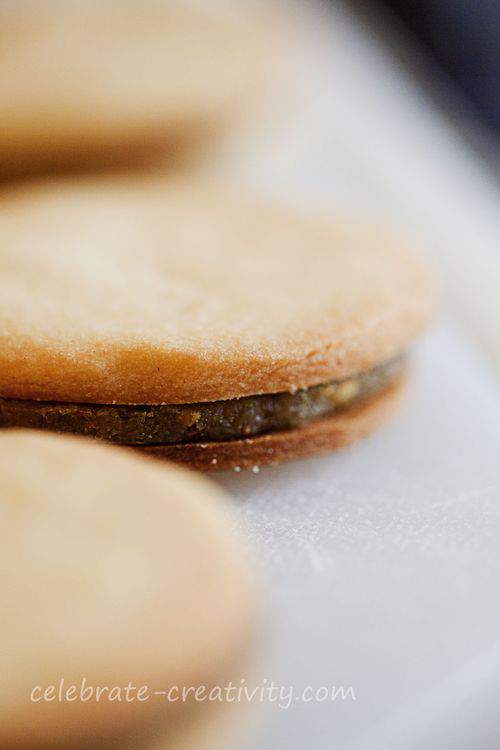 Next, melt the semi-sweet chocolate.
Carefully and gently dip one side of each cookie into the chocolate and set aside to harden.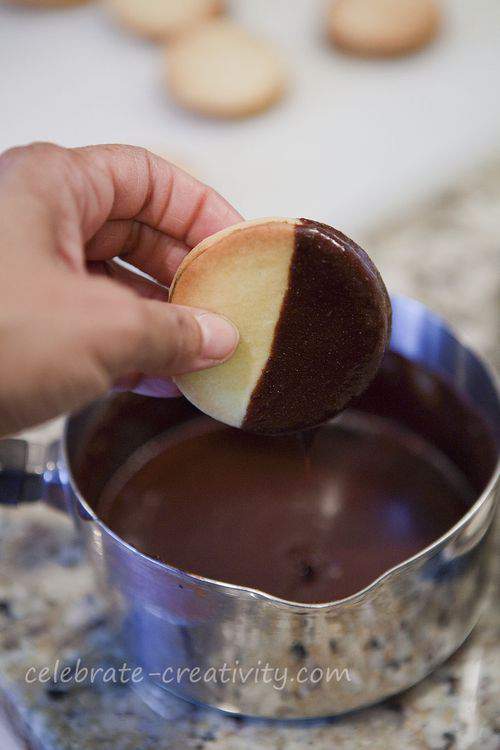 When I made my first set of these, I drained them on a wire rack.  However, that left unattractive lines on the back of the cookies.
I suggest, once these have been dipped in chocolate, let them set on a sheet of wax paper so the chocolate will harden with a smooth back.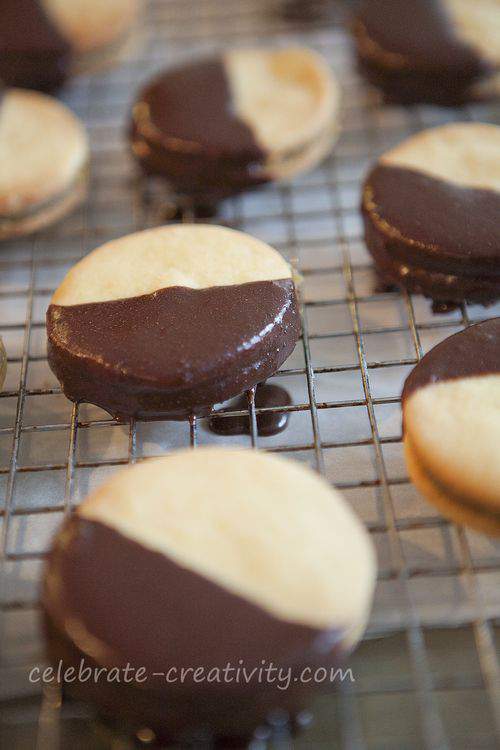 Now this is a tasty bite.  They're sweet, but that filling really gives it a deliciously unexpected and I dare say, sophisticated/grownup twist.
Serve this on a pretty tray at your next dinner party for a treat your guests will rave about.
YUMMY IDEA: Bag these or box them up and tie with a pretty ribbon for a post-holiday offering to friends and family in the new year.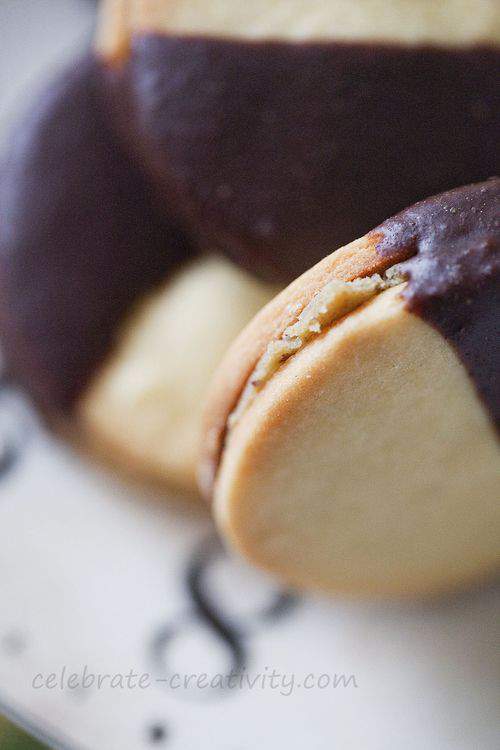 Allow me to return the original source for this great cookie recipe.
If you haven't already seen The Way We Cook at your local bookstore you may want to go look for it.
The same folks who put together Saveur magazine have compiled a collection of photos selected from thousands snapped over a more than decade of food reporting and documentation.
The chapters are broken down into enticing titles that not only suggest the delight you'll find in the pages ahead but also beckon you to sit down, take the time and browse through the many pages of photographs.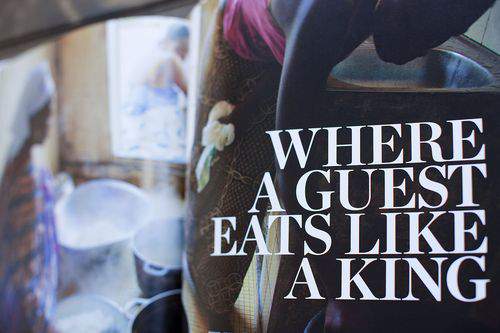 Throughout the hundreds of photos featured, the camera's point of view puts you in the same space as those preparing the meals and dishes.
In the photo below, chefs in Vienna, Austria prepare their speciality in a 226-year old pastry shop.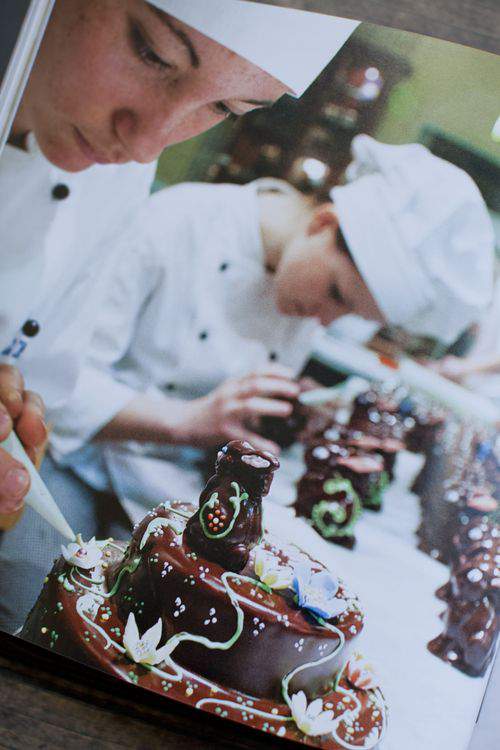 This is actually one of my favorite portraits in the book snapped as this private cook in Beijing, China precariously tosses her dish in the pan.
Her face says it all and suggests she might be thinking, "Oh, no please don't spill. Stay in the wok, stay in the wok".
Page after page, illustrates joy in the kitchen and elsewhere as amatuers and professionals alike share their affinity for food, how it's made and the fellowship that comes out of such preparation.
In this fun photo, co-workers share a laugh at the end of a long day at a Kingston, Jamaican bakery.
I love the relationships depicted throughout the pages and the subjects connect with each other in their focus on food and you in turn connect with them.
Here, chefs in New Orleans, Louisiana prepare for the menu ahead with a final run-through just before the impending rush of the lunch crowd.
This happy lady looks like someone everyone knows, right?  I just love the lighting, the spontaneity of this photo.  I learn a lot from pictures like this.
As I continue to try to improve my own photography, it was inspiring to see the power in the use of real life photos and how that approach not evokes a mood but also helps tell a story in a way that only a good photograph can.
The simple, everyday process of food gathering and food preparation is a presented in such clear, vivid color you may find yourself stroking a few of the pages.
These are actually local walnuts that hail from Paphos, Cyprus.
Not long off the tree, they're eaten when they're young and very, very green.
I love the casual nature of most of the photographs that speak to unscripted and spontaneous moments caught in the blink of the camera's eye.
It's pictures like this that transport you to these distant locales in places you may never get a chance to visit for yourself.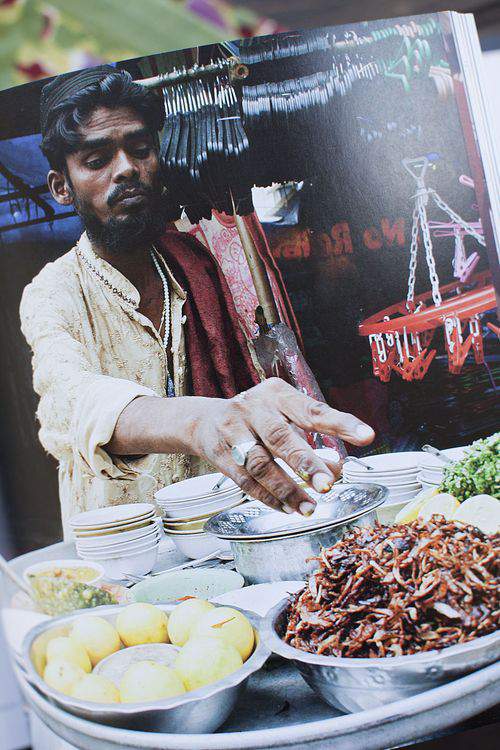 While the book is filled with exotic locations, there are some shots that represent the love of food much closer to home.
This South Carolina chef is happy to serve up her pork chop and macaroni specialty along with a winning smile.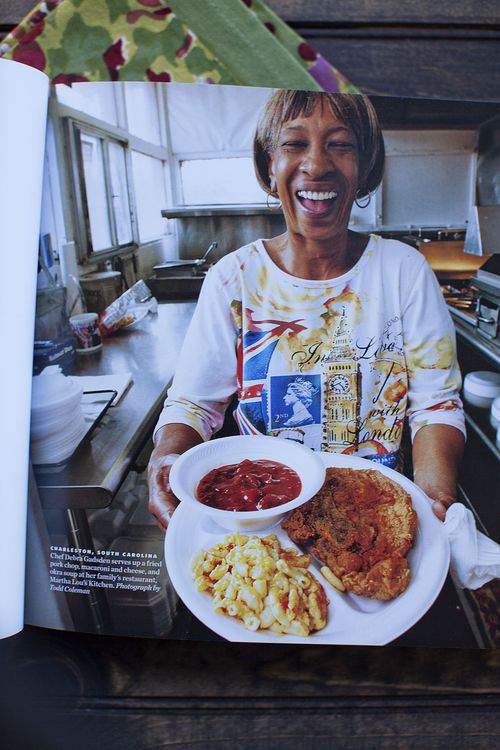 While The Way We Cook is definitely more of a picture book than a cookbook, there are fifty recipes included in the back which fall into three categories including Main Dishes, Side Dishes and Desserts.
All the recipes are supplied by the subjects featured in the book which adds another layer to the personal, visual stories shared throughout the pages.
Recognize the cookies in this photo from the book below?
Meanwhile, looking at the book photo and mine, I think my Amadeus cookies actually turned out quite well.
I think I'll work on my chocolate-melting technique to get my next batch as smooth as they look in the book.
Practice will make perfect so I'm going to try making them again soon.
Hope you try them too.  Enjoy. ♥
IMPORTANT NOTE:  I received a box filled with a variety of fantastic cookbooks from the publisher.  The Way We Cook, Portraits from Around the World was included in the box but my selection of it and my decision to review it on my blog was entirely voluntary and not part of any exchange, agreement or compensation.  My opinion of the book (and the Amadeus cookie recipe) is my own.