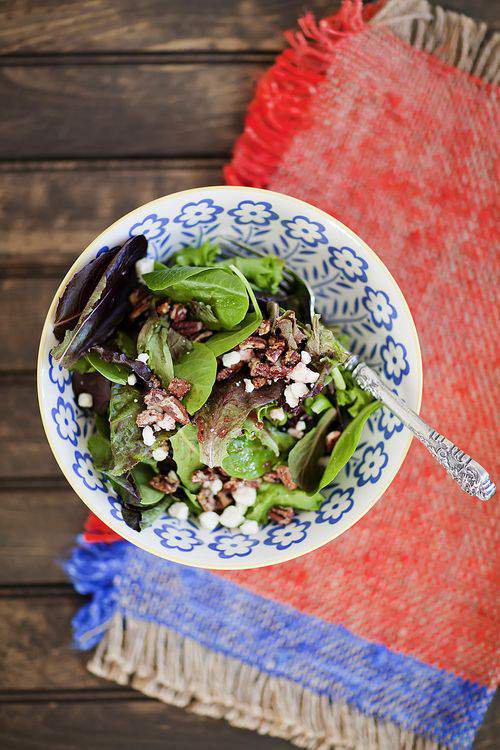 I f you're in the need for a quick salad that is as pretty and delicious as it is easy to make, then I have the recipe for you.
This salad requires only a handful of ingredients but the combination of those ingredients is oh-so fantastic you're going to love it.
Your dinner guests will love it too.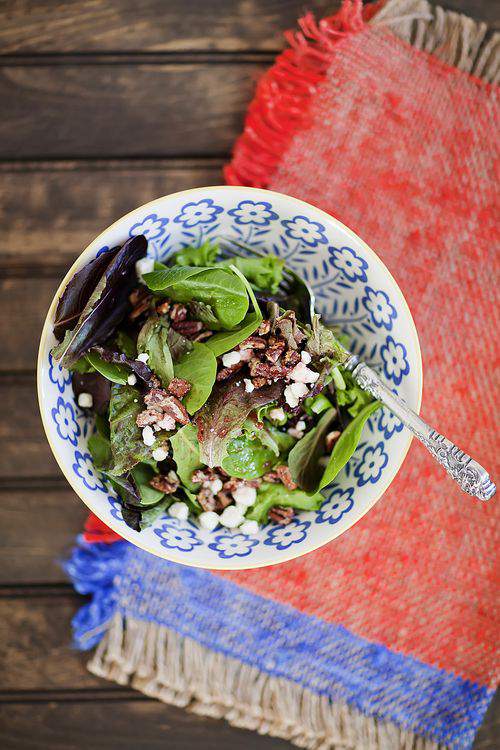 Regular readers of this blog know I love fast and simple recipes and this salad couldn't be more of either.
Grab assorted baby greens, pecan halves, feta cheese and 1-2 cups of sugar depending on how many pecans you have.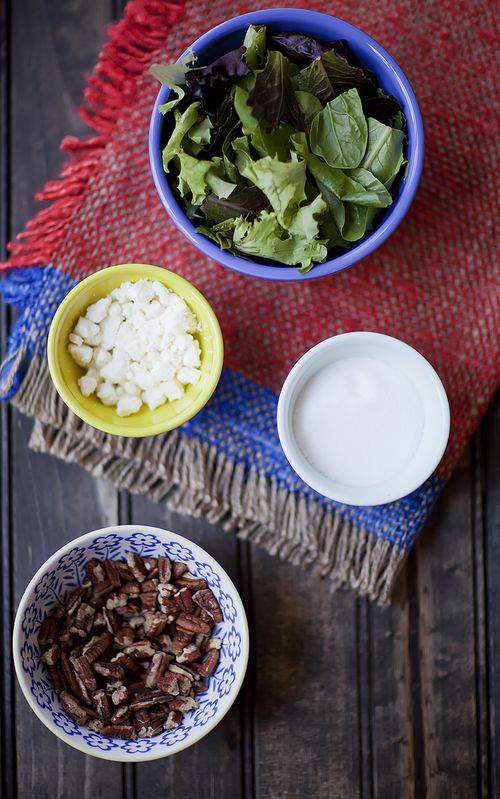 You'll also need a bottle of Raspberry Vinaigrette.
There are multiple brands on the market these days but I really love this one.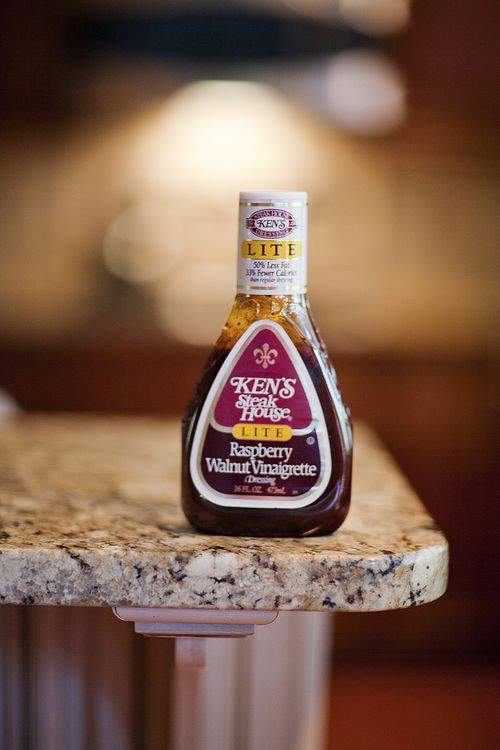 First, carmelize the pecans.  That's pretty simple too.
I used a little more than one cup of sugar for about three cups of pecans. 
The amount of sugar needed will vary depending the pecans.  You won't actually know how much sugar you'll need until you start the carmelization process.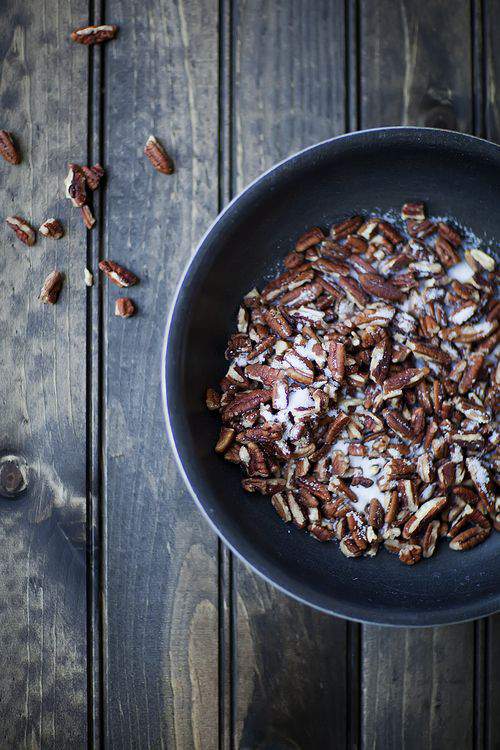 Place pecans and sugar over medium heat and stir slowly.
It will take a few minutes for the sugar to begin to melt but once it does it cooks quickly.
Again, you want all the pecans to get covered with melted sugar so monitor the coverage and add more sugar as needed.
IMPORTANT NOTE: Carmelizing is not the kind of step you can walk away from.  The amount of time it takes to turn around and look at the television, is the amount of time it could take for your pecans to burn.  Burned pecans are a major bummer and cannot be served.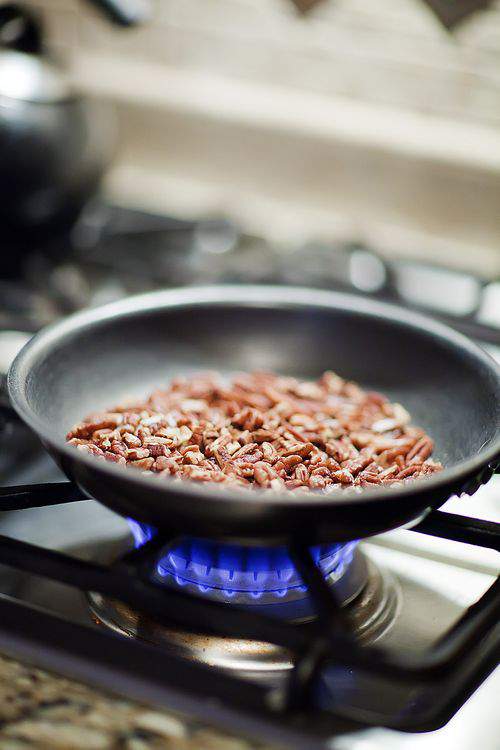 This is what your pecans should look like when carmelized properly.
FAIR WARNING: Be careful, you may find yourself doing quite a bit of pecan-sampling at this point and you'll need to make sure you save enough for the salad.
When the pecans first come off the stove top, they're extremely hot so handle carefully.
Dump the carmelized pecans onto a plate or tray and once they've cooled, gently break apart the nuts that are stuck together.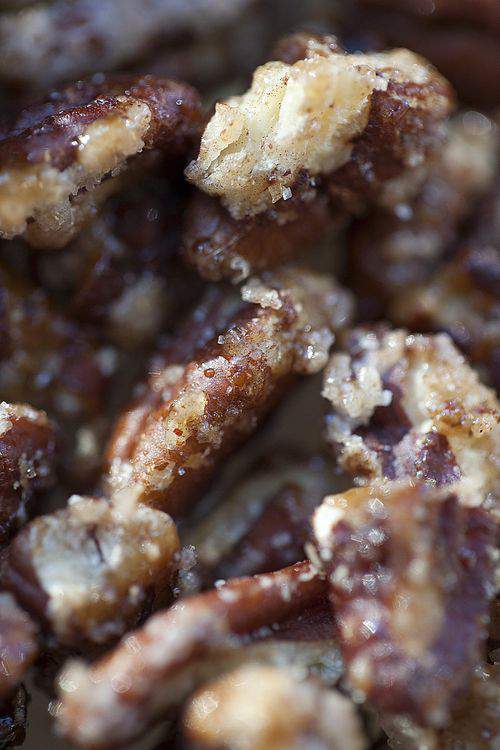 Shake the raspberry vinaigrette thoroughly and then pour into a serving container so your guests can help themselves. 
This dressing will separate after a while so keep a stirrer on hand to re-mix.
I think a glass mini-pitcher looks so much better than the original container.  Don't you agree?
Sprinkle pecans and feta cheese over the mixed greens and you've got a pretty good looking salad. 
I first tasted this salad at friend's dinner party and I immediately asked for the recipe. 
A few months later, when I served the same salad at my home, a few of my guests asked me for the recipe too. 
Well, that's how it is with this simple (but amazing) combination. 
Trust me, this is one salad your guests will remember (and they'll want the recipe).
It's an all-around dish that works for lunch, dinner or anytime in-between.
Make it, serve it and I'll bet it will become your new, favorite, go-to salad.
COMING UP ON MONDAY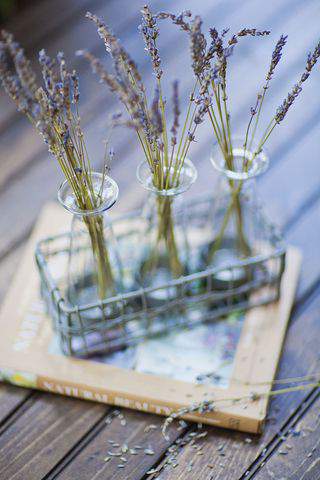 The date on the calender declares we're now officially into the Fall season.
However, I have one more vestige of Summer to share with you before September comes to an end.
What does fragrant Lavender have to do with the global reach of blogging?
That may be an odd query but on Monday I'll have a sweet-smelling answer for you.
Hope you pop by this blog again next week (9/24) for the story behind the pretty Lavender stems in this photo.
See you then. ♥