Anyone up for a game a chess?  OK, this may not be the board game that immediately comes to mind when you hear about playing that classic game of strategy. 
However, this particular cookie project has elements of the game you'll not only find familiar-but quite tasty too.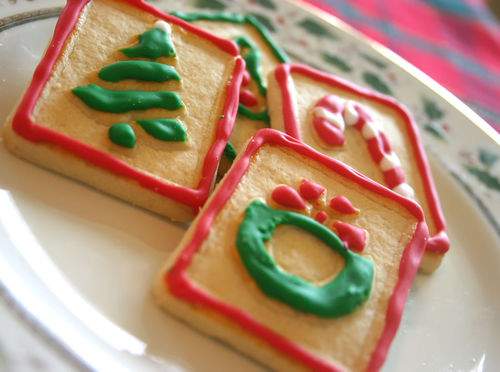 This is a fun way to dress up those delicious Chessmen cookies by Pepperidge Farm. 
These cookies are typically embossed with images that look like chess pieces but now the images have a much more festive slant in keeping with the spirit of the holiday season. 
There are five designs in this Chessmen holiday cookie package including a candy cane, holiday wreath, jingle bell, an evergreen tree and a holly leaf or maybe it's a mistletoe.  They're all really cute.
Ahem, go ahead and eat a few cookies before you start-you'll feel better.
These mini tubes of icing are about 6-inches long and they come in a variety of colors.  You can pick them up at any grocery store in the baking aisle.  
They're a perfect finger-fit and that makes it so much easier to decorate the smallest areas of the cookie.
Gently cover the raised area of the cookie with the desired icing color.  When you begin decorating, use a small amount of icing first and build upon that because a little icing goes a very long way here.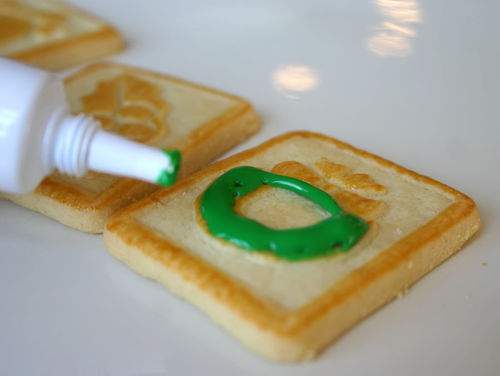 A toothpick is an ideal tool to help get the icing into the tiniest, hard-to-reach embossed areas.   Carefully smooth the icing using the toothpick to cover the design. 
Change toothpicks for each color to avoid cross-color contamination.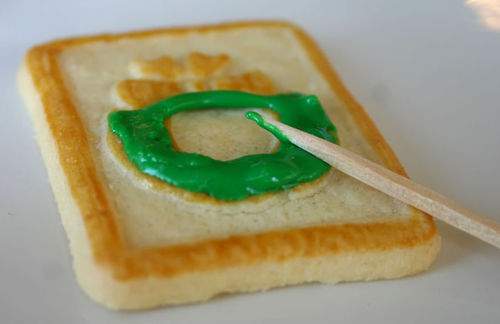 A thin icing border frames the cookie and finishes it off beautifully.  It only takes a short time for the icing to set and harden.  After that, the cookies can be stacked on top of each other with no risk of smudging or smearing. 
Of course, I doubt they'll be stacked in any one place for very long.
Trust me when I say, kids won't be able to resist getting into this act.  They also won't be able to resist snacking on a few cookies (like you), so make sure you have extra Chessmen on hand to cover that inevitability.
My daughter Cameron and her friend Chelsey enjoyed putting their own spin on their cookie decorating.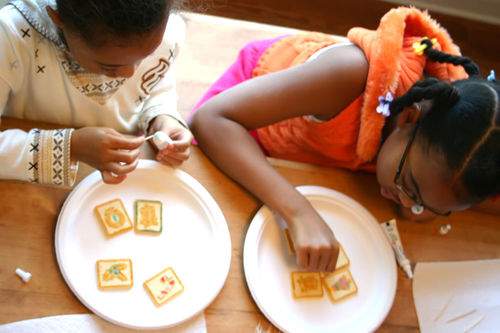 While I painted my cookies in holiday colors, both girls took a decidedly un-traditional approach with their color theme.  They steered clear of the typical red and green in favor of every other icing color in the pack. 
Of course, imagination is all part of the tasty fun.  Check out Cameron's edible works of art in the photo below.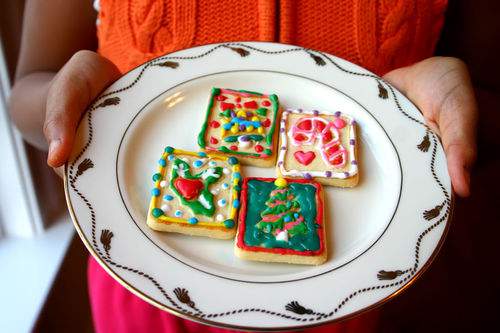 I found a wonderful variation of this cookie decorating idea in a recent issue of Women's Day Special Interest Publications.   Are you as hooked on holiday magazines as I am?  There is always such a great selection on newsstands this time of year. 
I love to browse through the pretty recipes.  It's also fun to study the photography and food staging that's so beautifully presented in magazines. 
Talk about super simple cookie decorating.  It doesn't get any easier than this.  You can finish decorating an entire package of cookies in no time at all.
After you finish adding colorful, festive touches to these Chessmen cookies-you will surely be considered a winner by everyone who tastes them.  
To the victor in this chess game, share the spoils.  Easy Checkmate.