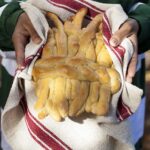 Break bread in a most unexpected way. Skip traditional rolls this holiday in favor of a bread loaf that looks like you plucked it right from a wheat field. This wheat sheaf-shaped bread is fun and easy to make. A braided band of dough ties it all together for a deliciously attractive dinner side.
1 1/4

teaspoons

active dry yeast

1/4

cup

warm water

1

tablespoon

of barley-malt syrup

check natural food stores

2-1/2

cups

all-purpose flour

1-1/2

teaspoons

coarse salt

Two-thirds cup of buttermilk

1/2

stick unsalted butter

melted and cooled
Sprinkle yeast over warm water. Let stand for about 5 minutes, until foamy. Whisk in 2 teaspoons of malt syrup. Stir in flour, coarse salt, buttermilk and 3 tablespoons until well-combined. Transfer dough to a lightly floured work surface. Dust hands with flour and knead dough until smooth and elastic. Shape dough into a ball.

Transfer dough ball to a butter-brushed bowl, cover and allow to rise for about 1 hour.

Divide the dough into half a dozen balls. Roll about 20-24 pieces into ropes measuring @12-15 inches long.

Dip thumb into flour and then press thumb into top of rope to create leaf shape. You may need to pinch the tip to give it a point.

Use the tip of a knife to score leaf veins into the leaf tip.

Arrange the ropes into a sheaf on a piece of parchment paper. Overlap the leaves, fan out and bend the leaves.

Roll remaining pieces of rope into a rope and carefully braid the pieces.

Drape the braid over the sheaf. Cover the dough and allow to rise for about 20-minutes.

Brush with a beaten egg.

Bake in a 400-degree oven for 15-18 minutes or until golden brown.