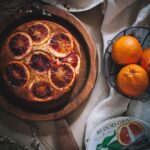 Blood oranges steal the show in this twist on a traditional upside down cake. Easy to make, beautiful to serve.
Preheat oven to 350-degrees.

Spray 10" cake pan with cooking spray.

Sprinkle raw sugar evenly and thoroughly inside pan.

Slice blood oranges into thin slices.

Place across the bottom of the cake pan.

Whisk flour, granulated sugar, baking powder, baking soda and and salt in a large bowl.

Add eggs, egg yolk, buttermilk, melted butter and blood orange zest and blood orange juice.

Mix thoroughly but don't over-mix.

Pour batter over the oranges.

Bake for 40 minutes, until golden brown.

Allow cake to cool in pan for @5 minutes.

Carefully invert pan and release cake from pan.

Serve caked with blood oranges slices topside.