I
've always admired those old-fashioned looking intricately embroidered pillows that resemble tapestry.  Now, I'm proud to say, I've made one myself.
This pillow which features Jacobean embroidery, only measures 10-square inches but it contains more machine embroidery than I've ever applied to a single project.  

I love to incorporate a little machine embroidery into my pillow making and I think you'll enjoy seeing how this project unfolded.
By the way, you can see some of my other pillow projects that feature embroidered elements here, here and here.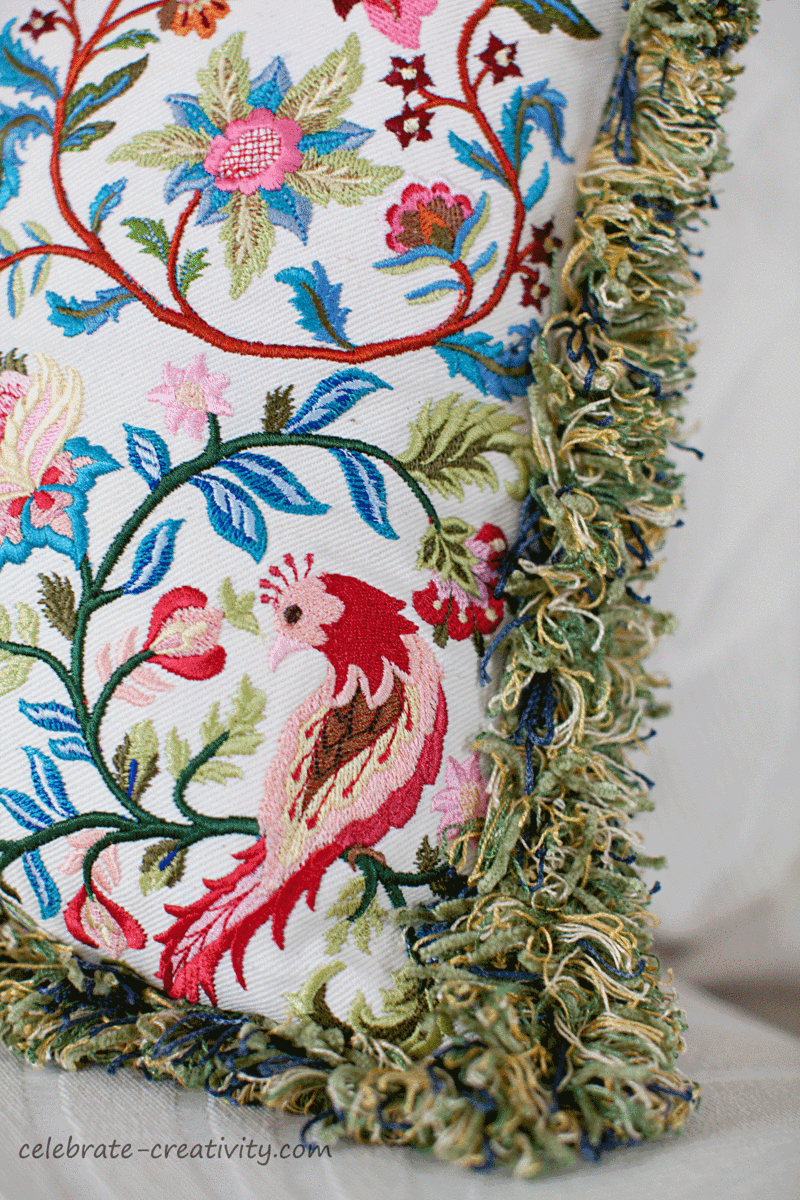 I first started this particular project several weeks ago and was thrilled with how it quickly began to come together for me.
You can see my first post about Jacobean embroidery here and you can find the embroidery designs I used for this project here.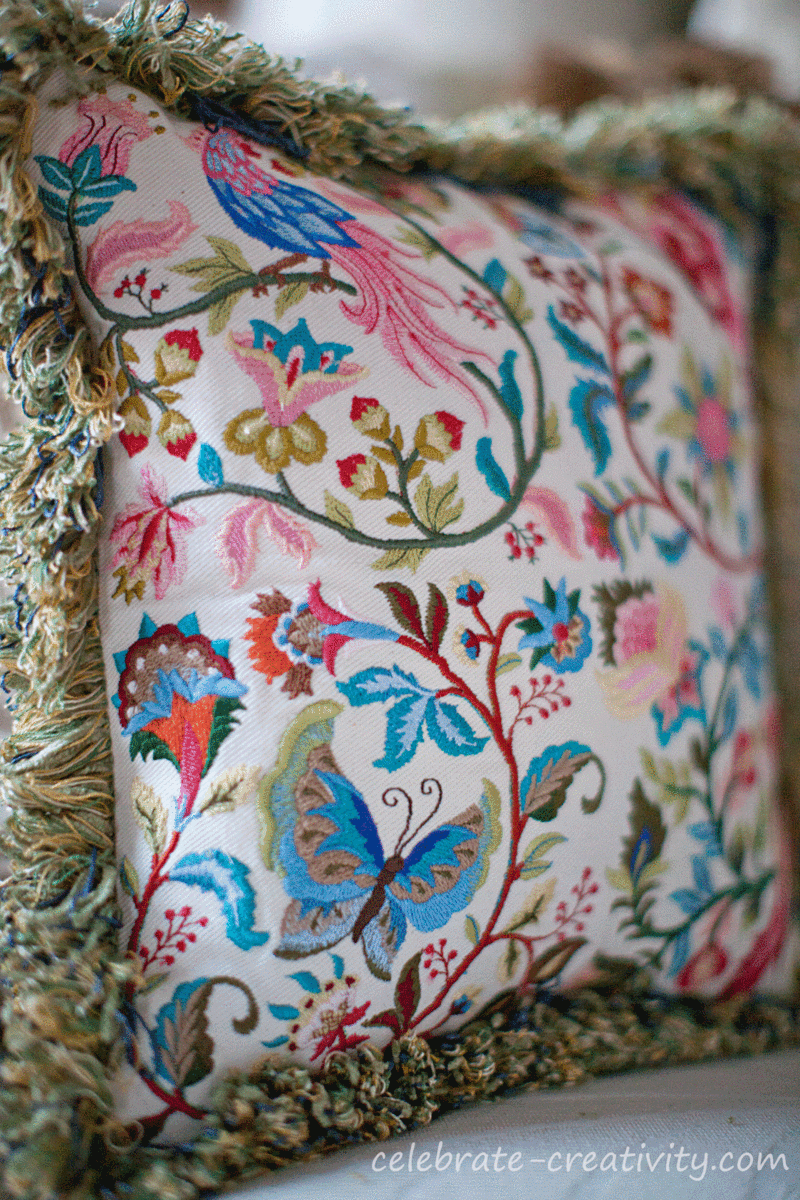 Throughout this post, I've recapped the embroidery process for you.
It all started with a gorgeous, colorful threads and a stunning design.  In this case, I used four different designs to create the look of one big, cohesive design.
A thread chart dictates the order of the colors and a design template helps with accurate placement which is critical when combining four different designs so close together.
It's always fun to watch the colors stitch out on the fabric.
The transformation is totally cool when you start with blank fabric and before you know it, an intricate design is slowly revealed.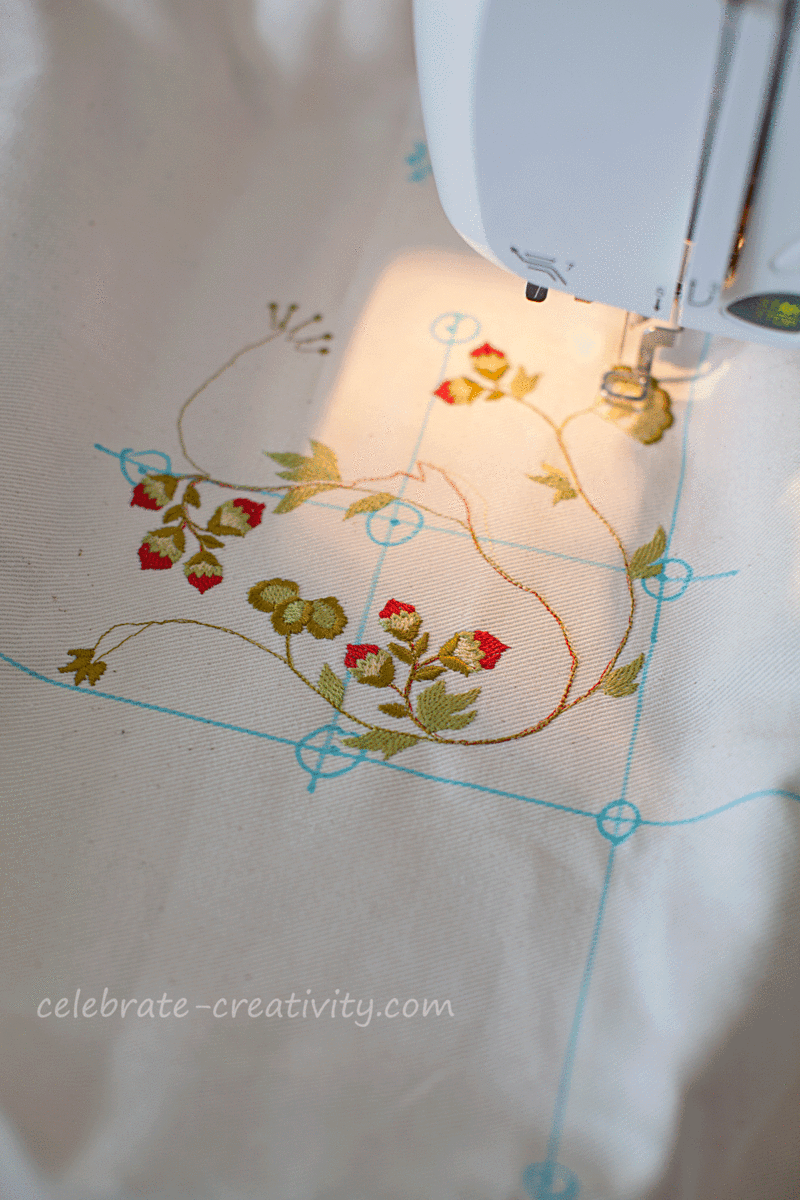 You can see how the design began to take shape in the photos below.
Each design here required more than 50-thousand stitches and an average of 30-thread color changes.
Imagine how long it would take to duplicate the same number of stitches if you were to do this by hand (which I just do not have the patience for).

Here's a look at my first finished square.
One square down, three more squares to go.
Another template is used to help determine exactly where the next embroidered square will go.
I had to line-up each square very carefully to get the designs as close together as possible without any stitches overlapping.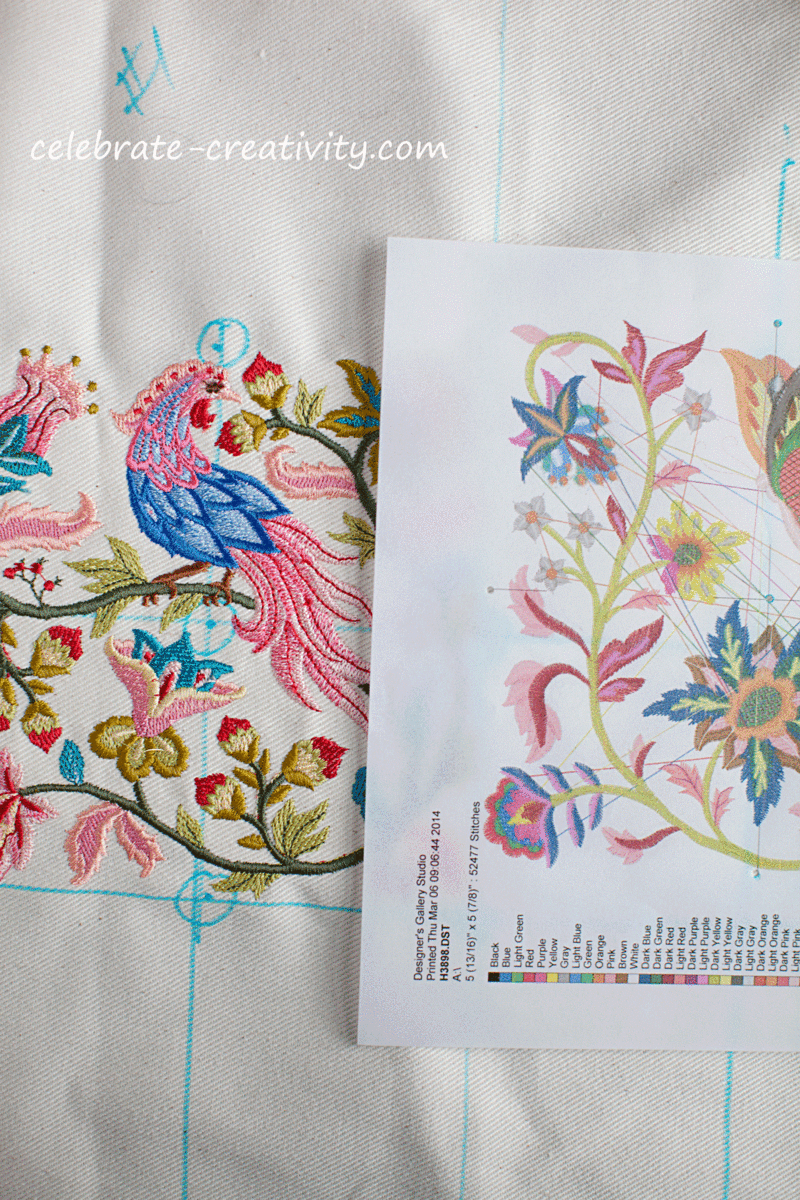 Here's another look at the emboridery stages of square number two, number three and just a hint of square number four.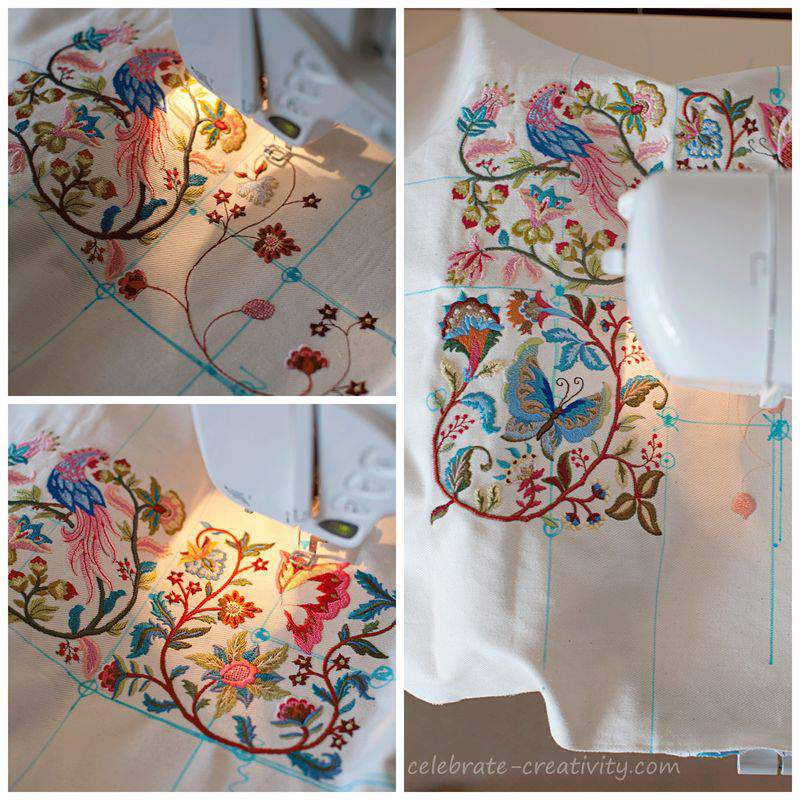 Once all the squares have been stitched out, I used a water soluble marker to create a cutting guide.
IMPORTANT NOTE: Never cut the fabric around an embroidered project, until you're absolutely sure that you've measured and you're sure of the exact finished size you want your project to be.
Even then, cut a bit more allowance just to be sure.  
You can always cut down the size but if you cut the wrong size after ou've put in this much embroidery, that would be a shame.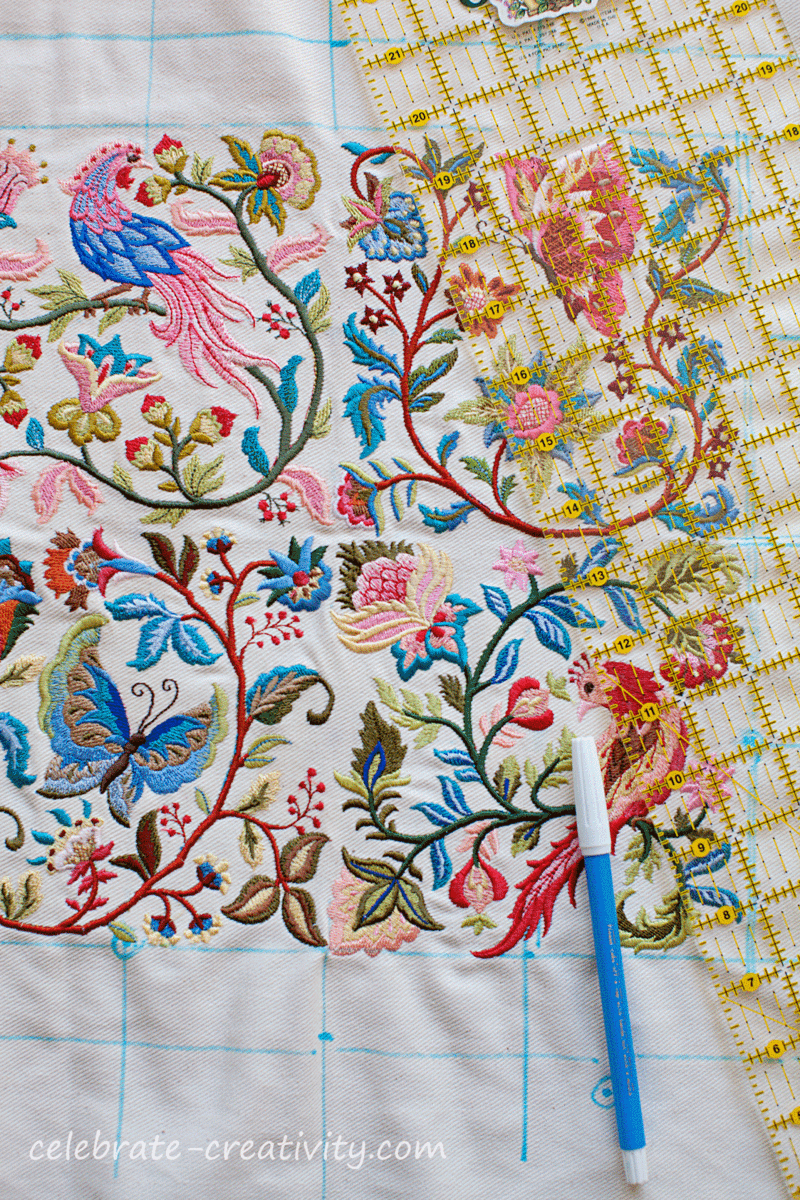 I wanted the pillow to be the exact size of the embroidered dimensions.
The completed design ended up being about 10-inches so that's what size pillowform I purchased. 
This pillow would look just as lovely without fringe but I decided to add it, to frame the finished project with just a little bit more color. 
The fringe was actually looped but I clipped the loops after installation for straight edged thread effect.
I also decided to add a bit of Jacobean embroidery on the back flap of the pillow as well.
The back is made up of two, over-lapping flaps.
Pin the fringe in place and put right fabric sides together and stitch all the way around to create a pillowcase flap opening in the back.
Turn inside-out the pillowcase and insert the pillowform through the opening in the back flaps.
Fluff the fringe and I'm all done.
I love it.  What do you think?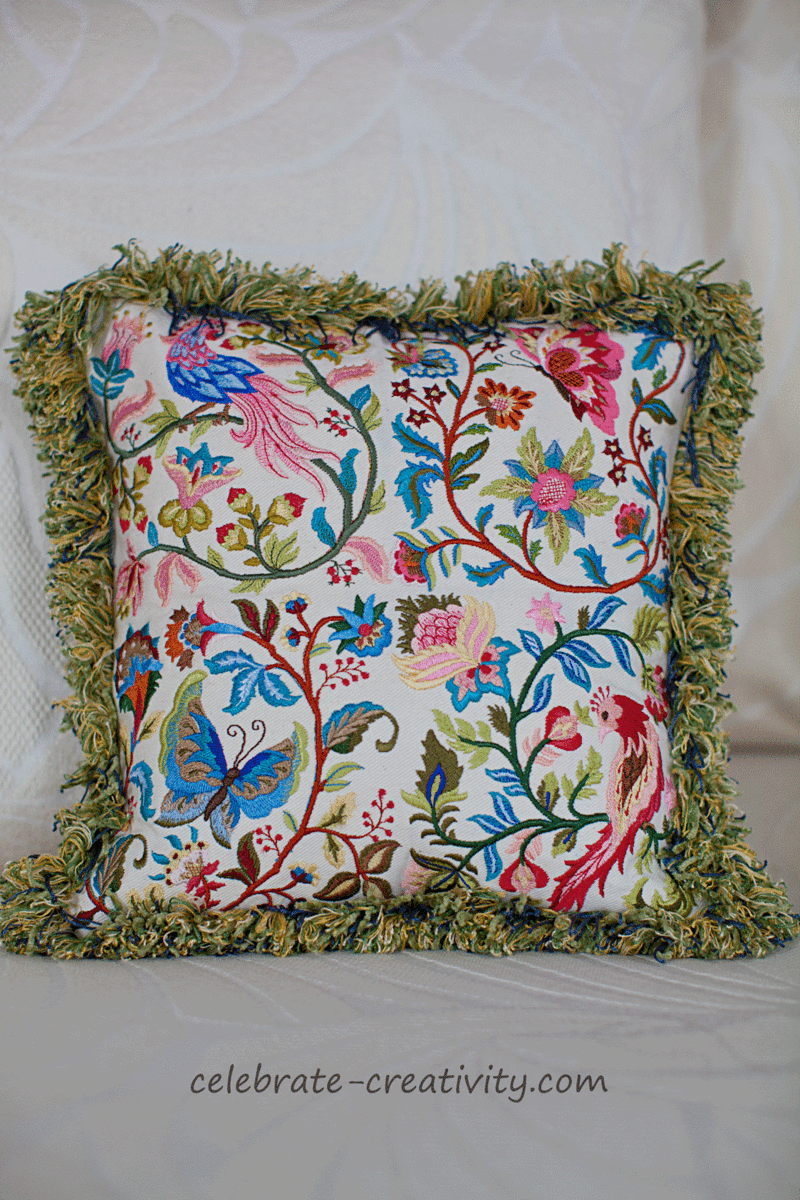 Most people will never know the extra embroidery is on the back unless they turn it over.
But if you add it, you'll always know it's there and that make it that much more special.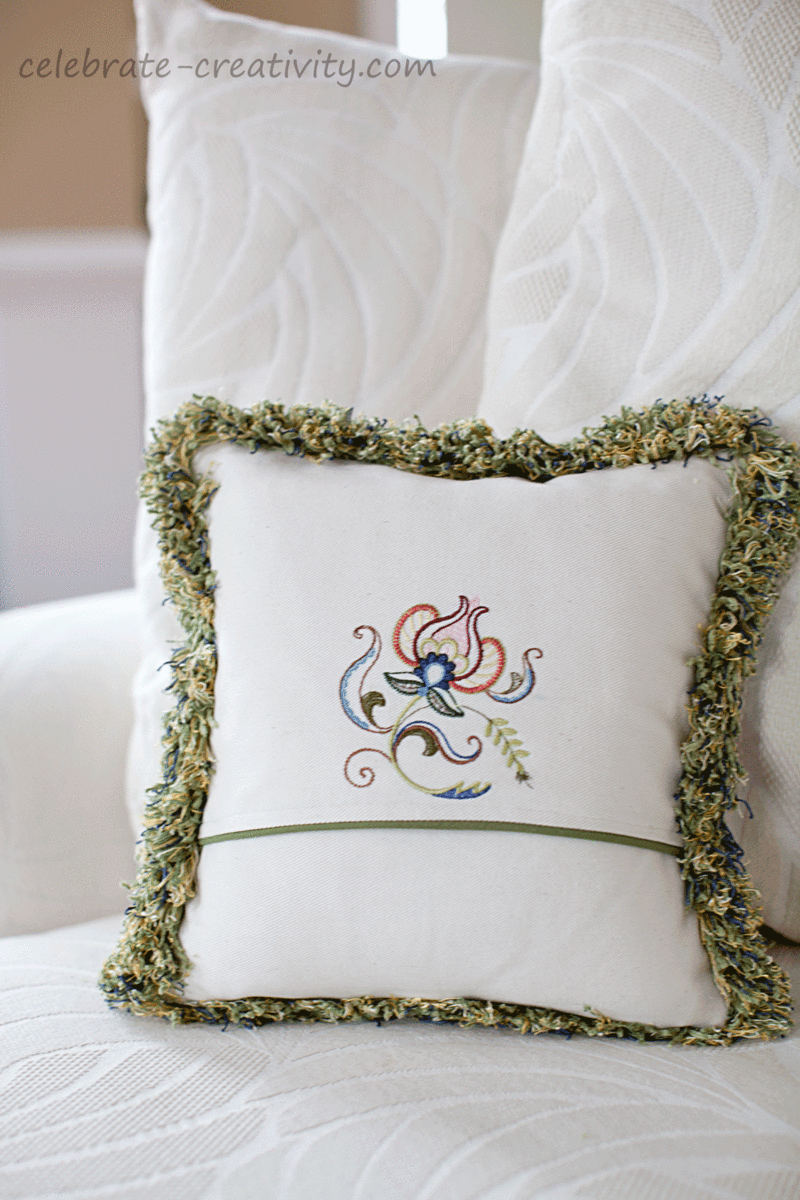 I've already started a matching 10-inch companion Jacobean embroidered pillow to go along with this one.
It features four floral arrangements as focal points (instead of birds and butterflies like this one) and so far, it's shaping up just as beautifully.
I'll be sure to share it here later in an upcoming post.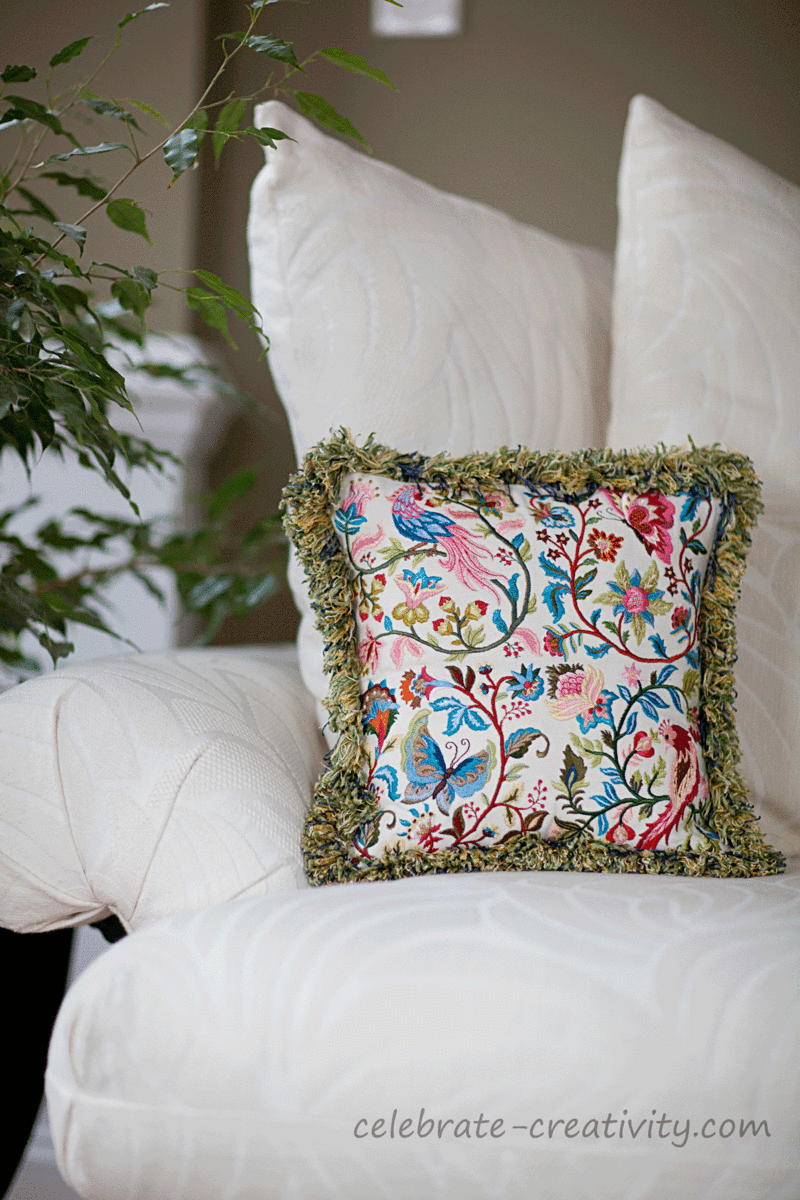 This post is part of my new column, The Embroidered Attic where I'll help de-mystify machine embroidery, share new projects and techniques and generally (and regularly) bring home embroidery to life.
Stay tuned for more embroidery features later in upcoming posts. ♥
  COMING UP NEXT MONDAY
It's finally spring and everywhere you look, the signs of the season are beginning to bloom.
Coming up next Monday (4/14), I'm revisiting one of my favorite seasonal projects with a look at how to make a cherry blossom ball.
Hope you pop by this blog again next week for a look at this super easy project that is as lovely as a warm spring breeze.
See you then.
WANT MORE CREATIVE INSPIRATION?
I'm linking this project to the following fellow bloggers:
 Heather at Whipperberry
Lucy at Craftberry Bush